NDP government contemplates pipeline safety action by James Wood, July 28, 2015, Calgary Herald
The NDP government says it wants hard answers on a recent major pipeline spill but Energy Minister Marg McCuaig-Boyd says there's no plan for a broader review of the safety of Alberta's massive pipeline network.
In opposition, the New Democrats repeatedly raised concerns about the state of the approximately 400,000 kilometres of pipeline in Alberta and the adequacy of the provincial government's regulatory system.
But in an interview Tuesday, McCuaig-Boyd expressed confidence in the current rules and enforcement system and said she doesn't see the need for a sweeping review.
"Not at this point," she said.
Last week, McCuaig-Boyd toured the site south of Fort McMurray where a Nexen pipeline spewed five million litres of bitumen emulsion and called the spill "unacceptable." [Is it acceptable for Encana to frac a community's drinking water supply? is it acceptable to let a community to live with contaminated drinking water for 11 years? Is it acceptable to for the AER to owe "no duty of care" to Albertans harmed by their negligence and cover up of Encana breaking the law?  Is it acceptable for the AER to violate a citizen's Charter rights trying to intimidate that citizen into typical obedient rural Albertan silence?]
The government says it expects a thorough account from the Alberta Energy Regulator about what went wrong on the double-layered steel pipeline, which was only installed in 2014. That could inform some bigger changes to pipeline oversight, the minister acknowledged.
"When we get the report back, if there's something we can change or do to make it better, absolutely we're going to look at it," said McCuaig-Boyd, who was in Calgary for meetings.
A series of significant pipeline leaks in 2012 led opposition parties and other organizations to push the then-Progressive Conservative government to commission a review of pipeline safety.
But when the report was released in 2013 it was roundly panned for simply comparing Alberta's regulatory regime to other jurisdictions' and not addressing the physical condition of the provincial pipeline network or whether rules were actually being enforced properly.
At the time, NDP MLA Rachel Notley — now premier after the May 5 provincial election — said the report failed to ask the right questions.
The NDP then called on Auditor General Merwan Saher to look into the pipeline issue. Saher reported this March that a number of improvements should be made but the AER was "adequately performing its function of overseeing pipeline safety."
Notley said then that she was not convinced the system was working properly and that it was overly reliant on the pipeline operators.
McCuaig-Boyd said those issues will be examined as the government reviews the function of the Alberta Energy Regulator, as Notley has promised to do.
"I've talked to the AER already, both the head regulator and the board and they're prepared for a review, in fact they're welcoming a review, because they want to be better," she said.

"If we can identify things that can be tweaked or whatever, we're absolutely going to do that."
The Nexen pipeline that leaked is a feeder line connecting a well pad and a central processing facility.
But concerns over the safety of transmission pipelines aimed at transporting Alberta oilsands crude have helped stall a number of significant pipeline projects.
Liberal Leader David Swann said the NDP government should launch a major review of both pipeline integrity and the effectiveness of the regulatory system in Alberta because those concerns need to be dealt with head on.
"It's clear we can do better and we must do better, especially with respect to older pipelines," he said.
"I must say I'm a bit disappointed they're not looking at the broader questions when this is probably the most important threat to our oil industry — our reputation on the environment.
A spokesman for the Canadian Energy Pipeline Association, the industry body representing transmission pipeline companies, called the Nexen spill a "disappointment."
Jim Donihee, chief operating officer for CEPA, said the pipeline industry wants to work with the government and AER on potential improvements but noted there is already significant oversight in place.
"We are an industry that is highly-[DE]regulated, probably one of the most [DE]regulated [AND ENABLED] across the land," he said in an interview Tuesday. [Emphasis added]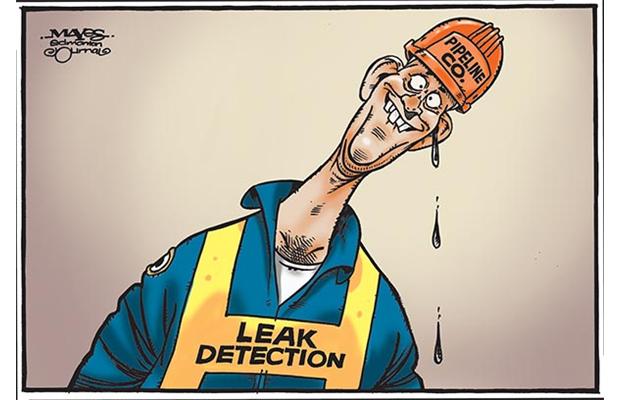 Edmonton Journal Editorial Cartoon July 24, 2015
Alberta ministers visit Nexen oil spill site, call it 'unacceptable' by Lauren Krugel, The Canadian Press, July 24, 2015, Global News
Alberta's energy and environment ministers say they're troubled by a huge pipeline spill in the oilsands region, but they have confidence the provincial regulator will get to the bottom of what went wrong.
Marg McCuaig-Boyd and Shannon Phillips toured the cleanup site 35 kilometres southeast of Fort McMurray on Friday, along with a representative from a nearby aboriginal community.
McCuaig-Boyd called the spill "unacceptable."

"We all want to know that when an incident like this happens, not only is it contained and cleaned up, but every possible effort is made to find out what went wrong and fix it, prevent it from happening again here or anywhere else in Alberta." [But ok to let Encana and other oil and gas companies continue fracing in drinking water zones throughout Alberta?]
A contractor discovered the spill last week at Nexen Energy's Long Lake oilsands project. About five million litres of bitumen, sand and produced water covered a 16,000-square metre area.
Nexen has apologized for the rupture on the year-old, double-walled pipeline, which went undetected by its warning system.
Both ministers said they have confidence in the investigation underway by the Alberta Energy Regulator, an independent watchdog, and that pipelines remain the safest way to transport petroleum products. [Who do they sound like? Diana McQueen, Alison Redford, Jim Prentice, Stephen Harper, Ralph Klein, Ed Stelmach, Rob Renner, Ken Hughes, Mel Knight, Ron Liepert, etc?]
The pipeline had been deemed by the Alberta Energy Regulator to be "low risk" because of its age and leak detection system, said Kirk Bailey, the regulator's executive vice-president of operations.
The investigation could result in fines or criminal action, he said. [Like the zero fine for the Innisfail Frac Out? Or the Grand Prairie drinking water aquifer contamination by fracing? Like the zero fine Encana got for illegally fracturing Rosebud's drinking water aquifers and turning community water supplies into natural gas bombs?]
"We have all those options in mind as we are analyzing the information and making decisions about the investigation," he said. [But will be sure we act on none of them, and will just let the incessant pipeline and frac'd caprock leaks keep on a coming]
The possibility that the pipeline could have been leaking for as long as two weeks before it was shut off is one of "a number of things that are troubling about this," said Phillips.
McCuaig-Boyd said one of the main topics of conversation during Friday's visit was how to close communication gaps with First Nations when an incident occurs.
Byron Bates, a councillor with the Fort McMurray No. 468 First Nation, said he saw a much busier cleanup scene during Friday's visit than he did a week earlier. Measures are in place to keep animals away and contaminated water is being "sucked" out, he said.
"It's still two big football fields of black goo. So, it's still very disturbing," he said. "There's members of my First Nation that can't even watch the news when they see the spill site. They're afraid to. People are very connected to the land, so it really affects them." [Emphasis added]
[Refer also to:
Fox Creek Mayor Jim Ahn rightfully worried about frac quakes harming sour gas infrastructure in the community. How much damage have the quakes already caused sour gas wellbores and pipelines?
Sour gas from oil wells a deadly problem in southeast Saskatchewan, Human and animal deaths linked to hydrogen sulphide emissions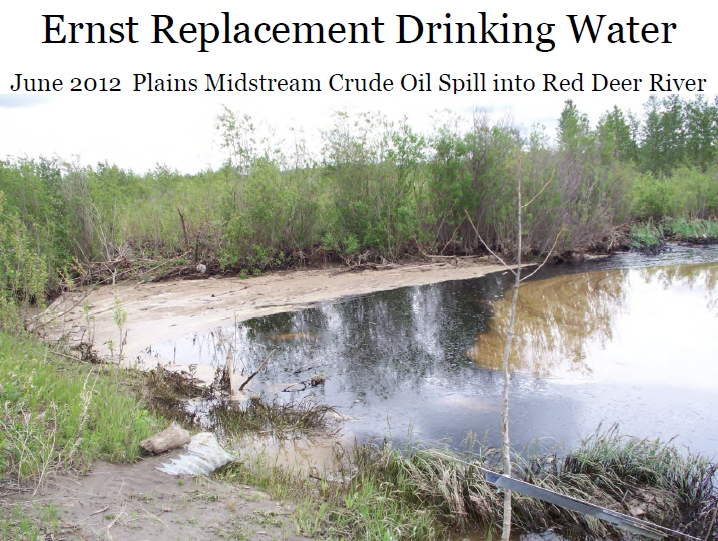 2013 05 22: Crude Awakening: 37 years of oil spills in Alberta
Alberta's had an average of two crude oil spills a day, every day for the past 37 years.
That makes 28,666 crude oil spills in total, plus another 31,453 spills of just about any other substance you can think of putting in a pipeline – from salt water to liquid petroleum.
It sounds like a lot. And it isn't a number the provincial government throws around often. …
The [AER] database provides a granular portrait of mishaps involving the oil in oil country.
But maybe more telling is what it doesn't include: The regulatory body's database is messy and missing data in many places; it doesn't include any spills from some of the biggest pipelines – those crossing provincial or national borders. These fall under National Energy Board jurisdiction. For the 53 per cent of spills from somewhere other than a pipeline, such as oil wells and pumping stations, anything under 2 cubic metres (2,000 litres, or about twelve and a half barrels) doesn't get counted.
And as Alberta makes the case for dramatically expanding its hydrocarbon veins within the province and to the other end of the continent, some are questioning just how close an eye authorities keep on the 2.5-million barrels of oil flowing through 400,000 kilometres of pipeline every day. [Emphasis added]