TransAlta seeks 'acceptable' penalty for power market manipulation by Stephen Ewart, July 30, 2015, Calgary Herald
So much for contrition.
Days after it was found by a government watchdog to have manipulated Alberta's electricity market for millions of dollars in profits, TransAlta says it is considering whether to approach the regulator about negotiating a "mutually acceptable" settlement case. 
The company — which is also weighing whether to appeal the Alberta Utilities Commission ruling through the courts — acknowledged any settlement it reaches with regulators for the offences from 2010 and 2011 will have to "satisfy Albertans."
I'd suggest anything "mutually acceptable" to TransAlta is unlikely to "satisfy Albertans."
Public mistrust has been a hallmark of Alberta's electricity market since it was deregulated in 2001 and while in opposition the now-governing New Democrats cited the TransAlta case as an example of how deregulation led to routine price gouging of consumers in the province.
TransAlta has always insisted it followed the rules that existed at the time. Two regulators have now disagreed with that letter-of-the-law approach. A class-action law suit on behalf of customers is coming together.
The exhaustive 217-page ruling from the AUC — there are more than 730 footnotes — supports an earlier decision from Alberta's Market Surveillance Administrator that found TransAlta shut down four power plants during peak-demand hours to push up prices not due to an immediate need to take them offline.
It was TransAlta which filed the complaint with the commission arguing the MSA hadn't followed due process in its role monitoring Alberta's power market. At the time, TransAlta said it was seeking "a fair process and an unbiased regulatory ruling."
The AUC panel concluded "the MSA carried out its mandate in a fair and reasonable manner."
Having received the long-awaited ruling, TransAlta chief executive Dawn Farrell said Wednesday that the company is "weighing the pros and cons" of a further appeal.
Farrell acknowledged she was "surprised by the decision" and said TransAlta — which saw it stock close at an all-time low of $8.34 Wednesday on the Toronto Stock Exchange — may seek to negotiate its penalty.
"We are also considering whether to approach the MSA to secure a mutually acceptable settlement of the penalties in relation to the ruling that will satisfy Albertans," she said in a conference call to discuss the second-quarter results. "We estimate our profits from the actions to have been in the range of $5 million to $1o million, which we would assume would be part of a settlement, if one could be achieved."
Harry Chandler, administrator of the MSA, has already said the penalty will be significant. The MSA can levy fines of up to $1 million a day per infraction and order ill-gotten profits returned to competitors and customers.
Industry analysts suggest the penalty could be as much as $30 million for the $2.3 billion market-cap company that reported a $131-million loss for the second quarter. TransAlta has run afoul of regulators before. It was fined $370,000 for manipulating Alberta's power market in 2012 but said it misinterpreted rules it called confusing. It was also fined for unfair pricing in California's gas and electricity markets in 2000 and 2001.
Farrell said TransAlta changed its practices in 2011 — she was chief operating officer at the time — but in light of the AUC's ruling will bring in outside consultants to assess its practices around trading compliance and forced outages of its power plants. She expects the review to be completed this year.
The decision whether to take the AUC's ruling to the Alberta Court of Appeal will be made within 30 days.
The company said one consideration in whether to appeal will be the benefit to industry overall in helping companies better understand Alberta's evolving power regulations.
"One of the things that really drives us is trying to make sure there is clarity in the decision and in the ruling so that the rules, at least from our perspective as a company, are clear and understandable," chief legal officer John Kousinioris said. "We think clarity is important for us, for our peers and our competitors and the marketplace generally."
It's a magnanimous sentiment but TransAlta appears to be the only one confused.
Farrell made the point the company needed to regain the trust of Albertans following the decision by the AUC but it's a challenge to see how continuing to fight the matter — and drag it into the legal system — will help earn back support from cynical consumers.
Despite the challenges for coal-fired power generators, Farrell told analysts TransAlta is "positioned to adapt and succeed."
It's time for TransAlta to accept the rulings from regulators, ensure business practices are beyond reproach so it doesn't happen again and get on with the real business of running the company. [Emphasis added]
TransAlta plans review after commission concludes it broke rules by The Canadian Press, July 29, 2015, Calgary Herald
TransAlta Corp. says it will undertake an independent review of its practices following the Alberta Utility Commission's conclusion that the company triggered outages at power plants to raise electricity rates.
CEO Dawn Farrell said the actions that led to the case before the commission were stopped almost five years ago.
"That being said, we will undertake an independent review of our practices today to ensure Albertans that our practices comply with the highest standards in Alberta," Farrell said in a statement.
"This independent review will be made public." [Like the secretly Encana & Alberta government controlled "independent" reviews by Dr. Alexander Blyth for the Alberta Research Council (now Alberta Innovates) that blamed nature and citizens for the harms caused by Encana's law violations?]
The commission held hearings after Alberta's market surveillance administrator alleged the company manipulated the electricity market by shutting down coal-fired power plants in late 2010 and early 2011 to drive up power costs during periods when demand was high.
The commission also found TransAlta breached a regulation by allowing its energy trader to use privileged information related to plant shutdowns so that the company could benefit in the market.
But the commission found that the market surveillance administrator did not prove allegations that TransAlta's compliance policies, practices and oversight were inadequate and deficient.
The company said it is reviewing the ruling, including the possibility of seeking leave to appeal with the Alberta Court of Appeal.
TransAlta reported Wednesday a loss of $131 million or 47 cents for the quarter ended June 30 compared with a loss of $50 million or 18 cents per share a year ago.
Revenue totalled $438 million, down from $491 million in the same quarter last year. [Emphasis added]
[What gave birth to the AUC?
The EUB (Energy Utilities Board):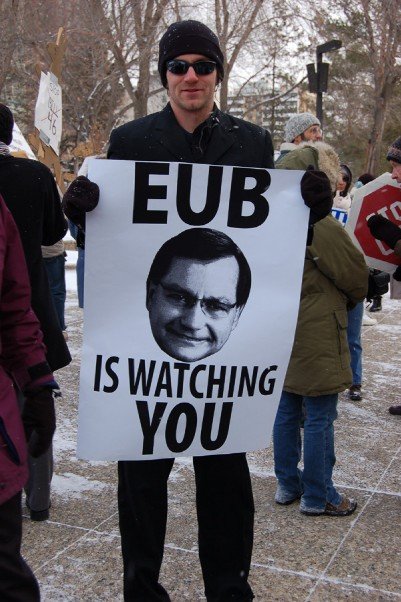 Source of above two clippings: 2007 Canadian Business Magazine
After it was made public in 2007 that the EUB broke the law and spied on innocent Albertans, the scandal erupted in the media. To put outraged Albertans back to sleep, the government changed EUB's spots to ERCB/AUC]
TransAlta deliberately manipulated prices, may have pocketed up to $100 million: AUC by Tim Querengesser, July 27, 2015, Metronews
TransAlta, an electricity wholesaler for Alberta's deregulated electricity market, engaged in actions that had an "anticompetitive purpose" and could have made the private company up to $100 million, according to a report released Monday by the Alberta Utilities Commission.
In 2011, a market watchdog filed allegations of anti-trust against TransAlta, which sells electricity in Alberta as a private company in the only dergulated electricity market in Canada.
Those allegations stemmed from TransAlta's decision to shut down six electricity generation plants for several days during peak demand periods in both 2010 and 2011, which saw prices consumers paid for electricity spike.
Several alleged the plant shut-downs were timed to have a positive effect on electricity prices, though in February, TransAlta provided closing arguments to the Utilities Commission that its actions "would not attract any anti-trust scrutiny under the Competition Act in Canada."
In its final judgment, however, the Commission found that TransAlta "engaged in this conduct for an anticompetitive purpose."
Further, the Commission sought the opinion of an outside expert for the potential affect this had on revenue generation for the company. That expert found the company's revenue gains could have been "in excess of a hundred million dollars, depending on the scenarios and assumptions used."
Regulator finds TransAlta breached the rules in power price-fixing case by Darcy Henton, July 27, 2015, Calgary Herald
Calgary-based TransAlta Corporation manipulated power prices and engaged in insider trading when it shut down its coal-fired power plants during peak periods nearly five years ago, according to a decision handed down by the Alberta Utilities Commission on Monday.
The commission found that TransAlta could have deferred each of the outages to off-peak hours but chose instead to take them during peak or super-peak hours to maximize the benefit to its own portfolio of generating assets.
"The commission is satisfied that TransAlta's conduct in this regard was unquestionably deliberate and designed to move market prices away from a competitive market outcome by timing the outages at its coal-fired units … at times of high demand and/or constrained supply," it said in a 217-page ruling.
AUC spokesman Jim Law said a hearing will be held to determine the administrative penalty.
The commission can levy fines of $1 million per day for each infraction that occurred, and can also order the utility to return the money it made to electricity consumers and competitors, Law said. [What's the fine value of fracing a community's drinking water aquifers, diverting fresh water without a permit, blowing up a municipal worker and water tower, and contaminating drinking water wells with natural gas and other toxics?]
TransAlta said in a statement it is reviewing the ruling and considering an appeal to the Alberta Court of Appeal.
TransAlta and two employees — Nathan Kaiser and Scott Connelly — were accused of violating the Electric Utilities Act and the Fair, Efficient and Open Competition Regulation by driving up electricity prices though shutdowns of coal-fired power plants in late 2010 and early 2011.
The supper-hour shutdowns on cold winter nights increased electricity prices by 10 to 60 per cent, and forced the companies that owned the rights to the power to scramble to purchase high-priced electricity for their customers.
The shutdowns in 2011 also triggered an emergency alert over the short supply of power.
While finding TransAlta violated the provincial acts, the commission exonerated the two traders.
"The AUC found that one of two traders accused of insider trading had not done so while the other trader raised concerns repeatedly but was nonetheless authorized by senior TransAlta managers," Law said.
The Market Surveillance Administrator (MSA), the power market watchdog, claimed TransAlta made nearly $16 million profit from the shutdowns by selling power it owned at other facilities after driving up prices and by trading in Canada's only deregulated electricity market.
TransAlta argued that holding back power from the grid to reduce supply and increase prices is permitted under market rules, but the commission flatly rejected the argument.
"The commission finds that, a reasonable person in similar circumstances, would not have embarked upon such a strategy without first seeking express confirmation from the MSA that the conduct in question was lawful," the regulator said in its decision. "This, TransAlta did not do."
Consumer groups and opposition party critics applauded the commission's decision, but called on it to send a clear signal to utilities that price-fixing cannot be condoned.
"The wholesale market, that was deregulated in 1996 and the years thereafter, has now received a black eye," said Alberta Consumers Coalition lawyer Jim Wachowich. "It's very difficult to know if these things can go on … and if we are going to be able to punish the wrongdoers."
A better system would have mechanisms that don't have opportunities for wrongdoing, he said.
Wildrose critic Don MacIntyre said it is critical TransAlta receives more than a slap on the wrist. "I think that any penalty should take away any motive for companies to manipulate prices in the system again," he said. "This is especially offensive given the amount of people on fixed incomes who had to pay higher power prices just to improperly top off a company's bottom line."
PC energy critic Rick Fraser said the party respects the decision and wants "to work with industry to implement good practices that benefit Albertans." [Since when have energy industry voluntary "best practices" ever benefited anyone except shareholders and upper management of companies?]
Alberta Party Leader Greg Clark urged the NDP government to overhaul the rules to ensure companies can't withhold electricity to artificially drive up prices and profits.
"I am not convinced others aren't out there doing the same thing," he said. "I think there's a real need to tighten up the language to make sure it's very clear what is economic withholding and what is not."
Industry consultant David Gray said he believes TransAlta was caught manipulating prices only because competitors complained the utility was doing it at their expense.
"At the end of the day, the safeguards are there for the competitors, really,  not the consumers," said Gray, a former Utility Consumers Advocate executive director. "It's not a good situation where you have a lot of companies with the ability to drive up prices X number of hours per year."
But Enmax, one of the companies affected by the shutdowns, said in a statement the ruling demonstrates Alberta's legislation and electricity market regulations do work.
TransAlta was fined $370,000 for breaking market rules in November 2010 by restricting electricity imports 31 times over eight days to create an artificial shortage and increase prices. [Emphasis added]
[Refer also to:
2013: Petro-state politics prompts CSIS to spy on citizens at alarming rate, FOIs reveal
2007: A controversial electricity transmission line and charges of spying zap the reputation of Alberta's energy regulator