Mock emergency hits Taylor, From rail car fires to car accidents to ruptured pipelines, emergency responders from district, industry get exercise in staying prepared and keeping co-ordinated when catastrophe strikes by Bronwyn Scott, October 15, 2015, Alaska Highway News
Fire, sirens, traffic control and emergency personnel were all on scene in Taylor for a mock emergency exercise that put first responders' skills to the test on Wednesday.
Members of the Taylor Industrial Mutual Aid Group (TIMAG)—which includes the District of Taylor, Spectra Energy, Pembina Pipeline, Alliance Pipeline, Canfor, AltaGas, RCMP, and the BC Ambulance Service—were all on site, as well as other agencies who would respond in the event of catastrophe.
The B.C. Oil and Gas Commission, School District 60, BC Hydro, CN Rail and more were all part of the mock scenario, the details of which unfolded as the morning progressed.
"Some vehicles are arriving on scene, and so you can observe from here that those rail cars are on fire. We're assessing right now what is in the rail cars," said Alan Clay, communications consultant for the purpose of the exercise.
"You can see crews are going through the various numbers on the rail cars to find out what's inside the rail cars. They are obviously on fire, so right now we're trying to find out to what extent the rail cars are damaged, and whether or not the product inside those rail cars is leaking."
Part of the staged catastrophe involved a wood chip truck that tipped over near the scene and also caught fire. Adding fuel to the already major disaster was the fact that one of the pipelines had—hypothetically, of course—ruptured.
Brian Lamond, site controller and manager of emergency preparedness and security at Spectra Energy, told media that while staged exercises like this are important, there haven't been any major industrial occurrences locally.
"It's really important for people to test their actions in an emergency situation, so when, and if, the real situation happens, they'll have had an opportunity to go through what their roles and responsibilities will be and to interact with people and really, as you can see by the number of people that are here, we need to know one another when it happens," he said.
"That's part of what we do with TIMAG, is we meet every two months and we talk about what's going on in the community… within the area, and we get that interaction between all the representatives and all the different TIMAG members."
All local residents and organizations had been informed of the emergency exercise.
[Refer also to:
2015 10 01: Why are Spectra Energy and the NEB lying about flaring deadly sour gas at Taylor, BC, claiming it poses no risk to the public?
2015 09 29: Hold your breath! Unplanned power outage at Spectra Sour Gas Plant in Taylor, BC causes massive flare and small grass fire
2015 09 23: AER's EMERGENCY COMMAND CENTRE SET UP 2.5 HRS AWAY! DON'T AER COMMAND STAFF WANT TO DAMAGE THEIR BRAINS? Encana's Fox Creek blow out spewing 20,000,000,000 litres/day sour gas & condensate: Where's the regulator? Ex-Encana VP Gerard Protti = AER Chair; Ex-Encana Manager Mark Taylor = AER VP Industry Operations
2015 09 22: AER & Encana Lying Update: Encana's Deadly Sour Gas Blow Out at Fox Creek: Did Alberta's Energy Minister lie for Encana & "No Duty of Care," cover-up agent extraordinaire, the AER?
2015 07 25: Fox Creek Mayor Jim Ahn rightfully worried about frac quakes harming sour gas infrastructure in the community. How much damage have the quakes already caused sour gas wellbores and pipelines?
2015 04 24: Sour gas from oil wells a deadly problem in southeast Saskatchewan, Human and animal deaths linked to hydrogen sulphide emissions
2014 05 09: B.C. horse breeder recounts fracking sour gas leak scare caused by Encana
2013 12 29: B.C. school kids in danger, can suffer DNA damage illness from leaking sour gas several km away, yet B.C. allows wells within [100 m] of schools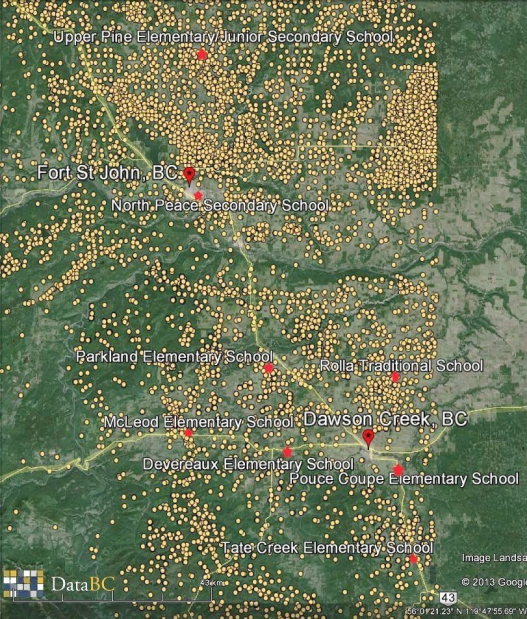 Yellow dots are wells; red dots are schools in the Dawson Creek/Fort St. John area. ]