People in Tatamagouche reject fracking by CBC News, July 22, 2014
The man hired by the Nova Scotia government to review fracking is touring the province — and David Wheeler now knows many people at the public meeting in Tatamagouche do not want it approved. Dozens of people packed into the Tatamagouche Centre Monday evening for the fourth of 11 public meetings scheduled over the next few days. [Citizens that were there reported that about 300 people attended in Tatamagouche]
Comment by Graham Hutchinson:
Their were 312 people at the meeting, slightly more than "dozens"
"We are taking a highly precautionary approach here," said the president of Cape Breton University. Wheeler was greeted by a crowd that shared its opposition to fracking.
"We are a group of people who have educated ourselves and have done research and interviewed experts and scientists and even people from the industry who told us watch out," said Hanna Hunziker.
Sometime next month Wheeler will present the government with his final report. "We do believe there's a possibility of learning from our report, learning from other things going on across Canada. [LIKE FRAC PATENTS FILED BY PANEL MEMBERS, BUT KEPT FROM THE PUBLIC?] So we're certainly not saying that this will never happen in our province but what we are saying is that there is a lot of learning to be done first." [Demanding that Dr. Maurice Dusseault step down and start the process over, with integrity and honesty, would be the appropriate place to start]
Many people at the meeting expressed concerns over the impact of fracking on ground water. "If you have companies who want to take millions of gallons of public water and destroy it through fracking — that's a public issue, that's an issue of concern to us all," said Doug Rigby.
Hydraulic fracturing, or fracking, involves blasting a mixture of water, sand and chemicals into a well bore to fracture the surrounding rock and release the trapped hydrocarbons, usually natural gas, coalbed methane or crude oil. [Emphasis added]
Fracking foes pitch moratorium or outright ban by Michael Lightstone, July 23, 2014, The Chronicle Herald
The McNeil government's road-show review of fracking was preceded by dissent Wednesday evening in Halifax. Dozens of fracking opponents gathered prior to the province's public meeting at a post-secondary school to listen to people criticize hydraulic fracturing. They heard Nova Scotia should forbid or impose a long-term moratorium on the contentious energy-sector technique. Open sessions on the issue are being held across the province this month.
A blue-ribbon panel [complete with Dr. Maurice Dusseault's frac patent filed in 2011, and shamefully not disclosed to the public by the panel or Dr. Dusseault. Why are Nova Scotians not demanding the removal of Dr. Dusseault from the panel, that his paper where he pushes the dreadful, "no duty of care" Alberta regulator as model, be struck and a formal apology issued?] set up by the government has released 10 discussion papers on various aspects of the review. Almost 240 submissions from individuals and organizations have been received by the group. The panel, headed by David Wheeler, president of Cape Breton University, is to deliver a report to Energy Minister Andrew Younger next month. Nova Scotia implemented a moratorium on fracking a couple of years ago, under the former New Democratic Party government.
Wheeler told the Halifax meeting "the jury is out" on a few fronts regarding hydraulic fracturing. He said his panel is not saying fracking should be allowed now, or in the future. "We simply do not know if it's a good idea," said Wheeler, who was interrupted occasionally and briefly by fracking foes in the audience. "We're also saying we have to keep an open mind." [To get poisoned and deregulated to where it's impossible  file a lawsuit when your drinking water gets illegally frac'd?]
…
Attendees at the packed Halifax session, where hundreds of people filled a warm lecture hall at the University of King's College, heard an audience member's emotional plea for the province to reject hydraulic fracturing.
The speaker, who identified herself as a registered nurse and an expert in environmental health, said she knows fracking "makes people sick." She added that "we don't need shale gas at this cost."
Energy industry officials promoting fracking say the gas-freeing method is safe, not harmful to the environment and subject to government regulations [that in reality, behind closed doors, are massively deregulated, everywhere fracing is taking place, and in the few places with some reasonable regulations left, regulators look the other way when fracing harms families, aquifers, air, land and communities] affecting water and the local ecology.
Opposition to fracking has greeted the province's public meetings in other regions. In Halifax, opponents included the Nova Scotia Native Women's Association, environmentalists, community activists, students and local householders. Some protesters attached red and black no-fracking signs to university buildings before Wednesday's meeting began.
Wheeler has told audiences during his provincewide tour it would be inconceivable the province would go ahead with a hydraulic fracturing project without the consent of the local community. He repeated that pledge Wednesday. [When it comes to fracing, promises mean nothing, most especially from Canada's "academics"]
But skeptical opponents of fracking have said they're not so sure. Critics in Nova Scotia say the province should impose a 10-year moratorium, if not an outright ban.

Two more public meetings in this province on hydraulic fracturing are set for today. One takes place in Yarmouth at 11 a.m. and the other will start in Windsor at 6:30 p.m.
Description of Dr. Dusseault's Patent on Canadian Intellectual Property Office website:
As well, concerns have been expressed regarding the potential environmental impact from the use of synthetic additives in hydraulic fracturing solutions. … In one aspect, the fracturing fluids employed in this process comprise of water, saline or water/particulate slurries that are essentially free of additives.
…
[0020] The terms "induced fracture" or "generated fracture" as used herein mean: a fracture or fractures created in the rock formation by man-made hydraulic fracturing techniques involving or aided by the use of a hydraulic fluid, which in the present process is intended to be clear water along with additives such as friction reducers to aid the hydraulic fracturing process. [Emphasis added]
Review could recommend lifting Nova Scotia's fracking moratorium: Wheeler by The Canadian Press, July 23, 2014, News957
The leader of an independent [INDEPENDENT WITH FRAC PATENT FILED IN 2011?] review of hydraulic fracturing in Nova Scotia says the provincial government should receive its report next month and it's not likely to recommend a continuation of the province's moratorium on the practice.
David Wheeler spoke to those gathered for a public consultation meeting at Amherst Town Hall on Tuesday. Wheeler, the president of Cape Breton University, says continuing the moratorium will be a political decision, and the goal of the review is to help inform those decisions. [THAT'S WHERE DR. MAURICE DUSSEAULT'S FRAC PATENT COMES IN!]
He says several recommendations will be in the report, all with the proviso that the review panel is "not saying this activity should proceed now in our province." ["NOW" MEANS EVERYTHING CAN CHANGE AFTER THE REPORT IS COMPLETE AND SUBMITTED]
If foundational research proceeds far enough, and if communities welcome the prospect of fracking, the panel will recommend seismic testing and exploration once "full, prior and informed community consent is in place." [What good does a frac patent panel promise do?]

Not everyone in attendance at the meeting was convinced the panel would come out on the side of environmental protection, with many pleading with Wheeler to recommend continuation of the moratorium, which has been in place in Nova Scotia since 2012. [Is it wise to trust a Chair who allows brazen conflict of interest on his panel?]
Fracking drilled at meeting, Dr. Wheeler forced to defend integrity of group, process  by Francis Campbell, July 22, 2014, The Chronicle Herald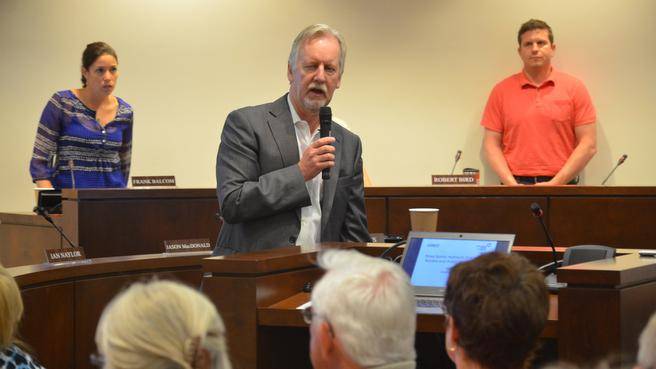 David Wheeler addresses the crowd at the fracking information meeting in Amherst on Tuesday afternoon. (FRANCIS CAMPBELL / Truro Bureau)
"Everybody in this province is saying nooooo," said Jody Zinner, who moved to Cumberland County recently. "So what is consent?" Zinner said she and her partner left Montreal for rural Nova Scotia two years ago and she "came for the environment." "People here are excited about how beautiful it is. I'm not paranoid but our government isn't always going to care about us. We live in a state where scientists are being muzzled. We have to put up a good fight."
It appeared the majority of the more than 60 people who showed up at council chambers in the Dominion Public Building wanted to take that fight to Wheeler, chairman of the Nova Scotia Expert Panel on Hydraulic Fracturing, who presided over Tuesday's meeting with a PowerPoint presentation and a willingness to answer questions. "It's a very, very slow burn," Wheeler, president of Cape Breton University, said of any potential move away from the provincial fracking moratorium and allowing the method of natural gas extraction in the province. "It's a five-, 10-, 15-year process, if anything happens at all." [Is Dr. Wheeler believable? Is he credible, not demanding that Dr. Maurice Dusseault step off the panel?]
The crowd seemed intent on heading off the process before it gained any steam, especially when Wheeler offered a slide that showed Cumberland County as one of the areas in the province that has the most potential for a fracking industry. He said that 2,000 to 4,000 gas wells could be drilled in the county at a rate of about 100 wells and 10 well pads per year for 40 years.
"When you are in Halifax tomorrow night, sir, you might have a lot of people applauding this because that is not in their backyard," said George Sproul, 50, of Maccan.
Fired-up attendees talked about a lack of confidence in government, a distrust in the industry and an overall suspicion of the panel's mandate.
"Government, industry and universities work together," said Don Rushton, 67, of Amherst Head. "The line is that the technology is developing and it will be safe by the time it comes here, and that's garbage."
For his part, Wheeler defended the process and said the panel wasn't spewing garbage. He bristled at the accusation that panel members were in the pocket of industry. [Ooo la la! What about academic turned businessman, Dr. Dusseault and his very own frac patent?  Whose pocket is he in?]
"They have professional reputations and have integrity," he said of panel members."It's very unfair to impute bias." [No one in the public has to impute bias, Dr. Dusseault's does that all by himself.]
Cheryl Maloney, president of the Nova Scotia Native Women's Association, said any talk of fracking in the province was premature without initial talks about safe drinking water.
"This is a water-quality and water-quantity issue," Maloney said. "The water we depend upon is the water that is underneath us. You didn't even ask us if we want to use our water for that (fracking)."
A panel discussion paper's mention of the energy security that could be obtained from potential fracking operations was also challenged.
"It's misleading and they don't defend how fracking would lead to energy security," said Kate Perfitt, 26, of Halifax.
Wheeler is about midway through his provincial swing, with meetings planned for Halifax and Kennetcook today and Yarmouth and Windsor on Thursday. He said he will deliver the panel's report to Energy Minister Andrew Younger in early to mid-August.
Pointing to a host of unanswered questions about the fracking process, Wheeler said it is "unthinkable" that the provincial government would go ahead with any projects without the consent of the local population.
"Communities need to work with what we put in our report and make sure your councillor, your MLA and all your politicians know where you stand. That's how democracy works." [Yes, the all new, Frac Patent Democracy]
Fracking report won't suggest to government what should be done next 
by Monique Chiasson, July 22, 2014, Truro Daily News
An emotional, and at times aggressive, community discussion brought the topic of fracking to life once again in Truro. About 70 people attended a meeting at the Rath Eastlink Community Centre on Tuesday night for a discussion on the Nova Scotia hydraulic fracturing review, compiled by an expert panel and led by Cape Breton University president David Wheeler.
The independent review will not suggest to the government that a moratorium on fracking in Nova Scotia should continue.
However, "the panel is not saying this activity should proceed now in our province, nor are we saying it should necessarily proceed in the future," Wheeler read from the report. Wheeler said the government should "keep an open mind" and there's a "period of learning" that needs to happen based on continued "evidence-based" research and "assessment of risks and benefits … at the community level." [What benefits? Those Dr. Dusseault stands to gain with his frac patent?]
Later in the meeting Wheeler added, "we are not saying this should never be done because we don't know." He said some of the unknowns include not having a proven size of the resource [Is Dr. Wheeler and his frac patent panel setting the stage just like the Council of Canadian Academies did?  Recommend industry use innocent, trusting Canadians as frac guinea pigs: Frac 'n Study and Go Slow?], not knowing if the industry "would want to do it here," and lack of knowledge of life cycle impacts as well as evidence-based risks, benefits and long term implications.
Cheryl Maloney, a Shubenacadie East resident and president of the Nova Scotia Native Women's Association, was not happy with the update.
"You guys failed. You say the science isn't there … the science is out there …," Maloney said. …
The majority of those in attendance were adamant fracking should not be allowed in Nova Scotia. …
When asked by the public about safety issues, Wheeler said fracking is "clearly not a low-risk activity" and the panel has "not given it a clean bill of health."
He reminded people the panel is not recommending action one way or the other and it's up to the government to decide what happens next when the report is given to the Department of Energy next month. "There are no guarantees," Wheeler said. [The panel members, including Dr. Wheeler, could easily gather their courage, integrity and recommend no fracing in Nova Scotia]
"I don't think we live in a province that (government) will crash this through. We need people to trust their government … we could have a government crash through and say, 'it's crown land' but that's why we have democracy," he said, also insinuating, if fracking became reality, it could be "years and years in the future."
When asked how many people showed support for fracking at the various meetings being held around the province, Wheeler said, "very few" and that "many are undecided."
The report indicates prior public feedback suggested 53 per cent of Nova Scotians are opposed to fracking; 39 per cent support the initiative and eight per cent were undecided. [Emphasis added]
[Refer also to:
Un bizarre et dangereux monsieur: Dr. Maurice Dusseault, Public Advisor on Fracing, filed Fracing Patent
MUST READ: Dr. Maurice Dusseault, Public Advisor on Council Canadian Academies Frac Panel, Nova Scotia Frac Panel, New Brunswick Energy Institute (that promotes fracing) Filed Frac Patent in 2011
Nikiforuk: What's Missing from Canada's Academic Fracking Debate? "The Gritty Truth." Qu'est-ce qui manque dans le débat sur la fracturation hydraulique au Canada?
Snaps from MUST WATCH Denton takes a stand by Dr. Adam Briggle, July 23, 2014
Nova Scotia Expert Panel on Hydraulic Fracturing Turns down Nomination for Jessica Ernst; Announces Nine Panel Members
Order of Canada winner, head of NB Energy Institute and promoter of frac'ing, Louis LaPierre, lied about Ph.D and M.Sc. ]