Ewart: Notley may implement regulatory 'speed bumps' for energy industry by Stephen Ewart, June 24, 2015, Calgary Herald
Premier Rachel Notley appears intent on shuttering the "one-window" approach to energy regulation in Alberta.
The newly elected premier has unsettled the oil and gas industry with moves to increase corporate taxes, review royalties, toughen regulations around greenhouse gases and she has now raised the spectre of the NDP undoing the [de]regulatory reforms of the previous Tory government.
In an interview with the Herald, Notley said she is concerned about the "conflicting mandate" for the two-year-old Alberta Energy Regulator as both "a promoter of energy and the primary vehicle of environmental protection" in Alberta.
While in opposition, Notley had complained about the AER's "pro-industry mandate."
"You can't do that job when your overarching mandate is to promote energy development so I tend to think we are going to have to split those mandates," Notley said in the interview published Tuesday.
She promised a "rigorous review" of the AER's mandate.
For the record, the mandate since the 2013 reorganization has been to ensure "the safe, efficient, orderly and environmentally responsible development of hydrocarbon resources over their entire life cycle. This includes allocating and conserving [by way of massive intentional contamination of Alberta's fresh water by fracing?] water resources, managing public lands and protecting the environment while providing economic benefits for all Albertans." [Refer below to comment by Diana Daunheimer. It will be fascinating to see if Mr. Ewart or the Calgary Herald post a correction]
Nonetheless, Notley has the right to her opinion. She also has a mandate from voters in the province to chart a different course for Alberta than occurred under the Tories.
She was harshly critical of the Conservative government's appointment of former oilpatch executive [AND current director of an oil and gas company, creator and past chair of CAPP, and most important, the one who pushed governments hard to deregulate unconventional fracing and who then was put into the top position of authority to force in the mass 'n ugly deregulation Encana/Cenovus, CAPP et al needed (need) to increase profits while wiping out the rights of Albertans and water and environmental protections Alberta used to have under the Water Act and AEPEA, urban and rural] Gerry Protti to chair the AER so it's not entirely surprising the arms-length government watchdog would come under scrutiny with an the NDP government. Notley also called for AER president Jim Ellis to resign in 2013 after a Court of Queen's Bench ruling found the province's environment department had been biased against environmental groups in an oilsands hearing when Ellis was deputy minister.
Notley has said little about Protti or Ellis since becoming premier.
When the AER was established, the Tory government envisioned it as a single [DE]regulator [LEGALLY IMMUNE, EVEN FOR CHARTER VIOLATIONS, NOW CONTROLLING ALBERTA'S FRESH WATER AND WATER AND ENVIRONMENTAL LAWS] to oversee development of oil, natural gas and coal in the province from initial application through to reclamation that would reduce the time and expense [AKA, INCREASE INDUSTRY'S ALREADY BILLIONS IN PROFITS] and make industry in Alberta more globally competitive.
[ENCANA/PROTTI? The Conservatives] said the previous regulatory regime had been too "onerous" on industry and the stated goal of the sweeping [DEREGULATION reforms] to the [BOSOM SUCKLING arms-length] regulatory agency was to provide "clarity, predictability, certainty and efficiency" for oil and gas producers.
Among other things, the AER's 1,200 employees oversee 415,000 kilometres of pipelines and 180,000 oil and gas wells in the province. As part of the reforms, the AER assumed some industry oversight functions that had previously been in the Ministry of Environment and Sustainable Development.
If the Tories were criticized for their ideological support of a neo-conservative small-government approach to the economy — and they were — are the New Democrats guilty of the same tactics, just at the opposite end of the political spectrum given Notley backed a split even before the review?
The desire to protect the public interest is certainly laudable, but Notley might have first found out if the checks and balances put in place in the overhaul are working.
[REDA SPELLS IT ALL OUT (REFER BELOW TO DIANA'S EXCELLENT COMMENTS ON IT).  
THE NEW PROTTI-DEREGULATION SYSTEM WORKS PERFECTLY – FOR ENCANA, CENOVUS ET AL, THE AER'S LEGALLY IMMUNE (EVEN FOR DELIBERATE ACTS OF NEGLIGENCE AND NASTINESS), NO DUTY OF CARE BOARD, MANAGEMENT AND STAFF AND PROTTI'S EXTRAORDINARILY EXPENSIVE DINNERS OUT.  
AND THEN THERE'S FOX CREEK AND THE MASSIVE DEREGULATION BLANKET APPROVAL PROCESS UNFOLDING IN ALBERTA: DID ENCANA AND PROTTI ASK THAT THE PC'S APPOINT HIM TO CHAIR THE AER FOR 5 YEARS TO CREATE, CONTROL AND SPREAD ALBERTA-WIDE THE FRAC-FRENZY FREE-FOR-ALL, DEREGULATED BLANKET APPROVAL, REPEAT WORLD-RECORD 4.4 M FRAC-QUAKE PILOT PROJECT AT FOX CREEK?]
The stakes are undoubtedly high.
[Yes, they are.
How many years could Mr. Ewart, and Calgary Herald and Encana management endure living without bathing once a week, while being assaulted by more drilling and fracing by Encana in the fresh water zones and incessant compressor noise violating their legal right to enjoyment of their homes and yards?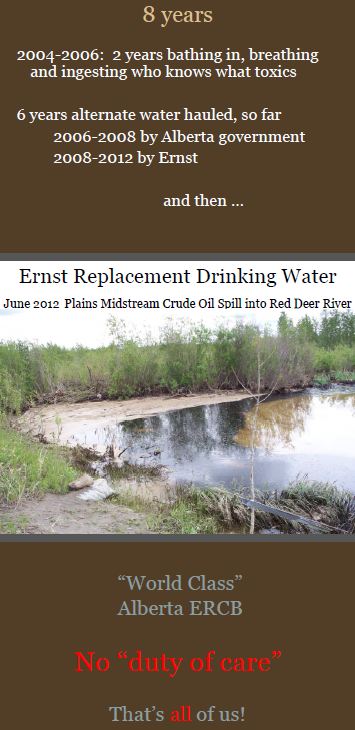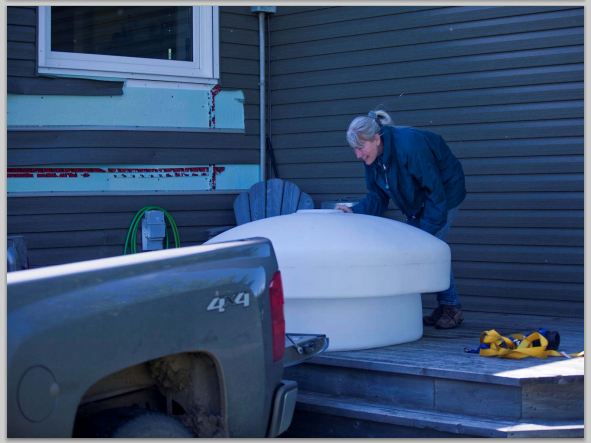 From contaminated Alberta drinking water to contaminated Alberta drinking water.
What oil industry toxics is Ernst now bathing in? ]
The prospect for added red tape and regulatory uncertainty are every bit as far-reaching and impactful on investment decisions by the oil and gas industry as are changes to royalty rates, GHG regulations or corporate taxes.
The prospect of sweeping changes to all those files almost at once — when crude oil prices are off more than 40 per cent from a year ago — is bound to strain
[Excuse me? Multi-billion dollar profit-taking companies with "effectively unlimited resources … with office towers full of experts … bank accounts full of cash … army of lawyers" are too weak to handle an unbiased Chair of the AER (without multiple steaks for dinner) and appropriate royalties, taxes, regulation and enforcement?]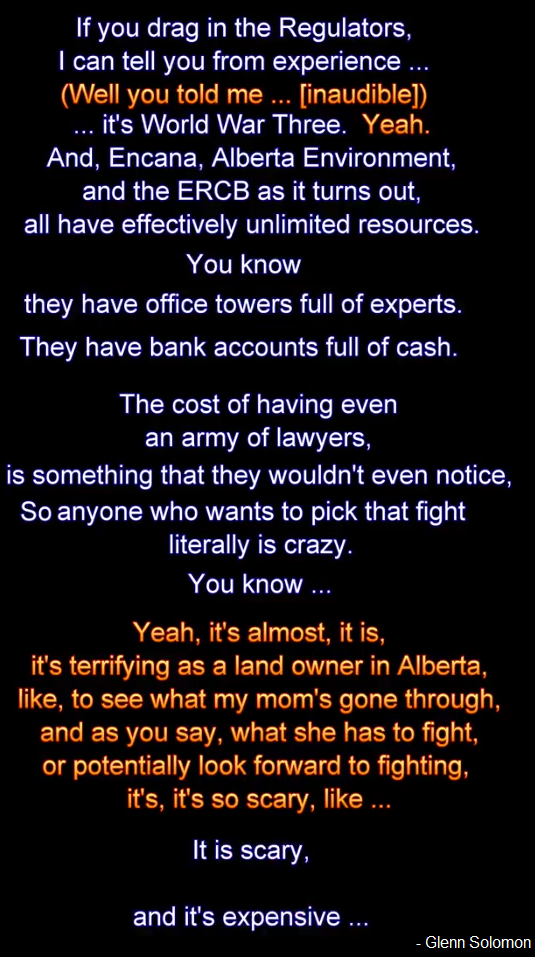 Glenn Solomon, lawyer representing AER in ernstversusencana lawsuit
what has been until now at least a publicly cordial relationship between the oil and gas industry and the left-leaning government.
The AER has been lauded by some [Frac Patent holder, endless Frac Panel and promoting member Dr. Maurice Dusseault?] as a leading regulator for energy projects but its critics contend it has become a rubber stamp for unimpeded development.
Notley's effort to show the world — or at least critics of the oilsands — there's legitimate oversight of the industry is obvious and it was former Tory environment minister Diana McQueen who warned "the world is watching" what Alberta does to limit the environmental impacts of oil and gas development.
Under Notley's NDP, the world is likely to see Alberta is prepared to install speed bumps on its path to economic prosperity.
Some of the comments:
by Diana Daunheimer 
Mr Ewart,
I have to wonder why you have chosen to print a nearly identical article from yesterday's edition, mind you, with less balance and content. For the record, you have also posted the mandate of the AER from REDA incorrectly. Is CAPP a bit upset, maybe the AER as well and you have marching orders to try and subtly convince Albertan's a review of the AER is a bad thing. How about you get out into the province in communities where the AER has "ensured" safe and environmentally responsible resource development and write about their experiences.
I must get my dear sweet children off to school, the same adorable nuggets, the AER allowed to get sickened with millions of litres of sour waste gas emissions a month for years on end (so safe, so responsible) and then I will post the actual mandate of the AER, as written in REDA, complete with the "without limitations" part. Then we can also discuss for readers the indemnity the AER has and find out just what you are writing about with the "checks and balances put in place in the overhaul are working," because most that are educated and involved in the issue know that the overhaul was to eliminate checks and balances and to date, there are none.
by Mike Marshall
Jason Poirier "Controlled by corporations" So you are saying the AER isn't a governmental organization run by public sector employees? I think you have no idea about the AER and what is done in other jurisdictions so you are only espousing NDP ideology to support whatever Notley says.
by Diana Daunheimer 
Mike Marshall
The AER is established as a corporation, (Part 1/Division 1-REDA) and is not run by public sector employees. The Public Service Act does not apply to the AER, it's directors, commissioners, officers or employees. The regulator is also not an agent of the Crown, all this can be found in REDA.
by John Kenneth Wayne Jackson
I know what AER is, Diana Daunheimer, but what is REDA? The only thing I can find is Regional Economic Development Alliance. Is that what you refer to?
What does it have to do with the Alberta Energy Regulator?
You seem to have some first hand experience, but I am curious to see how it all pulls together. My spidey senses feel some conspiracy theory strings being knit together. Lets look at each one individually to try to get to the end of each of them.
Diana Daunheimer
So the kids are off to school on the bus, which has to pass buy a sour gas site each day. This site was approved by the AER in violation of the OGCR, as it was constructed with access on a single lane range road (a bus and tanker can not pass one another) and puts our children and all the others using this road at continual risk. The ripped to shreds and non-functioning wind sock that has been in such condition for over 6 months also puts the public and workers at risk. Although the company is required to monitor sites daily, which they don't, they have ignored this critical instrument of safety on sour sites, time and time again. Such violations are common place here, but that is not why I am posting at this time. We need to discuss the actual mandate of the AER, under REDA, the legislation that gives the AER its powers.
Mandate of the Regulator:
2(1) The mandate of the Regulator is
(a) to provide for the efficient, safe, orderly, and environmentally responsible development of energy resources in Alberta through the Regulator's regulatory activities, and
(b) in respect of energy resource activities, to regulate
(i) the disposition and management of public lands,
(ii) the protection of the environment, and
(iii) the conservation and management of water, including the wise allocation and use of water,
in accordance with energy resource enactments and, pursuant to this Act and the regulations, in accordance with specified enactments.
(2) The mandate of the Regulator is to be carried out through the exercise of its powers, duties and functions under energy resource enactments and, pursuant to this Act and the regulations, under specified enactments, including, without limitation, the following powers, duties and functions:
(a) to consider and decide application and other matters under energy resource enactments in respect of pipelines, wells, processing plants, mines and other facilities and operations for the recovery and processing of energy resources;
(b) to consider and decide applications and other matters under the Public Lands Act for the use of land in respect of energy resource activities, including approving energy resource activities on public land;
(c) to consider and decide applications and other matters under the Environmental Protection and Enhancement Act in respect of energy resource activities;
(d) to consider and decide applications and other matters under the Water Act in respect of energy resource activities;
(e) to consider and decide applications and other matters under Part 8 of the Mines and Minerals Act in respect of the exploration for energy resources;
(f) to monitor and enforce safe and efficient practices in the exploration for and the recovery, storing, processing and transporting of energy resources;
(g) to oversee the abandonment and closure of pipelines, wells, processing plants, mines and other facilities and operations in respect of energy resource activities at the end of their life cycle in accordance with energy resource enactments;
(h) to regulate the remediation and reclamation of pipelines, wells, processing plants, mines and other facilities and operations in respect of energy resource activities in accordance with the Environmental Protection and Enhancement Act;
(i) to monitor energy resource activity site conditions and the effects of energy resource activities on the environment;
(j) to monitor and enforce compliance with energy resource enactments and specified enactments in respect of energy resource activities.
This is the entire mandate of the Regulator as written in REDA, never is it mentioned (throughout the entire document) that there is a mandate for the economic benefit of Albertans. I expect Mr. Ewart to retract that statement from this article as it is false and misleading.
Moving on, it seems that many people think the AER is a government body. It is not, under REDA is is established as a corporation (so they only really care about their economic benefits) and operates as an island from all other government functions, which is clearly established in Division 4, Jurisdiction of the Regulator:
(a) all powers, duties and functions of officials set out in a specified enactment are to be carried out by the Regulator instead of the officials to the extent that those powers, duties and functions are to be carried out in respect of energy resource activities,
(b) all powers, duties and functions of a department, the Government or the Crown set out in a specified enactment are to be carried out by the Regulator instead of the department, Government or Crown to the extent that those powers, duties and functions are to be carried out in respect of energy resource activities,
And they have made their "officials" the only officials to deal with specific enactments (section e)
And here is their indemnity clause, Division 5-Administration-Protection from action 27 No action or proceeding may be brought against the Regulator, a director, a hearing commissioner, an officer or an employee of the Regulator, or a person engaged by the Regulator, in respect of any act or thing done or omitted to be done in good faith under this Act of any other enactment.
REDA goes on to state how the Regulator can make rules, change timelines and has the ultimate discretion on all aspects of oil and gas regulation, such as giving itself "sole discretion" to reconsider, confirm, vary, suspend or revoke decisions, and is accountable in no way shape or form for their regulatory actions. It also never mentions public health.
Take a moment to view the Rules, section 61, pages 28/29 of REDA as I do not have the time to post all 28 of them, but (w) sums it up well….generally in respect of the Regulator's practices and procedures.
So in essence, the Regulator is omnipotent and only has oversight from the Lieutenant Governor in Council and to what degree is not clearly articulated, lots of "mays" in there.
I have grave concerns about how safe resource extraction activities have been by our home. We have seen intentionally falsified notifications, unsafe operations of incinerators, unsafe placement of well site, unsafe disposal of oilfield waste, unreported and untested surface casing vent flow on a well, exclusion from company policies on water testing and relocation during sour gas operations, unsafe release of hazardous emissions, unsafe traffic, incomplete regulatory submissions and zero transparency, utter lack of disclosure on records of hazardous waste used and produced by our home, complete and utter lack of mandated testing for air quality emissions, even when we insisted upon it to the AER, AHS and the company. We have seen our property devalued by sour gas wells surrounding our home and no longer drink our water. We have experienced distressing health harm to our family and livestock because of undisclosed toxic emissions from local energy wells. (the company hid the nature of emissions from us) We have endured years of non-compliant noise and light pollution, severely affecting the enjoyment of our property. The AER has condoned (by approving or refusing to enforce their own regulations) nearly each and every bit of it. It's too bad they are protected, at this time, from legal action. [Emphasis added]
Diana Daunheimer 
Bruce, Good points and FYI, Ellis makes over $500, 000/year not including expenses.
Diana Daunheimer
Mr Jackson,
REDA is the Responsible Energy and Development Act and it has everything to do with the AER, it governs them…sort of. This is the legislation that was brought into force when the AER rebranded from the ERCB and swept the Water Act, Mines and Minerals Act, Public Lands Act and the EPEA. If you want to understand the AER, you must read REDA. There is no conspiracy, just really bad regulations.
Refer also to: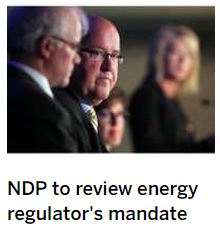 2015 06 23: Alberta Energy Regulator faces changes under NDP as Notley wants to review its mandate