West Virginia Spill Included Second Chemical, Officials Report by Huffington Post, January 21, 2014
The West Virginia chemical spill that left 300,000 residents without tap water for a week contained a second, previously unreported chemical, federal and state officials announced Tuesday. The 7,500 gallons of 4-methylcyclohexane methanol released into the Elk River on Jan. 9 also included a product known as "PPH," which contains glycol ether, the Charleston Gazette's Ken Ward Jr. reported.  "We have to go back and confirm things and make sure we're doing our due diligence for public health," said Gen. James Hoyer of the West Virginia National Guard. Officials are confident that the West Virginia American Water Co.'s treatment plant near the Elk River likely removed the PPH during normal treatment operations since the spill. Restrictions on using tap water were lifted for most of the affected residents by Friday. W.Va. Gov. Earl Ray Tomblin addressed ongoing concerns on Monday, saying, "If you do not feel comfortable drinking or cooking in this water, then use bottled water." He added, "I'm not going to say absolutely, 100 percent that everything is safe. But what I can say is if you do not feel comfortable, don't use it."
The company behind the spill, Freedom Industries, filed for bankruptcy on Friday. [Emphasis added]
Elk River leak included another chemical by Ken Ward Jr., January 21, 2014, Charleston Gazette
"We have to go back and confirm things and make sure we're doing our due diligence for public health," said Gen. James Hoyer of the West Virginia National Guard, who has a team that's been heading water testing efforts following the leak. Laura Jordan, spokeswoman for West Virginia American Water, said Tuesday night that the company "described in detail our water treatment process with state chemical experts, who ascertained that our current treatment process would likely have removed this chemical. "We are also testing water samples collected last week to further confirm this and will share those results when available," Jordan said in an emailed statement. Amy Goodwin, spokeswoman for Gov. Earl Ray Tomblin, said state public health officials had contacted the U.S. Centers for Disease Control and Prevention earlier in the day for assistance in understanding the chemical's potential health effects but had not heard back from the CDC as of Tuesday evening. A Freedom Industries data sheet on the chemical says it can irritate the eyes and skin and is harmful if swallowed. The sheet lists the material as less lethal than Crude MCHM but also says no data are available on its long-term health effects.
Mike Dorsey, director of homeland security and emergency response for the state Department of Environmental Protection, said he learned about the additional chemical's presence in the tank that leaked at about 10 a.m., just before a routine daily meeting with various agencies and Freedom Industries about the situation at the site. Dorsey said Freedom Industries President Gary Southern asked to speak with him privately, told him about the chemical being in the tank, and handed him data sheets on the material, which Dorsey referred to as polyglycol ethers. "He said, 'I'm going to have a terrible day today," Dorsey said. Dorsey said Southern told him the company previously had been adding the PPH to its Crude MCHM mixture and had stopped doing so. Southern said he didn't realize that the company had resumed adding the PPH to the mixture, Dorsey said. Dorsey said there were about 300 gallons of PPH in the tank that leaked. It's not clear how much of that material leaked out of the tank or how much reached the river.
Dorsey said he was "extremely disappointed" to be learning only Tuesday — 12 days after the leak — about the presence of PPH in the tank that leaked. Goodwin said that when Tomblin was told of the new information, the governor said that company's behavior was "totally unacceptable."
Crude MCHM is a coal-cleaning chemical made by Eastman Chemicals Co. It is stored and sold by Freedom Industries out of its facility just north of downtown Charleston. While some reports have used the term "Crude MCHM" and the chemical "4-methylcyclohexanemethanol" interchangeably, the 4-MCHM is actually only one of seven components of Crude MCHM. Eastman Chemical's material safety data sheet, or MSDS, says the chemical 4-methylcyclohexanemethanol makes up 68 to 89 percent of Crude MCHM.
The Eastman MSDS also shows that Crude MCHM includes six other ingredients:
4-(methoxymethyl)cyclohexanemethanol,
water,
methyl 4-methylcyclohexanecarboxylate,
dimethyl 1,4-cyclohexanedicarboxylate,
methanol and
1,4-cyclohexanedimethanol.
The Gazette learned about the presence of an additional chemical in the Freedom mixture from a source, and then confirmed some of the information with the U.S. Chemical Safety Board, which is investigating the leak. Later on Tuesday evening, the Tomblin administration made a team of state officials available to provide additional details. Daniel Horowitz, managing director of the CSB, said, "we were told about another component in the mixture that had been added to the Crude MCHM, a product called 'PPH' consisting of polyglycol ethers, at about 5.6 percent." [Emphasis added]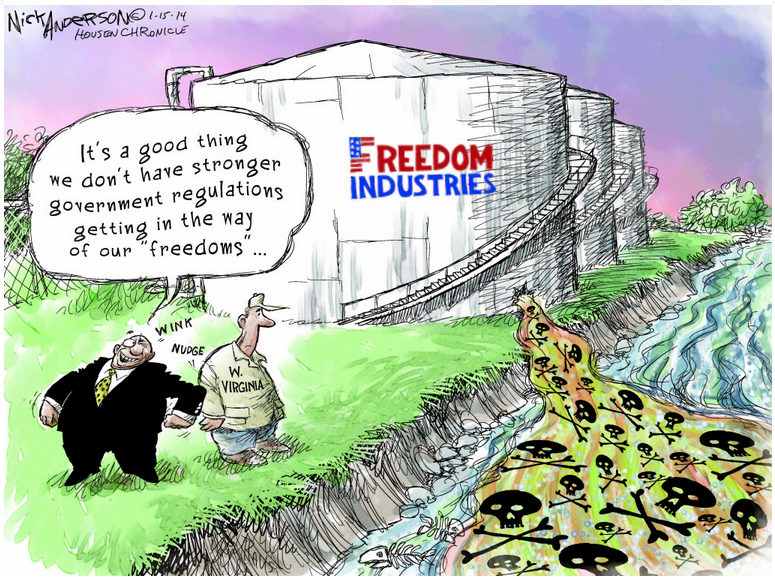 Source: Houston Chronicle
[Refer also to:
GreenHunter Could Store Toxic Water Next to Ohio River, Concern Grows Following Spill In Kanawha
Freedom Industries, company behind W.Va. chemical spill in drinking water for 300,000 people, files for bankruptcy, faces at least 24 lawsuits
300,000 told not to bathe, brush teeth, wash clothes after chemical spill hits West Virginia tap water, White House issued federal disaster declaration; When Encana frac'd Rosebud's drinking water aquifers and injected secret chemicals, no warnings issued by Health, Environment, AER or politicians! ]