COMPRESSOR STATION EXPLOSION RAISES CONCERNS by Amy Robinson, January 5, 2016, watfordcitynd.com

An explosion at an Oasis Midstream Services, LLC  compressor station located north of Watford City on Highway 1806 on Wednesday, Dec. 23, not only set off an automatic 911 call, but is raising concerns from McKenzie County officials as to the proximity that many oilfield structures are being built in regards to residential homes.
While no one was seriously injured as a result of the explosion, which occurred at approximately 11:30 a.m., neighbors who lived nearly one mile away from the compressor station reported not only hearing the explosion, but feeling it.
[These Encana compressors are about half a mile from Ernst's home: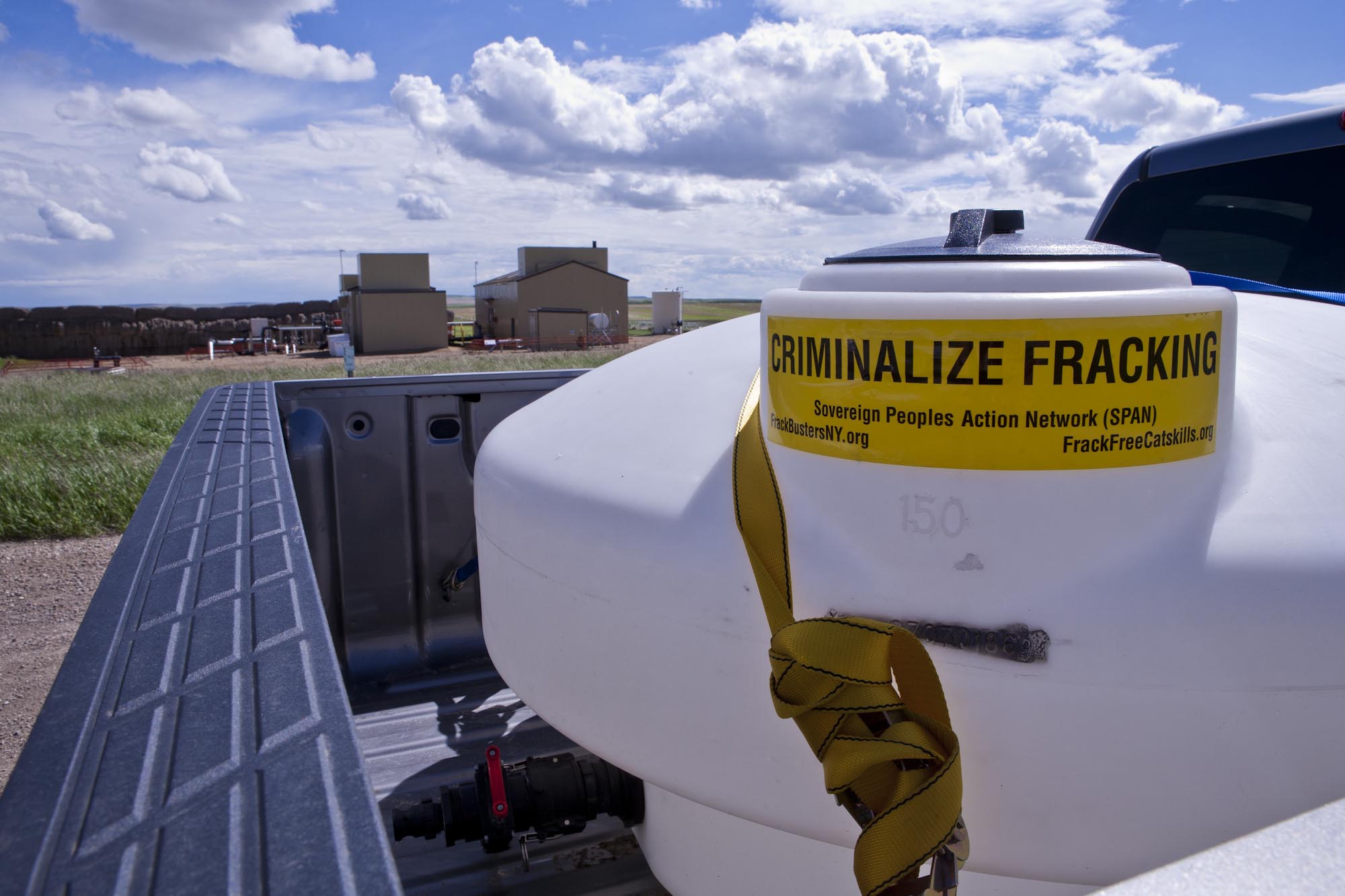 "The explosion set off the air bag in a pickup nearby which had OnStar installed," stated Jerry Samuelson of the McKenzie County Emergency Services. "This led to an automatic call to 911 with the Watford City Fire Department, the McKenzie County Ambulance Service, and the McKenzie County Sheriff's Office being  dispatched to the scene."
According to Samuelson, Duane Faulkner, who lives one mile west of the station, said he had some sheetrock damage in his house.
"My husband, Bryant, was home at the time of the explosion," said Kristi Faulkner. "He said the explosion felt like a truck had hit the house going about 75 mph. He got up and saw a fireball coming up from the compressor station. My mother-in-law, who also lives by us and the compressor station, said it knocked all of the pictures on her wall out of place. My mother-in-law said the explosion felt like someone had picked up her house and dropped it."
Faulkner's husband called 911 and headed down to the compressor station after the explosion. Because Bryant works in the oil field and is a volunteer fire fighter with the Keene Fire Department, he headed straight down to the explosion to see if everyone was alright. He talked to the Oasis employee that had been in the building when the explosion happened. He told Bryant that this was the second explosion this year that he had been in. "I was glad to hear that everyone was alright," said Kristi. "But I was scared and I was worried about the integrity of our house – the foundation and the structure. I wonder if we're going to have problems in the years to come because of this explosion."
Kristi Faulkner says she and her husband have real concerns about the compressor station near their home and have had those concerns ever since they received a letter from Oasis about locating a compressor station near their home. "In early 2015, there was a public county meeting held in regards to the compressor station coming. My husband went and shared our concerns with the county," stated Kristi. "The Oasis guy told us that these things don't explode. He seemed to have absolutely no concerns at all for us or what we were saying."
…
"If this explosion caused damage to homes a mile away, what did it do to the integrity of the pipelines that this compressor station services?" wonders Skarda. "This area is a corridor for many pipelines. What does an explosion do to the underground water supplies and formation? Will the explosion cause subsequent shifts in the rock formation in the years to come? Will the company be held responsible if the home's foundations become unstable?"
Kristi Faulkner says she and her husband just want to make sure everything that was damaged is fixed and anything that happens in the coming years as a result of the explosion is covered. And they want to know how the situation is going to be rectified and what the future holds for pipelines and compressor stations located close to their home. "We actually received another letter from Oasis on the day of or the day before the explosion," stated Kristi. "It was a letter stating that Oasis wanted to add more and expand  on our property. We definitely don't want a bigger station because who knows, we might not be here if another explosion happens.
For Kristi Faulkner, she wonders just how many oilfield-related accidents, like Wednesday's explosion, have to occur before someone cares. "Does someone have to get hurt or killed before it gets the attention it needs?" asks Faulkner.
…
"I was very keenly interested in going out to the compression station explosion site to see exactly what had happened," said Talbert. "It was classified as a 'lesser incident.' They say 'incident' like I cut my finger, but someone could have potentially been injured or killed. Those situations are not 'little incidents.' They are serious situations."
Talbert says that when he visited the site of the explosion on Monday, Dec. 28, with other county and Oasis personnel, there were two compressor buildings, maybe 10 to 15 feet apart, and one of those buildings had the sides and roof completely blown off. "The Oasis personnel said that there wasn't gas running through the building at the time of the explosion," stated Talbert. "They said they were warming up the engine compressor. But something just didn't make sense to me because of the size of the explosion and how much force and pressure was behind it."
…