Waterless Fracking Moves Into California Market, With Its Own Set Of Safety Issues, Dry-fracking is expected to make its way to California communities soon if the oil industry has its way by Trisha Marczak, July 29, 2013, Mint Press News
As debate rages on over the health impacts associated with petroleum companies' practice of hydraulic fracturing, or fracking, the industry is coming up with a new but equally controversial technique to get at oil and natural gas deposits thousands of feet below the surface of the earth. Californians are bracing for a new form of fracking that uses pressurized gas to break up formations where oil is hidden instead of the usual combination of water, silica sand and chemicals. It's called dry-fracking, and it's expected to make its way to California communities soon if the oil industry has its way.
…
While the oil industry has long eyed the formation as a source of big bucks, it has been met with opposition from the agricultural community, vineyard owners included, as each fracking well uses roughly 4 million gallons of water. This new form of dry-fracking takes that argument off the table, but it also brings along a new set of concerns for those working to maintain the land of the Monterey shale region. "(What) really scares me, first of all about the safety during production because somebody could light a cigarette and there you go, the whole town blows up," Patricia Lerman, of the local advocacy group Aromas Cares For Our Environment, told Central Coast News, a Fox affiliate station. That's not the only argument against dry-fracking. The Center for Biological Diversity, based in San Francisco, has also come out swinging against the emergence of the technique, claiming it's too early to know what the impacts could be if used in California. Dry-fracking is already being practiced by at least two Texas-based companies, according to Central Coast News. Gasfrac Energy Services Inc., a company based in Calgary, Alberta, has an office in Houston and touts the new form of fracking as one the company operates in a safe and reliable manner. [Emphasis added]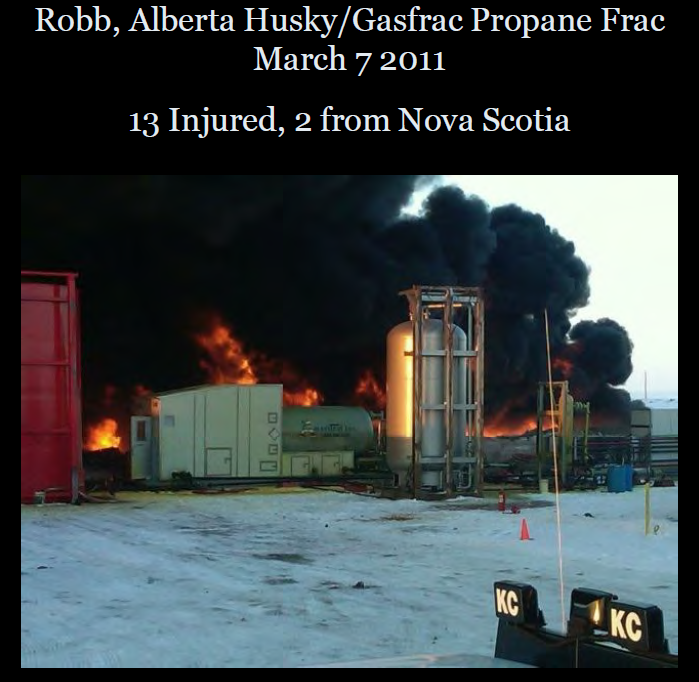 Above slide from Slide from Ernst Presentation UK / Ireland 2013 Frac Speaking Tour
Oil workers suffer burns in blast by Canada's Occupational Health and Safety Magazine, March 2011
Three GASFRAC Energy Services Inc. employees were transported to an Alberta hospital with burn injuries following an explosion and fire on January 14 [2011]. At about 5:30 pm, the employees of the Calgary company were performing gas fracturing – a process that stimulates the production of oil and gas – on a wellsite near Edson, Alberta, when a fire broke out, says Barrie Harrison, a spokesperson for Alberta Employment and Immigration in Edmonton. The site is owned by prime contractor Husky Energy Inc. The propane leak was quickly contained, although the resulting fire damaged the back end of two fracturing pumpers, reports James Hill, chief financial officer of GASFRAC. Of the employees who suffered burn injuries, two were released from hospital and the third remained with second-degree burns to his hands, Hill notes. As a precautionary measure, "GASFRAC has suspended operations until the root cause of the leak has been identified and necessary corrective actions initiated," notes a company statement. Harrison said following the incident that two orders had been issued: a stop-work order to Husky Energy for work at the site; and a stop-work order to GASFRAC for its gas fracturing equipment.
Husky well fire injures several Alberta workers by Nathan Vander Klippe with files from Josh Wingrove, March 7, 2011, The Globe and Mail
About a dozen workers were injured after a "flash fire" burst out from an Alberta natural gas well owned by Husky Energy Inc. RCMP reported that 12 workers were hurt, with two evacuated to hospital by helicopter. Officials with Alberta Occupational Health and Safety said the number may be closer to eight, although investigators were to arrive on site Monday afternoon to determine exact specifics. No deaths have been reported, although three people were sent to an Edmonton burn unit. … Bob Curran, a spokesman with the Energy Resources Conservation Board, said the fire burst out as workers were setting up to begin the underground fraccing. Mr. Curran said the well was to be fractured using propane, a technique that has already injured three other workers this year. In January, Gasfrac Energy Services Inc. said a propane leak at one of its work sites created a "short fire." The company suspended all operations for more than two weeks as it sought to figure out what went wrong.
Canadian Company Gasfrac Tests Waterless Fracking in Texas
Hydraulic fracturing with gelled propane by Gasfrac/Crew Energy Inc./Caltex Energy Inc. contaminated groundwater near Grande Prairie: ERCB Investigative Report and groundwater monitoring by Alberta Environment
Stock slides as GasFrac parts ways with top managers, Waterless well stimulation company promises to repair financial woes ]