Warning: There are fracking bombs in Parker County by TXSHARON, October 23, 2013, Blue Daze
President Obama knows about this.
The EPA knows about this.
The Texas Railroad Commission knows about this.
Scientists know about this.
Range Resources knows about this.
No one is doing anything about this. 
Battleground Dimock property sold, deed bars owners from building home there by Laura Legere, October 20, 2013, StateImpactPA
No one will ever live at 1101 Carter Road in Dimock again.
The 3.6-acre property is one of 18 in the Susquehanna County village where state environmental regulators in 2009 traced methane contamination in the water supplies back to faulty natural gas wells drilled by Cabot Oil and Gas Corp.
The last residents, Craig and Julie Sautner, were once outspoken critics of natural gas development. As part of a confidential settlement that ended their part in a bitter lawsuit against the company, the Sautners sold their property to Susquehanna Real Estate I Corp., a Cabot subsidiary, for $167,500 in August 2012 and moved out of the state. Last month, Cabot had the home demolished, leaving the lot largely empty save for a yard sign for Dimock Proud, a community group that supports natural gas drilling and promotes a positive image of the township's environment. Now, Cabot has sold the property, minus the oil and gas rights, to a neighboring family for $4,000. The deed stipulates that a home can never be built on the parcel: No building, according to the deed's careful conditions, "shall be erected as or for or used or occupied as a residence or dwelling for human habitation." The restriction applies "forever."
The deed allows for a barn, garage, pool, outbuilding or driveway to be placed on the lot. It also carries a permanent easement that allows Cabot to access the water well on the property "for the purpose of inspection, water sampling, maintenance, and repairs."
The sale price is much lower than the property's fair market value, according to county assessment data the Department of Environmental Protection used in 2010 to calculate payments Cabot owed to families as part of an agreement to restore or replace contaminated water supplies. At that time, the fair market value of the land was listed at $22,000 and the building, now demolished, was valued at an additional $111,000. The fraction of the property's value used to assess taxes on the land alone was $7,600 – nearly double the amount for which Cabot just sold it. Property assessments in Pennsylvania do not include the value of oil and gas rights.
Cabot spokesman George Stark declined to comment on the sale. Cabot has long denied that its operations damaged Dimock's water supplies and has worked to make the case that any contamination in the township's water wells occurs naturally or predated its drilling. It has also committed to removing methane from the water supplies and fixing any structural issues with its gas wells in order to comply with its agreement with DEP. The neighbors who bought the property, Tim and Debbie Maye, were also among the families whose water supplies the state found to be affected by Cabot's operations. Although the family initially voiced concerns about natural gas development in their community, they later welcomed the company's help. Cabot reconditioned their water well, installed a sophisticated water treatment system and paid them twice the value of their property as part of its consent settlement with DEP. In late 2011, when celebrities and activists crowded into the Sautners' front yard to deliver water and demand a federal investigation, the Mayes hosted an opposing rally and press conference for drilling supporters in their driveway next door. The Mayes declined to comment on their purchase of the Carter Road property except to say it "isn't a story at all." [Emphasis added]
[Refer also to: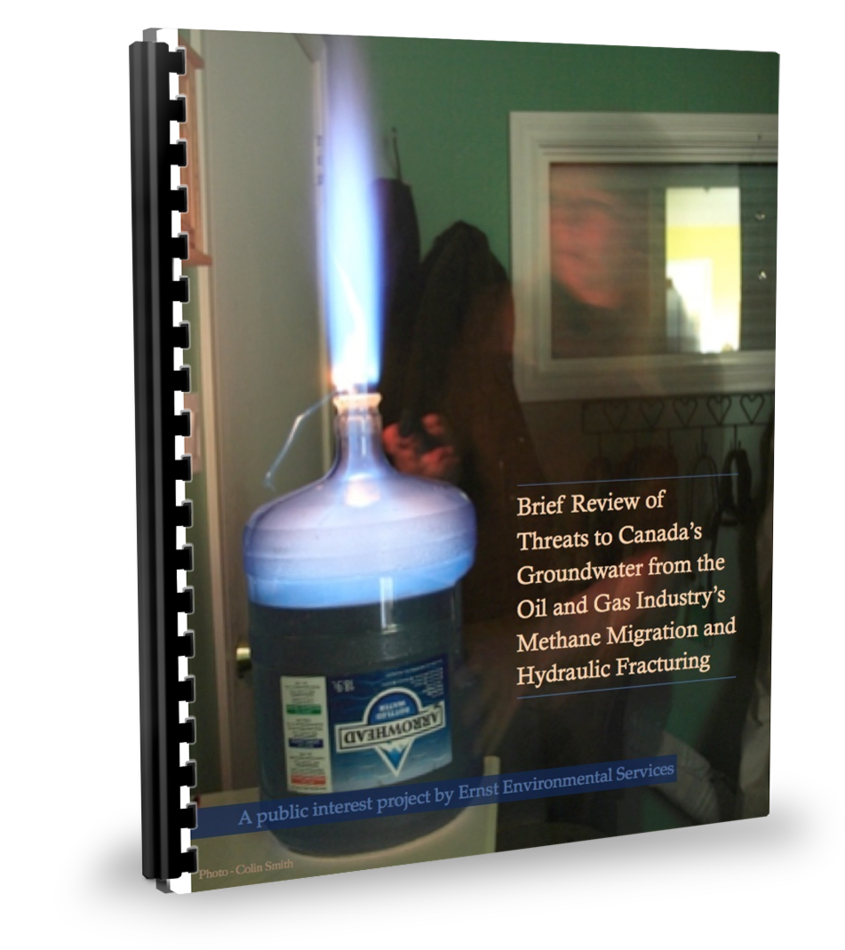 Brief review of threats to Canada's groundwater from the oil and gas industry's methane migration and hydraulic fracturing by Ernst Environmental Services (EES), June 16, 2013
French Translation by Amie du Richelieu, June 16, 2013
FrackingCanada: The Science is Deafening – Industry's Gas Migration
Updates will be ongoing as more contamination information becomes available. ]