Texas High Court Ruling Lowers Bar On Anti-SLAPP Defense by Paul DeBenedetto, April 29, 2015, Law360
A recent decision in the Texas Supreme Court allowing circumstantial evidence to overcome claims that a lawsuit runs afoul of the state's anti-SLAPP law cleared up years of conflict in the lower appeals courts, and could make it easier for parties to prevent such claims going forward, legal experts said.
The Friday decision in In re: Lipsky, in which Range Resources Corp. attempted to block claims under the Texas Citizens Participation Act, the state's anti-strategic lawsuit against public participation law, by a Texas couple who claimed fracking contaminated their water well with methane, said Range could not pursue defamation claims against the anti-frackers, because it did not show "clear and specific" to establish a prima facie case.
But while the unanimous decision did not find Range reached the bar set by the statute to dismiss TCPA claims, the high court did clarify the statute's language, holding that circumstantial evidence can be considered "clear and specific" evidence under the law.
"Circumstantial evidence may be used to prove one's case-in-chief or to defeat a motion for directed verdict, and so it would be odd to deny its use here to defeat a preliminary motion to dismiss under the TCPA," the opinion said. "That the statute should create a greater obstacle for the plaintiff to get into the courthouse than to win its case seems nonsensical."
The decision helped clear up a "hot area" in Texas law, said Terry Adams, an appellate partner at Beirne Maynard & Parsons LLP.
"It really aligned the statute with the rest of the jurisprudence in the state," Adams told Law360. "You can use circumstantial evidence to win a case, but you also should be able to use circumstantial evidence to avoid dismissal under the statute, and that's what this opinion does."
In 2011, former Texas Gov. Rick Perry signed into law the TCPA, designed to stop such so-called SLAPP suits. Under the act, a defendant in a defamation case can file a motion to dismiss within 60 days of being served with the suit, on the grounds that the litigation came in response to an exercise of free speech on a "matter of public concern."
Assuming the defendant proves by a preponderance of evidence that the suit was motivated by a desire to quash free speech, the plaintiff then must make a "prima facie case" with "clear and specific" evidence to substantiate its defamation claim. The TCPA demands that a trial court act quickly on a motion to dismiss, usually within 60 days.
That "clear and specific" language sparked disagreement among Texas courts of appeals, with courts in Houston, Dallas and San Antonio interpreting it to mean a heightened standard of evidence was necessary to substantiate such a claim.
But the high court disagreed, which could bring big changes to how these cases are looked at on appeal, Adams said.
"Now these courts of appeal are going to have to recognize the relevant probative circumstantial evidence, which could lead to a higher number of those anti-SLAPP motions being reversed," Adams said.
One of the stronger points of the decision is how it addressed some concerns of clarity in the statute while also not stripping it of its effectiveness, said Joseph Ahmad of Ahmad Zavitsanos Anaipakos Alavi & Mensing PC.
While the bar to dismiss TCPA claims has been clarified, it hasn't been erased, Ahmad said.
"On the one hand, the court's going to allow circumstantial evidence. On the other hand, it clearly did not intend to abolish the TCPA," Ahmad told Law360. "They clearly indicated that it would have some teeth at that point."
The high court on Friday also reached a decision in Lippincott et al. v. Whisenhunt, finding that the anti-SLAPP law isn't limited to public communications and can apply to suits based on private communications as well.
That dispute revolved around two doctors who were sued by a nurse anesthetist, alleging they sent disparaging emails to four people. The doctors tried to dismiss the claims under the TCPA, but an appellate court held the law doesn't apply to private communications and couldn't be used to knock out the defamation claims.
That opinion directly referenced their Lipsky opinion, saying that the court of appeals "must now consider, among other matters, whether Whisenhunt met the prima facie burden the act requires."
"Because In re: Lipsky … squarely addresses the standard a plaintiff must meet in order to establish a prima facie case, we reverse the court of appeals' judgment without hearing oral argument … and remand this case to that court for further proceedings consistent with this opinion and in light of our analysis in Lipsky," the opinion said.
In another Texas Supreme Court case, Schlumberger Ltd. et al. v. Rutherford, which deals in part with TCPA claims, lawyers for Schlumberger filed a letter Monday informing the court of the Lipsky decision, and arguing that it is relevant to the company's appeal.
Ahmad, who is representing a former Schlumberger employee in the appeal, declined to comment on an open case.
Jackson Walker LLP partner Chip Babcock said that the Lipsky opinion was also carefully worded to weed out conclusory evidence. While this may come as bad news for some defendants, it's also a good interpretation of the statute, Babcock said.
"I think as a defendant that files these motions, you sort of wish they'd gone with the line of cases that says you can't include circumstantial evidence, but I don't think that's what the Legislature intended," Babcock said. "Even though people who defend these cases might wish it were otherwise, the court's opinion makes a lot of sense." [Emphasis added]
Range Can't Revive Defamation Claims Against Anti-Frackers by Paul DeBenedetto, Apri. 24, 2015, Law360
Range Resources Corp. can't pursue defamation claims against a Texas couple who claimed fracking contaminated their water well with methane, the Texas Supreme Court said Friday, handing a victory to environmental groups and clarifying the state's anti-SLAPP law.
A lower court of appeals originally held that the state's anti-strategic lawsuit against public participation law, the Texas Citizens Participation Act, required the dismissal of Range's claims that Shyla Lipsky and Alisa Rich published defamatory remarks in a viral video concerning Range. The company claimed Lipsky and Rich conspired with Lipsky's husband Steven "to publicly blame Range for the contamination," but the court found no clear and specific evidence establishing a prima facie case.
In a unanimous decision, the high court affirmed that ruling, holding that the appeals court was right to consider circumstantial evidence in dismissing the claims, clearing up language about "clear and specific" evidence in the law.
"Some courts hold that only direct evidence is relevant when considering a motion to dismiss under the Act, while others have concluded that relevant circumstantial evidence must also be considered," the opinion said. "The court of appeals here considered circumstantial evidence, and we agree that clear and specific evidence under the Act includes relevant circumstantial evidence."
Joe Sibley of Camara & Sibley LLP, representing the Lipskys, said the court's decision was unsurprising, and that he looks forward to discovery in the underlying suit, which alleged a Range fracking operation polluted a private water supply with methane gas.
"All the facts are going to come out, and we think it will show the world, not just what Range did to us, but the impact of fracking on communities all around the United States," Sibley told Law360.
The decision has the opportunity to affect other cases, and the high court has already referenced it in a second opinion Friday. In Lippincott et al. v. Whisenhunt, the court held that the anti-SLAPP law isn't limited to public communications, but can apply to suits based on private communications as well.
… "Because In re Lipsky … squarely addresses the standard a plaintiff must meet in order to establish a prima facie case, we reverse the court of appeals' judgment without hearing oral argument, … and remand this case to that court for further proceedings consistent with this opinion and in light of our analysis in Lipsky."
An attorney for Range declined comment.
… Range filed counterclaims for defamation and business disparagement. The dispute eventually reached the Second District Court of Appeals, which used the Texas Citizens Participation Act to dismiss most of the claims. Range then appealed to the Texas Supreme Court, arguing that the burden of evidence required to survive anti-SLAPP claims presents a question of first impression, as courts of appeals across the state are in conflict about when to apply the law. The justices decided to take up the case in August.
Those watching the case have called it an important indicator of how the statute will be interpreted in future cases against allegedly frivolous lawsuits.
… The case is In re: Steven Lipsky, case number 13-0928, in the Supreme Court of Texas. [Emphasis added]
Justices Prolong North Texas Fracking Battle by Jim Malewitz, April 24, 2015, Texas Tribune
A Fort Worth-based oil and gas company may continue seeking defamation damages from a Parker County man who claimed its drilling fouled his well, but may not go after his wife.
The Texas Supreme Court on Friday allowed Range Resources to continue its defamation and disparagement suit against Steve Lipsky, whose accusation that the company polluted his family's drinking water sparked a bitter dispute between the Texas Railroad Commission and the U.S. Environmental Protection Agency.
Range, however, may not pursue conspiracy claims against Lipsky's wife, Shyla Lipsky, or Alisa Rich, a toxicologist the couple hired to test their well, the high court said, upholding a 2013 appeals court ruling.
The case concerned a tort reform law intended to protect free speech that opens the door for the early dismissal of meritless legal claims filed to intimidate critics — so-called strategic lawsuits against public participation.
So much methane migrated into the well on Lipsky's 13-acre estate that he could ignite the stream flowing from it with the flick of a lighter. He blamed the phenomenon on hydraulic fracturing – or some element of Range's nearby Barnett Shale operations. In the past three years, he has shared those suspicions in YouTube videos, the film Gasland Part II and in news reports.
Range Resources maintained it held no responsibility. In 2011 it filed a $3 million lawsuit against the Lipskys and Rich alleging the three conspired to "defame and disparage" Range and force federal regulators to intervene.
The company took issue with a number of Lipsky's assertions, including that the company contaminated the well, that Lipsky could literally light his water on fire (rather than the gas flowing within the water), and that the company treated the Lipskys like "criminals."
Attorneys for the Lipskys and Rich asked courts to dismiss the defamation suit, pointing to the 2011 law that sought to prevent tactical lawsuits filed to quiet critics by drowning them in legal fees.
After a lower court allowed Range's lawsuit to proceed, the 2nd District Court of Appeals in Fort Worth ordered that court to set aside all charges except the defamation and disparagement allegations against Steve Lipsky. The court said Range provided no clear evidence that the others had conspired with him, but said the company could continue its suit against Steve Lipsky because his statements were not presented as opinion and were "susceptible of being proved true or false."
On Friday, the state's highest court upheld that ruling by denying petitions from Lipsky and Range.
The decision likely means that Lipsky, a Wisconsin transplant who works as a mortgage bundler, will add new chapters to his long-running saga with Range.
In 2010, the Environmental Protection Agency charged Range with tainting the well and ordered the company to provide drinking water to Lipsky and a neighbor. But the agency withdrew that order after the Railroad Commission said Range was not linked to the contamination.
Following more complaints from Lipsky and his neighbors, the commission took a second look at the contamination. Its report last May said evidence was "insufficient" to implicate the driller. The methane "may be attributed" to unrelated processes, including migration from the shallower Strawn formation, which lies just beneath the aquifer, the report concluded.
In a peer-reviewed study published last September, researchers from five universities concluded that oil and gas activities —but not hydraulic fracturing — tainted drinking water wells atop North Texas' Barnett Shale and Pennsylvania's Marcellus formation.
The study, which blamed poorly constructed wells for the methane contamination, included wells in Lipsky's neighborhood. [Emphasis added]
[Refer also to:
Welcome to Steve Lipsky's nightmare: Flaming well water "This has been a nightmare," he said. "I would not wish this on my worst enemy."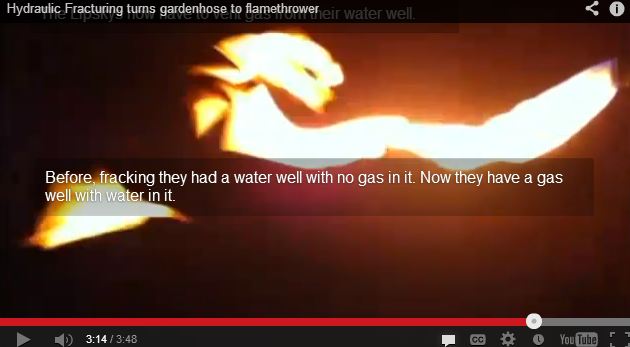 Source: Hydraulic Fracturing turns gardenhose to flamethrower by TXsharon, January 24, 2013
Range Resources hydraulically fractured a Barnett Shale gas well in Parker County, Texas. Shortly after that methane was found in nearby water wells. An EPA study found thermogenic gas in the water well that matches the fingerprint of the gas in the Range Resources recently fracked well.
2014 12 04: Range Resources vs Steven Lipsky in Texas Supreme Court today
2014 06 27: More Proof! Hydraulic fracturing has contaminated numerous water wells in Parker County Texas; Geologist Geoff Thyne says the evidence leads directly from polluted water wells to fracking activity