@baridapoi:
Deregulation…
@TappyTapin:
Naturally the republican TX state legislature will use this opportunity to cut even more safety regulations
***
Local affiliate Fox 26 was providing live coverage:
@briancalliari4421:

More extensive list from SRS's products list:
*Aromatics – Ketones – Acetates
Xylene – Ethyl Acetate Blend
Xylene (Recycle Grade) – PM Acetate (Recycle Grade)
Toluene
Toluene/MEK Blend
Aromatic 100, 150, 200
Acetone – Acetone (Recycle Grade)
Methyl Ethyl Ketone – MEK (Recycle Grade)
MIBK
*Acids and Caustics
Phosphoric Acid 75-85 (Recycle Grade)
Acetic Acid 99-95% (Recycle Grade)
Sulfuric Acid 93
Sulfuric Acid (Recycle Grade)
HCL 30-35%
HCL 15-20%
Caustic Liquid 25-50%
Caustic Liquid 25% (Recycle Grade)
*Alcohols – Aliphatics
Isoproply Alcohol 99%
Isopropyl Alcohol 80% (Recycle Grade)
Isopropyl Alcohol 85% (Recycle Grade)
Isopropyl Alcohol 60% (Recycle Grade)
Methanol
Methanol (Recycle Grade)
Hexane
Hexane Blend (Recycle Grade)
Mineral Spirits
Mineral Spirits 90 (Recycle Grade)
*Petroleum Based Products
Off Specification Oil
Transformer Oil
PCB Oil (Less than 50 ppm)
Turbin Oil
Grease (Recycle Grade)
6 Burning Fuel
Oil Tank Bottoms
'Effects of the Chemical in the Air Are Unknown': Explosion at Texas Petroleum Processing Plant, The explosion resulted in a massive fire as residents in and around the town of Shepherd were ordered to stay inside and turn off their HVAC systems to avoid contact with the toxic smoke and particles in the air by Common Dreams Staff, Nov 08, 2023
Aerial view of chemical fire in Shepherd, Texas on November 8, 2023, (Photo: Fox News 26/Screenshot)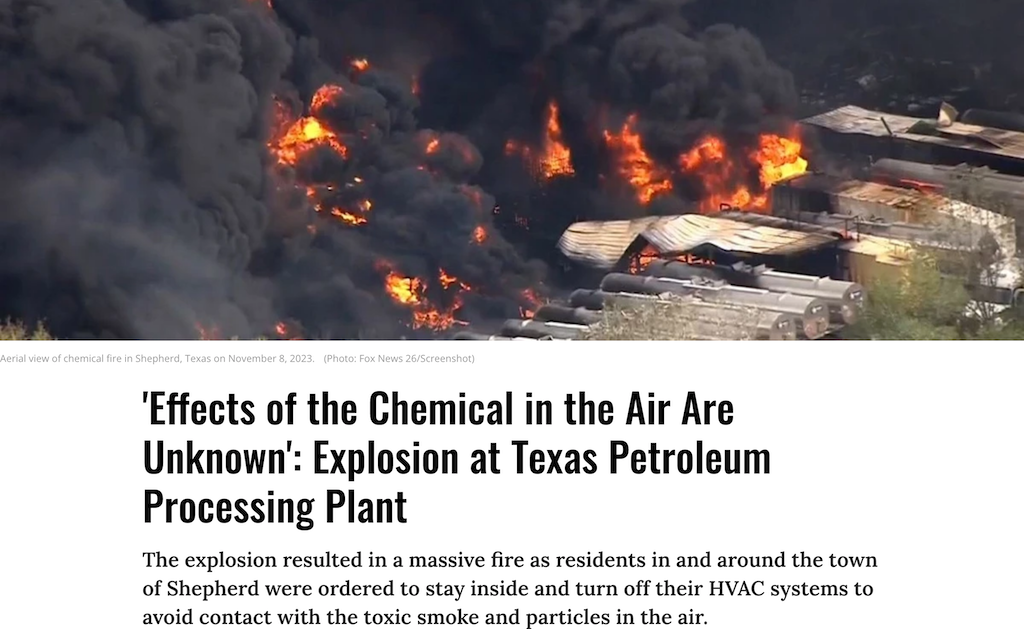 This a breaking and developing story… Please check back for possible updates…
At least one worker was reported injured and the surrounding community placed under a shelter-in-place order after an explosion at a chemical plant in the town of Shepherd, Texas on Wednesday resulted in a monstrous and toxic fire.
Roughly 60 miles north of Houston in Jacinto County, the explosion and subsequent chemical blaze took place at the Sound Resource Solutions facility, a petroleum processing plant.
A source told ABC 13 News that a 1,000-gallon propane tank sits in the middle of the fire while various highly flammable toxic chemicals and materials are used at the plant.
"Polk County Emergency Management recommends that residents along US Hwy 59 from Goodrich to Leggett shelter-in-place and turn off HVAC systems in homes and businesses immediately," said a local emergency response from officials in neighboring Polk County. "At this time, the effects of the chemical in the air are unknown."
According to the Sound Resource Solutions website, the chemical products and solvents used or generated at the processing plant include: xylene, toluene, acetone, methy ethyl ketone, phosphoric acid, acetic acid, sulfuric acid 93, various isoproply alcohols, hexan, and others.
There is no confirmed information about the cause of the fire, though some local outlets reported talking with workers who said a forklift accident may have been the initial cause that set off a larger chain reaction.
***

No chemicals in the air? Ya, sure. Tell us another tall tale.

Air monitoring ongoing following large fire at chemical plant near Houston: Official, Residents are advised to "limit all unnecessary outdoor activity." by Mark Osborne and Bonnie Mclean, November 8, 2023, ABC News
Video at link:
https://abcnews.go.com/US/video/massive-fire-reported-chemical-plant-houston-104726138
A massive fire at a chemical plant near Houston Wednesday prompted a school evacuation and a warning for residents to shelter in place, according to authorities.
There was an explosion at the plant in the town of Shepherd just after 8 a.m. local time Wednesday, according to San Jacinto County Sheriff Greg Capers.
The fire is now contained, and a large majority is out, Emmitt Eldridge, the emergency management coordinator with the San Jacinto County Office of Emergency Management, told reporters during a press briefing Wednesday afternoon.
Fire crews will remain on-site in case of any flareups, he said.
Ongoing monitoring has not found any chemicals in the air at this time, Eldridge said.

They must be using Alberta Research Council/Alberta Environment/AER/Encana/Ovintiv avoidance sampling techniques.

All employees at the plant are accounted for, with only one worker suffering a minor burn injury, according to Sound Resource Solutions, which owns the plant. There were 19 employees in the building at the time, Capers said.
A private school with 31 children was evacuated near the plant, according to the San Jacinto County Sheriff's Office.
The shelter-in-place for the surrounding area has since been lifted, according to Polk County Emergency Management.

I expect the petroleum industry ordered them to lift the shelter in place order. Must not let public health and safety get in the way of rape & pillage profits!

However, the agency did ask people to "limit all unnecessary outdoor activity" in the wake of it being lifted.
Dark black smoke could be seen billowing from the plant earlier Wednesday. Capers said flammable liquids and diesel were burning.
Shepherd is about an hour north of Houston.