Government gives green light for shale gas fracking in Karoo by Jenna Etheridge, March 30, 207, News24
Cape Town – The government has given the go-ahead for shale gas development in the Karoo region, Mineral Resources Minister Mosebenzi Zwane said on Thursday.
He revealed this during a community engagement on shale gas development in Richmond, in the Northern Cape. ["Engagement?"  Like Synergy Alberta?]
"Based on the balance of available scientific evidence, government took a decision to proceed with the development of shale gas in the Karoo formation of South Africa," he said in a speech. [Did the government ignore the most vital scientific evidence, like Dr. John Cherry's Council of Canadian Academies Frac Panel did.]
He said the regulatory framework would ensure that shale gas was "orderly and safely developed" through hydraulic fracturing, commonly known as fracking.
[Reality Check:
2016 11 29: Compendium 4.0 Released, More than 900 Studies Showing Overwhelming Harms Caused by Unconventional Oil & Gas Development. Doctors Call for Halt to Fracking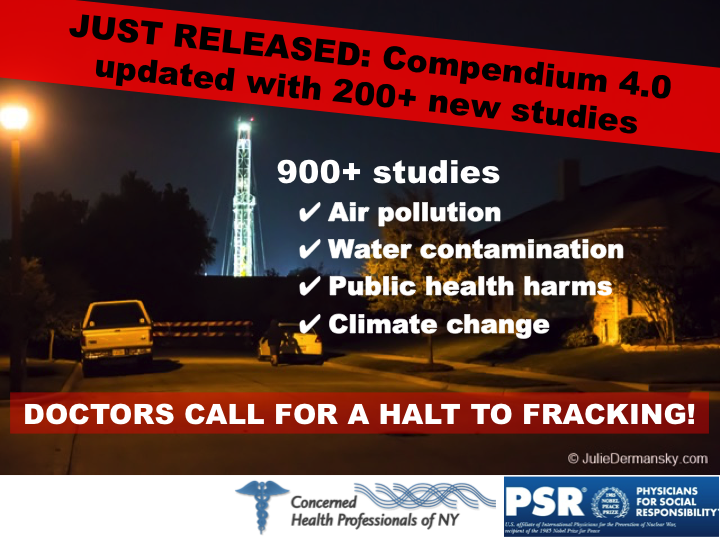 2016 04 26: New peer-reviewed published paper on unconventional natural gas development (excluding CBM/CSG) impacts: "At least 685 papers have been published in peer-reviewed scientific journals that are relevant to assessing the impacts of UNGD. 84% of public health studies contain findings that indicate public health hazards, elevated risks, or adverse health outcomes; 69% of water quality studies contain findings that indicate potential, positive association, or actual incidence of water contamination; and 87% of air quality studies contain findings that indicate elevated air pollutant emissions and/or atmospheric concentrations"
2015 10 15: COMPENDIUM 3: SCIENTIFIC, MEDICAL, AND MEDIA FINDINGS DEMONSTRATING RISKS AND HARMS OF FRACKING (unconventional oil and gas), Updated with more than 100 new studies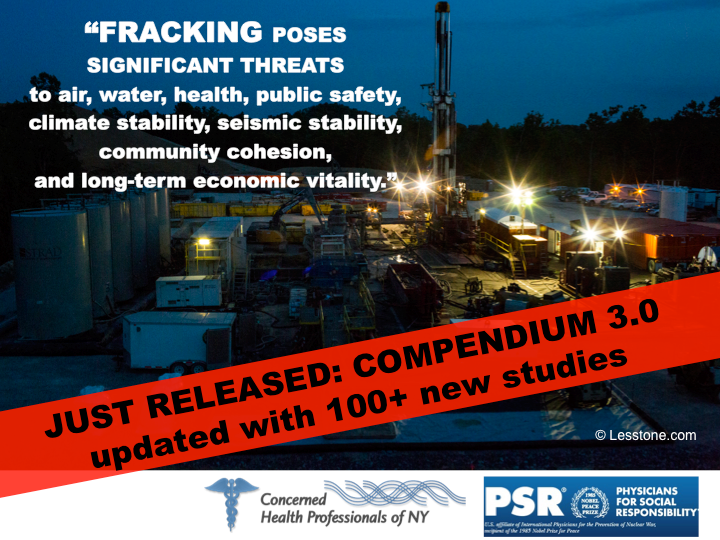 2014 12 14: State of Science on Harms by Fracking to Public Health and Water: Health Professionals, Scientists Release Analysis of 400 Peer-Reviewed Studies on Fracking along with Major Scientific Compendium Update
Among the key findings:
-96% of all studies published on health impacts indicate potential risks or adverse health outcomes.
-87% of original research studies published on health outcomes indicate potential risks or adverse health outcomes.
-95% of all original research studies on air quality indicate elevated concentrations of air pollutants.
-72% of original research studies on water quality indicate potential, positive association, or actual incidence of water contamination.
-There is an ongoing explosion in the number of peer-reviewed publications on the impacts of shale or tight gas developments: approximately 73% of all available scientific peer-reviewed papers have been published in the past 24 months, with a current average of one paper published each day.
Anthony Ingraffea, PhD, Dwight C. Baum Professor of Engineering, Cornell University, said, "In 2008*, when New York State first declared a moratorium on fracking, only six peer-reviewed papers on the health and environmental impacts had been published. Now there are more than 400, and the vast majority show a clear and present danger. What's more, many problems are unfixable by regulations of any kind."
2014 07 10: Compendium of scientific, medical, and media findings demonstrating risks and harms of fracking (unconventional gas and oil extraction)
End Reality Check]
"The finalisation of Mineral and Petroleum Resources Development Act (MPRDA) amendments will also help to expedite the development of shale gas," Zwane said. [All deregulation? Copying the Charter violating lying abusive AER?]
The department estimated that up to 50 trillion cubic feet (Tcf) of shale gas was recoverable in the Karoo Basin, especially in the Eastern, Northern, and Western Cape provinces.
He said it was in their interests to ensure all South Africans benefited socially and economically from the mineral wealth.
[Reality Check:
2017 03 01: Arthur Berman: Why Investors Should Beware Of The Bakken, It's the beginning of the end for the Bakken Shale play
2017 03 22: Arthur Berman: Tech Miracle In U.S. Shale Is A Media Myth
I am tired of hearing about the unbelievable impact of technology on collapsing U.S. shale production costs. The truth is that these claims are unbelievable. The savings are real but only about 10 percent is from advances in technology. About 90 percent is because the oil industry is in a depression and oil field service companies have slashed prices to survive.
End Reality Check]
The country had been largely dependent on coal as a single source of energy for many years.
Government had decided to diversify the energy basket to provide "cost-competitive energy security" and to "significantly reduce the carbon footprint".
"Government will ensure that you are kept up to date about the exploration method and benefits that can be realised from the development of shale gas and informed about the mechanisms and instruments that seek to augment existing laws for the protection of water resources and for the protection of the environment," he said.
A year ago, government ended speculation over the project after it announced that exploration for shale gas would begin in the next financial year, according to the AFP.
Zwane said on Thursday that they were

mindful of the risks and challenges of the development, especially on water and the environment.
He said a socio-economic and environmental assessment had been conducted beforehand.
"This was necessary to enable a process of data and information collection for informed decision-making on shale gas development."
He said

they were committed to developing the resource sustainably.

[Impossible to do that.]
Assurances were made that the farming community would benefit from shale gas development, while the Square Kilometer Array would not be affected. [Emphasis added]
SA lacks infrastructure, technology for effective fracking by enca.com, March 30, 2017
Fracking should not be considered for SA because of a lack of qualified scientists and laboratories'
incomplete information on water sources' and a shortage of "institutional capacity to ensure proper water management".
These are the findings of a desktop study conducted by AgriSA into the controversial mining method. The nine-page report — Fracking and Water: Is there enough to go around? – was released on Wednesday morning.
Fracking is currently being considered across the country' particularly in the Karoo Basin' which was the chief focus area of AgriSA's study. While shale gas has been tipped as a potential boon for the country's economy' communities have reacted negatively' citing pollution to water sources and the water-intensive nature of the mining as chief concerns.
AgriSA researcher' Gregory Smith' wrote: "The concern around shale gas development is very real' understandable and cannot be ignored." He said SA was a water-scarce country and that water supplies in the Karoo were under "continuous stress" due to pollution and depletion — and that demand was on the rise because of population growth' industrialisation' mechanisation and urbanisation.
"Shale gas development is a water-intensive process and would increase pressure on the availability of sufficient water of an acceptable quality with a reasonable surety of supply in an already dry Karoo'" wrote Smith.
He cites figures provided by the Mineral Resources Department which claim that each fracking well would use about 24'000m³ of water — the equivalent "to the irrigation of 3ha of lucerne for one year".
Smith said a comprehensive set of information was needed before fracking was even considered' including exactly how much water was needed to ensure that all competing needs were met. But he was particularly concerned about the country's ability to make sure water was properly managed.
"There is a lack of infrastructure and institutional capacity to ensure proper water management. Laboratories in SA are not equipped to analyse water-quality parameters' and water-treatment facilities lack the expertise to accommodate the wastes associated with shale-gas development."
There are few groundwater scientists and technicians in SA with such experience. "These structures need to be put in place before shale-gas development can be considered'" Smith wrote. "Water is a source of livelihood for the farming community and it is important to have a full understanding of possible future conflicts of interest and the recommendations made to minimise any potential risks." [Emphasis added]
WHY NOT THIS INSTEAD? Lyon Solar $1b solar-battery farm for SA by Christmas by Ben Potter Simon Evans, March 30, 2017, Financial Review
A $1 billion solar-battery farm to be built by Lyon Group and Downer EDI in South Australia's Riverland will be the world's largest and ready to help prevent blackouts in the state's fragile power grid by next summer.
Lyon Group, a Brisbane-based partnership headed by David Green and backed by Mitsubishi of Japan and US hedge fund Magnetar Capital, has secured land and will start construction in June to be operational in December.
The project includes a 330 megawatt solar farm costing $700 million and a 100MW battery with four hours of storage – or 400MWh capacity. Grid connection negotiations are well advanced on privately owned scrubland land near the town of Morgan.
A battery farm of that size would have been big enough to prevent the partial SA blackout on February 8 – but not the epic blackout that crippled the state on September 28 last year.
The Riverland project isn't dependent on the tender for grid scale batteries to fortify SA's fragile power grid announced by the Weatherill government two weeks ago – but the outcome of that tender could influence the final configuration of the Riverland project.
Tesla, software billionaire Mike Cannon-Brookes, AGL Energy and ZEN Energy are eyeing the government tender and a similar one in Victoria, but Lyon is set to be the first to put batteries on the ground in the race to build a world-scale storage project in Australia.
Blackstone
Mr Green told reporters in Adelaide private equity firm Blackstone was among those backing the project via Magnetar. The solar power it generates will qualify for renewable energy target subsidies – currently worth $84 per MWh – on top of the wholesale market price.
"We have the capital. That's already secured," he said. Mr Green said big players like Blackstone-backed funds didn't "come in behind something that's ill-considered".
[Refer also to:
2014 07 23: "No fracking – or we go to court" S. African Treasure the Karoo Action Group (TKAG) threatens legal challenge if government fails to heed call for moratorium; Would seek pre-emptive injunction and is prepared to go to Constitutional Court
2014 02 13: Synergy Alberta: 'Free lunches' for fracking the Karoo
MUST WATCH 2013: Jonathan Deal Receives Goldman Environmental Prize for his work protecting the Karoo from Fracing 3:31 Min. narrated by Robert Redford
I think in terms stopping the advent of fracking in this country, it became very clear to us that the stronger way to attack this would be through the courts. Our constitution guarantees the right for every single person in this country to live in an environment that is not harmful to their health and well being, and it provides for the protection of the environment for future generations.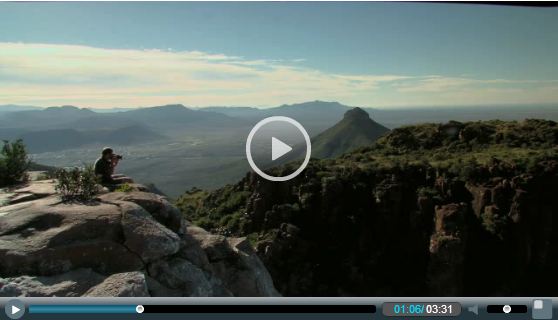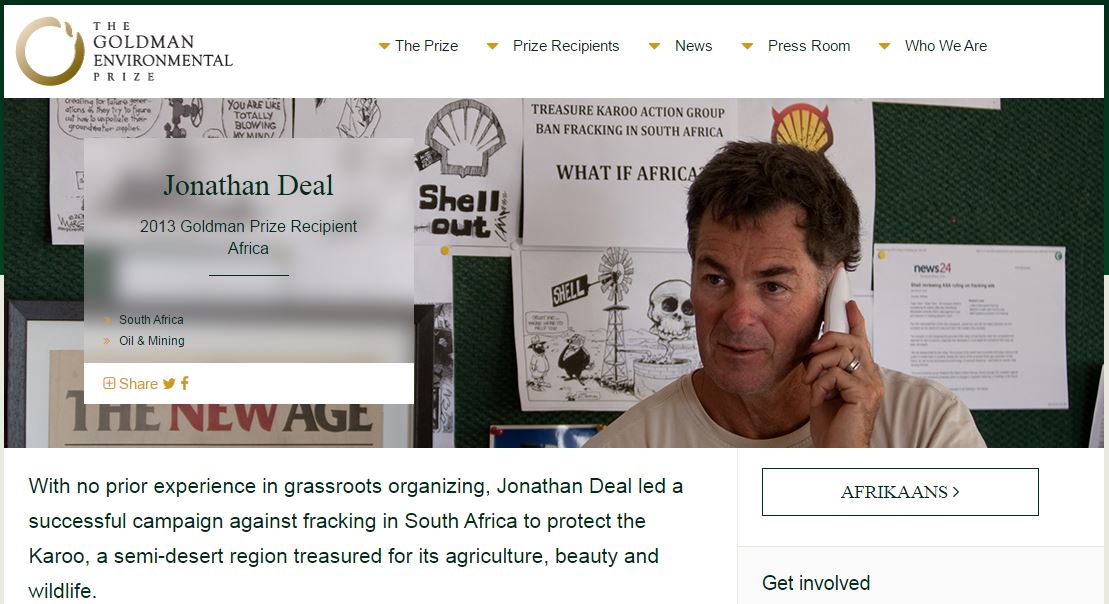 2013 01 30: The Treasure Karoo Action Group not backing down, will take government to court if fracking goes ahead
2011 04 21: Environmentalists, farmers rejoice as Cabinet puts brakes on Karoo fracking
2011 03 11: Special Investigation Cameos of the Karoo: A journey into the heartland
2011 01 31: FRACKING THE KAROO THE PEOPLE SAY NO!
"We are not against responsible exploration or extraction; we are against Russian roulette." ]