Two Pennsylvania families who say fracking fouled water take case to trial
by David Dekok, February 22, 2016, Reuters
Jury selection began on Monday in a federal lawsuit in which two northeastern Pennsylvania families allege that Cabot Oil & Gas Corp contaminated their well water with methane when it began fracking for natural gas near their homes.
Two couples – Scott Ely and Monica Marta-Ely, and Ray and Victoria Hubert – are the only plaintiffs remaining in a case that initially involved more than 40 people. The rest have settled with Cabot, a major producer in Susquehanna County.
"We haven't had clean water since he was in kindergarten," said Marta-Ely, gesturing to her 13-year-old son Jared at a news conference during a break in jury selection.
The process of hyrodraulic fracturing, or fracking, to extract gas from underground shale formations has yielded widespread opposition in many parts of the country, including northeastern Pennsylvania.
… The families suing Cabot live near Dimock, Pennsylvania, a town made infamous by "Gasland," an Oscar-nominated documentary that galvanized the anti-fracking movement. The 2010 film showed tap water in the area that could be set on fire because of the methane gas it contained. Both families say water in their homes was flammable in the past.
Scott Ely, who said his family has lived in the Dimock area since the 1800s, said he hauls in tankers of water for his family. The family showed reporters a bottle of water that they say came from their well. It was the color of coffee and cream.
"It's hard, especially in the winter, as my kids will tell you," he said.
The two families are seeking compensatory and punitive damages from Cabot for the alleged contamination of their water supply.
According to court documents, the trial will bring to light a state law that assumes that a gas driller is responsible for water well contamination within 1,000 feet of a drilling site that develops within six months of drilling.
Cabot argues that the state law deviates too much from traditional tort law, which requires the plaintiffs to prove damages.
"The evidence will show that Cabot met or exceeded the applicable standards of care in the drilling and completion of the … wells," according to court documents. "Cabot will present evidence that the plaintiff's water is potable." [Emphasis added]
Federal trial begins in the case of Dimock's water contamination by Susan Phillips, February 22, 2016, State Impact Pennsylvania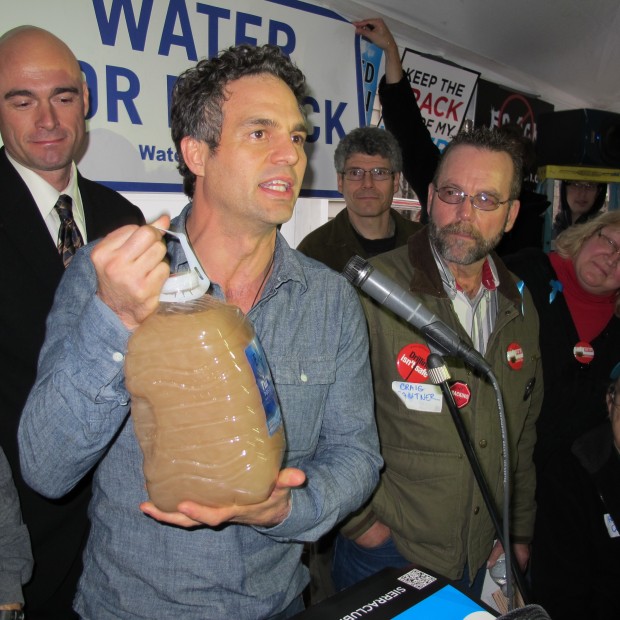 Gas drilling in Dimock has drawn both national and international attention. Here, actor Mark Ruffalo attends a rally in the village after the DEP decided Cabot could end free water deliveries in December 2011. Most of the original plaintiffs in the case against Cabot have settled with the company, including Craig Sautner, who stands to the right of Ruffalo.
Jury selection begins today in U.S. District Court in Scranton for a fracking contamination case that put the village of Dimock in the crosshairs of the debate over shale gas drilling. Only four plaintiffs remain of the original 44 who filed suit back in 2009. The others have settled with the company, Cabot Oil and Gas.
Dimock's water contamination stretches back to the Rendell Administration, when the explosion of a shed on New Year's Day in 2009 provided the first evidence of water mixed with dangerously high levels of methane. The small village in Susquehanna County gained notoriety when it was featured in the popular anti-fracking documentary Gasland. State regulators concluded that Cabot Oil and Gas had built faulty wells.
The company has wracked up more than 130 drilling violations at its Dimock wells, but insists the methane migration in Dimock's residential water wells is naturally occurring, pointing to tests taken after drilling had been halted in the area. Cabot remains barred from drilling in a nine mile area of Dimock.
DEP's Deputy Secretary of the Office of Oil and Gas Management, Scott Perry, says Cabot has attempted to get the agency to lift the drilling ban.
"Until they have demonstrated they are in compliance with the law, that the gas migration is over, they will not be permitted to drill in the nine-square mile area," Perry told StateImpact. [Meanwhile, in community-wide drinking water contaminated Rosebud, Alberta's "No Duty of Care," law-violating AER continues to give Encana permits to keep fracing the community's fresh water zones]
Cabot did not respond to requests for comment. [Emphasis added]
Fracking Judge Explodes At 'Sad, Shocking' Evidence Dump by Brandon Lowrey with additional reporting by Lance Duroni, February 12, 2016, Law360
A Pennsylvania magistrate judge on Friday blasted plaintiffs who unleashed a flood of late and disorganized exhibits on the eve of trial in their long-running environmental contamination suit against Cabot Oil & Gas Corp., calling the move "a sad and shocking spectacle, a debacle and dilemma."
U.S. Magistrate Judge Martin C. Carlson aimed the harsh words in his order at counsel for Pennsylvania landowners who allege Cabot polluted their land in the process of drilling for natural gas by hydraulic fracturing, or fracking. The order granted Cabot's motion to exclude more than 300 new documents consisting of thousands of pages of new evidence that included water testing completed in January, long after the close of discovery.
Previously, just 30 documents had been introduced, according to the order.
"At the eleventh hour, in a completely unexplained, and wildly kaleidoscopic fashion the plaintiffs have now begun submitting voluminous, contradictory, cryptic, confused and confusing exhibits list, lists which contradict one another and contain thousands of pages of material, and hundreds of exhibits, many of which have long existed but have never been previously disclosed," the magistrate judge wrote.
…
Over the course of the litigation, a host of attorneys have joined and left the litigation on the plaintiffs' side. Last year, plaintiff Noel Scott Ely represented himself. His current counsel, solo practitioner Leslie L. Lewis, declined to comment on the order.
The case was marred by a testy ethics dispute earlier this year, which ended with a former attorney for the Ely family receiving a gentle sanction from U.S. District Judge John E. Jones III.
Lewis had also been lightly sanctioned by the court in 2014, after she misled the court and Cabot's attorneys into thinking that the plaintiffs in the case were representing themselves. Judge Jones ordered Lewis to complete five hours of ethics-based continuing legal education, but rejected Magistrate Judge Carlson's recommendation that she shoulder some of the financial burden faced by a colleague caught up in the dispute.
Cabot had moved for sanctions, alleging that that Lewis and fellow attorney Carly Jannetty had ghostwritten briefs for the remaining litigants, who by 2013 said they were representing themselves, having failed to find replacement counsel.
Lewis officially rejoined the plaintiffs in February 2015.
In Friday's order, Magistrate Judge Carlson said he's never seen anything like this pile of new evidence before trial in his 36-year career as a federal district court litigator and judge.
"Tragically, this is literally an unprecedented event in our experience," he wrote. "The court underscores that it recognizes that the exclusion of evidence of a violation of a discovery order is an 'extreme sanction.' Yet, under the unprecedented circumstances of this particular litigation, and the manner in which the plaintiffs have identified exhibits and evidence for use at trial by disclosing them for the first time weeks before trial, such sanction is warranted." [Emphasis added]
Trial Date Nears in Fracking Suit Against Cabot by Bruce Kaufman, Toxics Law Reporter, February 12, 2016, Bloomberg BNA
Feb. 9 — A seven year-old fracking suit by dozens of Pennsylvania homeowners allegedly harmed by Cabot Oil's natural gas drilling operations will advance to trial Feb. 22 in the Middle District of Pennsylvania.
The rebuttable presumption that a well operator is presumed responsible for pollution of a water supply within 1,000 feet of oil or gas operations will apply to this case, Judge Martin C. Carlson's Feb. 5 opinion said.
The court rejected Cabot's argument that the presumption, from 58 Pa. Const. Stat. Ann. §3218, only applied to administrative enforcement actions brought by the state.
It also applies to private litigants in property damage tort cases, the U.S. District Court for the Middle District of Pennsylvania said.
"If the legislature wished to deny this reasonable inference to a whole class of aggrieved citizens, we believe that it would have been incumbent upon the state to act with far greater clarity," the court said.
Forty Winnowed to Four
The suit was originally filed in 2009 by more than 40 residents as Fiorentino v. Cabot Oil & Gas .
It has since been winnowed by settlements and dismissals. It currently comprises four adult plaintiffs and their children.
No Mention of Earthquake Risks
The court also barred the plaintiffs and their experts from discussing alleged personal injuries "real or imagined" as well as emotional distress that is "unmoored" from the plaintiffs' use and enjoyment of their properties.
Also rejected was all mention at trial of potential risks of climate change or natural disasters, such as earthquakes.
Additionally, no party can discus the various settlements accepted by some of the original 44 plaintiffs, or consent decrees or notice of violations by government agencies.
For example, discussion of a $4.1 million escrow fund, which provided $150,000 to plaintiffs, would have "grave potential to create a great deal of mutual confusion and prejudice," the court said. The twice modified agreement stemmed from a 2009 Consent Order and Settlement Agreement.
Still pending is a defendants' motion to bar the proposed testimony of geology expert Paul Rubin. The court conducted an admissibility hearing Feb. 1 pursuant to Daubert v. Merrell Dow Pharms., 509 U.S. 579 (1993).
In October 2015, the court allowed the plaintiffs to depose Cabot's non-testifying water treatment expert because the plaintiffs lacked the ability to obtain the same information from other sources.
… The 51-page opinion in Ely v. Cabot Oil & Gas, PICS No. 16-0190
Evidence of Personal Injury Disallowed in Fracking Case by P.J. D'Annunzio, February 9, 2016, The Legal Intelligencer
A federal magistrate judge has barred mention of symptoms from drinking tainted water as well as prior settlements between Susquehanna County residents and an oil and gas driller in a long-running "legal saga" over ­groundwater contamination.
U.S. District Chief Magistrate Judge Martin C. Carlson of the Middle District of Pennsylvania's decision on injury and settlement evidence came as part of a broader ruling hashing out which of the 28 types of evidence proffered by the plaintiffs and defendants in Ely v. Cabot Oil & Gas could be used during the upcoming trial.
The remaining plaintiffs in the case, which began in 2009, are proceeding to trial on property damage and nuisance claims.
According to Carlson's opinion, federal rules prohibit evidence of past settlements in the case and personal injury evidence could not be brought up because those claims had been dismissed earlier in the litigation.
However, the judge said that the plaintiffs could talk about the defendants' effect of their enjoyment of the land. "Given the pending nuisance claim brought by the plaintiffs, the plaintiffs will be permitted to testify regarding how they have suffered 'significant harm,'" Carlson said. "In the use and enjoyment of their property; that is, a 'harm of importance' and one that must cause a 'real and appreciable interference with the plaintiff's use or enjoyment of his land.'"
…
Cabot Oil & Gas Corp. argued that any testimony from plaintiffs regarding physical ailments, symptoms, diseases, or conditions related to the alleged pollution from drilling would be irrelevant and prejudicial because those claims had already been dismissed.
The plaintiffs countered that a jury should determine what weight to give the evidence, and the plaintiffs' alleged discomfort and inconvenience derived from Cabot's drilling is relevant to their ­nuisance claims.
But Carlson said damages could only be derived from the nuisance and property damage claims; no other theories were allowed.
"The court is not in a position to reframe or reshape Pennsylvania state law governing the allowable recovery of damages to real property. Nor may we substitute ideas regarding what the law should be for the immutable fact of what the law is," Carlson said.
As for evidence of prior settlements in the litigation, the judge said Federal Rule of Civil Procedure 408 would disallow such evidence. But references to facts and events tangentially related to the settlements that have independent evidentiary relevance in a lawsuit may be permitted.
"No party or witness may refer to the settlement of other civil lawsuits during the trial of this case. However, if relevant and probative of the claims made here, other persons residing nearby the plaintiffs may testify to factual occurrences on their property which were similar to the events allegedly experienced by plaintiffs and which took place following Cabot's drilling activity," Carlson said. [What those harmed persons signed gag orders to settle with Cabot?]
Additionally, the judge allowed the plaintiffs to present evidence that would support the presumption that a well operator is responsible for pollution of water, requiring Cabot to prove otherwise at trial.
The statute from which the presumption originates states that "it shall be presumed that a well operator is responsible for the pollution of a water supply that is within 1,000 feet of the oil or gas well, where the pollution occurred within six months after the completion of drilling or alteration of such well."
Additionally, the statute leaves the door open for other courses of action for the plaintiffs, Carlson said.
The statute, which "acknowledges the right of landowners to pursue other civil remedies—does not in any way bar the application of this presumption to the other legal remedies which the legislature acknowledges are available to landowners."
Leslie Lewis, a New York-based ­attorney representing the plaintiffs, said she was pleased that Carlson ruled in favor of the plaintiffs on the issue of presumption. "I thought the judge was very fair," she said. Amy Barrette of Norton Rose Fulbright's Canonsburg office represented Cabot and did not return a call seeking comment. [Emphasis added]