Oil drilling in Lethbridge city limits is cause for concern by Rebecca Many Grey Horses, board chair and Sheila Rogers, board member KLEW (Kainai Lethbridge Earth Watch), September 29, 2013, The Lethbridge Herald
Lethbridge city council and many city residents have expressed concerns over Goldenkey Oil's proposal to drill for oil within city limits. The proposed project in southwest Lethbridge is relatively close to the Oldman River (source of drinking water for Lethbridge and many surrounding communities) and seems risky at best considering the possibility that hydraulic fracturing may be used in their drilling operation. Hydraulic fracturing or fracking is a technique that involves injecting large amounts of water and sand at high pressure along with a toxic cocktail of chemicals 1-2 km below the ground to shatter the shale or rock and release pools of oil or gas. The cocktail of chemicals used appears to be a proprietary secret and companies are not required to report which particular chemicals they use, even in the event of a spill, making it nearly impossible to test for contamination.
Public concerns about fracking include drinking water and air contamination that can lead to serious health issues such as neurological, gastrointestinal, respiratory, and skin and eye problems. Fracking has also been linked to earthquakes. Lethbridge city council passed a resolution opposing oil and gas drilling within city limits on Nov. 13, 2012, but have no legal authority to stop it. Licences to drill in Alberta, even within cities, are granted by a single provincial regulatory board AER – Alberta Energy Regulator (formerly ERCB), which by the way is funded by the oil and gas industry.
Goldenkey Oil has secured the mineral rights for their proposed drilling project in Lethbridge and will be conducting community consultations here this October, before applying to the AER for well licences. If approval is granted, drilling may begin in early 2014. If you are concerned about this project, you can attend the SACPA noon-hour session, Oct. 3 at Country Kitchen Catering (lower level of The Keg) where representatives from Goldenkey will be presenting details of the project and answering questions. Other public meetings are planned in October; www.klew.org will publish the dates and locations as soon as they are announced. Questions that need answers are: Goldenkey's Emergency Response Plan in case of well blow-outs, explosions or leaks, their plans for shipping the oil . . . by truck or pipeline, and how and where they will dispose of the used fracking fluids if the wells are stimulated by hydraulic fracturing. [Emphasis added]
City fights against oil wells in West Lethbridge by Stefanie Dunn, September 17, 2013, Global News
As a mother, Amaris Varty hoped to raise her son, Tristan in a safe neighborhood. "I picked to live here because it's a family oriented area and that's too close to home," said West Lethbridge resident Amaris Varty. But there's a very real chance that just beyond her quiet west Lethbridge neighborhood, an energy company will be breaking ground on an oil and gas well. An upsetting idea for many who call the southwest corner of the city their home. "It makes me nervous," said Varty. "It seems dangerous. i wouldn't want my kid out playing by an oil field."

Concerns like Varty's have had City Council fighting the drilling for almost a year. An energy company has secured the mineral rights on private property within the City, but it has yet to be given the drilling rights. "This takes land out of our useful inventory for neighborhood development for subdivision development in the future," said Alderman Jeffrey Coffman. "It also creates conflict in the current setting as well, safety, health, well being for our current residents and the natural environment.""
The city says while its taken a formal stance of opposition, as a municipality it has no legal authority to stop a company from drilling within city limits, and it's up to Lethbridge residents to raise their voice. "It's also for citizens and residents to step up and express their concerns as well about this kind of activity again going on within the municipality," said Coffman. It's that hope for a strong presence at open house meetings that council says could make the difference for mothers like Varty. [Emphasis added]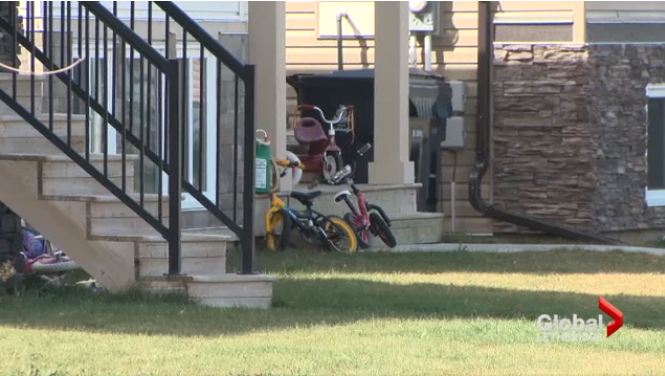 [Refer also to:
Extreme Levels of Benzene Floating Around Gas Wells and Compressor Stations; Fracking effects: A long-term study of drilling's impact shows harmful health effects
Alberta Health Services to pay executive bonuses, says work 'already done' but refused to address concerns about serious negative health impacts caused by oil and gas drilling and hydraulic fracturing
First Study of Its Kind Detects 44 Hazardous Air Pollutants at Gas Drilling Sites, With gas wells in some states being drilled near schools and homes, scientists see a need for better chemical disclosure laws and follow-up research
Natural Gas Operations from a Public Health Perspective "For many years, drillers have insisted that they do not use toxic chemicals to drill for gas, only guar gum, mud, and sand. While much attention is being given to chemicals used during fracking, our findings indicate that drilling chemicals can be equally, if not more dangerous."
Human Health Risk Assessment of Air Emissions from Development of Unconventional Natural Gas Resources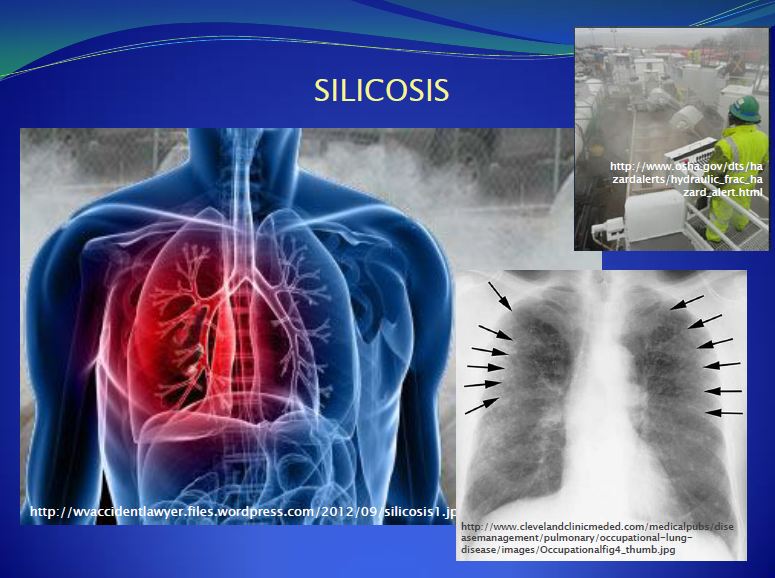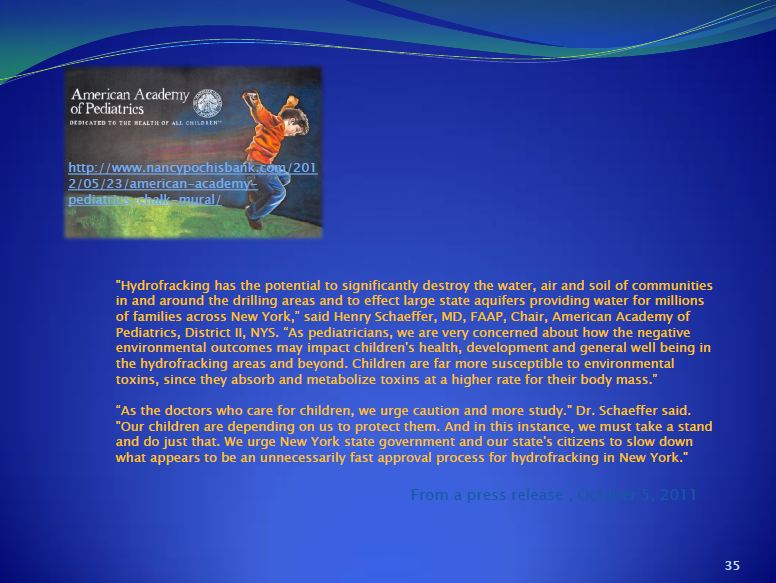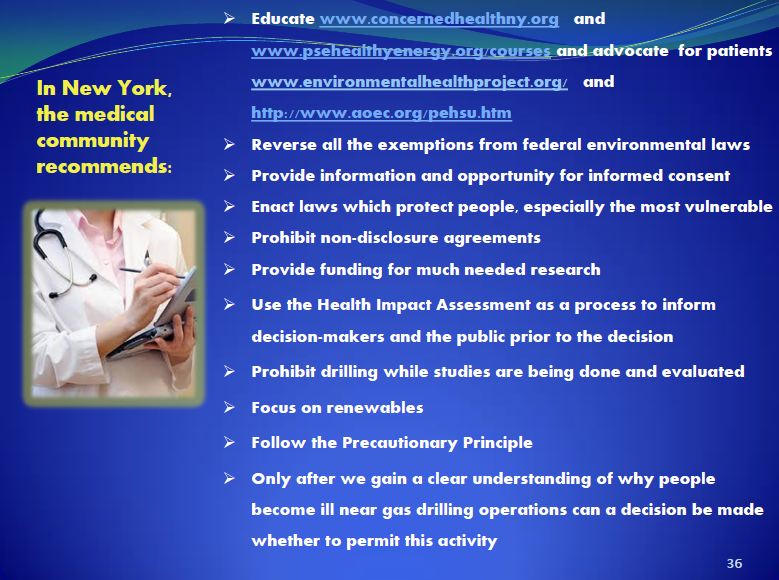 Slides above by Larysa Dyrszka MD, September 2013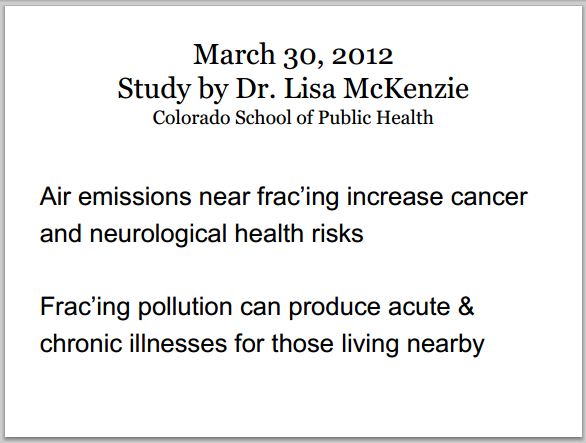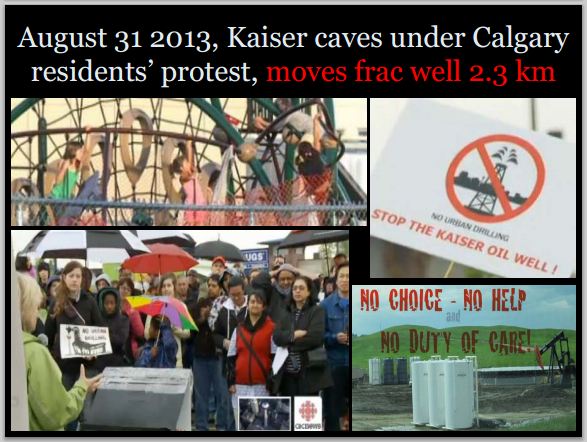 Slides above from presentation Welcome Home to a "Natural Drilling Platform" by Jessica Ernst at the People's Forum, September 22, 2013, Stephenville, Newfoundland
Kaiser kills Calgary Royal Oak drill and frac for oil 400 metres from homes, Residents in Calgary community celebrate after Kaiser Energy scrapped urgan frac plans but worry 2,300 metres is not far enough
Alberta to complete review on urban oil drilling, Planned well in Calgary suburb sparks controversy
Alberta Bill 2: More deregulation for the oil and gas industry and hydraulic fracturing
Calgarians near urban oilwell say "not in my backyard"
Tories crafting policy for urban oil well drilling
Royal Oak residents rally against oil well near homes, POLICY REVIEW PLANNED FOR ENERGY DEVELOPMENTS WITHIN URBAN CENTRES
New policy coming on urban drilling, says province, MLA makes announcement as 200 Rocky Ridge, Royal Oak residents rallied Sunday
A proposed oil well to be fracked inside the City of Calgary puts residents and the industry on a collision course
Kaiser Oil Well to be frac'd in Calgary near sour gas, letter to Premier Alison Redford
University Alberta Researchers say Alberta drastically under-reports workplace injuries ]