How this Southern Tier group is trying to work around New York's fracking ban by Jeff Platsky, August 2, 2019, Binghamton Press & Sun-Bulletin
A Tioga County landowners group appears willing to press ahead in challenging New York's hydrofracking ban by using an unconventional method of natural gas drilling designed to circumvent the prohibition.
Tioga County Partners wants to drill on a 53-acre site in Barton using gelled propane, an arcane process that skirts the existing drilling ban.
Rather than using a water and chemical mixture favored in hydrofracking, the process intended for use in Tioga County "involves the transport of propane to the well site, the chilling of that propane, and the mixture of chemical additives into the propane," according to documentation submitted by the sponsor.
But much like hydrofracking, propane would be pumped into the shale formation more than a mile below the surface, fracturing the rock and freeing trapped natural gas deposits. Propane used in the process will be recovered, sponsors said, leaving few, if any, remnants in the ground. [Pfffft! Not believable or trustworthy.]
"Waterless hydraulic fracturing was first performed in Canada in 2008 and since then has been used to successfully treat more than 2,600 zones at over 800 sites in North America," Tioga Energy Partners said in its submission.
State regulators are now establishing the scope of the environment review that will eventually be submitted by sponsors.
In reviewing the impact statement, DEC staff said it will keep a keen eye on the potential climate change impact of the process, noting the state's initiative to eliminate nearly all greenhouse gas emissions by 2050. Additionally, the DEC wants assurances from the applicant that dangers from transporting and storing propane — "a potentially explosive material" — will be mitigated. [Like this? When we blow you and your loved ones up in your home, we will bury the bodies free of charge, and clear away the charred property debris.]
Explosion risks
Due to explosion risks, propane fracks — also known as "gas fracks" — typically use robotics to keep workers out of the "hot zone" during operations. The technology is still developing and has not been widely used [too fricken deadly!], especially in places where water is available.
The pending environmental review requires an extensive site analysis under the State Environmental Quality Review Act, a time-consuming, expensive process that provides opportunity for significant challenges from opponents.
"We always believed in the project and that hasn't changed," said Adam Schultz, the Albany-based lawyer for the sponsors.
Tioga Energy Partners has been trying to push the alternative natural gas drilling method since 2015, months after the state banned hydrofracking, citing health and environmental concerns.
Refer also to: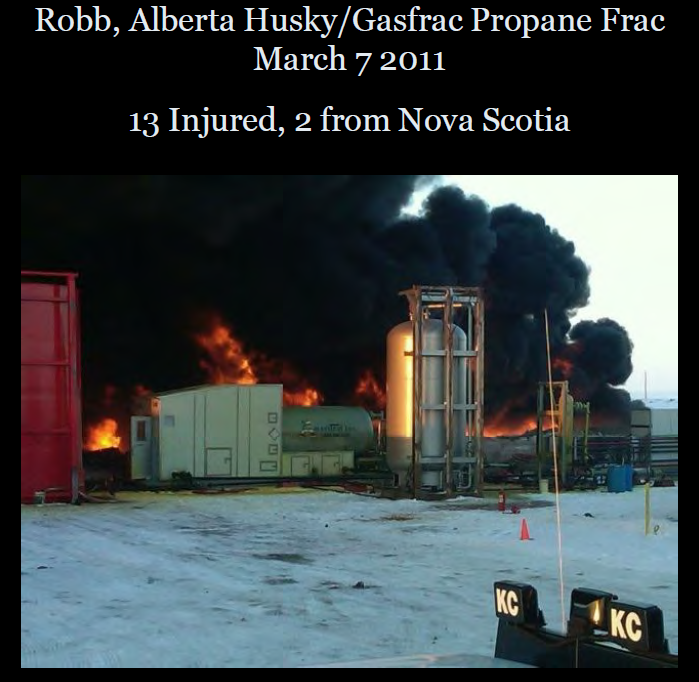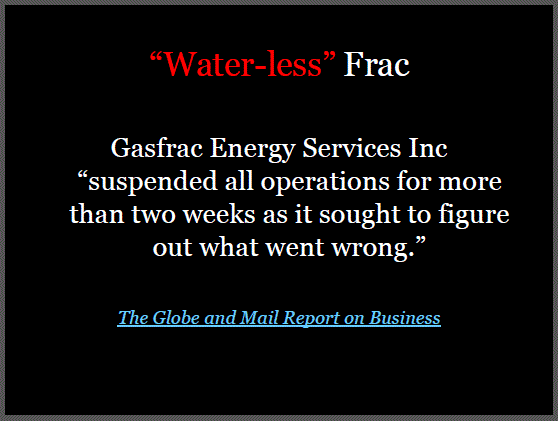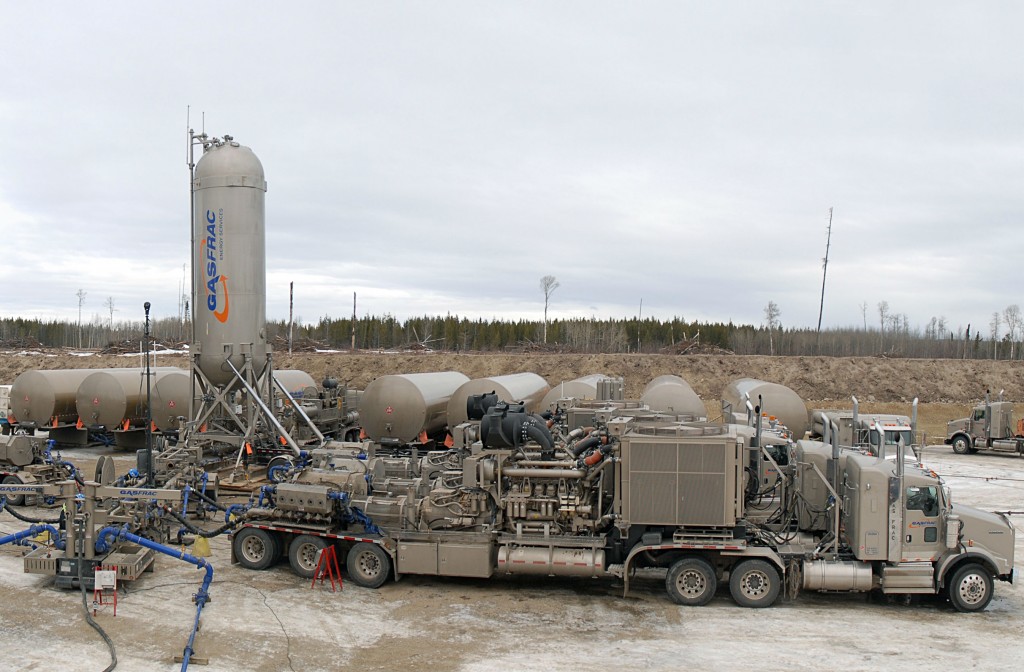 2013: Gasfrac crew in Alberta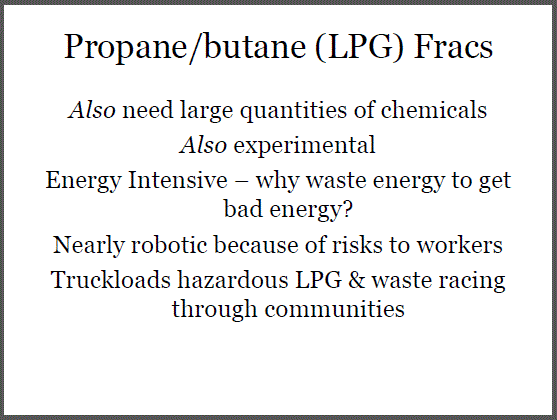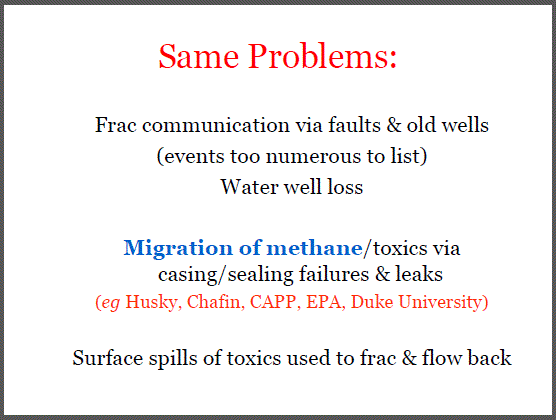 Slides from Ernst presentations