The study: 19-page PDF
Observed Impacts of Anthropogenic Climate Changeon Wildfire in California by A. Park Williams, John T. Abatzoglou, Alexander Gershunov,Janin Guzman‐Morales, Daniel A. Bishop, Jennifer K. Balch and Dennis P. Lettenmaier, 2019, Earth's Future, 7, 892–910. https://doi.org/10.1029/2019EF001210
Abstract
Recent fire seasons have fueled intense speculation regarding the effect of anthropogenic climate change on wildfire in western North America and especially in California. During 1972–2018, California experienced a fivefold increase in annual burned area, mainly due to more than an eight fold increase in summer forest‐fire extent. Increased summer forest‐fire area very likely occurred due to increased atmospheric aridity caused by warming. Since the early 1970s, warm‐season days warmed by approximately 1.4 °C as part of a centennial warming trend, significantly increasing the atmospheric vapor pressure deficit (VPD). These trends are consistent with anthropogenic trends simulated by climate models.The response of summer forest‐fire area to VPD is exponential, meaning that warming has grown increasingly impactful. Robust interannual relationships between VPD and summer forest‐fire area strongly suggest that nearly all of the increase in summer forest‐fire area during 1972–2018 was driven by increased VPD. Climate change effects on summer wildfire were less evident in nonforested lands. In fall,wind events and delayed onset of winter precipitation are the dominant promoters of wildfire. While these variables did not change much over the past century, background warming and consequent fuel drying is increasingly enhancing the potential for large fall wildfires. Among the many processes important to California's diverse fire regimes, warming‐driven fuel drying is the clearest link between anthropogenic climate change and increased California wildfire activity to date.
Plain Language Summary
Since the early 1970s, California's annual wildfire extent increased five fold, punctuated by extremely large and destructive wildfires in 2017 and 2018. This trend was mainly due to an eight fold increase in summertime forest‐fire area and was very likely driven by drying of fuels promoted by human‐induced warming. Warming effects were also apparent in the fall by enhancing the odds that fuels are dry when strong fall wind events occur. The ability of dry fuels to promote large fires is nonlinear, which has allowed warming to become increasingly impactful. Human‐caused warming has already significantly enhanced wildfire activity in California, particularly in the forests of the Sierra Nevada and North Coast, and will likely continue to do so in the coming decades.
Fossil fuel companies to blame for share of California wildfires, scientists say by Ari Plachta, May 16, 2023, Yahoo News
Perhaps more than any other expression of our changing climate, Californians are acquainted with wildfire. That's whether they have lost a home, evacuated one, witnessed the apocalyptic day in 2020 when the sun never came out, or simply had to cancel plans.
Who is to blame? Worsening wildfires in the Western U.S. have been definitively linked to climate change for years, and now scientists are drawing a measurable connection between acres burned and carbon emissions released by the world's largest fossil fuel companies.
A new study released Tuesday by the Union of Concerned Scientists, a national science advocacy organization, linked emissions from the world's major fossil fuel producers to 37% of acres burned by wildfire in the North American west between 1986 and 2021.
Those emissions, researchers say, are also responsible for nearly half the atmospheric conditions drying out California forests. They hope these findings translate into corporate accountability for damages wrought by past and future disasters.
"This is the first study that we know of in the world that attributes wildfire impacts from climate change to specific fossil fuel producers and cement manufacturers," said Kristina Dahl, Union of Concerned Scientists researcher and the study's leading author.
"I hope that this helps to shift the narrative for the general public and for our policymakers in California toward one in which we broaden out our view of corporate responsibility for wildfires."
Between 2017 and 2021, Californians experienced more than 45,000 wildfires that burned a total of more than 9.5 million acres — including the state's eight largest wildfires on record — and cost $25 billion in suppression response and economic damage.
The 2018 fire season alone destroyed more than 22,000 structures and caused damages exceeding $140 billion, not to mention worsened air quality and particulate matter that disproportionately harmed the health of low-income communities.
While the state is making progress addressing wildfire risk, the studies authors said, more resilience is needed. And to date, the general public has been left footing the bill for these disasters.
Fuels behind fires
To conduct the study titled "The Fossil Fuels behind Forest Fires," scientists used a measure of air's thirstiness for plant and soil moisture, called vapor pressure deficit, to connect fossil fuel emissions to increasing wildfire intensity.
Studies have shown that a rapid jump in vapor pressure deficit in the western U.S. contributed to increases in the frequency and severity of wildfires, as well as the type of prolonged megadrought California experienced over the last decade.
Researchers asked what role fossil fuel companies played in this trend by looking at regional and global temperatures with and, hypothetically, without emissions of the world's 88 top fossil fuel producers — a list of coal, oil, natural gas and cement companies.
Those companies range from household names such as Chevron, Exxon and BP to state-owned and government-run firms. The study was published in the Environmental Research Letters journal this week.
Using observed data and statistical models, they found that the influence of these companies' emissions accounted for 48% of the increase in vapor pressure deficit since 1901 and 37% of the cumulative burned area from California to New Mexico and up to southwestern Canada since 1986.
…
Measuring uncertainty
At the root of the study, Dahl said, is the question of who should be held responsible for the impacts of our intensifying climate. She said individuals often wrongly bear the burden despite never having been offered alternatives to gasoline cars and gas stoves.
Oil giants such as Exxon predicted global warming with scientific accuracy internally since the 1970s, Dahl said, and then spent decades publicly smearing the same science. She said people might understand that we're living in a reality influenced by fossil fuel companies, but haven't connected it to our lived experience of wildfire.
Pacific Gas and Electric has borne the brunt of Californian's pursuit of accountability, having been found guilty for sparking some of the state's largest wildfires and neglecting to maintain their equipment over decades. But she said responsibility should extend beyond the utility.
"There is this much bigger set of corporate actors that have shaped our climate, such that a spark from PG&E'S equipment can turn into a nearly million-acre wildfire," Dahl said. "So I hope that people in California start to see that we need to be demanding broader accountability."
Comprehensive or not, advocates hope this type of research leads public officials and individuals to demand accountability from fossil fuel companies as questions arise about who will pay for efforts to decarbonize the economy and respond to climate disasters.
But like any scientific research, the study has limitations. It's authors noted that the analysis does not account for the legacy of fire suppression, prohibition of indigenous burning and increased likelihood of humans starting remote fires.
Anthony LeRoy Westerling, a professor of applied climatology at UC Merced, said a more comprehensive model that included factors such as drastic changes in precipitation would find that fossil fuel emissions are connected to a vastly higher percentage of wildfire damage.
"I'd say 100%… They are ignoring parts that they don't have enough data to quantify properly," he said. "It's difficult to create these models. But if I was a betting man, nobody's going to be saying 'oh yeah, 48% of that increase was from greenhouse gas emissions effecting vapor pressure deficit' 50 years from now."

Refer also to:
2023: Frac Central Alberta: Fox Creek Wall of Wildfire. How many hundreds of thousands of fracs are leaking methane, ethane, propane, butane, pentane, sour gas to surface fuelling wildfires? Do leaking facilities, wells, pipelines start and fuel fires? Who's checking? AER? Encana/Ovintiv? Chevron? No one.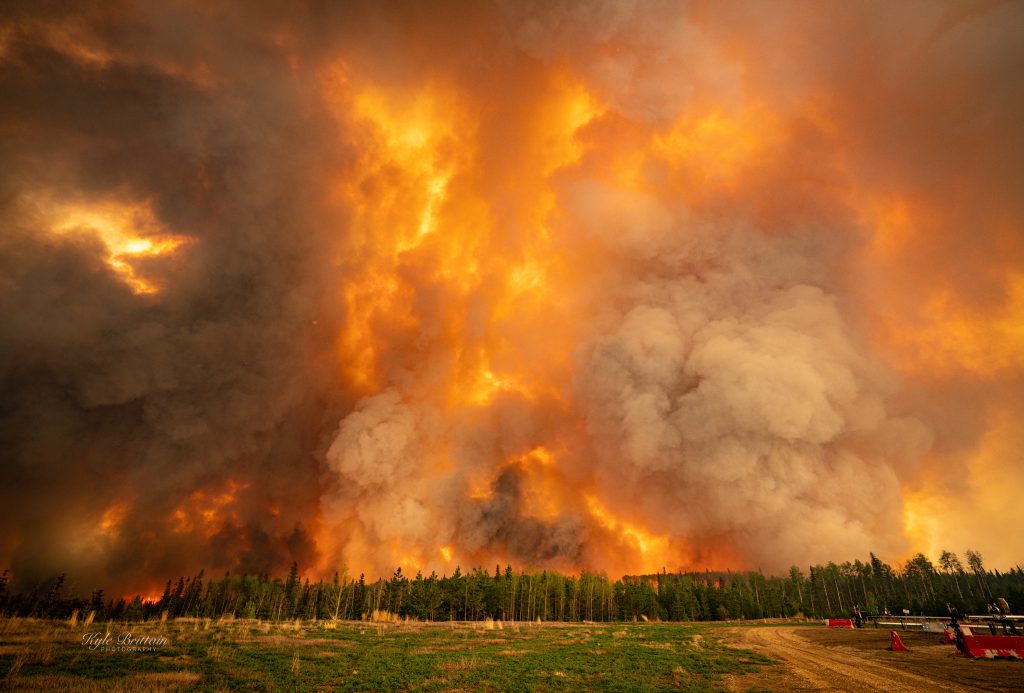 Photo by Kyle Brittain: Wall of Wildfire, Fox Creek Alberta
May 14, 2023 Mother's day: Gaia weeps.
2023: Letter in PR PEAK by Jan Slakov: "Often the legal system has failed to protect the health of people and other living things." Ernst: Science is on humanity's side, the law is not; billionaires get richer while making life on earth increasingly unbearable.
2020: Kids tried to sue Canada over climate inaction. They lost, Not for the courts to decide, Harper Gov't appointed judge says. Kids plan to appeal. Bravo kids! I am grateful and in awe of you, but don't expect "justice" to be served by our oil-soaked Supreme Court of Canada, or your Charter rights respected.
2019: BC Tap Water Alliance Press Release: Attribution Science Proves Now is the Time for Canadians to Step Up and Sue the Canadian Association of Petroleum Producers and the Alberta Energy Regulator for Cumulative Fraud
2019: Lawsuits in USA testing "attribution science." Researchers can link weather events to emissions and companies responsible. "This body of literature…tells us that dangerous climate change is upon us, and people are suffering and dying…and it's going to get worse." For any potential uncertainty about climate attribution, there's at least one truth that should override the rest: Fossil fuel companies "were aware decades ago what trouble climate change would be."