Not 'folding the tents' by Frank Gale, November 06, 2013, The Western Star
While Graham Oliver says it's great government has decided to put a hold on drilling involving hydraulic fracturing until a review is completed, there are no plans for "folding the tents." As the person responsible for conducting a total of 25 fracking awareness presentations on behalf of the Port au Port/Bay St. George Fracking Awareness Group, Oliver was referencing how the organization will continue to meet. He suspects other "like-minded" organizations will also continue with their work and said there is a network of people set up on the west coast of the province and in St. John's. "A vigilant eye will be kept on anything that's done as there's a feeling there will always be junior oil companies knocking at the door (wanting to carry out fracking)," he said.
In particular, Oliver said the Green Point shale located under the Port au Port Bay is difficult shale to drill and there will likely be problems associated with it, so he's glad to see government is not giving licenses to do hydraulic fracturing. Oliver said fracking was getting to be a heated issue on the west coast of the province and he believes that is why government wanted to put the issue to bed for a while. "Maybe the new ministers are looking at things different," he said. Oliver said if government is doing a review, then he would like to see something that is very comprehensive and not flawed from the start, as he said occurred in other places, including New Brunswick.
For this to work, all issues dealing with environmental stewardship need to be solved, as water and health are paramount. "People can't live without water and the current process used in fracking uses a vast amount of fresh water," he added. "Waste water and fluid migration are just a few of the other big concerns." Oliver said if any environmental review is done, there should be an open consultation with government and, before it is ever stated, a review of the environmental assessment protocol should be carried out. On Tuesday afternoon, a spokesman for Black Spruce Exploration said a response to government's decision was prepared but was being looked over by the company's industry partners and wasn't made available as of deadline. [Emphasis added]
Moratorium on fracking announced by Newfoundland government Press Release by Government Newfoundland and Labrador, November 4, 2013
Reviews, public consultations needed before policy developed, minister says
Dalley started off the fall sitting in the House of Assembly by announcing that the government will not approve fracking onshore and onshore-to-offshore hydraulic fracturing pending further review. Dalley said the government will be doing public consultation before it develops any policy for fracking. Both the Liberals and the NDP are supporting the move. Dalley said this moratorium will allow an opportunity to review regulations, rules and guidelines in other jurisdictions, to complete the technical work necessary to fully assess the geological impact in western Newfoundland and, following this process, to undertake public consultation to ensure residents have an opportunity to comment and are fully informed before any decision is made.
…
"Our first consideration is the health and safety of our people. In making this decision, our government is acting responsibly and respecting the balance between economic development and environmental protection." Dalley spoke to reporters after question period, saying that he understands that it's an emotional issue, which is why the government is putting the brakes on things.  He said he doesn't know how long the review will take, but when it's done, information on fracking will be made public. [Emphasis added]
Fracking on hold near Gros Morne, Dunderdale gov't says, Opposition, residents happy with announcement by CBC News, November 4, 2013
The Newfoundland and Labrador government says it won't look at an application for fracking near Gros Morne National Park until it's satisfied the process is safe for people and the environment. Natural Resources Minister Derrick Dalley made the announcement Monday in the house of assembly. It comes amid a plan by Shoal Point Energy, with its partner Black Spruce Exploration, to use hydraulic fracturing to extract oil and gas on the west coast of the province. Some area residents have expressed concern about fracking plans in the region. UNESCO indicated that the World Heritage site status of Gros Morne National Park could be at risk if fracking proceeds near its boundaries. Dalley acknowledged the interest and concern in the controversial exploration technique of extracting oil from shale rock. But he said the government will do its homework before even looking at a formal proposal.
…
The announcement on Monday came much to the pleasure of NDP member of the house of assembly George Murphy, who was heckled in the legislature for proposing a fracking moratorium in March of this year. Murphy said he wanted government to hold off on any fracking plans until more research was completed. "It seemed like it was very rash, it seemed like it was very unconcerning the way they wanted to proceed with development," he said. "They called us anti-development, [but] right now they're speaking the NDP platform." Some residents in the region were heavily opposed to the west coast plans, citing risks of pollution and deterring tourists from Gros Morne. Karole Pittman, who lives near the park, welcomed the government's change of heart. "I'm really thrilled with that. I'm really pleased with that," she said. "It shows a responsibility that is very nice."  [Emphasis added]
Moratorium on fracking announced by Newfoundland government by The Telegram, November 4, 2013
Natural Resources Minister Derrick Dalley has declared a moratorium on fracking in the province. Dalley started off the fall sitting in the House of Assembly by announcing that the government will not approve fracking onshore and onshore-to-offshore hydraulic fracturing pending further review. Dalley said the government will be doing public consultation before it develops any policy for fracking.
…
"Our first consideration is the health and safety of our people. In making this decision, our government is acting responsibly and respecting the balance between economic development and environmental protection." Dalley spoke to reporters after question period, saying that he understands that it's an emotional issue, which is why the government is putting the brakes on things. He said he doesn't know how long the review will take, but when it's done, information on fracking will be made public. [Emphasis added]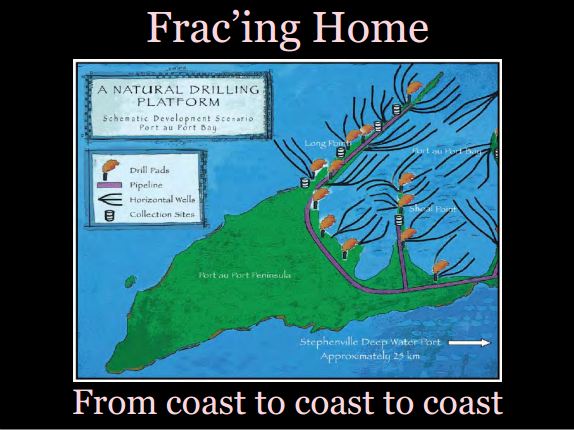 Art work above (in last slide of Ernst presentation September 22, 2013, Stephenville, NL) by Reed Weir, 2013
[ Is frac devastation such as is occurring in Alberta – Fracking Rocky View County – wanted in Newfoundland and Labrador? ]