It's not fracking, but what is happening at Cass County well sites? by Annie Chang, February 16, 2015, WSBT 22
WATCH VIDEO: It's not fracking…but what is it?
Vapex is a relatively new method being used to get oil from underground. And for some who live in Cass County, it's a mystery.
At first, people worried it was fracking. But experts at both Michigan's Department of Environmental Quality Oil and Gas Division and Indiana's Department of Natural Resources say there's no fracking in our part of Michigan or Indiana. …
Jeff Nelson, who lives in neighboring Jefferson Township, says he started seeing activity during his commute about six months ago. "My wife and I drive this road every day going to work," he tells WSBT 22. He saw crews working on oil wells up and down Calvin Center Road – wells that hadn't been touched in decades.

Day by day, his concern grew. "We live here, so naturally we were concerned about what's going on," Nelson says. Nelson got in touch with Cass County commissioner Bernie Williamson, and together they formed an informational group to get answers. "And the word 'fracking' came up," Williamson explains. "It's a charged word."
… The group of Cass County homeowners eventually figured out what's happening in Calvin Township is not fracking. It's a different process called Vapex.
A company called Columbus Oil and Gas spent eight years of research and more than $30 million to test it out on 46 Cass County wells [And the community is only finding out now? Why keep it secret?], which had been abandoned since the 1980s.
This is the first time Vapex is being used in the U.S., as it's been successful in Canada and other countries with crude oil.
Instead of blasting water underground, like in fracking, Vapex injects gases like propane, methane and butane into the ground. It's done at a very low pressure, even lower than your backyard barbecue's propane tank.
This process turns the crude, sticky asphalt found in the ground into liquid, which is much easier to pump out of the ground.
Ted Kuhns, co-owner of Columbus Oil and Gas, tells WSBT 22 he wants to set the record straight: "Vapex is not fracking."
What is Vapex? … It's groundbreaking technology that Kuhns hopes will turn a massive profit. [No matter how they do it, or with what fluids, water based or gas based, it certainly "breaks" a lot of ground] …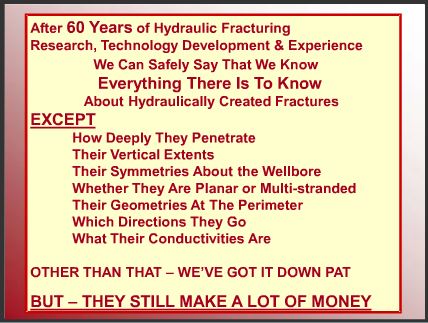 Kuhns adds he's been in contact with local fire departments throughout this project. Because it is considered a worksite, the state of Michigan has strict safety measures for anyone who's near a well. Kuhns plans to lead a training session for emergency responders to get familiar with the project.
'Unknown consequences'
But Karen Dotson, who lives just a few thousand feet from the nearest well, had only a faint idea of what's happening so close to her home. "You can see it out there," Dotson says. "I thought they was drilling for oil."
It's the unknowns about that drilling that alarms this group of Cass County residents. "It's pumping propane, it's pushing propane under the ground, this causes all kinds of consequences – unknown consequences," says Cathy LaPointe, who's attended several meetings about the topic.
The DEQ says Michigan has seen problems with well operations in the past, but these were mostly chemical spills at the surface – not a result of drilling.
But, Fitch adds, any oil and gas operation comes with risks: "None of these processes are risk-free." [Then why are regulators allowing these processes beside homes, schools, hospitals, playgrounds?]
"We have to be cautious as citizens that our environment is not ruined by these chemical and drilling processes," says Jim Brownke, another concerned Cass County homeowner.
… Cass County leaders say they want to work with townships and villages to pass ordinances that would protect them from oil and gas operations in the future. [Is that why the Vapex was kept secret for so long? To prevent ordinances from being passed that would protect the families and their homes?] They cannot ban fracking within the county, but they can pass zoning laws that would keep drill sites a certain distance from homes and groundwater wells. [Emphasis added]
[Refer also to
Slides from Ernst presentations in Ireland, 2012
1991: A New Process (VAPEX) For Recovering Heavy Oils Using Hot Water And Hydrocarbon Vapour
2002 Government-Industry Project To Advance Vapex Research
The Vapex process, which involves injecting vapourized solvents into heavy oil, promises to virtually eliminate greenhouse gas emissions and significantly reduce water consumption compared to other extraction technologies currently being used, the province announced last week. A $30 million project to test the economic, environmental and technical viability of the process got underway earlier this year (New Technology Magazine, July/August 2002). Fifty per cent of funding is provided by industry and the federal and provincial governments are contributing 25% each.
… The long-term research project will be conducted at the Dover site near Fort McMurray and will be operated by Devon Canada Corporation. The project will be integrated with existing facilities to reduce costs and is expected to last between five and 10 years.
A non-thermal recovery method, Vapex uses a vapour solvent such as propane or a combination of steam and solvent injected into a heavy oil or bitumen reservoir to increase oil recovery. The solvent, which can later be recovered and recycled, combines with the heavy oil or bitumen, reducing its viscosity. The process can recover bitumen from zones too thin for traditional, thermal recovery. …
Provincial funding comes from the Alberta Energy Research Institute's existing budget. Established in 2000, AERI is responsible for energy-related research for the province. AERI provides strategic direction to position Alberta for the future in energy development, and invests in research and technology to enhance the sustainable development of the province's energy resources.
Industry funding comes from the DOVAP Consortium, an association of Canadian oil and gas producers including Devon Canada, Chevron Canada Resources, Imperial Oil Resources, Gibson Energy Ltd., Petro-Canada, TotalFinaElf E&P Canada Ltd., Suncor Energy Inc., Canadian Natural Resources Limited and Nexen Petroleum Canada. [Emphasis added]
2010: Experimental investigations in improving the VAPEX performance for recovery of heavy oil and bitumen
The process of vapor extraction (VAPEX) is a recovery process which targets the heavy oil and bitumen resources. Owing to high viscosity values for these unconventional types of oil, the recovery processes in such reserves are still challenging. The unconventional oil recovery processes usually include a mechanism for reducing the oil viscosity by means of heat, solvent, or both. The process of VAPEX utilizes the injection of a light hydrocarbon solvent into a reservoir for recovering the viscous oil in place by diffusing into the oil and by providing sufficient mobility to the oil upon dilution. Although this process offers a variety of advantages over the alternative thermal recovery processes such as SAGD or CSS, it suffers from two major drawbacks. First, the oil production rates obtained in the VAPEX process are considerably lower than those obtained in the thermal processes. Second, the solvent cost is considerably high. … [Emphasis added]
2012: The evaluation of CO2-based vapour extraction (VAPEX) process for heavy-oil recovery
Vapor extraction (VAPEX) has been proposed as an alternative for heavy-oil recovery in reservoirs where thermal methods face technical and economic problems. In VAPEX, a pair of horizontal injector-producer wells is employed. The gaseous hydrocarbon solvent (normally propane or a mixture of methane–propane or propane–butane) is injected from the top well and the diluted oil drains downward by gravity to the bottom producer. Recently, the idea of incorporation of CO2 into the gaseous hydrocarbon mixture has emerged. Incorporation of CO2 is believed to make the process more economical and environmentally and technically attractive. … The objective of this work, therefore, is to simulate the performance of the VAPEX process when different solvent mixtures, including hydrocarbon gases and CO2, are incorporated with the aim of improving its performance. [Emphasis added]