Large, lively crowd turns out for Supreme Court arguments on gas drilling laws by Timothy Puko, October 17, 2012, Pittsburgh Tribune-Review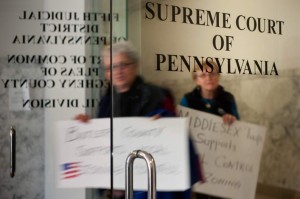 Photo: Stephanie Strasburg | Tribune-Review     Michele Bertini, left, 63, of Middlesex Township and Diane Sipe, 65, of Jackson Township carry signs protesting PA Act 13 as they leave the state Supreme Court at the City County Building Downtown on Wednesday, October 17, 2012. … 'We have 22 acres and we will not lease,' said Sipe, who says she has been approached to lease her land for drilling several times.
A standing-room-only crowd of cheering activists inspired a raucous atmosphere Wednesday at a crucial Pennsylvania Supreme Court legal argument on the state's new oil and gas laws. Two Democratic justices challenged a lawyer arguing to save the state's limits on local control of gas drilling. After some of the 130 people applauded in the normally staid courtroom at the City-County Building, Downtown, Chief Justice Ronald D. Castille demanded order and threatened to throw out those who didn't pipe down. "I've never heard (that) before in all my career," said Walter A. Bunt Jr., a gas industry lawyer.
Justices gave no indication of when they would rule on the constitutionality of the 8-month-old law.
…
As Philadelphia attorney Matthew Haverstick tried to defend the state's rule, Justice Max Baer of Mt. Lebanon told him his argument was "scary" to laymen, families and homeowners. Justice Seamus P. McCaffery of Philadelphia asked the attorney about "a private citizen's right to have a quiet residential community."
…
Many activists said they were hopeful because of Baer and McCaffery's questions and comments. Haverstick and the lead attorney for the suburbs, John M. Smith, said the justices often ask questions that end up far from where their final rulings land. Some legal analysts agreed. Judges might think the law is bad policy and push lawyers about that, before ultimately stepping back and ruling based only on the constitutional powers of the General Assembly, said Ross Pifer, director of the Agricultural Law Resource and Reference Center at Penn State's Dickinson School of Law. "But, that said, the (state) still cannot be thrilled at the way this hearing went," said John Burkoff, a University of Pittsburgh law professor who did not attend the hearing. Baer and McCaffery's comments could be a sign of more pragmatic problems for the state, Burkoff said. The Supreme Court has only six active justices — three Democrats and three Republicans — which means a case could end in a 3-3 tie. That means the Commonwealth Court ruling would stand, Other court experts were struck by how pointed the two justices' statements sometimes were, going beyond typical questions. "My reading of the (rule) is that Pennsylvania's residential communities can now be turned into industrial communities where tractor-trailer traffic is running all along the streets," McCaffery said at one point. The justices are not inclined to make statements so far off from their eventual ruling that it would disappoint voters, said Duquesne University law professor Bruce Ledewitz. "I don't think they were just posing questions. I think they were posing deep-seated concerns," he said. "It's not just academic for them. They have to face the voters in the future." [Emphasis added]