Great comments to the article:
Martin Friese
30 million dollar a year amateur hour continues. Pathetic.
Robert Leduc
$30,000,000 so "Executives" (read failed UCP candidates and party loyalists) can make $250,000 a year "givener" on twitter literally defending a future in which we fight over gas in a post-apocalyptic desert.
Dallas Dole
Did you see the article in the N.Y. Times? Quick Energy War Room, you're our only hope! Keep twitting, twits. [!!!!!!!!!!!!!!!!!]
Dallas Dole Reply to George Morenstein
Good use of 30 million bucks. A staff of 8 preaching to the converted. Job creation! Well, jobs for post media goons.
Bob Mac
The war room is having success on Twitter. Really. I feel so much better knowing where my tax dollars are being blown away. The current PC twits are the same as the old PC twits. Seriously dumb voters we have.
HEADLINE BELOW CHANGED AROUND 6PM, Feb 12, 2020, to Canadian Energy Centre head apologizes for tone of tweets at same link: https://calgaryherald.com/news/local-news/canadian-energy-centre-really-givener-on-twitter
Since launching in December, the Canadian Energy Centre has taken its share of knocks.
Most notably, there was the problem with choosing a logo that was already in use. [Choosing? Stealing it is more accurate]
Now that it's finding its feet, Twitter users are taking note of the CEC's voice on the popular social media platform.
When University of Alberta economist Andrew Leach asked why the CEC was retweeting factually incorrect information, the centre's social media manager offered up an interesting mea culpa.
Why is the @CDNEnergyCentre retweeting claims it knows (or should know) to be false? Teck's own documents say it will be 50th percentile or so of crudes refined in North America. Don't lie.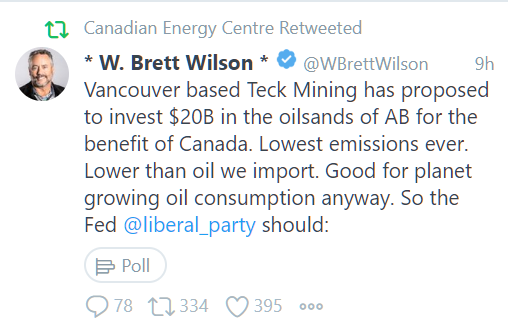 Canadian Energy Centre@CDNEnergyCentre
Whoops. That was done in error. I was givener this morning and got a little carried away. Sorry about that. Perhaps the better line is Teck will be less than most of the refineries in the US.
For those who aren't up on Canadian slang, "givener," more commonly spelled "givin'er," is a term used to mean "going really fast," as in "giving it gas." [ya, lots of fart'in goin' nowhere but stinkin' up the place – no wonder big money & big insurance wants out]
The CEC's more relaxed Twitter voice and its habit of writing in the first person has not gone unnoticed by the group's critics …
Canadian Energy Centre@CDNEnergyCentre · Feb 4, 2020
No. We speak for the energy resources that are owned by the people of this great Nation [and being stolen by companies paying near zero in royalties and dumping hundreds of billions of dollars in liabilities on us ordinary people, along with pollution, health harms, abandoned wells and facilities – many leaking including deadly sour gas, dead soils, radioactive waste, frac'd aquifers and caprock, oozing tarshit contaminating groundwater and the surface, unpaid rent, unpaid taxes adding up to hundreds of millions of dollars]. We will embrace our energy and promote it across the world. Our resources are the solution to the global climate crisis and we will unapologetically support it.
Alberta Fact Checker @North_Resists
They LITERALLY speak for the Premier.
Wait…so the CEC has gone from strictly posting PR style links to actively speaking in the first person and getting in social media spats with people?

This is embarrassing.
Canadian Energy Centre@CDNEnergyCentre · Feb 4, 2020
I can't speak for the Premier, but we absolutely give a crap about solar AND wind. Our future is a mix of oil, gas, renewables, and whatever will provide reliable, safe, secure, and affordable energy to meet [foreign corporate and other country demands] our, and by our I mean Canada, energy demands.
Ian Patton@5stringboogReplying to @CDNEnergyCentre
Please stop pretending you or Kenney give a crap about solar or wind.
"Canadian" Energy Centre speaks in the first person. What. A Farce.
The CEC was set up to take on disinformation about Canada's energy sector. At its launch, Premier Jason Kenney said the body would be expected to use "respect, civility and professionalism" in its task.
However social media, and especially Twitter, is known for being an arena where the gloves come off quickly. Many corporate Twitter accounts have found success with using humour, and with chirping their competition.
… The CEC's Twitter handlers now need to walk the fine line between putting forward facts with civility and using the lighter touch sometimes needed in the medium that is Twitter.
Keith Stewart@climatekeith · Feb 11, 2020 Replying to @CDNEnergyCentre @jkenney
But that's a scenario with 3-4 degrees of warming built in. Canada has committed to net-zero GHGs by 2050 to avoid that Mad Max hellscape, so how do the current (and growing) 195 MT from upstream oil and gas fit into a zero-GHG scenario?
Canadian Energy Centre@CDNEnergyCentre
Well remember in Mad Max they were still fighting over gasoline…
On Wednesday, CEC CEO Tom Olsen apologized from his own Twitter account for "the tone" of tweets sent earlier in the day from the organization's main account.
The CEC's tweets, which have since been deleted, came in response to a New York Times article about international investment fleeing the oilsands.
"The tone did not meet CEC's standard for public discourse," Olsen wrote. "This issue has been dealt with internally." [Haaaaaaaaaaaaa! All paid for drinks, hookers and dinner at the Petroleum Club?]
I apologize for some of the tweets in @CDNEnergyCentre Twitter thread this am
The tone did not meet CEC's standard for public discourse
This issue has been dealt with internally
There will be a substantive response to the NYT article w/in our mandate of challenging inaccuracies [ya, w lies, lies, and more lies by the War Room without an ounce of creativity, so they'll be boring, farting all the way]
Refer also to:
Premier Jason Kenney's 30 Million Dollar War Room Fails: Global Financial Giants Swear Off Funding an Especially Dirty Fuel – Made in Alberta Tarshit!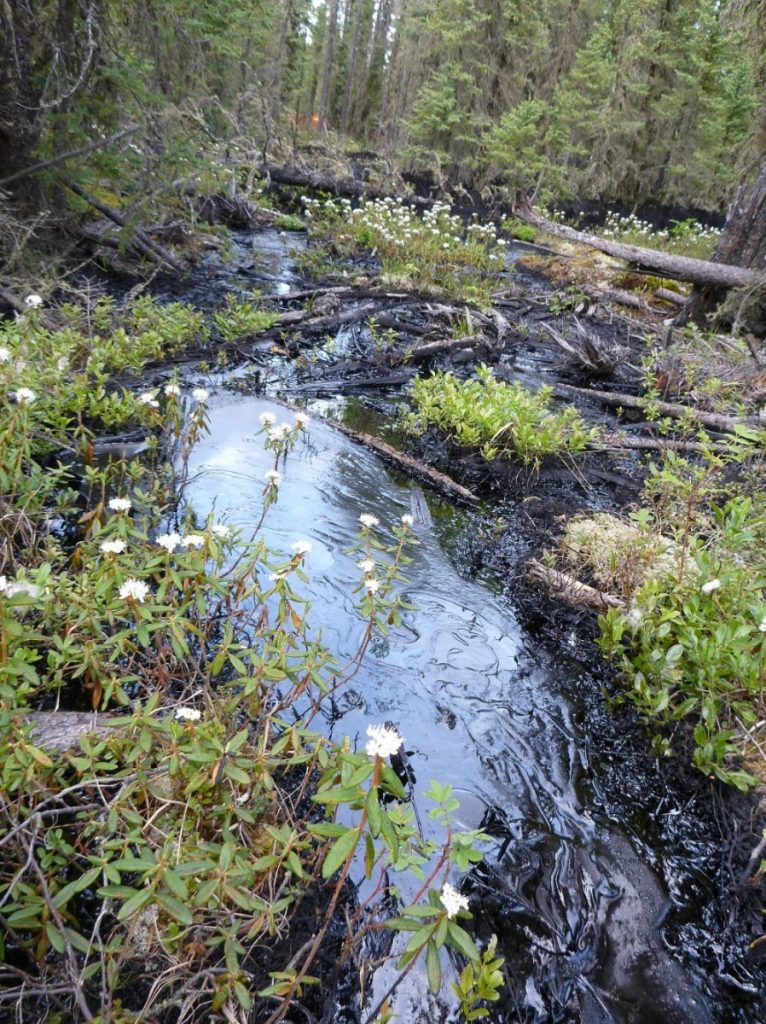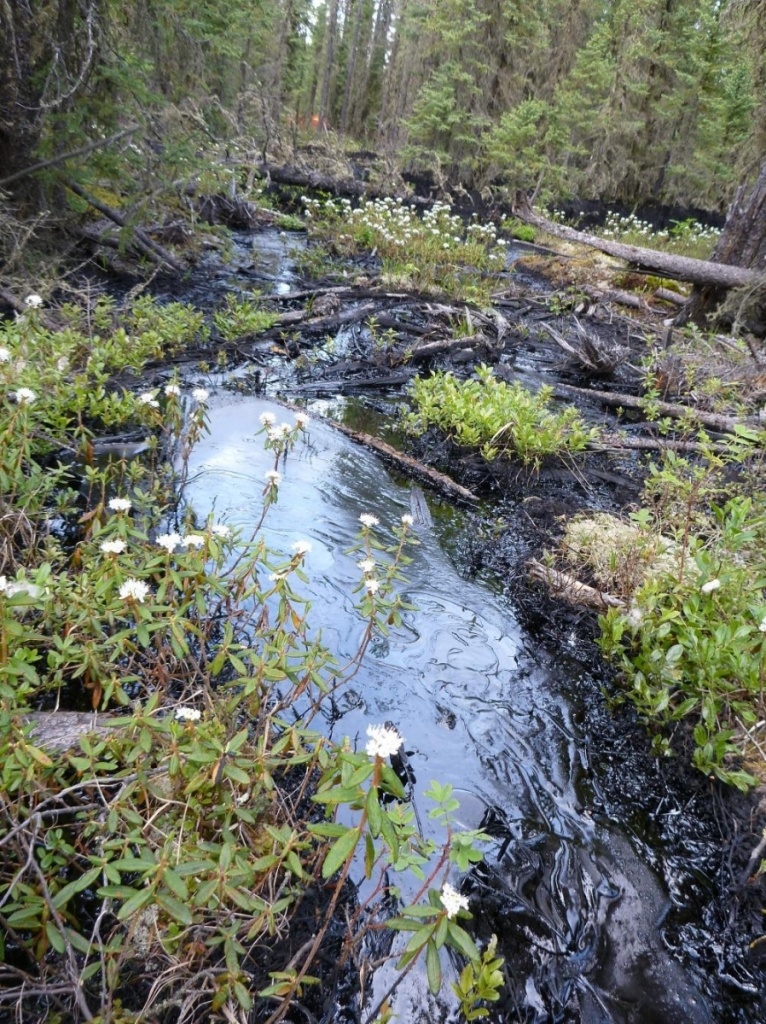 CNRL's tarshit oozed to surface, contaminated groundwater in Alberta.
Brilliant damning MUST READ by Joyce Nelson, notably on Environmental Defense Fund's greenwashing for frac industry and stinky dots between BC Supreme Court Injunction against Wet'suwet'en (hold title on lands where Coastal GasLink, "CGL" and RCMP are trespassing, thanks to the court), mega rich Kohlberg Kravis Roberts & Co., "KKR" and (pension-thieving to give to bankrupting frac'ers) AIMCo buying 65% of CGL.