Groundswell Documentary Facebook Page
Groundswell Review by Emma Kiely, April 12, 2021, The UP Coming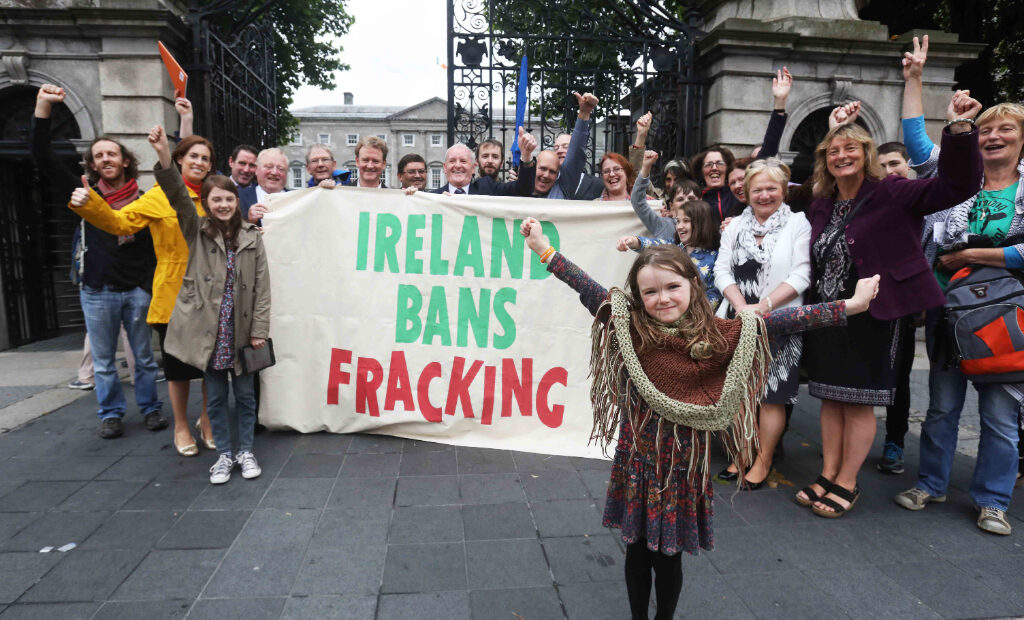 22nd April 2021 is this year's Earth Day, and Johnny Gogan's documentary Groundswell (also known as Home is a Sacrifice Zone) is a poignant reminder of why we need to mark it. The documentary follows the people of Ireland (specifically Leitrim), as they fight to ban fracking in the country. For those who are not familiar, fracking is the extraction of gas from subterranean rocks by injecting liquid at high pressure – extremely valuable to gas conglomerates and disastrous for the land and the people who inhabit it. The horrors of fracking are detailed in the 2019 feature film Dark Waters, starring Mark Ruffalo, who also appears in this documentary. Dark Waters documents the lawsuits against chemical manufacturing corporation DuPont, when it was proven that their processes had resulted in contaminated water, which led to multiple animal deaths and human cancer.
This documentary features interviews with politicians, doctors, farmers and activists from both America and Ireland, who are all united by a common interest: love and pride for their land. American CEOs (such as interviewee [Calgarian] Richard Morrman of Tamboran Resources, with an incessant, condescending grin) thought that they could fool the people of Ireland with the promise of jobs and an improved economy, as the country was still reeling from the 2008 economic crisis. However, a select group of people from Leitrim and beyond fought for six years to ban fracking, with help and information from the US and people who had suffered catastrophic consequences from the practice.
The film does not include any formal sit-down interviews with professionals. Instead viewers see ordinary people climbing glorious landscapes, such as Thur Mountain in Leitrim, passionately speaking about what they're doing and why they are doing it. The result showcases the beauty of rural Ireland, only reiterating why preserving it is so important. With interjections of darkly melancholic animation from Ivano A Antonozzo, Groundswell is a triumphant, transparent and aesthetically magnificent account of the loving relationship between people and their land, and the fight to protect it from the powerful and the greedy.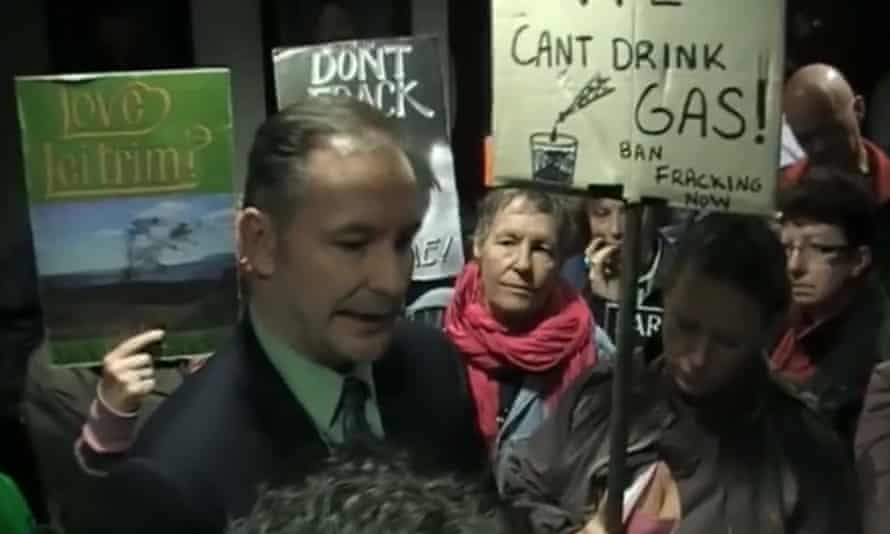 Strong feelings … protesters confront [Calgarian] Richard Moorman of Tamboran Resources
In 2010, the American film-maker Josh Fox released something that in retrospect looks like one of the most influential and original documentaries of recent times: GasLand. It was about something new to many at the time: fracking, or hydraulic fracturing, under the earth to release natural gas from shale rock, at the risk of polluting the water table and turning areas of natural beauty into sludge dumps – and that is aside from the existing larger implications of gas consumption.
The film alerted many to a new environmental menace, and it plays its historic role in this new film from Johnny Gogan about the anti-fracking campaign in Ireland, often by people who were energised by seeing GasLand and determined to resist what one campaigner calls the new way of "scraping the bottom of the fossil-fuel barrel". Exactly so. The coronavirus pandemic has, understandably, diverted many people's attention from the climate crisis. But there is no vaccination for climate change.
Groundswell shows how the fracking industry has been developing its interests in Ireland for many years, especially in North Leitrim, the corporations clearly calculating that it is unlikely to muster much protest because it is so sparsely populated. But communities did come together, with artists and writers joining the movement, and the Irish campaigners have been able to make international common cause with their equivalents in the United States, and draw on their knowledge.
Ireland made history by banning not just fracking but also by [banning] importing fracked gas, and the fracking corporations are now pursuing their business over the border in Northern Ireland. A lesson to communities and campaigners there and everywhere else to stay vigilant.
Groundswell is released on 16 April on digital platforms.
A few of the comments:
wordworm20:
The epidemic of Complacency has carried us to the precipice. Only a tiny few fight for the rights of many, for a world that will support future generations….. but what a tiny few!
Half of the huge spike in atmospheric methane since 2008 can be attributed to leaked fracked gas, mainly from operations in the US and Canada. …
tupelohone:
I live in North Leitrim and let me assure you that the protests were largely led and formed by locals.

Refer also to:
Online Nov 13, 2020: World Premier of "Home is a Sacrifice Zone" by Johnny Goran, Bandit Films at 65th Cork International Film Festival: How an Irish border community took on Calgary's Tamboran & the Irish govt to force a change in oil & gas law