In North Dakota's Bakken oil boom, there will be blood by By Jennifer Gollan, data reporter Emmanuel Martinez contributed data research. June 13, 2015, Reveal
[CLICK ON ABOVE LINK TO READ ENTIRE ARTICLE]
The Bakken oil boom has been a serial killer. Big oil companies have largely written the rules governing their own accountability for accidents, potentially putting workers at risk
…
Beyond the human toll from that day, which continues to haunt Stanfill and others, the 2011 explosion offers a striking illustration of how big oil companies have largely written the rules governing their own accountability for accidents.
…
Across the Bakken, deeply entrenched corporate practices and weak federal oversight inoculate energy producers against responsibility when workers are killed or injured, while shifting the blame to others. 
…
But the boom also has been a serial killer. On average, someone dies about every six weeks from an accident in the Bakken – at least 74 since 2006, according to an analysis by Reveal, the first comprehensive accounting of such deaths using data obtained from Canadian and U.S. regulators. The number of deaths is likely higher because federal regulators don't have a systematic way to record oil- and gas-related deaths, and the U.S. Occupational Safety and Health Administration doesn't include certain fatalities, such as those of independent contractors.
Only one energy operator that leases or owns wells has been cited for worker deaths in North Dakota or Montana over the past five years, Reveal's analysis has found. Slawson Exploration Co. Inc. paid a $7,000 penalty in 2013 after a contract worker died in an explosion.
…
Even though large companies often exert the most control over safety on their well sites, there is no specific federal workplace safety standard that applies to the oil and gas industry, which allows producers to dodge severe penalties.
In 1983, OSHA proposed workplace safety requirements for the oil and gas industry, but the rules never were imposed, leaving a "bit of a hole," said Eric Brooks, director of OSHA's Bismarck Area Office.
…
Insulated from liability
After major accidents like the one that killed Ray Hardy and Brendan Wegner, big oil companies are insulated from financial costs. A spiderweb of corporate relationships allows big energy firms to shield themselves from collateral damage by forcing insurance companies for contractors at the bottom of the pecking order to pay.
…
The case ultimately was dismissed in June 2013 as part of a confidential settlement agreement.
…
"You really don't have the ability to refuse to sign these agreements because most of these companies are billion-dollar companies, and we're just a small pea in the big pod of people that work for them," she added. "They have really good lawyers."
When state lawmakers in North Dakota have tried to fix the problem, the oil and gas industry has used its considerable influence to kill any reform.
A bill proposed in the state Legislative Assembly in January 2011 sought to prevent companies from adding provisions to oil and gas production contracts that required smaller contractors to indemnify them when people are injured or die because of the action of the companies or their independent contractors.
…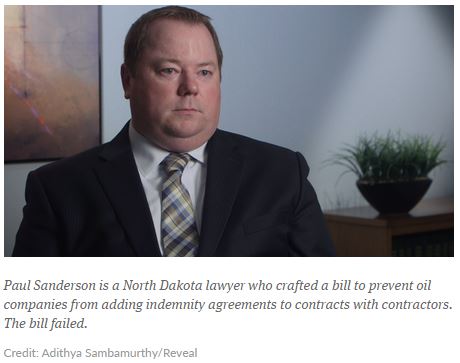 …

"You have situations where the oil companies know they are not going to be held responsible."
…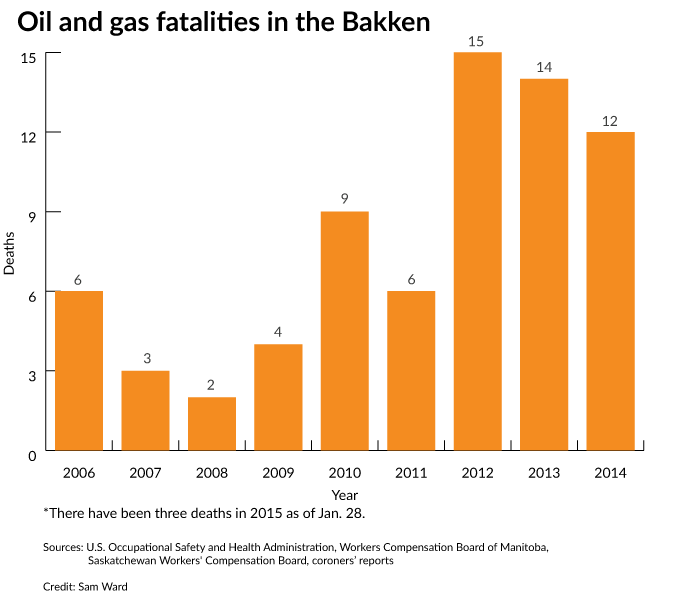 …
[Refer also to:
2012 11 28: Power of Attorney Calgary managing partner for Osler Hoskin Harcourt, Maureen Killoran, lawyer representing Encana in the Ernst vs Encana lawsuit:
And, to be perfectly frank, when you do energy law, as I do, or corporate litigation, you're not dealing with life and death situations and people whose lives have been turned upside down, plaintiffs who are weeping. It's just about money. ]