Frac bans on a roll!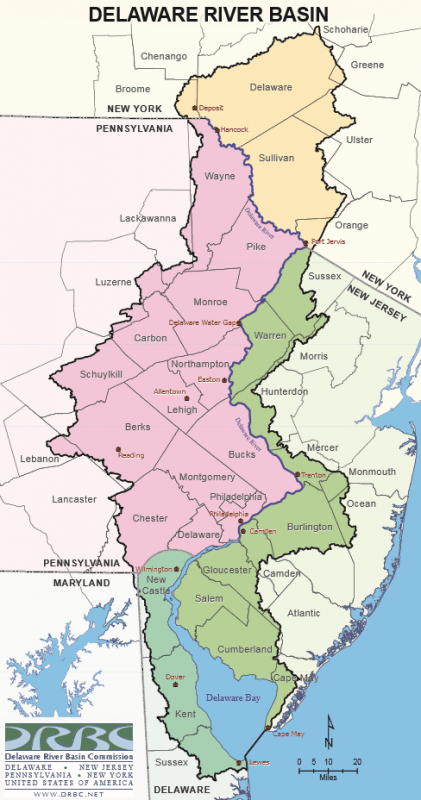 On February 25, the Delaware River Basin Commission voted to ban hydraulic fracking drilling activities in the Delaware River Watershed.
Delaware, New Jersey, New York and Pennsylvania supported the ban. The representative of the federal government abstained because, he said, there was not time to coordinate with the Biden Administration.
Pennsylvania Department of Environmental Protection Secretary Patrick McDonnell, who represented Gov. Wolf at the meeting, read a statement from the Governor during the vote–
"After careful analysis and consideration of the unique geographic, geologic, and hydrologic characteristics of the Delaware River Basin, DRBC commissioners are acting today under the authority of the Delaware River Basin Compact to protect the water resources of the basin, the source of drinking water for millions of Pennsylvanians.
"Having supported this effort since I was a candidate for governor of Pennsylvania, I am proud to join with other DRBC commissioners in preserving the water resources of this unique region for generations to come."
In a second action, the Commission voted unanimously to develop regulations for the management of drilling wastewater coming into the Delaware Watershed and for water being taken out of the watershed for use in drilling operations.
The proposed wastewater regulations are to be available no later than September 30.
Click Here for copies of documents adopted by the Commission.
Click Here for DRBC press release on these actions.
Background
The Delaware River Basin Commission has had a temporary ban on natural gas fracking in the watershed since 2010 while it developed regulations on the process.
DRBC proposed a permanent ban on one process for developing Shale gas– fracking– in November, 2017 for public review. In its last public statement on the proposal in April 2018, the Commission said it had no timetable for finalizing the fracking ban. Read more here.
The Wayne Land and Mineral Group, a group of landowners in Wayne County, Pennsylvania, who want to allow fracking in the River Basin sued the DRBC, claiming it lacks authority to regulate this dangerous industrial activity.
In 2017, a federal court threw out a similar landowner challenge to DRBC's authority, but the case was revived on appeal by the landowners in 2018.
Republican members of the Pennsylvania Senate and House have sought to intervene in the challenge supporting the Wayne County landowners in two ways.
Senate Joe Scarnati (R-Jefferson), President Pro Tempore of the Senate, Gene Yaw (R-Lycoming), Majority Chair of the Senate Environmental Resources and Energy Committee, and Lisa Baker (R-Luzerne) requested for a second time to intervene directly in the federal court case, a highly unusual move.
They withdrew their second attempt to intervene in July of last year.  Read more here.
Their initial attempts were turned down by the Court, but they appealed the 2019 ruling. Read more here.
On January 11, the entire PA Senate Republican Caucus filed a lawsuit in federal court challenging the DRBC moratorium on drilling.  Read more here.
On February 12, the Delaware RiverKeeper filed a motion to intervene in the lawsuit. Read more here.
Republicans in both the Senate and House have introduced legislation that unilaterally declares a fracking ban a taking of property and would require the Delaware River Basin Commission to directly compensate landowners for their loss of property value if a permanent fracking ban is enacted by the Commission.
At a House Committee hearing in March of 2019, supporters of this legislation said the bill would require DRBC to pay landowners up to $10 billion, a significant portion of which would have to be paid by Pennsylvania taxpayers since the state is part of the DRBC.
A suggestion was made to put a fee on each household to pay the Wayne County landowners for their lost property value at another House hearing. Read more here.
Senate Bill 305 (Baker-R-Luzerne) was reported out of the Senate Environmental Resources and Energy Committee in June of last year and was left in the Senate Appropriations Committee and the end of session last year.
House Bill 827 (Fritz-R-Wayne) was left on the House Calendar without action at the end of session after being reported out of the House Environmental Resources and Energy Committee in May of 2019.
Both bills are expected to be reintroduced again this session.
For more information on proposed natural gas fracking moratorium, visit DRBC's Natural Gas Drilling webpage.
Reaction
Sen. Gene Yaw (R-Lycoming), Majority Chair of the Senate Environmental Resources and Energy Committee, issued this statement on the DRBC action– "The DRBC ban is not just an assault on a highly regulated industry that employs thousands of Pennsylvanians, but it's another example of neighboring state's dictating our energy policy.
"The Commission is using New York's failed policies to institute a ban on development.  Pennsylvania has robust rules and regulations in place to protect our environmental resources, which have allowed for the safe development of natural gas in our state. This action serves to undermine economic development and job growth in the region and statewide."
His statement added–
In October 2020, former President Trump directed the U.S. Department of Energy (DOE) to assess the economic impacts of prohibiting, or sharply restricting, the use of hydraulic fracturing and other technologies in oil and gas exploration. He also directed a review of lost jobs, increases in energy prices, decreases in property values, and decreases in tax revenues, to name a few, as the result of any ban on fracking.
On January 14th, 2021, DOE delivered that report to the President. The report reinforces the obvious – banning hydraulic fracturing, a technique used for over 50 years across the world, would reverse oil and natural gas growth and return the United States to a net-importer of oil and gas by 2025. It would weaken our position on a global scale and negatively impact our national security.
Specifically, the report notes that the U.S. shale revolution has been the single most significant contributor to our energy security. As a result, our country is less impacted by oil disruptions in the market, and consumers and industry enjoy the reliability and affordability of an abundant natural resource.
Marcellus Shale Coalition president David Callahan blasted the Delaware River Basin Commission for violating private property rights and ignoring sound science in a vote banning the critical American natural gas development technology of hydraulic fracturing.
"It may be a good day for those who seek higher energy prices for American consumers and a deeper dependence on foreign nations to fuel our economy, but this vote defies common sense, sound science, and is a grave blow to constitutionally protected private property rights," said MSC president David Callahan."The Commission's blatant disregard for scientific evidence and bodies of independent research – including from the neighboring Susquehanna River Basin where continuous water quality and quantity monitors have shown no impact from shale development – further demonstrates the purely political nature of this action.
"We are extremely disappointed in Governor Wolf, who aligned with out-of-state interests to jam through a fracking ban that directly harms working-class Pennsylvania families. We were hopeful that President Biden would keep his vague commitment to not ban fracking, as he told Pennsylvania voters over and over. The Biden administration's lack of action today, along with the president's economically devastating anti-energy executive orders – which have already put tens of thousands of skilled union laborers out of work – does absolutely nothing to help America," added Callahan.
Pennsylvania Chamber of Business and Industry President and CEO Gene Barr issued the following statement in response to the Delaware River Basin Commission's vote to ban natural gas drilling:
"We are extremely disappointed to see Governor Wolf vote in lock step with the other states in the Delaware River Basin Commission to ban drilling and activities related to natural gas development in the basin. Throughout the pandemic, we have been told by government leaders to trust the science. The science is clear: as both the EPA and other water quality regulators, including the Susquehanna River Basin Commission, have noted, there is no support to any claim that drilling results in widespread impacts to drinking water, rivers or groundwater. This was a political decision uninformed by science.
"It's important to note that while Texas and other states in the Midwest faced rolling blackouts, Pennsylvania and the grid it belongs to, PJM, were exporting significant volumes of gas and electricity thanks to our significant portfolio of gas, coal and nuclear resources that provide baseload power. It is quite clear the region and nation rely heavily on Pennsylvania's resources to keep the lights on, and we must oppose any efforts to restrict the production and transmission of our natural resources.
"The votes by New York, New Jersey and Delaware provide further evidence that these states do not have Pennsylvania's best interests in mind. Despite being in close proximity to Pennsylvania's prolific wells, these states have obstructed infrastructure development that would have delivered Pennsylvania's energy to the states and to customers in New England, where shamefully they have had to rely on foreign natural gas, including a tanker from Russia. These states have also taken regulatory actions to hamper the operating environment for manufacturing and energy resources, and today's vote should give policymakers further pause in further coordination with these states on energy policy, such as joining the Regional Greenhouse Gas Initiative.
"Finally, the federal government's decision to abstain from this vote is extremely disappointing, given the national energy security implications of reduced domestic energy development and President Biden's stated commitment to reducing emissions and re-shoring manufacturing. With our economy reeling due to the pandemic and associated lockdown measures, and recent events highlighting how imperative energy production is, this is no time to let irresponsible voices carry the day and impede energy development."

To learn about frac'ing's truly inglorious history and science, including in Pennsylvania, read Andrew Nikiforuk's Slick Water.

"PennFuture applauds the historic and necessary step taken today by the Delaware River Basin Commission to ban fracking within the basin," said PennFuture President and CEO Jacquelyn Bonomo. "As the agency responsible for managing the water supply for 13 million people, the DRBC today acted responsibly, within its authority, and in the best interests of both public health and the environment. 
"The Commission listened to the thousands of voices, including PennFuture, who supported the ban on fracking—and called for the rejection of the proposed regulations on fracking-related interbasin water transfers and the treatment and disposal of fracking wastewater—so that our Delaware River water resources can truly be protected for now and for future generations.
"However, the fight isn't over yet. Because the DRBC withdrew its proposed regulations regarding interbasin water transfers and fracking wastewater treatment within the basin, and instead plans to issue new regulations for public comment by September of this year, PennFuture will review those regulations and will explore all of our options to ensure that the Commission's regulations are fully protective of water quality.
"The fracked gas industry in Pennsylvania has a long and infamous history of disrespecting our laws, communities, shared resources and environment, and PennFuture must be sure that the Delaware River and its tributaries will not be the latest victims of contamination and degradation by an industry that has shown, time and again, it cannot be trusted to protect our natural resources."
"This is a powerful moment; our watershed Governors and the President listened to the people and honored their commitments to protect us from the devastations of fracking in our watershed," said Maya van Rossum, the Delaware Riverkeeper and leader of the Delaware Riverkeeper Network.  "To all the people who said we should accept the regulatory proposal that banned fracking but still sacrifice our watershed to the toxic frack wastewater and water exports I say never underestimate the power of the people.  We clearly still have further to go, the ban on the actual fracking is irreplaceably important but we also need a permanent ban that prevents the fracking industry from using our watershed as the dumping ground for its toxic waste, and that prohibits it from sapping our precious waters to be used to sacrifice others to the fracking industry.  Governor Murphy, Governor Carney and Governor Wolf promised to protect our watershed from all aspects of the fracking industry, we are going to hold them to that promise and will urge Governor Cuomo and President Biden to also step up and protect the present and future generations of our region by also ensuring complete and enduring protections from all aspects of fracking including its toxic wastewater and water withdrawals.  But as of today, this is a major victory! And we are so very grateful to our 4 watershed governors — Murphy, Cuomo, Wolf and Carney — and the President for their proactive and protective decision today!"
Click Here for more comments by Maya van Rossum.
"The Commissioners listened to the people and to the science in making this historic move. We thank them for taking a stand to protect the basin from unconventional drilling and the practices surrounding it," said Karen Feridun, Founder, Berks Gas Truth in Pennsylvania.
"This has been an epic battle engaged by a huge, diverse, well-informed and united watershed community," said Tracy Carluccio, Deputy Director, Delaware Riverkeeper Network. "The outcome is historic because the Delaware River Watershed is preventing pollution and degradation by their forthright precautionary action to ban fracking and begin the next step towards a full ban by the adoption of regulations that will ban the import of wastewater from fracking and the export of water to fuel fracking's destruction elsewhere. These next steps put us on the road to a full and powerful defense against the toxic and radioactive pollution that inextricably comes with fracking and allows the Delaware to provide clean drinking water to 17 million people who rely on the river's flows. We will fully engage in the coming months in the rulemaking process to achieve a full ban on fracking for the sake of all our communities, human and nonhuman."
Joseph Minott, Clean Air Council's Executive Director and Chief Counsel, issued the following statement: "Clean Air Council is thrilled that the DRBC listened to the public and banned fracking in the Delaware River Watershed once and for all. We welcome DRBC's next steps to complete its fracking ban by prohibiting water withdrawals needed for fracking as well as the disposal of toxic fracking wastewater in the watershed."
The Better Path Coalition issued this statement on the DRBC action– "We congratulate our allies who have fought for this ban for 11 years and worked to stop the additional regulations proposed in 2017.
"The reasons cited for today's decision include the rapidly growing body of peer-reviewed science on the adverse impacts of shale gas development and evidence of the harms done in areas outside the basin for more than a decade. Many of those studies include or focus specifically on data from Pennsylvania. Many of the harms they have noted have occurred in Pennsylvania. For too many Pennsylvanians, the harms are still occurring with no end in sight.
"Communities outside of the Delaware River Basin are entitled to the same protections as those within it. We reject allowing any part of the state to be a sacrifice zone."
Statement on the DRBC action by Nadia Steinzor, Earthworks Senior Policy Analyst– "We are happy that Governor Wolf, and the Governors of all member states, have finally accepted the science supporting a fracking ban and voted to protect the precious water supplies and communities within the Delaware River watershed. We are grateful to the many advocates and residents who have fought long and hard to protect the region from the oil and gas industry.
"The same science and risks to health and the environment acknowledged by Governor Wolf apply everywhere the oil and gas industry operates, not just the river basin containing the richest and most populous metro area in the state. 
"We hope that Governor Wolf will soon act similarly to protect all Pennylvanians whose water, air, and quality of life is threatened, through the Susquehanna River Basin Commission and statewide.
"The Governor has an opportunity now to expand the leadership he showed with the DRBC vote by closing loopholes in his proposed rule to limit oil and gas air pollution and moving forward to realize his climate commitments by encouraging a more just, equitable clean energy future for Pennsylvania." …
The Delaware River Basin Commission on Thursday approved a permanent ban on hydraulic fracturing of natural gas wells along the river, doubling down in the face of new legal challenges.
The DRBC's vote maintains the status quo — it formally affirms a drilling moratorium imposed in 2010 by the commission, the interstate agency that manages water use in the vast Delaware watershed. But environmentalists hailed the frack ban as historic.
The commission said it had the authority to ban fracking in order to control future pollution, protect the public health, and preserve the waters in the Delaware River Basin. For more than debate, environmental activists have rallied substantial public opposition in the basin to pressure the commission to enact the ban.
The formal ban came a month after a federal judge set an October trial date to hear a challenge from landowners to the drilling moratorium, which is now a permanent ban. Pennsylvania Republican lawmakers, along with Damascus Township in Wayne County, also filed a separate federal legal action last month alleging that the moratorium illegally usurps state legislators' authority to govern natural resources.
Representatives of the governors of four states that are drained by the river — Pennsylvania, New Jersey, Delaware and New York, all governed by Democrats — voted in favor of the ban. The fifth commission member, a federal government representative from the U.S. Army Corps of Engineers, abstained because he said the corps needed additional time to "coordinate" with the new Biden administration.
The new DRBC rules prohibit high-volume hydraulic fracturing for fossil fuels within the 13,539-square-mile basin. The commission put off a decision on whether to allow the treatment of wastewater from fracking outside the basin. It also postponed a decision on whether to allow water from the Delaware basin to be used in fracking outside the basin.
… The DRBC imposed a fracking moratorium in 2010 but never finalized drilling regulations. In 2017, the commission changed direction and moved to draft regulations to formally ban fracking in the basin. After a series of public hearings in 2018, the commission delayed a decision until Thursday.
The ban effectively impacts activity only in Pennsylvania, because New Jersey and Delaware have no natural gas that can be developed and New York, whose southern tier adjoins some of Pennsylvania's richest shale fields, has banned fracking statewide. …
New Jersey Gov. Phil Murphy, in a statement read by a deputy, said Thursday that fracking poses significant risks to the water resources of the Delaware River Basin, and prohibiting the activity "is vital to preserving our region's recreational and natural resources and ecology."
Patrick McDonnell, Pennsylvania's secretary of environmental protection, read a statement from Gov. Tom Wolf that said he cast the state's vote in favor of the ban "after careful analysis and consideration of the unique geographic, geologic and hydrologic characteristics" of the river basin. He also noted that the ban fulfilled a Wolf 2014 campaign pledge.
McDonnell said the commission was acting under authority of the Delaware River Basin Compact, the 1961 interstate agreement to manage water resources in the Delaware basin. That's an important distinction because the lawsuits challenging the DRBC's actions allege that the commission is acting beyond its legal authority by banning a practice that is governed exclusively by Pennsylvania law.
In the lawsuit last month, State Sens. Gene Yaw (R., Lycoming) and Lisa Baker (R., Luzerne) and the Pennsylvania Republican Caucus alleged that the moratorium — now a ban — undermines the General Assembly's prerogative to make laws managing the state's resources. They also said that the DRBC's action amounts to an illegal taking of property from Pennsylvania owners of mineral rights and from taxing authorities.
Matthew H. Haverstick, a Philadelphia lawyer who filed the suit on behalf of the Republican caucus, said the DRBC's action Thursday does not alter the underlying argument in the lawsuit.
"It's still a taking that was never authorized by Pennsylvania under the compact," said Haverstick, a partner with the Kleinbard LLC law firm. "So the core issues from my standpoint remain."
Delaware River Basin Commission votes to ban fracking in the watershed by Susan Phillips, February 25, 2021, State Impact
More than 10 years after the Delaware River Basin Commission imposed a de facto moratorium on gas drilling in the watershed, setting off a battle between natural gas advocates and environmentalists, the commissioners voted to ban fracking at a special meeting Thursday.
All four basin states — Pennsylvania, New Jersey, Delaware and New York — voted to ban the practice, citing scientific evidence that fracking has polluted drinking water, surface water, and groundwater. The vote prohibits gas drilling in northeastern Pennsylvania and southern New York state, where Marcellus Shale gas deposits are limited to about one-third of the basin. The decision already faces several federal lawsuits challenging the agency's authority.
"As DRBC chair, I welcome this opportunity to provide the fullest protection to the more than 13 million people who rely upon the Delaware River Basin's waters for their drinking water," Delaware Gov. John Carney said in a statement delivered by his representative, Shawn Garvin, at the virtual meeting. Garvin is secretary of that state's Department of Natural Resources and Environmental Conservation.
New Jersey Gov. Phil Murphy's representative, Shawn LaTourrette, who also serves as the state's deputy commissioner for the Department of Environmental Protection, spoke on his behalf, saying:
"Fracking poses significant risks to the water resources of the Delaware River Basin, and prohibiting high-volume hydraulic fracturing in the basin is vital to preserving our region's recreational and natural resources and ecology."
DRBC executive director Steve Tambini said the agency had received comments from more than 8,900 individuals since the ban was originally proposed in 2017, and had held six public hearings. He said more than 400 people attended the virtual meeting Thursday. Former DRBC executive director Carol Collier was one of them.
"The whole natural gas development issue landed on DRBC's plate in 2008," said Collier, who ran the agency at the time. "It was a mad rush to (get) the regulations together in 2010. I am very pleased that now there is an official vote and the resolution passed."
Collier said lessons learned from observing the impact of fracking on other parts of Pennsylvania where gas drilling is permitted, as well as current scientific studies, show this is a "very good decision."
DRBC: Fracking-related problems could occur in watershed
In explaining the decision, the DRBC's Tambini cited a 2015 health study and an environmental impact statement done by New York state, as well as a 2016 EPA report, along with current research.
"DRBC received tens of thousands of comments, letters, and petitions from a diverse cross-section of the public from within the basin and beyond," he said. Those comments, along with studies, reports and "conclusions of other government agencies on the impacts of HVHF [high-volume hydraulic fracturing] on water resources were reviewed and evaluated by the DRBC staff and the commissioners."
Fracking for natural gas — technically referred to as high-volume hydraulic fracturing for its use of high-pressure water and chemicals to release gas from a tight shale formation — has led to water pollution across Pennsylvania. The most famous incident occurred early on in the gas boom in Dimock, where state regulators found that faulty well construction led to contamination of drinking water wells.
The Pennsylvania Department of Environmental Protection has concluded that shale gas drilling has contaminated hundreds of drinking water wells. Wastewater spills, which can contain heavy metals, radioactive material and toxic hydrocarbons like benzene and toluene, have contaminated surface water. Wastewater impoundments have also leaked, leading to groundwater pollution. Hundreds of lawsuits against the industry, citing illness among children and animals, have been settled out of court.
DRBC's Tambini said the evidence shows those same incidents could occur in the Delaware River watershed, which include the river's headwaters and where shale gas formations lie beneath rural areas dependent on private drinking water wells.
"The geology of the region … is characterized by extensive geologic faults and fractures, providing preferential pathways for migration of fluids, including gases," he said. "If commercially recoverable gas is present in the Delaware River basin and if high-volume hydraulic fracturing were to proceed in the basin, then spills and releases of hydraulic fracturing chemicals, fluids and wastewater would adversely impact surface water and groundwater. The fluids released or migrating would contain pollutants including salts, metals, radioactive materials, organic compounds, endocrine-disrupting and toxic chemicals, and chemicals for which toxicity has not been determined."
The commissioners also voted unanimously to create rules surrounding the import and export of fracking wastewater from the basin, and the use of fresh water by drilling companies to frack wells outside the basin.
The special meeting came at a time when environmentalists were pushing for a vote to take advantage of the new Democratic administration in Washington.
The multistate commission regulates water quality and permits industrial activity that has impacts on the river and its many tributaries. The agency is made up of representatives appointed by the governors of New York, New Jersey, Pennsylvania and Delaware, as well as a member of the Army Corps of Engineers who represents the federal government.
Murphy, Carney and Pennsylvania Gov. Tom Wolf were already on the record supporting the ban. Brigadier Gen. Tom Tickner of the Army Corps of Engineers said the new administration did not have time to review the proposal, but he added it respects the decisions of the states.
"The politics of the moment weren't going to get better," said Delaware Riverkeeper Network director Maya Van Rossum, a vocal opponent of fracking.
DRBC concern began years ago
Staff at the commission expressed concern at the beginning of Pennsylvania's shale gas boom, pointing to the large volume of water withdrawals needed to frack the tight shale gas formation and the potential impact on water quality. In December 2010, the DRBC released its original proposals, establishing the agency's regulatory authority on the issue. What followed were often-tense public hearings and an unprecedented response from both sides.
After reviewing more than 60,000 public comments, the DRBC posted its revised draft regulations online in early November 2011. But just days before a meeting to vote on those rules, then-Delaware Gov. Jack Markell announced his intent to reject them, and a divided commission canceled the meeting.
New York banned fracking completely within its borders at the end of 2014, citing health concerns.
While the stalemate among commissioners dragged on, a group of landowners eager for drilling in Wayne County, Pennsylvania, sued the DRBC in federal court in May 2016, arguing that the agency did not have the authority to regulate gas drilling.
More than a year later, in November 2017, the agency released proposed rules that would go even further and ban fracking in all shale formations in the Delaware River Basin.
While Thursday's vote was cheered by environmentalists, it was panned by the gas industry and business interests who rejected the science and called the move political.
"The votes by New York, New Jersey and Delaware provide further evidence that these states do not have Pennsylvania's best interests in mind," said Pennsylvania Chamber of Business and Industry president and CEO Gene Barr. "Despite being in close proximity to Pennsylvania's prolific wells, these states have obstructed infrastructure development that would have delivered Pennsylvania's energy to the states and to customers in New England, where shamefully they have had to rely on foreign natural gas, including a tanker from Russia."
Barr also criticized Wolf and the Biden administration.
"The federal government's decision to abstain from this vote is extremely disappointing, given the national energy security implications of reduced domestic energy development and President Biden's stated commitment to reducing emissions and re-shoring manufacturing."
The controversy has led Republican lawmakers in Pennsylvania to challenge the role of the DRBC. In January of this year, Republican State Sens. Gene Yaw and Lisa Baker filed a federal lawsuit claiming the Delaware River Basin Commission does not have the authority to regulate gas drilling, which it says lies with the legislature.
Despite the controversy, there is little evidence the gas industry is eager to drill in the area. In 2013, Hess Corp. and Newfield Appalachia terminated leases, citing low natural gas prices. Some speculate that section of the formation does not contain enough gas to be profitable, especially at today's low prices.

Celebrate and Dance!~
Redemptorist Communications 4 Min. From Brazil to Dublin to Cork the Redemptoristines and Redemptorists take on the Jesursalema Challenge. Feb 22, 2021
… Aged between 28 and 92, the sisters perform the Jerusalema dance challenge in a joyous video that now has tens of thousands of views on social media. …
Sister Lucy told RTÉ News that the challenge also brought them all closer together, adding that the nuns had been shocked by the "huge response" they have received online.
The sisters had been challenged to do the dance by their fellow Redemptorist Fathers and Brothers.
Based in Dublin since 1859, the enclosed order limits their interactions with the outside world and devote their lives to prayer. …
Refer also to:
2021 02 19: Water quality and quantity regulator (Delaware River Basin Commission) to make final decision Feb 25 on permanent drill & frac ban in Delaware River watershed.
2021 02 18: California SB 467 "End Fracking & Harmful Drilling Act" proposes to ban all new frac'ing and other risky techniques like cyclic steaming, acid fracs, and water and steam flooding by Jan 2022 and completely by 2027. How many companies will sue to try to kill the ban and what will Trump's judges do?
2021 01 15: Pennsylvania GOP lawmakers sue over Delaware River drilling ban, Two Republicans claim Delaware River Basin Commission overstepped its authority and usurped the Legislature with its moratorium on natural gas development
2021 01 14: Courageous feisty and wise Ireland! "Cork LNG is scrapped!" "Fracking and all of its effects has no place…. Not here, not anywhere."
2020 07 12: Front Page New York Times! Satan Hailing Frac'ers Lynch the People. Oil & Gas companies hurtling into bankruptcy (intentionally – to avoid lawsuits, leak repair & clean-up, enabled by taxpayer-funded courts) as execs snatch millions in unjust rewards (also enabled by our courts).
2020 02 20: BOE Report: Fracking with Jello: Family Propaganda Day at SAIT. Education Alberta style.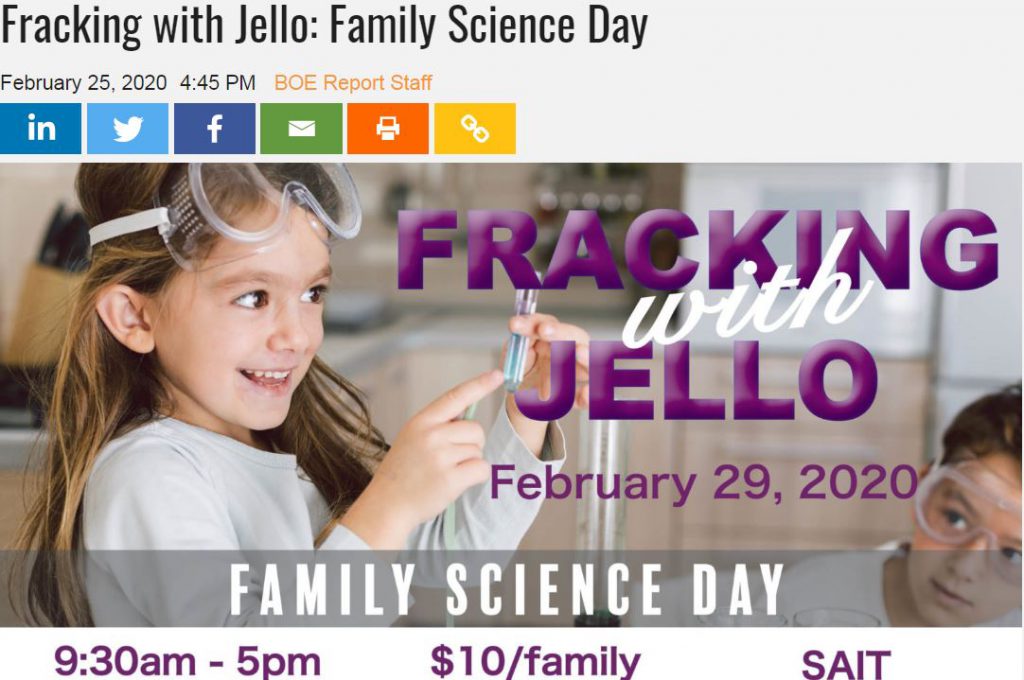 2019 11 07: Magnificent article by Andrew Nikiforuk: UK Ban Adds to the Tremors Taking Down the Fracking Industry
2017 07 06: Republic of Ireland: President Michael Higgins signs bill making fracking illegal!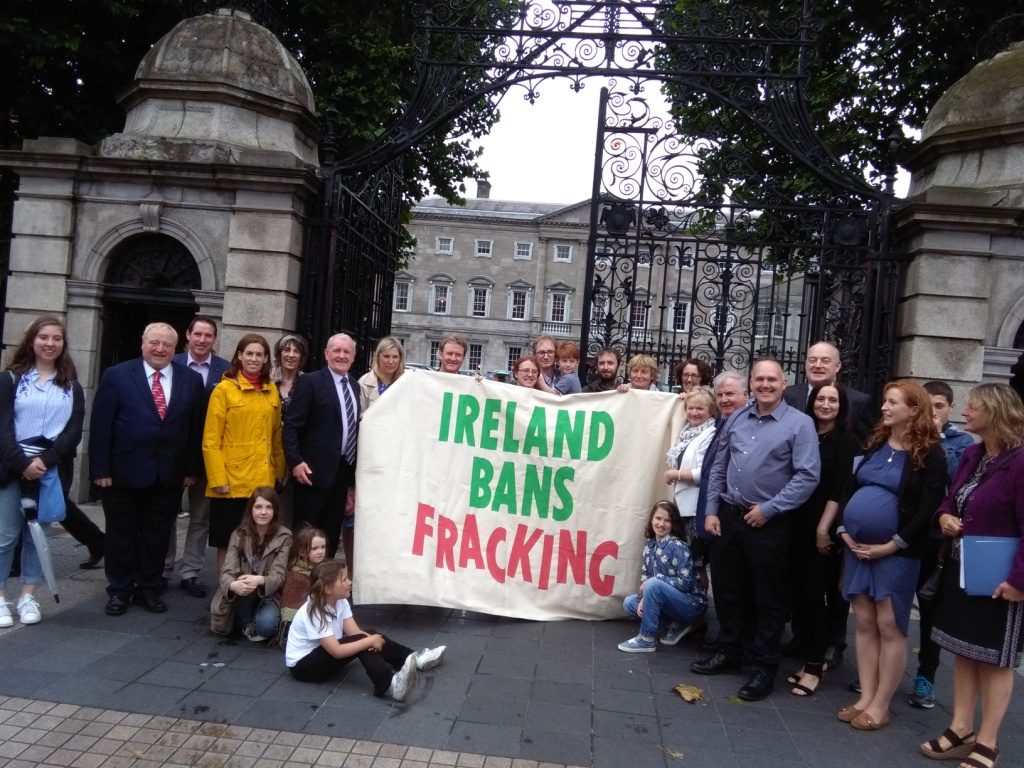 2016 12 13: US EPA Releases Final Frac Report: Rosebud Alberta drinking water aquifers frac'd, water wells contaminated with gas. EPA's late edits to 2015 draft frac report downplayed the risks, contradicted the evidence, called "bizarre" & "irresponsible." Like Alberta regulator official, Steve Wallace, secretly editing "independent" drinking water contamination reports to protect illegal aquifer frac'er Encana?
2016 11 29: After years of delays & after reporting 1.5 years ago that industry (Encana) frac'd drinking water aquifers in Pavillion Wyoming & Rosebud Alberta & contaminated water wells with natural gas, etc, & reporting numerous other water supplies contaminated by frac'ing, US EPA's Final Frac Report expected "soon."
2013: My water, a la cruel community & aquifer rapist, Encana/Ovintiv and rape enablers, AER and Alberta gov't: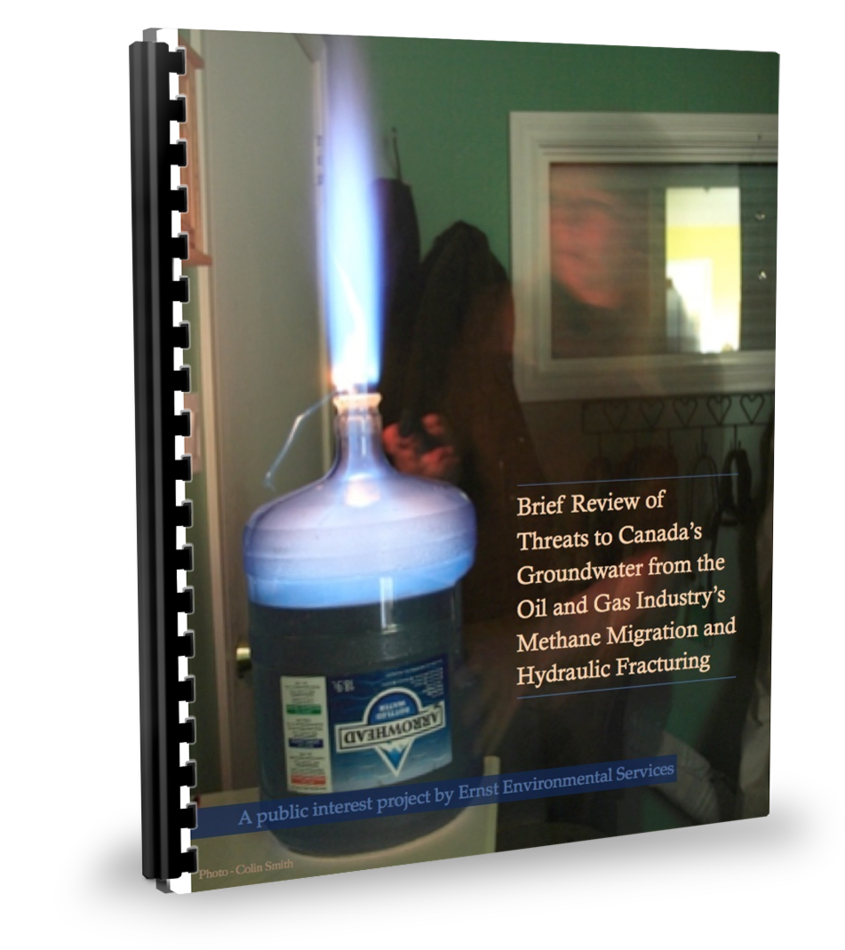 Photo by Colin Smith
2011 06 30: France Becomes First Country to Ban Extraction of Natural Gas by Fracking
2011: Another Blow To Dirty Energy: Fracking Nixed In The Delaware River Basin
2011: Lawsuit charges that an analysis must be completed and environmental impacts understood before drilling moves forward in the Delaware River Basin.