Will Canadian companies be held responsible for their actions abroad? by Shin Imai, July 31, 2013, The Globe and Mail
Last week the Ontario Superior Court of Justice released a path-breaking decision, Choc v. HudBay Minerals , that might, for the first time, require a Canadian mining company to take legal responsibility for human rights abuses abroad. The case concerns the alleged gang rape of indigenous women and the murder of an indigenous leader. Both are alleged to have occurred in Guatemala in the course of an ongoing dispute over indigenous land rights at the site of a mine owned by HudBay's Guatemalan subsidiary.
HudBay had argued that the legal proceeding should not be heard in Canada because even if all the allegations of rape and murder were true, it would not matter because the Canadian parent company had no responsibility for the actions of its subsidiary. This is an astonishing position to take. If nothing else, the tragic death of more than 1,000 garment workers in Bangladesh has made us aware that Canadian companies should take some responsibility for the working and living conditions of their workers in any part of the world. To their credit, mining companies, either individually, or in concert, have developed a variety of policies that attempt to set out appropriate standards of conduct for their actions abroad. While these corporate social responsibility codes could be useful if well implemented, they are all voluntary, and do not have any enforcement mechanisms for addressing breaches of the code. Resource extraction is a highly intrusive, highly dangerous activity. Regulating this activity through voluntary codes is like repealing the Highway Traffic Act and leaving the regulation of Highway 401 to a voluntary code – drafted by truckers.
HudBay Minerals, for example, reports annually on its corporate social responsibility activities in a glossy fifty page report. The 2012 edition says that "strong community relationships are the foundation of our work." It is odd, then, that HudBay would assure investors of its interest in the welfare of the community, proceed to make profits out of the mine and then wash its hands of any abuses committed to produce those profits.
I do not suggest that all mining companies abuse human rights, but there are clearly situations where allegations of abuses raise serious concerns about the actions of individual companies. Take two recent cases from the same region in Latin America. One Canadian mining company in Mexico admitted to putting money directly into the personal bank account of a local mayor, and their offices in Calgary were raided by the RCMP as part of their investigation under the Corruption of Foreign Public Officials Act. According to newspaper reports, three men with links to the company were charged with the murder of a prominent anti-mining activist. The head of security for another Canadian mining company in Guatemala is now in jail awaiting trial after he and his security personnel allegedly shot and injured six protesters. In both of these cases, the mining companies deny responsibility. Under the voluntary code system, the story ends there. But this does not feel right. Perhaps the mining companies are responsible, perhaps they are not, but common decency suggests that there should be an open hearing where a judge can hear evidence from both sides before assigning liability. That is how disputes over dangerous driving on the 401 are resolved. We do not have a voluntary code under which a drunk driver gets off merely by asserting that he was not drunk.
In England, courts will now hear allegations of wrongdoing by parent companies for their subsidiary's operations abroad. The Choc judgment has passed the first hurdle in bringing similar corporate accountability into Canadian law. It will undoubtedly be appealed, so it will be many more years before a judge will actually hear the evidence and determine what happened in Guatemala. However, in the words of former Supreme Court of Canada Justice Ian Binnie, commenting on the idea that courts should start to hear cases of corporate abuse abroad, "there are acts that are so repugnant that they should force us to rethink our law." Shin Imai is an associate professor at York University's Osgoode Hall Law School [Emphasis added]
After HudBay ruling, Canadian firms on notice over human rights by Penny Collenette, July 24, 2013, The Globe and Mail
For years, activist lawyers and legal academics have searched for a way in which to hold corporations who have a head office in one country, but who operate in other countries, often through subsidiaries, accountable for illegal acts in the host nation. Victims were often bounced from country to country in an attempt to find a hearing. And at the end of the day, after years of legal wrangling and time wasted in courts, many settlements came about at the last minute. The agony of "forum shopping" may have produced some settlements but rarely was there a finding of guilt, or a sense of justice. On Monday, Ontario Superior Court Justice Carole Brown ruled that claims for rapes and murder in Guatemala against Canadian mining company HudBay Minerals can proceed to trial in Canada. This precedent-setting decision puts Canadian companies on notice that they will have to be much more vigilant about their actions overseas. Hudbay, like other corporations before, had argued in court that court that corporate head offices could not be held responsible for harms at their subsidiaries but the judge disagreed, saying that the claims could not be dismissed. Murray Klippenstein, the Toronto lawyer for the 13 plaintiffs who accuse HudBay of murder and gang-rape stated "There will now be a trial regarding the abuses committed in Guatemala, and this trial will be in a courtroom in Canada a few blocks from HudBay's headquarters…we would never tolerate these abuses in Canada, and Canadian companies should not be able to take advantage of broken-down or extremely weak legal systems in other countries to get away with them there." Judicial decisions often act as markers, sometimes nudging society along to change systems and values in order to ideally reflect a search for justice. Sadly, our global world today still denies justice to many of the most vulnerable, making a mockery of our global system of corporate law.

Illegal acts can involve child labour and unsafe working conditions, as we saw in the terrible Rana Plaza tragedy in Bangladesh. Illegal acts can involve beatings, rape and murder to citizens of poorly governed countries, committed by security forces (often hired by mining companies). These illegals acts can involve environmental degradation and loss of jobs. One has only to think of BP's initial and pathetic attempt to cast the Deepwater Horizon spill as a small problem. Aside from violence, these acts can also involve bribery and fraud. Canadians were ashamed and embarrassed to discover that one of our corporate jewels, SNC-Lavalin, was allegedly participating in such a way in Libya. Stymied by questions of extra territoriality and deference to the sovereignty of a state, not to mention the existence of complicated shell companies which prevents "piercing the corporate veil," courts also struggled to find the appropriate venue for victims of these egregious crimes. If a company has a head office in Vancouver, which is carrying out a mining business in Nigeria but contracted out the security for the mine from a Dutch company, and allegations of human rights are made in Nigeria, where should the trial be held?
In all of the legal battles and fights over decades, one voice has been very silent: The voice of corporate leadership, especially in Canada. Sara Seck, an associate professor at Western University, also points out that it's not only management who should be concerned. Corporate directors should also be involved because this type of litigation and attention can directly impact the ability of any project to benefit investors, a point that is underscored in the new book Just Business by John Ruggie of the Kennedy School of Government at Harvard University. Canadians are demanding more accountability, responsibility and transparency from our political institutions. Can we not expect the same values from our corporations? Are we ready for global prime time corporate leadership or will we just be silent partners?  The claims in the HudBay case have yet to be proved and the decision may be appealed, but a door that has been so firmly shut to so many victims has finally been opened in Canada.
[Refer also to:
BP's [now EnCana's CEO] Doug Suttles Thinks Americans are Ignorant – Will the Media and Our Government Prove Him Right? by Heather, August 2, 2010, Crooks & Liars.com
BP's COO Doug Suttles apparently thinks that most Americans are completely ignorant or that even if they aren't, it's not going to matter because the media and our government are going to allow them to cover up the amount of damage done by this catastrophe in the Gulf of Mexico. Mr. Suttles gave a press conference this weekend where he downplayed the dangers of the dispersants that have been poured into the Gulf and laid it squarely back on the feet of our government for allowing them to poison the waters. [Emphasis added]
Oilpocalypse: Divers' underwater video of BP oil spill disaster by RussiaToday, June 9, 2010
BP Chief Operating Officer Doug Suttles continues to insist no massive underwater oil plumes in 'large concentrations' have been detected from the spill in the Gulf of Mexico. But deep underwater – the oil is so thick that it blocks out almost all of the light below. [Emphasis added]
Guatemalan mine claims against HudBay can be tried in Canada, judge says by Bertrand Marotte, July 23, 2013, The Globe and Mail
Canadian mining company HudBay Minerals Inc. can potentially be held liable for alleged violence at a Guatemalan mine owned by a subsidiary, an Ontario Superior Court judge has ruled, in what plaintiffs say is a precedent-setting case. Justice Carole Brown's ruling, handed down Monday, means that the claims of 13 Guatemalans can proceed to trial in Canadian courts. The decision opens the door to other cases in which companies could face liability on their home turf for incidents that happen overseas.
"The judgment should be a wake-up call for Canadian mining companies," said Cory Wanless, a co-counsel with Murray Klippenstein, who represents 13 Mayan Guatemalans. "It is the first time that a Canadian court has ruled that a claim can be made against a Canadian parent corporation for negligently failing to prevent human rights abuses at its foreign mining project. We fully expect that more claims like this one will be brought against Canadian mining companies until these kinds of abuses stop." Mr. Klippenstein had argued that HudBay can be held liable for negligence, alleging that HudBay executives made decisions for its subsidiary regarding security at the mine, relations with local indigenous people and the "forced evictions" of Mayan protestors claiming the mine is theirs. Lawsuits were launched against HudBay after clashes that pitted protestors against security details at the Fenix nickel mine in 2007 and 2009. The allegations have not been proven in court. HudBay lawyers, who tried to have the case thrown out, said going ahead with a trial would be detrimental to the corporate-law principle that parent companies are not liable for the actions of their subsidiaries. They also argued it would open the way to "meritless" cases against other mining firms.
In the Guatemalan lawsuits, one case involved the alleged beating, machete hacking and killing of a local Mayan community leader who voiced opposition to the mine: Adolfo Ich Chaman. Another man was shot and now uses a wheelchair. There are also allegations that 11 women were gang-raped by men in mine security uniforms. HudBay has denied the allegations and detailed its version of what happened on its website, saying protesters were responsible for some of the violence. In a statement late Tuesday, HudBay spokesman John Vincic said: "The judge's decision … involved a ruling on a question of law in a preliminary motion and did not involve a determination of the merits of the case. …. After having an opportunity to cross-examine the plaintiffs, we are confident that their allegations are untrue and the cases will be favourably resolved on the merits at trial."
Mr. Klippenstein said the ruling has a broader impact. "As a result of this ruling, Canadian mining companies can no longer hide behind their legal corporate structure to abdicate responsibility for human rights abuses that take place at foreign mines under their control at various locations throughout the world," he said. "There will now be a trial regarding the abuses that were committed in Guatemala, and this trial will be in a courtroom in Canada, a few blocks from HudBay's headquarters, exactly where it belongs. We would never tolerate these abuses in Canada and Canadian companies should not be able to take advantage of broken-down or extremely weak legal systems in other countries to get away with them there."
HudBay's Guatemala Mine The Subject Of 3 Lawsuits by Romina Maurino, July 23, 2013, The Canadian Press
Lawyers for the plaintiffs, 13 Mayan Guatemalans, said the decision is a "wake-up call" for Canadian companies about their responsibilities at foreign mining projects. "This step in the case uses existing legal rules that have not been applied in this way before," lawyer Murray Klippenstein said in an interview Tuesday. "Mining companies, and maybe other companies operating abroad, need to take a very, very, serious look at the possibility or likelihood that shenanigans abroad that they thought would never result in liability may result in accountability in Canadian courts." The suits allege that security personnel, along with members of the police and military, attacked and raped 11 women in 2007 who were forcibly removed from their village in relation to the Fenix project. Two related lawsuits seek to hold HudBay Minerals Inc. (TSX:HBM) and a subsidiary responsible for the subsequent killing of community leader Adolfo Ich as a result of a land dispute and the shooting and paralysis of local resident German Chub.
HudBay, which didn't own the mining operations when most of the alleged incidents occurred, has said the accusations contradict available information and that it would defend itself "vigorously against them." The Toronto-based company bought the Fenix project nickel mine in Guatemala in a corporate takeover of Skye Resources in 2008, but sold it in 2011 to Russian firm Solway Investment Group to focus on its Canadian and Peruvian projects. HudBay spokesman John Vincic said the ruling does not involve any determination of the merits of the case. "It also did not consider the likelihood that the plaintiffs would be able to establish the facts they are alleging," he wrote in an email. "After having an opportunity to cross-examine the plaintiffs, we are confident that their allegations are untrue and the cases will be favourably resolved on the merits at trial."
The company has said on its website that it "does not believe the allegations that sexual assaults occurred during (the) evictions is credible and no complaints of this nature have been filed with the authorities in Guatemala." It also says that "according to the prosecutor and police reports… the evictions were carried out peacefully and without any injuries," and denies that any of its personnel was involved in Ich's death in 2009. "HudBay takes its role as a corporate citizen seriously and respects and protects human rights wherever HudBay operates," the site says. It denies any responsibility and is relying on the legal defence that a parent company is not responsible for the actions of its subsidiary. But Klippenstein doesn't believe that applies in this case because "the reality seems to be that the parent company in fact controls on the ground operations," he said. A lot of those accused in committing the offences "were hired by HudBay or its subsidiary with the direct involvement from Canada and without any kind of reasonable safeguards or supervision," Klippenstein said. "Many of the security people were unlicensed and carried unlicensed guns. The situation was just loaded for violence." HudBay, he notes, did own the mine "during some of the events so we say they had direct on-the-ground involvement and responsibility for some of the events." "Some events were under the control of the company that they purchased, so they purchased the legal liabilities with the package," Klippenstein added.
In her decision, Superior Court of Ontario Justice Carole Brown ruled Monday that the three lawsuits against HudBay shouldn't be dismissed and should be allowed to proceed to trial because necessary standards were met. Klippenstein said the ruling was a good reflection on the Canadian justice system, and gave hope to plaintiffs who'd felt victimized in Guatemala's "broken" system.
Ontario court rules that lawsuits against Hudbay Minerals regarding shootings, murder and gang-rape at its former mine in Guatemala can proceed to trial in Canada Press Advisory by Klippensteins, July 22, 2013
"Today is a great day for me and all others who brought this lawsuit," said Angelica Choc, a plaintiff and widow of Adolfo Ich. "It means everything to us that we can now stand up to Hudbay in Canadian courts to seek justice for what happened to us."
"This judgment should be a wake-up call for Canadian mining companies," said Cory Wanless, co-counsel for the Mayans along with Mr. Klippenstein. "It is the first time that a Canadian court has ruled that a claim can be made against a Canadian parent corporation for negligently failing to prevent human rights abuses at its foreign mining project. We fully expect that more claims like this one will be brought against Canadian mining companies until these kinds of abuses stop." This is the second significant legal victory for the Mayan plaintiffs this year. In February, Hudbay abruptly dropped its argument that the lawsuit against it should be heard in Guatemala, not Canada, after fighting tooth and nail over this issue for over a year, forcing survivors of rape to travel to Toronto to endure extensive cross-examination and the legal team to spend countless hours compiling stacks of evidence, expert reports, and witness testimony.
READ THE JUDGMENT: Judgment – July 22, 2013
[Refer also to:
Big Oil Pleads Immunity From Prosecution for Human Rights Crimes
Seeking justice by The National, November 25, 2012, CBC News
A group of indigenous people from Guatemala say a Canadian mining company was behind violent crimes and the destruction of their villages and they have come to Canada seeking justice. Warning, graphic images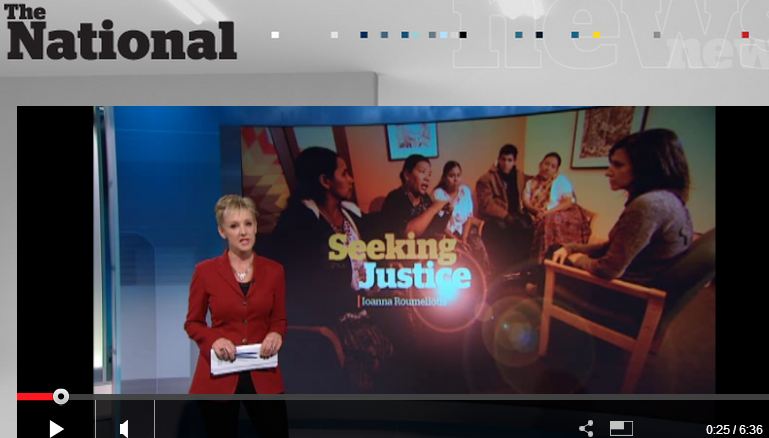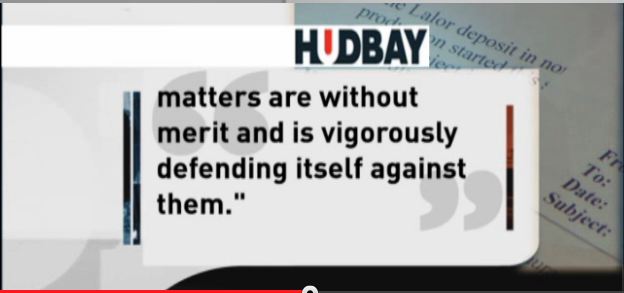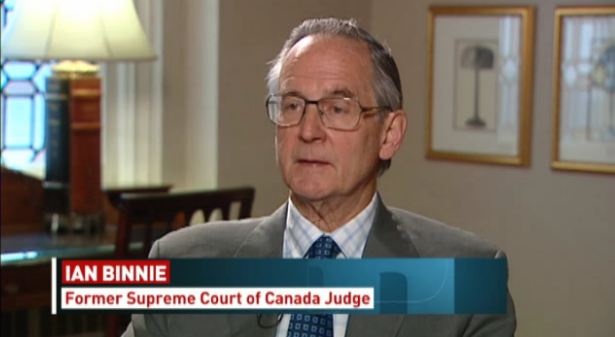 "In any responsible legal system, people have a right to a day in court"