Slides of the presentation and photos of the tour available at The People's Forum on Fracking in Stephenville Newfoundland Presents: Environmental Scientist Jessica Ernst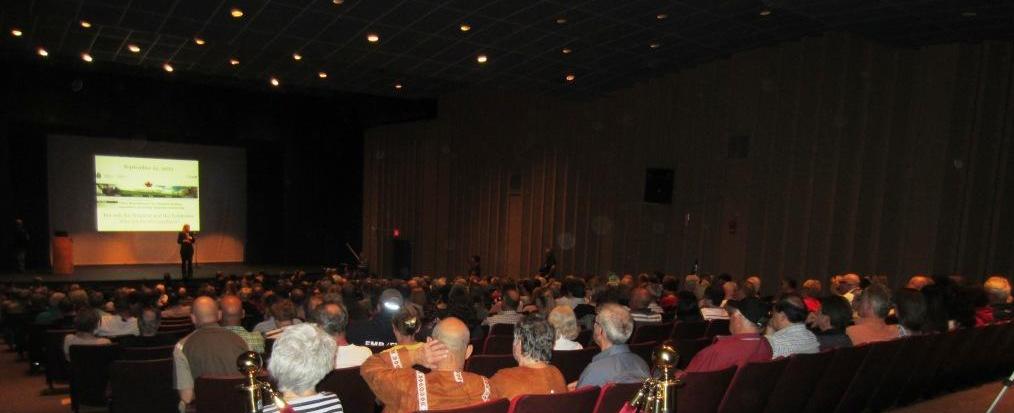 Alberta Woman Warns West Coast Residents About Fracking by NTV, September 23, 2013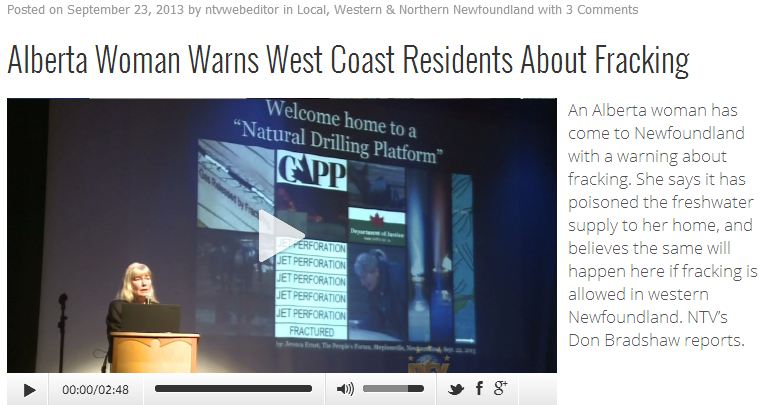 Wait for research before allowing fracking, scientist says by CBC News, September 24, 2013
An environmental scientist from Alberta says Newfoundland and Labrador should wait for more research before allowing hydraulic fracturing in this province. Jessica Ernst, who said the drinking water in her home was contaminated by nearby fracking, was in Stephenville over the weekend to give a lecture on the process. She said companies don't present all the facts before fracking in an area. "The big thing about when you do get fracked [is] it's lots of lies and promises. Then as soon as you're fracked, then the promises are broken and the lies unravel," Ernst said.
She said she worked in the oil and gas industry for 30 years – even working on a few contracts for companies who used the fracking process. But when she realized what happened to her own water, she began more research on the process. "The government was promising Albertans saying, 'Oh, no, no, no, this is not going to happen here,'" she said. "You are being told here [in Newfoundland and Labrador] that it's different geology in Rosebud, [Alberta]. We'll never allow what happened there to happen in Newfoundland. But they told Albertans that, and they had already fractured right into our drinking water supply."
Ernst points to recent revelations about the academic credentials of Louis LaPierre, who has put together multiple reports for New Brunswick about fracking, and was quoted by Natural Resources Minister Tom Marshall. It was discovered that LaPierre's PhD was in education, not science, and he admitted to misrepresenting some of his credentials. Ernst said that's a perfect example of what the industry is like. "I think what happened with Dr. LaPierre is exactly what is the problem with hydraulic fracturing – it's a great big fraud," she said.
According to Ernst, communities need to be vigilant about fracking to keep companies – and government – accountable. "Watch all the things going wrong, look at all the contamination cases – there is now health concerns coming out. There is science showing greater risk of cancer and neurological problems near fracked sites. Do you want to do that to your people here?" she asked. "So wait. A wise man learns from the mistakes of others." [Emphasis added]
400 people attend fracking forum in Stephenville by Frank Gale, September 23, 2013,Newfoundland News Now
Front Page: First-hand experience, Environmental scientist warns about impact of fracking by Frank Gale, September 23, 2013, The Western Star
STEPHENVILLE — Kenny Meade of Kippens liked the fact that Jessica Ernst put a personal perspective on the issue of fracking during a forum in Stephenville Sunday afternoon. He was one of nearly 400 people in attendance to listen to Ernst, an environmental scientist who worked in the oil and gas sector for about three decades, tell her story about the impact of fracking on her own home and her community of Rosebud, Alta. Ernst talked in great length about how she and other neighbours had been impacted by fracking and how she is still embroiled in a nearly 10-year court battle with EnCana, the oil company which fracked her property, and the Alberta Environment and Energy Resources Conservation Board citing negligence and unlawful activities.
Ernst said on Sept. 9, 2004 she made up her mind to resign from EnCana, the company she worked for, after several years of fracking had, she contends, affected her well water and the noise from operations had caused stress in her life. Meade said it was great to hear someone who worked in the oil and gas industry for decades and found themselves personally affected by fracking, speak up against the process. Meade was pleased Ernst hasn't given up her fight. "It's great to see that she's still speaking out, especially since she's a scientist who was working in the industry," he said. Meade said local people are not sure of what's going to happen if fracking goes ahead, but Ernst's insight gave people a good idea of what could happen. He said with municipal elections this week and the provincial election in two years, Meade believes politicians at both levels need to open their eyes. He said it's important politicians bring us into the future in a sustainable, environmental and economic way.
Ernst warned people of western Newfoundland to be aware of oil and gas companies and the tactics they use. She said companies will try to divide and conquer and said it is evident that is already happening with the recent signing of a memorandum of understanding between the Qalipu Mi'kmaq First Nation Band and Black Spruce Exploration. "You only have each other," she said. "Use your compassion and respect your neighbours and others who might be sent your way."
Jim Grace of Stephenville, during a question and answer session, talked of the beauty in the area and described the oil and gas exploration on Shoal Point as "a turd in the middle of a china plate." Ernst agreed the region holds much beauty, along with clean air and clean water and said she would love to move to western Newfoundland after her court case is complete. "You have something here that is worth billions, way more than the highest estimate of the oil that may be recovered. Show them (government and regulators) that what you have here is better than the oil," she said. Ernst said the best thing for people here to do in the meantime is to say no to fracking, and that if it can't be stopped, to ensure that all chemicals used in all aspects of the process have to be disclosed.
Joe Wiseman of Kippens questions why elected representatives and employees on energy boards are letting the petroleum companies do what they are doing. Ernst said often people are being used and others, driven into debt by their own greed, see a chance for money and the oil companies take advantage. She said the people of western Newfoundland are now being watched in Europe and all of North America for what they do in relation to fracking. "Many fleas make a big dog move and you should continue your work in trying to stop fracking from happening in this beautiful place," Ernst told the audience and the Port au Port/Bay St. George Fracking Awareness Group which planned the forum.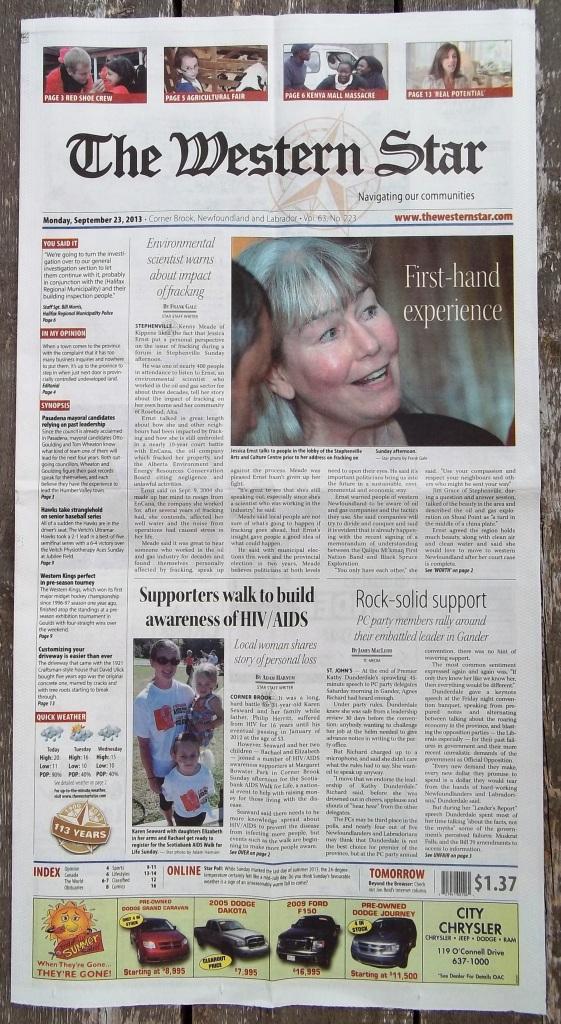 Alberta scientist Jessica Ernst warns Newfoundland of fracking risk by Canadian Press, September 23, 2013, Common Sense Canadian
WATCH: Jessica Ernst addresses forum on fracking issue 45 Seconds by The Western Star, September 22, 2013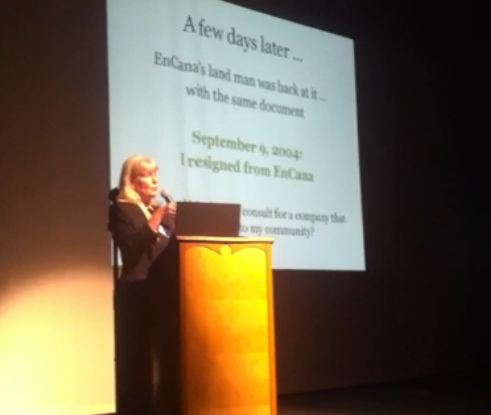 Scientist speaking on west coast fracking concerns by CBC News, September 22, 2013
An internationally-recognized environmental scientist will be giving a lecture in Stephenville on Sunday afternoon on concerns about the practice of hydraulic fracturing. Jessica Ernst, who has 30 years of experience working in the oil and gas industry as an environmental consultant, will speak on the proposed Black Spruce fracking project for western Newfoundland. The proposal has sparked heated debate over plans to drill exploration wells near Gros Morne National Park, pending two environmental reviews. Ernst gained international attention in 2011, when she filed a lawsuit against Encana for allegedly contaminating her land and groundwater in Rosebud, Alberta. Sunday's meeting is set to begin at 2 p.m. at the Stephenville Arts and Culture Centre.
Albertan warns Newfoundland of fracking risk by Sue Bailey, The Canadian Press, September 21, 2013, Global News
Fracking debate escalates on Newfoundland's scenic west coast by CTV News, September 21, 2013
Debate over fracking heats up on Newfoundland's scenic west coast by Sue Bailey, The Canadian Press, September 21, 2013, reported in Victoria Times Colonist, Vancouver Sun, Hamilton Spectator, Windsor Star, The Calgary Herald, Ottawa Citizen, Huffingtonpost.ca, The Star Phoenix, ca.news.yahoo, i4u.com, oilsandspulse, uaport.net, findata.co.nz and more
ST. JOHN'S, N.L. – Alberta resident Jessica Ernst is warning Newfoundland about the risks of hydraulic fracturing, saying she blames the contentious fracking process for making her well water flammable.
"It does ignite like a blow torch," she said from her rural home near Rosebud, Alta. "It's too dangerous to even use to flush toilets. One spark could cause the gas to ignite and cause a serious explosion."
Ernst will visit Stephenville, N.L., on Sunday to convey what she says is a cautionary tale about an oil and gas extraction method that industry proponents defend as safe. Debate about fracking is escalating on Newfoundland's scenic west coast where there are plans to drill exploration wells near Gros Morne National Park pending government approvals.
Ernst was invited by a concerned citizens group to speak to local residents. "For areas that do not have fracking yet, once you let it in, you'll never get it out," she said. Hydraulic fracturing involves pumping water, nitrogen, sand and chemical additives at high pressure to fracture shale rock formations and allow gas or oil to flow through well bores to the surface. It's increasingly used across Canada and the U.S. as energy demands grow while conventional sources wane.
Ernst, a 56-year-old environmental consultant with a Master of Science degree and 30 years of experience in the oil and gas industry, is hardly a lone voice raising alarms. The award-winning documentary "Gasland" tracks complaints of water contamination in rural areas across the U.S. where gas wells were fracked. … Tom Marshall, Newfoundland and Labrador's natural resources minister, said he has heard those concerns and is gathering input across Canada to ensure provincial regulations reflect best practices. The province has not yet received formal applications to frack wells in western Newfoundland although exploration licences have been granted in what's known as the Green Point shale, he said in an interview.
The Progressive Conservative government will consult geologists and geophysicists now studying Newfoundland's west coast where, unlike Alberta's more shallow coalbed gas deposits, it's believed deep shale formations hold oil, he added. Any drilling proposal would get full environmental scrutiny, Marshall said. "Our government has always been one that supports economic development. But only within a framework that ensures protection of the environment and protection of public health and safety."
Ernst said Newfoundlanders should be wary. "We got the same promises here."
She has filed a $33-million lawsuit with the Court of Queen's Bench in Alberta against North American energy producer Encana, the provincial energy regulator and the provincial government. Her unproven statement of claim alleges gas wells fracked around her property between 2001 and 2006 unleashed hazardous amounts of methane and ethane gas and other chemicals into her private water well. Ernst claims that Encana fracked "without taking necessary precautions to protect in-use aquifers or water wells" from such contamination. She also claims that regulators at the Energy Resources Conservation Board, now the Alberta Energy Regulator, failed to reasonably act on her reports of contamination or her concerns that Encana breached laws and regulations meant to protect water supplies. Finally, Ernst claims the Alberta government failed to reasonably protect her well water, investigate contamination or correct reported damage.
Bob Curran, a spokesman for the Alberta Energy Regulator, declined in an email to comment on the lawsuit as it's before the courts.
Bart Johnson, a spokesman for the Alberta government, also declined to comment on the case but said fracking has been done safely for decades. "In regard to hydraulic fracturing generally, the technology has been used safely in Alberta for over 60 years and its use is tightly regulated and monitored by the Alberta Energy Regulator," he said in an email. "Approximately 174,000 wells have been fractured in the province since the technology was introduced in the 1950s." [Where is the standard industry, regulator and politician lie that there's never been a case of frac'ing causing groundwater contamination?]
The province and energy regulator have not filed statements of defence. In its statement of defence, Encana denies all of Ernst's allegations and blames her for any pollution. It says Encana complied with or exceeded all laws and regulations "in respect of its coal bed methane exploration, drilling, stimulation and production operations" and took all necessary precautions to safeguard the Ernst water well. "To the extent that natural gas or related substances have been detected on the Ernst property or in the Ernst well, which is denied, such substances occurred naturally or by other causes." Encana suggests Ernst failed to maintain her water well and is at fault for any contamination. It also says two gas wells at the heart of her allegations were not fracked but "stimulated" — a process that pumps inert nitrogen gas at high pressure into coal seams to release natural gas.
Ernst says in a rebuttal filed in court that she sought professional advice to look after her well since she bought the 20-hectare property in 1998. She first noticed problems eight years ago when she developed strange burns on her skin and her two dogs recoiled from a fresh bowl of water, she said. She now trucks fresh water in from another community. "If they can frack all around Gros Morne, they'll be able to frack all of Newfoundland," Ernst said. "They did that here." [Emphasis added]
LISTEN: Ernst and Sheppard on Fracking Interviews 17:44 Min. West Coast Morning, September 20, 2013, CBC News
She didn't start out as an opponent of fracking, but she is now. This morning, we speak with Jessica Ernst, an environmental scientist in Alberta, about what can happen when you frack. We also hear from Qalipu chief Brendan Sheppard
September 18, 2013 Jessica Ernst interview to be rebroadcast on VOBB Voice of Bonne bay today at 5 PM. Voice of Bonne Bay – The Voice of Bonne Bay (VOBB) is a community radio station located in Norris Point, in the heart of Gros Morne National Park, in Newfoundland and Labrador.
[Refer also to:
Alward government downplays impact of LaPierre resignation Energy Minister Craig Leonard contends the ongoing controversy does not taint the work the former University of Moncton professor did for the government on the possible development of a shale gas industry in the province. "It's incredibly unfortunate and it's a situation that Dr. LaPierre obviously, I'm sure, is going to have regrets about from this day forward," said Leonard. "But the reality is that the work that he did for the Energy Institute was based on his ability to bring these individuals who have this scientific knowledge together to deal with the issues we have in New Brunswick to address concerns."
Leonard says science was never part of LaPierre's job on shale gas — a shift in message from last winter when LaPierre's scientific reputation was heavily promoted by the provincial government as a reason he was chosen to chair the institute. "Dr. LaPierre is an internationally-recognized scientist," Premier David Alward had said on Jan. 31. "He's the right man to provide leadership on this file while working with communities, experts and industry." [Emphasis added]
Elderly couple says construction ruined water supply by CBC News, September 24, 2013 Edna and Edgar Spurrell have lived in their house that overlooks Bell Island for the past 40 years, but they haven't been able to get water from their well since May. They blame it on the digging and building that's taking place at a new subdivision nearby, called Ocean's Edge Estates. …
"We just have a sponge bath. Edgar got a bucket out under the drain pipe out there and we catch the water for washing and cleaning. You can't do anything cause you can't waste water. It's a hard way to live," she said. "You don't realize how much water you use 'til you haven't got any." [Emphasis added]
Save Gros Morne & our West Coast shared link on September 6, 2013 PEOPLE'S FORUM ON FRACKING – Sunday, September 22, 2pm Stephenville Arts & Culture Center – Free Admission. Keynote Speaker: Jessica Ernst, scientist and environmental consultant. Introduction (via pre-recorded video) by Maude Barlow
Fracking debate by Cyril Miller, Down Home Life
On page 26 of the August issue of Downhome magazine there is a pie graph showing the results of an online survey your magazine conducted on the subject of fracking in NL. It showed 64% of respondents were opposed. Coincidently, at the very moment I looked at the graph, our minister of Natural Resources, Mr. Tom Marshall, was on the evening news assuring the people of NL that he intends to "confer with the experts" in the field before making a final decision as to whether or not he/the government will allow fracking in NL. According to the report Mr. Marshall had just returned from out West, Alberta I think, doing research on just this topic. I wonder, just who are the "experts" Mr. Marshall is conferring with?
Did he confer with the experts from the new US study from Duke University which shows that 80% of drinking water wells as much as a kilometre from the fracked wells are polluted beyond the extreme danger limit for drinking water?
Did he consult with Jessica Ernst, an Alberta-based environmental consultant, who said "The Duke study is an incredible affirmation of my work," and "The industry and the regulators know there is lots of water contamination happening but continue to lie about it to the public"? An oil and gas consultant for 30 years, Ernst released a 93 page report documenting many cases of groundwater contamination from fracking operations."It's happening everywhere…there is plenty of proof if you know where to look," she said. "I could not believe I no longer had access to safe water." She filed a $33 million dollar lawsuit against EnCana in 2007. The case is still before the courts.
Will he consult with the experts at the Texas Commission on Environmental Quality? They concluded that 30 towns in West Texas are already out and running out of water as a direct result fracking. The gas companies in Texas tell the "half truth" that drought is the reason for the lack of water there. Well, true, there is a drought in West Texas, but hundreds of fracking wells requiring millions of gallons of water are certainly a contributing factor.
One critical number missing in the raging fracking debate is an official, published statistic of how many families claim to have been adversely impacted by fracking. The absence of this key stat means fracking discourse is vague about the downsides since decision-makers don't have verifiable facts to make a real cost and benefit analysis. Yet, one volunteer from the Pennsylvania Alliance for Clean Water and Air has been collecting and posting The List of the Harmed online since 2012. Jenny Lisak created this "unofficial" database that tracks U.S. fracking complaints. There are 1,208 entries and the list is growing daily. And that's just in the US. I could continue on for many pages. But, what's the point really? I, like the vast majority of Newfoundlanders and Labradorians, get the feeling that, despite Mr. Marshall's claim to check with the experts, the decision has already been made. This brings me back to my original question. "Exactly what experts will Mr Marshall consult? My guess is none of the above. But I do know what experts he will consult. He will consult only with the experts who are on the pay roll of the big gas companies. [Emphasis added]
Fracking proposal divides residents near Gros Morne, UNESCO recently expressed concern about proximity to World Heritage Site by CBC News, July 30, 2013
Black Spruce consolidates west coast energy plays, Company acquires interests totalling nearly 2.4 million acres across region by Rob Antle, June 19, 2013, CBC News ]