Company behind W.Va. chemical spill files for bankruptcy by M. Alex Johnson, January 17, 2014, NBC News
The company whose leaking tank polluted the Elk River in West Virginia and left 300,000 people without water for days filed for bankruptcy protection Friday. Freedom Industries of Charleston faces at least two dozen lawsuits after the discovery last week that a 35,000-gallon tank had leaked almost 7,500 gallons of 4-methylcyclohexane methanol, which is used in coal processing. The chemical — better known by its abbreviation, MCHM — isn't considered extremely hazardous, although it is harmful if swallowed and can cause skin and eye irritation. Residents first reported a licorice odor in their water shortly after 8 a.m. ET on Jan. 9, but Freedom didn't report the spill until 12:05 p.m. — almost an hour after the state Department of Environmental Protection had already traced it to the company's leaking tank.
The MCHM forced an immediate ban on tap water use across nine counties, shutting businesses and schools and forcing desperate residents to rely on bottled water. That ban continued through the weekend and wasn't eased until Monday. Records showed that the Environmental Protection Department had never inspected the facility because it didn't actually produce the chemical — it only stored it. State officials launched a formal investigation, and President Barack Obama declared a state of emergency for the nine counties left high and dry because their drinking water was contaminated.
Chapter 11 allows companies under financial stress to reorganize and protect some of their assets while also giving creditors an avenue to recover some or all of the money they're owed. Freedom Industries said Friday it couldn't comment. But in documents the company filed Friday in U.S. Bankruptcy Court, it lists assets and liabilities alike between $1 million and $10 million. Included among its creditors is the IRS, which Freedom says it owes $2.4 million.
Among hundreds of other creditors, it lists 20 major unsecured creditors, who are owed about $3.6 million. It said money would be available to repay them. In the filing, Freedom partly blames a break in a water line next to its Charleston facility for allowing the ground under its tanks to freeze. An unidentified object pierced the affected tank, causing the spill, it claims. [Emphasis added]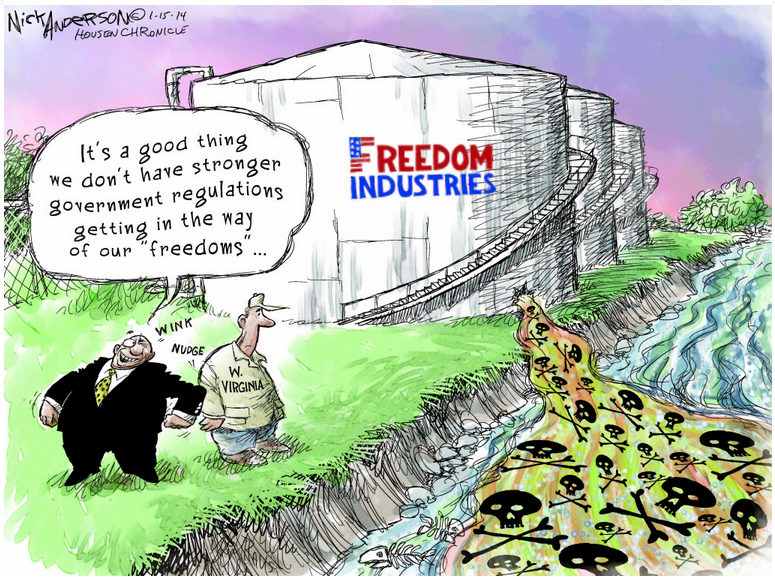 Source: Houston Chronicle
[Refer also to:
300,000 told not to bathe, brush teeth, wash clothes after chemical spill hits West Virginia tap water, White House issued federal disaster declaration; When Encana frac'd Rosebud's drinking water aquifers and injected secret chemicals, no warnings issued by Health, Environment, AER or politicians! ]