EPA begins regulating the use of diesel in fracking, The EPA's new guidance defines five substances as diesel that require a permit for use in fracking, but the move will have little overall effect by Neela Banerjee, February 11, 2014, Los Angeles Times
The Environmental Protection Agency has little authority to regulate fluids used in hydraulic fracturing, or fracking, which involves pumping water laced with chemicals into shale formations to unlock trapped oil and gas. But the agency has been allowed since 2005 to regulate the use of diesel in fracking. Until Tuesday, it had not done so. Companies must apply for permits from state or federal authorities to use diesel in fracking. But the EPA had not defined what it considered diesel, which comes in many formulations, complicating efforts to control its use.
The EPA's new guidance defines five substances as diesel that require a permit for use in fracking. The agency's action, however, will have very little overall effect on fracking, since only about 2% of such oil and gas operations in the country use diesel. The new measure also leaves many forms of diesel unregulated.

It is not a rule, but guidance on how to interpret the law for federal officials who review and grant fracking permits. Among the recommendations: Officials should get detailed information about the well's construction and could request additional testing of the well before diesel is used. … "We know that diesel fuel is a toxic carcinogen and is a threat to drinking water if used in fracking," said Courtney Abrams, Environment America's Clean Water Program director.
…
Industry urged the EPA to withdraw the guidance. "This appears to be a solution in search of a problem: Based on actual industry practices, diesel fuel use has already been effectively phased out of hydraulic fracturing operations," [Refer below to testimony by Encana in September 2013: Encana is still injecting diesel in frac fluids] said Lee Fuller, vice president of government relations at the Independent Petroleum Assn. of America. "But by perpetuating this regulatory process, the rule threatens the primacy of states' underground injection control programs."
…
Among hundreds of substances used by oil and gas companies during fracking, diesel is used rather than water in geological formations where water might be readily absorbed. Diesel contains chemicals that are highly mobile in water, such as benzene, toluene and xylene. Ingested, they pose an increased risk of cancer and damage to the kidneys, liver and nervous system. The oil and gas industry long denied it used diesel in fracking. But in 2011, a report by House Democrats detailed how 14 oil and gas companies from 2005 to 2009 used 32 million gallons of diesel to fracture shale formations. [Emphasis added]
Fracking With Diesel Gets New EPA Standards Amid Industry Fight by Mark Drajem, February 11, 2014, Bloomberg Businessweek
While drillers say diesel has mostly been phased out of the process called fracking, they sought to block the EPA's criteria, saying it could lead to greater federal oversight and delays in getting permits. The agency in a statement today said the standards rely on [voluntary] state and industry best practices, and are part of its efforts to ensure "responsible development" of gas trapped in shale. Among other measures, the EPA is recommending baseline and follow-up testing of water sources near drilling sites. [How does one enforce a recommendation?] States "updating regulations for hydraulic fracturing may find the recommendations useful in improving the protection of underground sources of drinking water and public health more broadly," the agency said in a document explaining the new standards.
In 2005, Congress exempted fracking, in which water, sand and chemicals are shot underground to free gas or oil trapped in underground rock formations, from the requirements of the Safe Drinking Water Act. That exemption was labeled the "Halliburton loophole" by health advocates, referring to Halliburton Co. (HAL:US), the largest provider of fracking services, led by Richard Cheney before he was elected vice president in 2000. The law specified that the EPA retained oversight of fracking if diesel was among ingredients being used…. Diesel is typically used when the underground rock or clay has a tendency to absorb water, according to a report by Democrats on the House Energy and Commerce Committee.  [Emphasis added]
EPA Revises Permitting Guidance for Hydraulic Fracturing Using Diesel Fuels by the EPA, February 11, 2014
EPA is issuing the guidance alongside an interpretive memorandum, which clarifies that class II UIC requirements apply to hydraulic fracturing activities using diesel fuels, and defines the statutory term diesel fuel by reference to five chemical abstract services registry numbers. The guidance outlines for EPA permit writers, where EPA is the permitting authority, existing class II requirements for diesel fuels used for hydraulic fracturing wells, and technical recommendations for permitting those wells consistently with these requirements.
Revised guidance and related documents:
Pre-publication of the Federal Register Notice
The Director of the Office of Ground Water and Drinking Water, Peter Grevatt, Ph.D., signed the following notice on February 5, 2014, and EPA is submitting it for publication in the Federal Register. While we have taken steps to ensure the accuracy of this pre-publication version, it is not the official version. Please refer to the official version in a forthcoming Federal Register publication, or on GPO's website athttp://www.gpoaccess.gov/fr/index.html.
[Refer also to:
September 13, 2013: Evidence Presented by Encana to 41st PARLIAMENT, 1st SESSION Standing Committee Natural Resources; Encana taking step to stop frac'ing with benzene, diesel, chromium, arsenic, mercury etc
2013: Extreme Levels of Benzene Floating Around Gas Wells and Compressor Stations; Fracking effects: A long-term study of drilling's impact shows harmful health effects
May 11, 2013: Pollutants detected in water wells in Sublette County's gas fields, many in Encana's Jonah Field
October 2012: Frackers continue illegal use of toxic diesel fuels
2012: Diesel in Water Near Fracking Confirms EPA Tests Wyoming Disputes
2012: Diesel still used to frack wells FracFocus data show
2011: US Study Casts Pall over BC's Shale Gas Biz: Despite industry safety assurances, EPA finds hydraulic fracturing fluids in drinking water
2011: Helms says EPA could halt fracking in oil patch
2008: Encana Randy Teeuwen to Casper Star Tribune re Louis Meeks' contaminated water, Pavillion Wyoming EnCana does not use diesel, sawdust or oil to drill gas wells. Rather, we use fresh water that creates natural clay mud to drill the surface hole and occasionally use cedar fibers or walnut hulls to return lost circulation. All of our wells have surface casing cemented through all known surface water aquifers….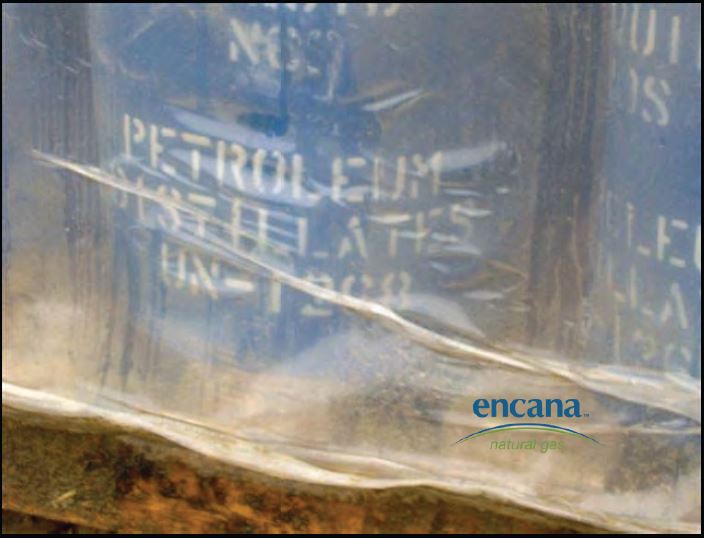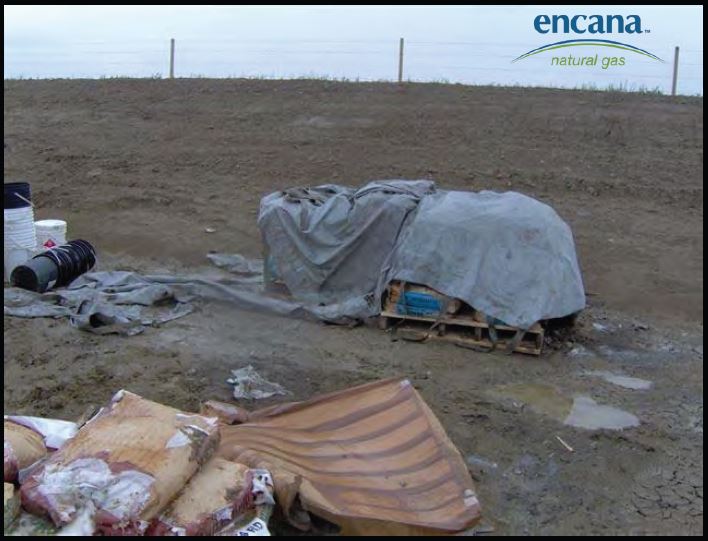 Chemicals in the rain on Encana lease near Rosebud, Alberta, 2006