One worker missing in Greene gas well fire by Bob Niedbala with contributions by Tara Kinsell, February 11, 2014, Observer Reporter
The fire might be a little more difficult to extinguish than one involving a single well, Poister said. "Normally, you have a pipe situation with flames going out of a well pipe. They use an explosive to suck all of the oxygen out of the pipe and that extinguishes the fire," he said.
This case may be different, he said. "There is a crater when the explosion occurred so the fire is much greater. To manage it, they will more than likely have to use a large amount of a fire suppressant (chemical)." DEP staff will closely monitor nearby streams to ensure they are not compromised by the chemical, he said.
The well at the site was in the final stages of work before being placed into production, Poister said. The well had been drilled more than a year ago and fracked last spring, according to people at the scene who had worked at the site but did not want to be named. Two additional wells at the site are not expected to be affected because the fire is only believed to be on the surface, Poister said. [Emphasis added]
One unaccounted for in gas well explosion in Greene Co. by Josh Krysak, February 11, 2014, Herald Standard
Plume confirmed that crews from an oil and gas well fire specialist were called to the scene, but could not comment further about protocol or what Wild Well officials will do to try and contain the fire, noting that Chevron officials should know more about what procedures would be followed. Wild Well Control is based in Houston, Texas, and has an office in Canonsburg. … Chevron officials were slated to hold a press conference in conjunction with state police at 1 p.m. Tuesday in Bobtown, but after delaying for 40 minutes, local Chevron spokeswoman Mikal Zimmerman declined to comment on the incident and requested email contacts from all assembled media outlets for future updates.
Plume then held a brief press conference confirming reports regarding the blaze and that a worker remains unaccounted for. … Plume said that no one was evacuated as a result of the blaze and that a working perimeter of one-quarter mile has been established around the fire. "We know that the fire has not been contained and that we have been told that our investigators will not have access to the site for a few days," she said, noting that the heat generated by the fire is too intense to approach the well. … The cause of the fire was not immediately known. According to the website fracktrack.org, Chevron maintains 22 of the 46 Marcellus shale gas wells in Dunkard Township.
Todd Toland of Washington said his crew from Pacific Processing Systems was working at the well when the explosion occurred. Toland, an operations manager for the Houston, Texas, company that specializes in oilfield services, said the Pacific Processing crew was conducting routine services at the well site when the explosion and subsequent fire started. He said he was not aware of how the blast occurred. "We got all our guys away from the scene," Toland said. "All I know is that they have a fire that is out of control."
Plume said that several other subcontractors were working at the site when the explosion occurred, noting that between 20 and 30 people were at the location Tuesday morning. … U.S. Sen. Bob Casey, D-Pa., who is chairman of the Senate Subcommittee on Employment and Workplace Safety, released a brief statement following the explosion. "My office has been in contact with the Occupational Safety and Heath Administration and has encouraged them to investigate this well explosion," Casey said. "I've repeatedly encouraged the administration and companies to make the safety of pipelines and gas wells a priority. Moving forward it's critical that all stakeholders increase their vigilance and oversight of these issues in order to better protect public safety."
…
The Lanco 7H well is a horizontal gas well, according to permitting records. [Emphasis added]
One missing, one hurt in gas well explosion in Greene County by Tom Fontaine, Tim Puko contributed, February 11, 2014, triblive.com
Oil and gas giant Chevron Corp. is flying a disaster team to Western Pennsylvania to tame a fire raging at a well that exploded Tuesday morning in Greene County, injuring one worker and leaving another missing. … Hurley said township workers tried to truck road salt and ash to the scene after hearing reports that emergency vehicles struggled to access the drilling site, located off a dirt access road about a mile from Water Tank Road.
…
Chevron has two other wells on the same pad as Lanco 7H. They were drilled on March 15-16, 2012, but haven't produced anything since then, state records show. That is not uncommon. Many times companies will drill a well that shows up in state records, only to come back and use hydraulic fracturing to complete the job and start production, Poister said. [Emphasis added]
WATCH: Crews battling large gas-well fire in Greene Co. Pennsylvania; 1 worker is missing 0:51 Min. by Channel 11 News and wpxi.com, February 11, 2014
GREENE COUNTY, Pa. — Crews are battling a large gas-well fire in Greene County Tuesday morning. The fire was first reported on Bald Hill Church Road in Bobtown around 7:10 a.m. Officials at the scene said 1 worker is missing.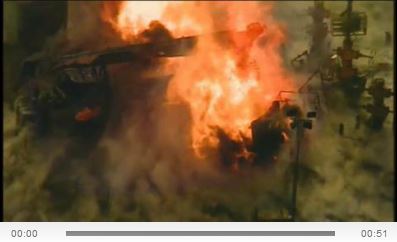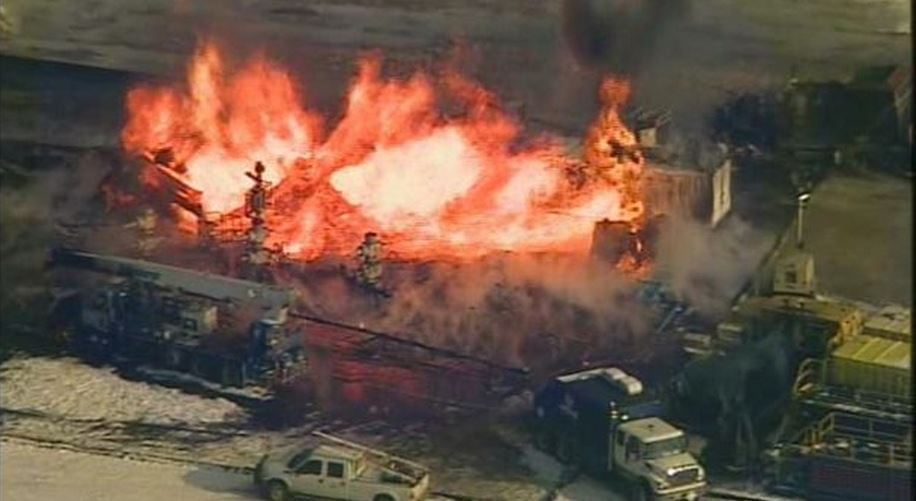 One worker hospitalized, one missing in gas well explosion in Greene County by Amy McConnell, February 11, 2014, Pittsburgh Post-Gazette
A gas well near Bobtown, Greene County, exploded this morning, drawing emergency crews and ambulances to the scene, where approximately 20 employees were working, according to Greene County officials. Of them, 1 worker has been hospitalized and another is missing, according to Chevron spokesman Trip Oliver. The other 18 workers had been accounted for as of 8:48 a.m., according to Rep. Pam Snyder, D-Greene. It is not yet clear what sparked the explosion. "I'm praying that everyone is safe, and that if anyone is unaccounted for that they are found alive and well," Rep. Snyder said.
The explosion at the Chevron Appalachia-owned 7H well at 641 Bald Hill Church Road just after 7 a.m. caused a fire that forced Pennsylvania state troopers from the Waynesburg barracks to close the road to traffic and establish a half-mile perimeter around the site, according to state police and Ms. Snyder. Firefighters from Bobtown/Dunkard Township, Greensboro, Mount Morris and Carmichaels have responded to the scene. Chevron has sent its own Wild Well Control team to the site to help put out the fire, Rep. Snyder said. The state Department of Environmental Protection and the Greene County Emergency Management Agency also are on the scene, and help from the Southwestern Pennsylvania Red Cross has been requested, she said. John Poister, spokesman for the state DEP, said the fire was complicated further by a truck on the well pad that contained [1,ooo litre tank of] propane, which became involved in the fire and also exploded. The fire was so intense that firefighters had to pull back from the flames, he said. "They essentially retreated to let the fire burn," Mr. Poister said. No schools, homes or businesses are inside the state police perimeter…. [Emphasis added]
1 injured, 1 missing at Greene County gas well fire by wtae, February 11, 2014
Chevron spokesman Trip Oliver says the fire was reported at about 6:45 a.m. at the Lanco 7H well in Dunkard Township, near Bobtown. …   Department of Environmental Protection spokesman John Poister says this is the first serious Marcellus Shale well blowout in western Pennsylvania.
[Refer also to:
Propane butane gas fracs may appease opposition to hydraulic fracturing but only if the dangers are kept from the public ]