'Significant' gas leak contained after forcing evacuations in downtown Black Diamond by Sammy Hudes, June 20, 2020, Calgary Herald
A "significant" gas leak in Black Diamond has been contained after it forced the closure of the town's downtown to traffic on Saturday morning.
… The town said in an update just over an hour later that the gas leak had been contained. The gas had been turned off at the site of the incident by around noon and the affected building was safely ventilated.
Those evacuated were told they could return to their homes and businesses.
The back alley between Centre Avenue and 1st Avenue N.W., from 1st Street to 2nd Street N.W. (behind the ATCO office and Black Diamond Gospel Chapel) would remain closed to traffic until road repairs are completed, according to the town.
It said the alley would be barricaded until it is safe to reopen. That process is expected to take "a couple of days."
Downtown streets would reopen once emergency crews left the scene.
"The Town of Black Diamond thanks everyone for their patience and cooperation as our emergency services team worked to keep the community safe during this incident," it said in a statement.
Residents and businesses of Black Diamond, Alta., are being evacuated as officials respond to a "significant" gas leak in the community.
An emergency alert was posted by the province shortly after 10 a.m. Saturday that cited an "incident" in the community's downtown.
Evacuees who need a place to go can gather at the Oilfields Regional Arena.
The Black Diamond Fire Department is on-scene working to secure the leak and affected properties.
No travel is currently being allowed into the area, and those travelling near Black Diamond are asked to find alternate routes.
Residents who notice the smell of natural gas are asked to close all doors and windows.
Black Diamond is home to nearly 3,000 residents and is located about about 66 kilometres south of Calgary.
More to come.
'Significant' gas leak closes downtown Black Diamond by Sammy Hudes, June 2020, Calgary Herald
… A notice posted just after 10 a.m. stated that an undisclosed "incident" led to the gas leak. …
Alberta Emergency Alert is warning residents of a community near Calgary about an explosive hazard near the community.
The agency issued the advisory at just after 10 a.m. for Black Diamond, Alta.
It says the incident is due to "a significant gas leak" in the downtown area, but there are no further details as to what caused it.
Explosive Hazard Alert Jun20 1008AM Take necessary precautions. Black Diamond https://t.co/L8ht6OCtPQ #ABemerg— AB Emergencyalert (@AB_EmergAlert) June 20, 2020
"Nearby businesses and residents are being evacuated and are asked to attend the Oilfields Regional Arena if they need a place to go. The Black Diamond Fire Department is on-scene working to secure the leak and any affected properties," the alert reads.
Traffic is being detoured away from the affected area and anyone travelling through the community is asked to find alternate routes and follow the directions of emergency crews.
Any residents who smell natural gas are asked to immediately close all the windows and doors of their homes.
The town of 2,700 people is located approximately an hour south of Calgary.

My drinking water after Encana/Ovintive illegally frac'd (to intentionally release natural gas) my community's drinking water aquifers: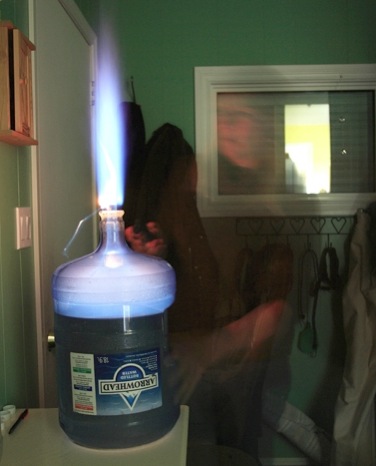 Photo by Colin Smith. My water is too explosive and dangerous to even have connected to my home to use to flush toilets. Yet the authorities never warned me or my neighbours. We had to figure out the life-threatening emergency in our homes, and the skin burning contamination in our water ourselves.
"Natural Gas" can be deadly. This is what happened to Bruce Jack after his water well was contaminated with industry's migrating methane and ethane near Spirit River Alberta. The authorities knew his life and family were at risk, yet did nothing to warn or help him (other than recommend professional venting, which did nothing to reduce the risk), with the AER licencing more wells near his already contaminated well.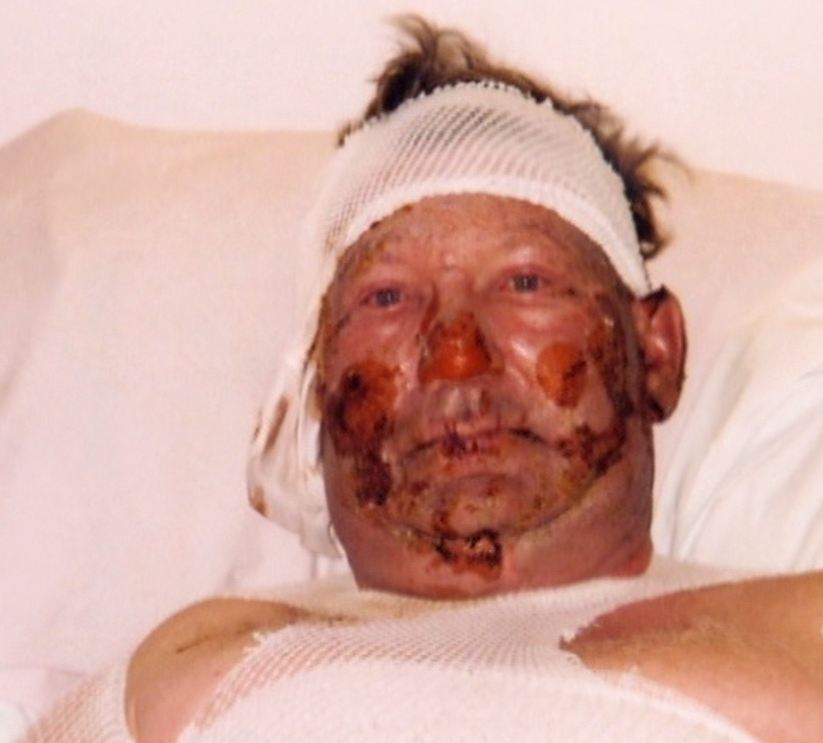 Bruce Jack in hospital after his industry contaminated water well exploded injuring Jack and two industry gas-in-water testers. Jack was in hospital a month.
In Norfolk, leaking abandoned industry *sour* gas wells forces exclusion zone for vehicles, vessels, and evacuation of 22 homes. In nearby Town of Jarvis (population 2,300), unusually high methane readings, firefighters test gas levels at every home. Compare to grossly negligent, "No Duty of Care," Charter-violating, lying, spying, heinous AER covering-up industry's deadly gas leaks.