BC Regulator Sued for Water Act Violations Related to Fracking Industry by Tim McSorley, November 30, 2013, Desmogblog.ca
Three environmental organizations are taking aim at what they call the "systemic" contravening of British Colombia water usage laws in favour of the province's natural gas industry. … The lawsuit is being brought by environmental law charity Ecojustice on behalf of the Wilderness Committee and Sierra Club BC. "Given that water is an increasingly scarce and precious resource, and that in a climate changing world we need to be managing it carefully, the first step is for the government to do what they are legally required to do by their own laws," Caitlyn Vernon of Sierra Club BC told Desmog in an interview.
Currently, companies can be granted 24 month permits for water use as a short term arrangement (that's up from the 12 month limit that was in place until last spring). These permits come with little review and are meant for short-term, low-impact projects. For longer term undertakings that will last several years – such as oil and gas extraction – companies are supposed to apply for a water usage license, which involves a more rigorous review and monitoring process. The lawsuit alleges that the commission has been consistently renewing short-term permits, and thereby contravening the law. Data received by Ecojustice from the BC Oil and Gas commission which forms the basis of the lawsuit, shows that some permits have been renewed up to six times, and that some permits are granted for more than 24 months at a time. The commission's actions, they say, clearly shows a systemic avoidance of the law.

Also named in the lawsuit is gas company Encana Corp. … While Encana is only one of many companies operating fracking sites in the province, it is one of the largest, and their situation provides clear evidence of the contravention of the Water Act, explained Karen Campbell of Ecojustice in a phone interview with Desmog. Long-term water usage licenses require oversight necessary to preserve the province's freshwater, and especially drinking water, according to Campbell. Already there are concerns that communities in northern BC are experiencing water shortages. For example, the three organizations point to Encana drawing on massive amounts of water from the Kisktinaw River, from with the town of Dawson Creek draws their water. Over the past three years, the company has used the equivalent of 880 Olympic-sized swimming pools – the same amount the town uses in one year. "The more water industrial users take, the less water there is to sustain ecosystems or for people to drink," said Campbell in a Q & A released by Ecojustice. "What's especially concerning is that no one seems to know exactly how much water industry operations are consuming." Those concerns were echoed by Vernon, who explained that no government official has been able to provide them with exactly how much water is being used by the natural gas industry in the province.
What is known is that fracking uses huge amounts of water: by some estimates 11 million litres per well. With over 7,300 wells already in operation in the province, and the BC Liberal government pushing plans to significantly grow the industry, critics say it's clear that there needs to be more oversight before a water crisis strikes. … The concern about water use is just one piece of the puzzle, though. The fracking industry in BC is one of the largest in Canada. As Campbell points out, while there are moratoriums on fracking in Quebec and Newfoundland and Labrador, and protests and blockades against fracking in New Brunswick, [and extremely successful protests in Calgary, Alberta, resulting in Kaiser moving their planned frac well 2,300 metres away!] the process has been happening without contention in BC for a decade now. Beyond water usage, there are concerns about water contamination from the chemicals used, the impact that the fracturing of shale may have on local geology (studies have blamed fracking for small earth quakes in the US [the OGC, the regulator in BC, reported in 2012 that they already linked 272 earthquakes directly caused by hydraulic fracturing in BC, one caused such serious damage to the wellbore, the well could not be completed]), and lack of consultation with First Nations on use of their unceded territory.
…
"I think this lawsuit is a really important piece of increasing public concern about this industry and their practices. And I think that in some point in time we will be looking at trade-offs, and what are we prepared to trade off? Are we prepared to trade off our water for gas?"[Ponoka, Wetaskiwin, Spirit River, Rosebud, Alberta, already lost their water to frac'ing  but got nothing in return but harm] asks Campbell. "Or is our water going to be a more valuable and previous asset to us at some point down the road than gas? Certainly I think that the answer is water, myself." [Emphasis added]
B.C. environmental groups take legal action over use of water in fracking by Dene Moore, The Canadian Press, November 14, 2013, Calgary Herald
Fracking Lawsuit Targets EnCana, B.C. Oil And Gas Commission by Dene Moore, The Canadian Press, November 14, 2013, Huffingtonpost.ca
Something Fishy About BC's Proposed Water Act, Water for the oil and gas industry? Absolutely. Water for fish? Maybe by Randy Christensen, November 14, 2013, TheTyee.ca
If you want to know what someone really values, don't look at what they say, look at what they do. Take, for instance, how the B.C. government plans to handle the competing needs of fish and the oil and gas industry under the new Water Sustainability Act. If you look at what the government says in its 120-page legislative proposal, you'll notice an emphasis on the need to protect fish. But when you examine how the proposed amendments mesh with the existing law, it becomes clear that fish needs will still come second to those of the oil and gas industry. While industry will likely continue to have access to pretty much all the water it wants, fish will have no real legal protection for their water needs.
…
On top of this, the oil and gas industry is allowed to abuse low-scrutiny, "short-term" water approvals by getting unlimited renewals rather than going through the more onerous licencing process. This practice is so egregious that it's attracted a lawsuit, launched yesterday by my colleagues at Ecojustice. All the while, the government continues to enable users exploiting B.C. water approvals process: Earlier this year, it extended the duration of the permits from one to two years. … Thirty-seven per cent of fresh water fish in B.C. are already red-listed. Meanwhile many water bodies have been licenced for water withdrawals that exceed average flows. You do the math: You don't need to be scientist to know that fish can't survive in dried-up rivers. [Emphasis added]
B.C. Oil and Gas Commission accused of violating Water Act by The Canadian Press, November 13, 2013, CBC News
WATCH: Regulator, Encana sued over fracking, water by Damien Gillis, November 13, 2013, Commonsensecanadian
The OGC and Encana have 21 days to file a response to the case. Said Campbell, "Beyond that, we're hoping to get this case in for a court hearing as soon as possible, but likely it's going to be sometime in the new year."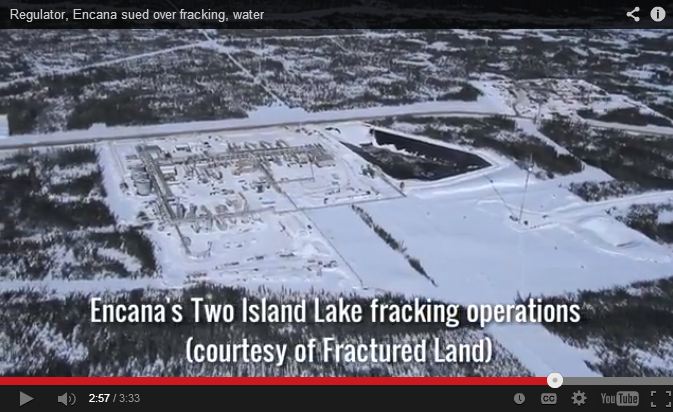 B.C. environmental groups file fracking suit by Dene Moore, The Canadian Press, November 13, 2013, Global News Toronto
Eoin Madden of the Wilderness Committee said fracking raises concerns about venting, disposal of contaminated water, drinking well contamination and greenhouse gas emissions. Water is already drawn from 540 rivers, lakes and streams, he said, and there are plans for a huge increase in the amount of fracking in B.C. "With climate change we expect less fresh water to be available," Madden said. "Extreme energy projects such as fracking for gas are actually a threat to our communities. We're the species at risk."
The groups are asking for a court order that would declare the commission practice unlawful and a violation of the water act. They're also asking the court to quash several short-term approvals issued to Encana. The Calgary-based company had no immediate comment.
Hardy Friedrich, spokesman for the commission, said the agency will review the petition. "The commission takes its responsibility for water allocation very seriously and all applications go through a thorough review process. This process ensures water levels are maintained," Friedrich said in an email response to a request for an interview. Friedrich said water use is carefully monitored and fracking wells are lined with cement to a depth of 600 metres to protect soil and water. "Water has never been contaminated as a result of hydraulic fracturing in B.C."
[Reality check:  BC OGC orders closure, drainage and remediation of Talisman's leaking toxic frac waste water pit, Company says risks low but tests show soil and groundwater contaminated with chemicals ]
Encana and BC oil and gas regulator faces fracking lawsuit by David P. Ball, November 13, 2013, The Tyee.ca
But with controversy over hydraulic fracturing, or fracking, trickling north from the U.S. — where it has long been a pitched environmental battle — B.C.'s Oil and Gas Commission now faces a lawsuit from environmental groups who accuse it of breaching the Water Act by granting hundreds of short-term permits to natural gas companies annually and allegedly endangering waterways. Energy firm Encana is also named in the lawsuit.
Filed today, the lawsuit will be argued by environmental law firm Ecojustice on behalf of the Wilderness Committee and Sierra Club BC, whose campaigner Caitlyn Vernon said that the downside of the province's natural gas boom must be taken into account. "The B.C. government's LNG agenda comes with a cost, and the cost is B.C.'s water," … The lawsuit comes just after B.C. announced a deal with Nexen, a subsidiary of Chinese state-owned CNOOC, on Tuesday to open a major facility called Aurora LNG. Last Wednesday, the province announced new findings suggesting northeastern B.C.'s Montney Formation may hold more than double previous estimates of gas, or 2,933 trillion cubic feet. Announcing the Nexen deal on Tuesday, Natural Gas Minister Rich Coleman said that the industry is "redefining the economic prospects" of British Columbians. "Building an LNG export industry is an unprecedented opportunity to create thousands of jobs while supplying Asian markets with the world's cleanest burning fossil fuel," he said in a statement. "Our government will ensure these benefits are enjoyed for generations to come." …
Ecojustice staff lawyer Karen Campbell said that her clients are concerned about the ecological and water resource impact of hundreds of short-term permit approvals annually by the province. "Our clients' position is that the Oil and Gas Commission is violating the Water Act and thereby unlawfully allowing oil and gas companies drain water from lakes, rivers and streams in the northeast for drilling and fracking," Campbell said in a statement. [Emphasis added]
Encana, B.C. Oil and Gas Commission accused of misusing B.C. water by The Canadian Press, November 13, 2013
Three environmental groups have filed a lawsuit against the British Columbia Oil and Gas Commission and natural gas company Encana over the use of water from B.C.'s lakes and rivers. The suit, filed Wednesday in B.C. Supreme Court, claims the commission has granted repeated short-term water licences, in violation of the provincial Water Act. The environmental groups say as Encana proceeded with the fracking process to extract natural gas from underground reserves, it drew 880 Olympic swimming pools worth of water over three years from the Kiskatinaw River, which supplies drinking water to the city of Dawson Creek. Ecojustice filed the lawsuit on behalf of the Sierra Club and the Wilderness Committee, arguing the company should have to apply for water licences.
B.C.'s Liberal government has hopes of developing a liquefied natural gas industry which Premier Christy Clark says could be worth one trillion dollars by 2047. Clark says fracking has been done safely in the province for decades.
LNG deal sealed as eco groups ready fracking suit by Jeremy Nuttall, November 12, 2013, 24 hours Vancouver
Premier Christy Clark announced a massive liquefied natural gas project between Nexen, a subsidiary of Chinese state-owned CNOOC, and other partners at Grassy Point near Prince Rupert. The new facility, to be called Aurora LNG, was created by an agreement between the B.C. government with Nexen and its partners, Japan's INPEX Corporation and JGC Corporation. … Nexen CEO Kevin Reinhart said the company intends to build a top-notch LNG facility delivering "lasting economic and social benefits." But on the same afternoon as the announcement, Vancouver-based environmental advocacy group Ecojustice said it would be filing a lawsuit against the province related to fracking, a technique used to extract natural gas. The group said it won't talk about the lawsuit until after it's actually filed Wednesday, but a news release alleges the province's Oil and Gas Commission is violating the Water Act, and also names the Encana Corporation as a target of the suit. The suit will be filed on behalf of Sierra Club BC and the Wilderness Committee, and Ecojustice said it will reveal the details at a media conference in Terrace.
Environmental groups to announce fracking lawsuit tomorrow morning Press Release by Ecojustice, November 12, 2013
Ecojustice, on behalf of Sierra Club BC and the Wilderness Committee, is filing a lawsuit at the B.C. Supreme Court tomorrow, alleging that the province's Oil and Gas Commission is violating the Water Act.  The lawsuit also names Encana Corporation. Immediately following the filing, the groups will hold a press briefing on the terrace outside the Provincial Court to describe the lawsuit and answer questions.
When: Wednesday, Nov. 13, 2013
10:30 a.m.
Where: Terrace outside Provincial Court
(filing at B.C. Supreme Court)
800 Hornby Street
Vancouver, BC
OIL AND GAS ACTIVITIES ACT
[SBC 2008] CHAPTER 36
Statutory immunity
56 (1) Subject to subsection (2), no legal proceeding for damages lies or may be commenced or maintained against the government, the commissioner, the commission, an official or the commission's directors or employees because of anything done or omitted
(a) in the performance or intended performance of a duty under sections 50 to 53, or
(b) in the exercise or intended exercise of a power under sections 50 to 53.
(2) Subsection (1) does not apply to a person referred to in that subsection in relation to anything done or omitted by that person in bad faith.