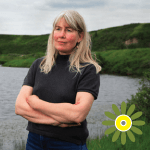 I've boycotted the raping doping exploitative Olympigs for decades and will until I die. Nothing will change my mind. The Olympigs and its IOC are like frac'ing and CAPP – corrupt and harmful.
Typical. IOC's head honcho, Thomas Bach, is an old white man lawyer. How much is Putin paying for this satanic shit show?
The Olympigs have been disgusting for as long as I can remember: sexist economic destroyers of community and abuse of athletes to benefit corporations and powerful mass murderers.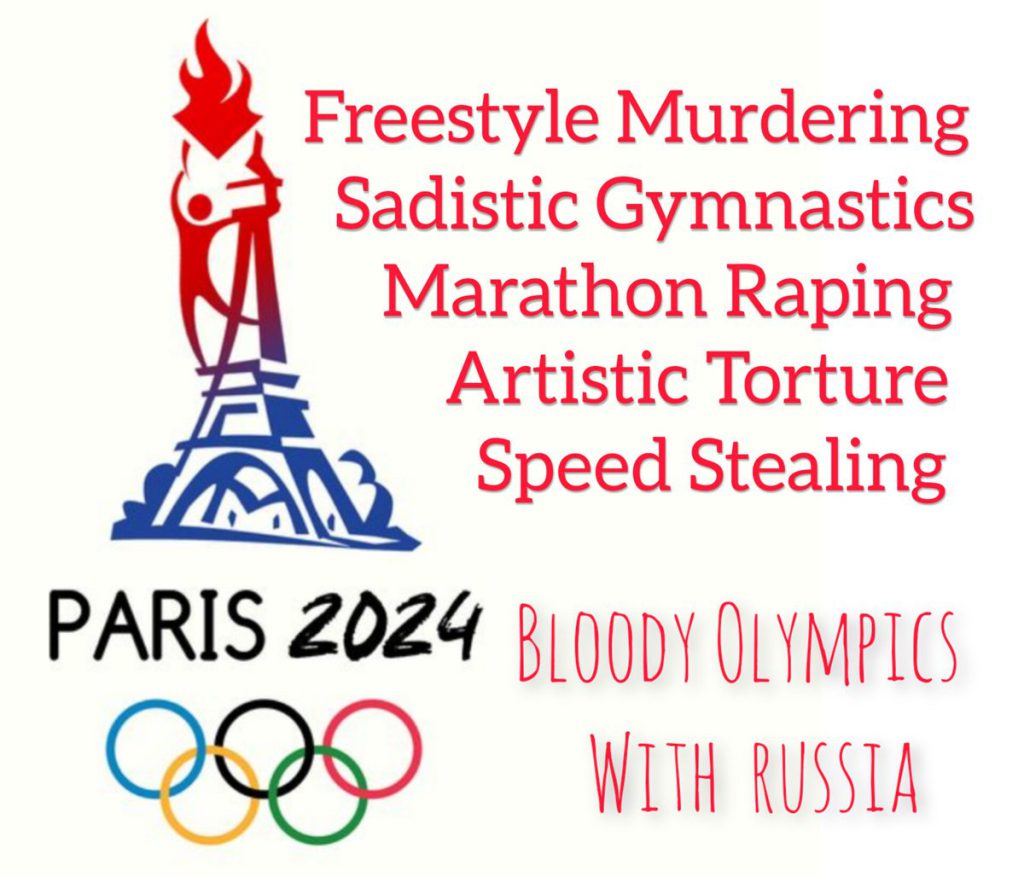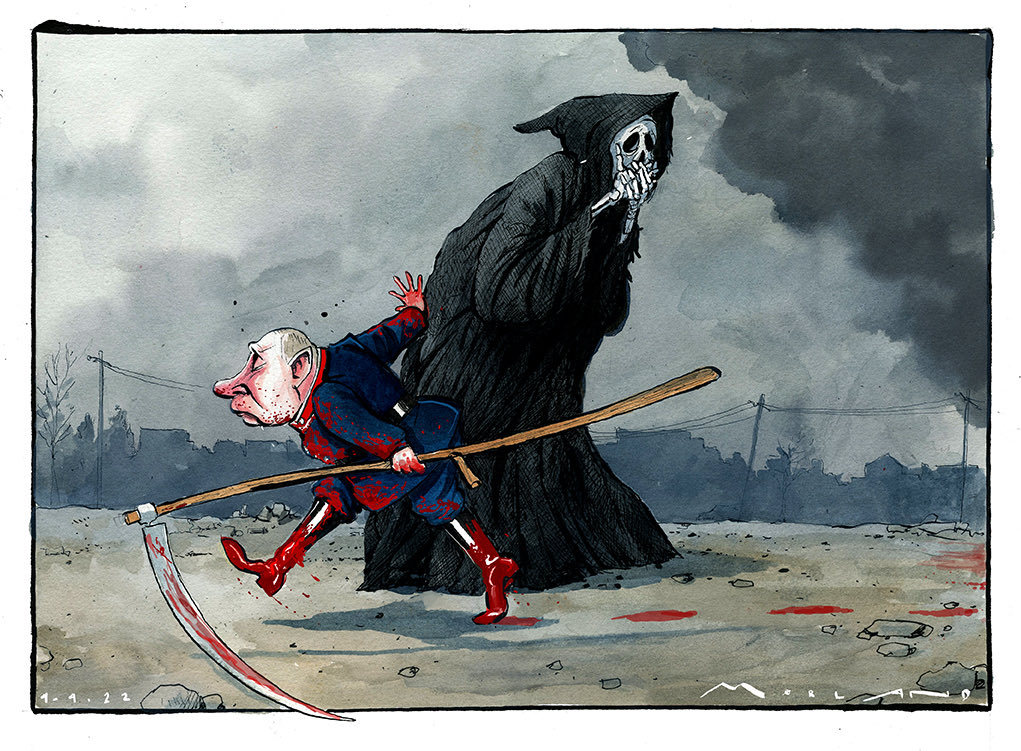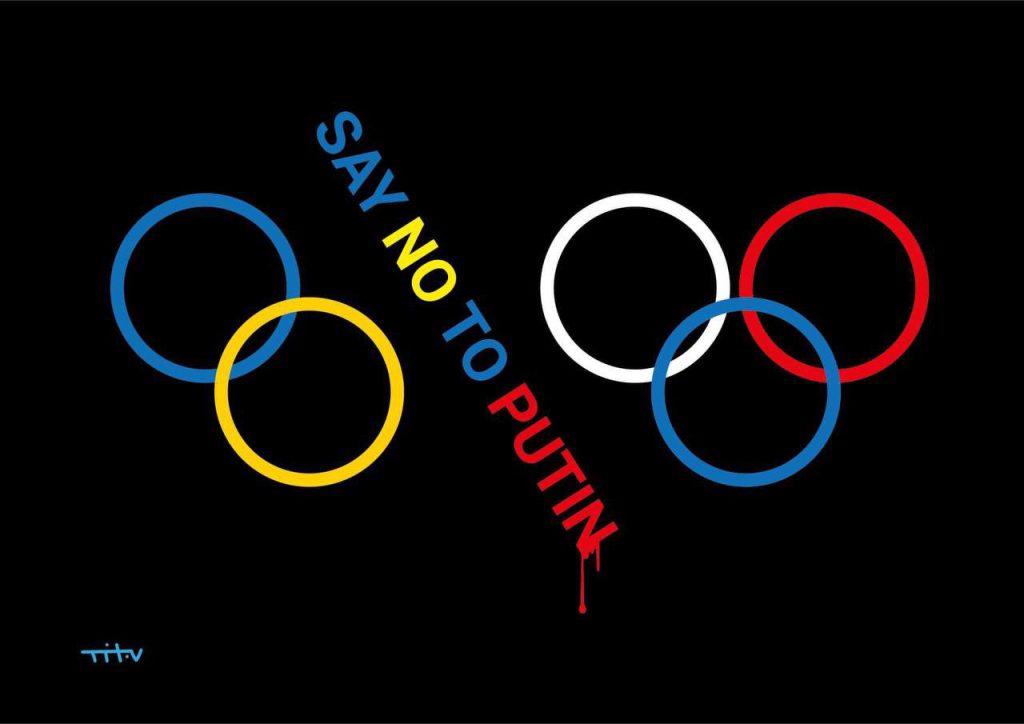 Kimberly St. Julian-Varnon@ksvarnon Feb 9, 2023:
So boycotting violates the Olympic charter, but not, (checks notes) committing a genocide nor using mass doping programs. Got it.
The Kyiv Independent@KyivIndependent:
International Olympic Committee president criticizes Ukraine's call to boycott the Games.
In a letter to Ukraine's National Olympic Committee, the IOC president, Thomas Bach, criticized Ukraine's threat to boycott the Games, saying it would violate the Olympic charter.
Recently the IOC gave the green light for Russian and Belarusian athletes to participate in the 2024 Paris Olympic Games.
A few more tweets:
Lawrence Latvala@llatvala:
Pathetic. A charter over character and moral compass. Perfect.
Paul H@umhutchva:
Russia at the games violates the charter
TheBookstoreOnPluto @dykstra_norman:
Does it violate the Olympic Charter to kill a significant number of the athletes of a competitor before the games begin?
Pete Effwan@PeteEffwan:
If Ruzzia and Belarus athletes are allowed to compete, every other nations should boycott. Or stage an alternative World wide event.
Hajo Seppelt @hajoseppelt Feb 10, 2023:
So outrageous: IOC boss Bach urges Ukraine to drop Paris boycott threat. Cold blooded pro Putin strategy – similar to Bach's stance in RUS doping scandal. RUS used Bach's support for propaganda. Whistleblower still today live under fear. No words for this.
IOC president Bach urges Ukraine to drop Paris boycott threat by Reuters
How shameful to expect from UKR athletes to compete against Putin's war propaganda army. It's clearly more important for Bach to bring athletes from RUS military to Paris as to distance himself from a country which violates all rules of social coexistence.
Must read. Poisoned gift. Original letter by the IOC president to Ukrainian NOC boss. Bach is threatening UKR NOC (because allegedly violating "fundamentals of the Olympic Movement") while supporting athletes from RUS – which is violating every principle of the civilised world.

As poisoned as Synergy Alberta: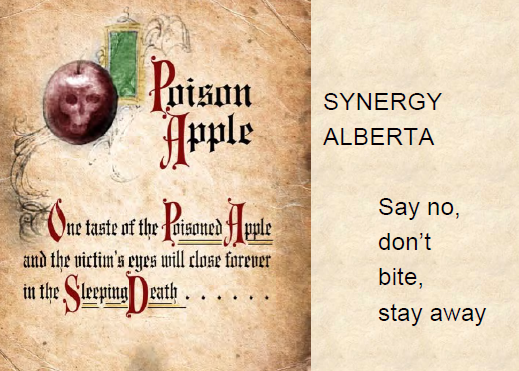 Rob Koehler@RobKoehler2:
Exactly, the #IOC knows exactly what they are doing. Same song sheet leading into PyeongChang.
Ben:
The only way both countries can participate is when Russian troops withdraw from Ukraine and that war criminal Putin is removed from power by any means necessary. I see no other way forward.
Dzvinochka@IrynaDzvinka:
What a cynicism. Russian missiles this minute are targeting Ukraine, and head of Olympic Games is threatening Ukraine. Russian sportsmen will not be punished, but Ukrainian will. Is this world so insane?
vitaliyfalcon@Vital54falcon:
Get lost, wh@re bach! Glory to Ukraine!
Charles Bashforth@nexusbash:
Countries that wage war and commit unfounded, inhumane attacks on innocent men, women and children, do not uphold the spirit of the Olympic Games, and because of this, should be banned from competing. They need to be ostracised …. simple!
Tomato@TonyGiantomaso:
The IOC is full of Russian butt hole, licking thieves, that simply care about getting funded by Geneva convention, breaking killers. Russia has been a stain on the Olympics for generations, yet they still would rather take the money, then be moral.
Alex@Sharkozp:
Go and f*k yourself #IOC
SimonTheSorcerer@SimonTheSorcer6:
This IOC and Bach are so stupid. I won't ever watch Olympic games if Ruzzian athletes compete
Gints Gailišs@realGints:
This is insanity. They are as corrupt as FIFA, I guess.
Sirko @sirkosirchenko:
Here in Ukraine we especially love those who are threatening us and wish them a walk with Russian warship.

I love Ukrainian humour!

Nicholas B @Morn:
We recently had the Australia Open, where Russian diaspora used it to promote the war and to harass Ukrainian athletes (yelling out insults). We will only see the same thing in Paris if Russians are allowed to participate. It's giving Putinists a platform.
Andreas Beer@tuexss:
I mean, IOC is violating their own principles. So it's consistent behavior.
charles@charles04201:
IOC can be bought. Money talks.
Peter@p_d_dimitrov@hajoseppelt:
This is absolutely outrageous and disgusting. Bach must resign IMMEDIATELY.

Will never happen, multinational corporations need dirty to lead the dirty IOC to assure them ever more rapes and profits.

Paul Goode @Paul_Goode78:
We need a big group of countries to come together early and say they will boycott it if any Russian athletes are present.
TinyTussi@TinyTussi:
Ukraine should send their murdered athletes. I do not yet know how but their death should not go unnoticed during the games.
Samson Sliteye@samsonsliteye:

The IOC threatening against boycott sounds eerily similar to Russia threatening against joining NATO.
If you join NATO… we will attack you!
If you boycott us… we will ban you!
yeah… okay… makes the decision a lot easier!
MM@notwiterhandle2:

Starting a war during the Olympics, as Russia did, violates the Olympic charter.
rie Siobhan @ErieNotEerie:

Everyone should boycott if Russia is allowed to participate.
Gregg H – curmudgeon, optimist, drummer@NadionInc:
Time for the OC of individual countries to repudiate that.
the IOC holds ZERO moral ground here. Boycott away.
The charter is toilet paper if this is the practical result.
John Milligan@SpikeMilligan29:
What if they held a Games and the IOC wasn't invited.

Excellent idea!

Maria Korolenko @masha_kor:
IOC did not bother in 1936, when there was already clear antisemitism and oppression. In 2021 they were totally ok with government-funded doping programs. So yeah, they are pretty much within their narrative.
Stéphane@5tephane:
Old problem with the Olympics. It's supposed to be a competition between athletes and not countries. But it looks so much like a competition between Nations…
TinyTussi@TinyTussi:

Boycott anyway.
Publius Occam@VictorRamus:

The IOC is notoriously corrupt. They must be getting gifts from Putin and company.

Olympig Partner Program, snap taken Feb 10, 2023 from https://olympics.com/ioc/partners:


Maryna Rudenko@MarRudenko:
IOC president can't stop to shame Olympic principles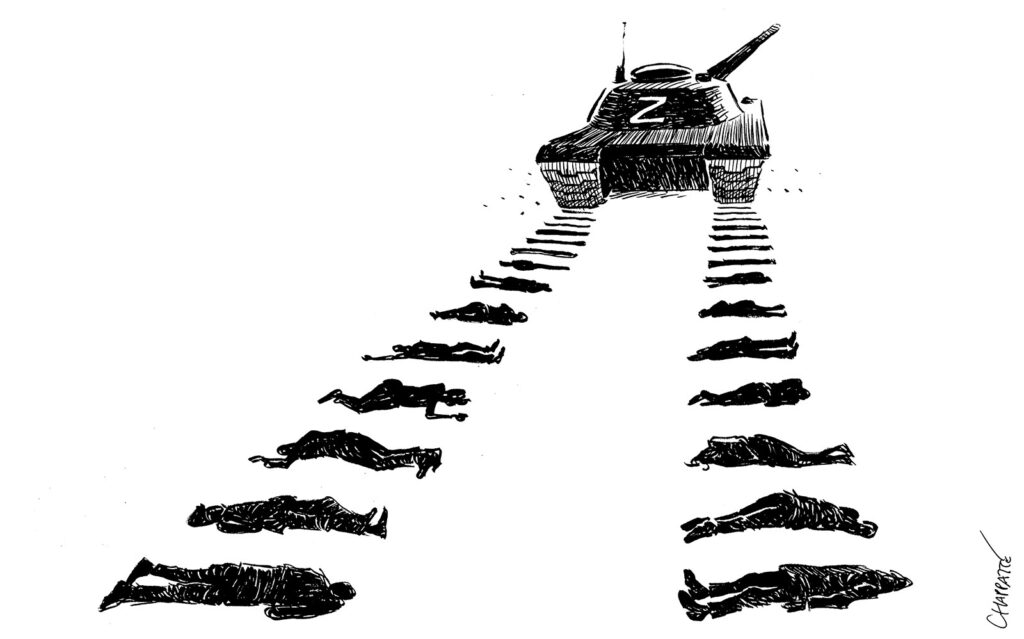 'Wrong side of history': Ukraine athletes accuse IOC of 'kowtowing' to Russia by Sean Ingle, Feb 9, 2023, The Guardian
Letter says 'IOC must choose a side in this war'
Ukraine would boycott 2024 Olympics if Russia take part
Ukraine's athletes have accused the International Olympic Committee of rewarding Vladimir Putin's aggression and being "on the wrong side of history" in an escalating war of words over whether Russians should compete at the Paris 2024 Games. The IOC recently moved away from having an outright ban on athletes from Russia and Belarus and is investigating ways they can qualify for the Olympics under a neutral flag.

Neutrality is impossible with Putin and rest of his ilk.

In a letter to Ukraine's National Olympic Committee, sent last week, the IOC president, Thomas Bach

Just another asshole old white man lawyer in a position of power. Every time one of them stoops as low as I think is humanly possible, another stoops lower

, criticised Ukraine's threat to boycott the Games, saying it would violate the Olympic charter. That stance has angered Ukraine's athletes, who have hit back by suggesting the IOC is "kowtowing" to Russia.
"Russia's war of aggression has cost hundreds of thousands of lives, destroyed infrastructure, threatened the stability of the global food supply, and risked nuclear catastrophe," they say in a statement in conjunction with the athlete union, Global Athlete. "The IOC is rewarding Putin's aggression while the death and destruction of his victims are being ignored. The IOC must choose a side in this war."
Ukraine's athletes also take issue with the IOC's claim that the Olympic Games unites the world through peaceful competition, calling it "a utopian view that disregards the way sport is routinely used as a tool of authoritarian states".
"The Russian state has been a prime example, using its home Olympic Games in 2014, along with a state-sponsored doping program, to build goodwill both at home and abroad before annexing Crimea.
"In 2022 it did the same, using the Beijing Games to strengthen its bond with China before invading Ukraine. Russia has promoted athletes to prominent positions in the armed forces and touted athletic success as signs of Russian superiority. These actions have been possible because Russia has manipulated and controlled the governing bodies of sport to its advantage."
The statement follows a call from the world heavyweight champion, Oleksandr Usyk, not to allow Russian athletes to compete in Paris. "The Russian army is killing Ukrainian athletes and coaches and destroying sports grounds as well as sports halls," he said this week. "The medals that Russian athletes are going to win are medals of blood, deaths and tears."
Bach underlines his "unwavering commitment to solidarity with the Ukrainian Olympic community", but says a boycott would only harm the athletes of Ukraine since "previous boycotts did not achieve their political ends".
Bach also points out that the "concept under discussion" by the IOC is similar to the Australian Open tennis tournament, where players from Russia and Belarus competed as neutrals, with the women's singles won by the Belarusian Aryna Sabalenka. He also makes it clear that no Russian who supports the war will be allowed to compete in Paris.
His approach has cut little cloth with Ukraine athletes. They conclude their statement by claiming "the IOC continues to be on the wrong side of history" before insisting that "sponsors, host cities, and national governments must stop tolerating the IOC's kowtowing to Russia".
The Olympics got in bed with autocrats like Putin. There will be consequences by Sally Jenkins, March 8, 2022, Washington Post
If you want to do business with an international killer, be prepared to pay. That's the lesson the International Olympic Committee and its commercial partners will learn from their roles as financiers and enablers of autocrats with world-destructive designs. Vladimir Putin's escalating war in Ukraine was preceded by the "Genocide Games" in Beijing, and both were facilitated and encouraged by IOC cover. The organization's five major American sponsors — Visa, Coca-Cola, Procter & Gamble, Airbnb and Intel — have been sleeping with the enemy, wittingly or not. And the dinner check for that will be issued.
The IOC's Baron Von Ripper-off of a president, Thomas Bach, has been one of the world's great lobbyists for Putin and China's Xi Jinping, and that won't be forgotten even as the Olympics rotate with relief to Paris in 2024. The new force and coordination of American-led economic sanctions is not a one-off simply aimed at Putin over Ukraine: It's a whole new doctrine calculated to clean dictators' dirty money out of institutions and tear the masks off economic collaborators. The architects of this policy are laser-focused on the behavior of companies in every arena — including the Olympic one — that might aid and abet Putin. "You do business in these places at your own peril," warns Paul Massaro, a congressional adviser on foreign policy who sits on the U.S. Commission on Security and Cooperation in Europe and is a specialist in anti-corruption sanctions.
Knocking Putin's teams off the sports stage leaves him exposed to his own people
It used to be that Olympic sponsors merely had to weather a public relations storm as a penalty for engagement with autocrats. That has changed. Now they have massive financial exposure resulting from sanctions isolating Russia. Example: Roughly $1.2 billion of Visa's annual net revenue comes from Russia and Ukraine. Russia — where wheelbarrows of rubles are now worthless in a dime store.
Then there is the matter of audience recoil from companies that helped contribute to Putin's war chest. Olympic sponsors, Massaro says, "have absolutely helped prop up the Russian economy and at various times even done the bidding of Putin." Which raises this question: Can we consider these companies "our own anymore?" Massaro asks.
These are just some of the costs to American sponsors for not bucking the odious leadership of Bach, under whom the Olympics have been the furthest thing from politically or economically neutral. Bach has showed a marked softness on everything from state doping to construction for the Sochi Games. He laughed with Putin over coffee and macarons as corrupt cash flooded into the coffers of Putin allies; murdered opposition leader Boris Nemtsov estimated up to $30 billion was stolen from Sochi by Putin associates. Bach not only lent legitimacy to the proceedings; in 2019 he awarded the IOC's Trophy of Olympic Values to now-sanctioned Putin oligarch Alisher Usmanov.
It's no exaggeration to say all this had a significant and nefarious international impact. For one thing, it contributed to Putin's air of "I can get away with anything I want," Massaro observes. Putin came to believe that Western business stakes in Russia would prevent serious sanctions or even much pushback on Ukraine. "It's absolutely connected," Massaro says. "It's all part of a pattern of impunity and enabling Putin's mind-set."

Just like how our politicians, courts, and self regulators enable frac'ers breaking the law and harming families, communities, drinking water and our environment.

It's crucial to recognize the serious and malignant role the Olympics played, one much broader than merely giving Putin prestige or public relations. The Games are part of what Massaro describes as a strategy of "elite capture" through which actors such as Putin and Xi try to co-opt and compromise Western influencers with various forms of financial entanglement. They're a cog in "transnational networks that are used by the Kremlin, the CCP and other dictators to pursue their foreign policy goals and exert influence." Just read Massaro's breathtakingly prescient argument for severe sanctions in Foreign Policy magazine from December.
Bach is now cowering in a conspicuous silence. Although Russian athletes are for the moment banned from international competition, no one believes for a second that Bach will keep Russia from Paris. "I will be surprised if the IOC takes any action that appears to be stringent or judgmental relative to Russia," says Rick Burton, former chief marketing officer for the U.S. Olympic Committee and now a professor of sport management at Syracuse University. "I imagine they will be hoping — and that's always bad strategy, hoping — that this will blow over."
Jerry Brewer: Olympic leaders need to learn: Inaction isn't neutral. It's abdication.
It will not blow over for policymakers for one simple and powerful reason: Taiwan. A similar confrontation with China is looming. And the economics of that will affect American companies on a whole different order of magnitude. According to Bloomberg, 10 of the 12 largest Olympic sponsors — including Intel, Coca-Cola and Procter & Gamble — generate a combined $110 billion per year in revenue in China.
It's possible that the IOC and its partners will cruise imperviously on to Paris and consumers will experience the usual ramp-up in Olympic spirit, especially if the war in Ukraine ends. But it doesn't feel that way — it feels as though a tipping point has been reached. The penalties for poor choices will be new and bigger; these revolutionary sanctions make that clear. And as policy advisers such as Massaro seek a total reset of the landscape for American companies that previously profiteered without worry, those that partner with bad international actors will find themselves in a pressure vise.
"One thing our businesses, universities and sports leagues don't seem to fully understand is that, to eat at the CCP's trough, you will have to turn into a pig," remarked Yaxue Cao, editor of ChinaChange.org, during a congressional hearing Feb. 3.
At the Winter Games in Beijing, companies were mute and self-gagged, and they saw their branding millions wasted in toxic association with genocide and tanked ad campaigns. And that was just a prelude.
"The risk of being associated with dictators is actually much higher than we thought — that's the huge takeaway of this," Massaro says. "The private sector needs to realize this. It's been a long time coming. We should have realized it 10 years ago, and if you're not recognizing it now, you're effectively in league with the enemy and it's going to hurt your bottom line. … That is the risk of having exposure with dictators."
There is one way for American companies to unspring this Olympic trap: overtly start stressing values ahead of short-term economic gain, with the understanding that, as Massaro once said, "Commerce without rule of law is authoritarianism" and will inevitably jeopardize your enterprise. American companies find themselves in a position "where they're promoting social issues inside America and genocide outside of America," Massaro observes. This is untenable. The answer is to reject Bach's toadying and instead use company sway to force the Olympics to be genuine upholders of human rights — starting with the demand that Russia be banned from Paris, now.
The Games have been an active agent of evil over the past decade under Bach, but that association is now proving to be volatile and even potentially ruinous, given the global recoil to Ukraine and the coming China confrontation. "The effectiveness of sponsorship is built in perception, and these brands are at high risk if they react in the wrong way — or don't react," says Norm O'Reilly, dean of the Graduate School of Business at the University of Maine. "Similarly, there is big opportunity if they react in the right way. There are a lot of pieces here. It goes either way."
The Olympics retain the potential to be a powerful and profoundly beneficial brand for the same reason that sponsors bought into them in the first place: No other event reaches hundreds of millions of people in all corners of the globe. It's not just morally right for their sponsors to decouple from dictators. It's better business. Safer, too.
Vladimir Putin and Thomas Bach: the unlikely Olympic power couple, The Russian president and the head of the IOC have enjoyed a close and mutually beneficial relationship at the heart of global sport politics by Owen Gibson, July 25, 2016, The Guardian
When Thomas Bach became president of the International Olympic Committee in 2013, the German lawyer who had spent a lifetime networking and politicking towards that very moment had a neat analogy up his sleeve. …
In the wake of the IOC's muddled, confusing and chaotic decision over which Russian athletes will be allowed to compete in Rio next month, Bach is still playing to his orchestra but most of the rest of the world is finding the result a discordant mess. Even in Russia, where there was widespread relief at avoiding the blanket ban the World Anti-Doping Agency had called for, there was criticism of inconsistencies in the IOC's decision.
When Bach exited the auditorium in the Buenos Aires Hilton having been anointed president, a position he had targeted for decades, a phone was thrust into his hand and the first person to offer his congratulations was Vladimir Putin. As international sporting federations began the task of working out which athletes can be deemed "clean", attention has inevitably turned to Bach's relationship with the Russian president.
When Bach was elected, it was widely speculated that Putin's support was a key factor.

Why does so much of the world bend over for Putin?

The IOC's membership list, which fluctuates but currently stands at 90 active members and 36 honorary ones, is an eclectic mix of sporting administrators, royalty, politicians, former athletes and business people. Putin was then in the midst of a headlong dash to secure a run of sporting events that would project Russian power on to the world stage and, as we now know, putting in place a climate in which a failure to win medals would not be tolerated.

One of the reasons I first boycotted the games so long ago. The conniving about winning is too evil for my soul.

He was also in the final troubled throes of preparing for the lavish $51bn Sochi Winter Olympics in 2014. It is tempting to wonder now whether he also knew he would need Bach's support in the future if the state-sponsored doping programme ever came to light.
To no one's surprise, it was confirmed on Monday that Vitaly Mutko – a close ally of Putin's – would continue in his role as Russia's sports minister despite the fact Richard McLaren's report said there was no way he could have been unaware of the widespread doping programme.
Shortly before the Sochi Games got under way, amid concerns over human rights and the grotesque cost and corruption that came with the huge price tag, Bach praised Putin's "great commitment" to the Games and the way he "set the pace in this great endeavour". At the closing ceremony, Bach stood shoulder to shoulder with Putin and declared the most expensive Games in history "a real special experience". He also personally thanked Putin for his contribution to the "extraordinary success of these Winter Games".
… The multilingual German, a gold medallist in fencing at the 1976 Olympics, was long groomed for the role. He was schooled not only by the controversial former IOC president Juan Antonio Samaranch but spent two years as an Adidas executive under Horst Dassler, who wrote the book on the system of kickbacks and patronage that defines modern sports politics.
Any analysis of his relationship with Putin must be placed in the context of the patronage he would have required from a wide network to ascend to the presidency. Also key to his success was the Kuwaiti Sheikh Ahmad al-Sabah, the shadowy kingmaker of the Olympic world who is now locked in a bitter row with his own government that, as a result, has been suspended by both the IOC and Fifa.
Russia has other senior IOC figures sympathetic to its plight. Pat Hickey, the Irish IOC executive board member who is head of the European Olympic Committee, has been a vocal supporter of Russia throughout its travails and is hopeful it will step up to host his pet European Games, last staged in Baku, in 2019. There is Alisher Usmanov, the Arsenal shareholder who is the head of the international federation for Bach's former sport of fencing, into which he has pumped millions of dollars of his own money.
Putin was presented with world swimming's highest honour last year by Julio Maglione, the head of the world swimming federation that held its world championships in Russia in 2015 – one of the events McLaren has revealed was subverted by state-sponsored doping.
Marius Vizer is the head of the international judo federation, of which Putin is honorary president. Sheikh Ahmad had helped Vizer become leader of Sport Accord in 2013, before he overreached and took on the IOC and so fell out of favour.
Until recently there was Lamine Diack, the now disgraced former president of the IAAF who was believed to have swung votes behind Bach and whose son is under investigation by French prosecutors in connection with a $2m payment from Tokyo's 2020 Olympic bid. Diack was close to Putin. Sheikh Ahmad also backed Tokyo's bid. And so it goes on.
Olympic sport, lubricated by billions of dollars in broadcasting and sponsorship deals, remains the canvas on which international political and power struggles play out.
When Putin complained recently that calls for a Russian ban were a worrying sign of politics interfering in sport, it was hard not to laugh at his audacity.
Most of the 28 international federations that make up one side of the IOC's constituency and now asked to decide which Russian athletes should compete are just as riven with internal politics and conflicts of interest as the National Olympic Committees that make up the other.
Bach has been a lot less glowing in his tributes to Putin recently, insisting he had not spoken to the Kremlin since the scale of Russia's doping programme was revealed. "President Putin is a head of state with whom we have working relations like with more than 100 heads of state all over the world," he said earlier this month. The truth, though, is that some are more equal than others.