Beware the wealthy bearing gifts by Trevor Harrison, University of Lethbridge Professor and Director of Parkland Institute March 29, 2014, Lethbridge Herald
altruism of the wealthy is sometimes done for less saintly reasons
Everyone loves people who give unstintingly to charity. But a little skepticism might be in order before saluting too much the ballyhooed generosity of the rich.
Consider Al Capone. In the 1920s, Capone gained a reputation for his generous gifts to charity. During the Depression, he set up some of Chicago's first soup kitchens. Like Robin Hood, with whom he was compared, Capone understood the political value of keeping regular folk on side, especially with the authorities on his heels.
No one would accuse Mark Zuckerberg or Bill Gates of being modern-day Mafioso, but not every wealthy donor is a saint – a fact the fawning media too easily overlook.
There are numerous reasons to give to charity. Altruism and a heightened sense of social responsibility are high on the list. (We'll ignore those Grinches who argue there is no such thing as unfettered giving, even if the giver receives only a warm fuzzy.) But there are other less – shall we say – "charitable" motives for giving.
Ego is one. Both the Canadian and U.S. landscape are littered with large institutions bearing the names of prominent people whose altruism was mixed with a desire for recognition, if not praise, and a kind of immortality. Still, everyone is entitled to a bit of ego.
But there is also the kind of motivation that impelled Capone's giving, the purchase of political protection and influence. This seems increasingly the case today. Where the very rich once gave to orphanages, corporate benefactors now more often give to right-wing think tanks or cash-starved universities and equally cowed NGOs who then feel compelled to vocally endorse the ideological aims of their funders.
Before genuflecting too much before the Altar of the Wealthy, we might ask ourselves two questions. How did wealthy donors amass their wealth from which to give in the first place? And what are the consequences of both their wealth and of their charity?
The first question, how did the very rich obtain their wealth, requires critical examination given an enormous body of research showing that the rich are getting richer, the poor poorer, and the middle class in many countries sinking like a stone. Case in point: Oxfam's recent report showing that the top 85 richest people in the world now have as much wealth as the bottom half of humanity.
The usual answer to this question is "they earned it," to which is sometimes added, with reverential piety, eyes raised, "the Market." Such explanations – or justifications – ring increasingly hollow, however. No one can seriously believe the 85 richest people in the world "earned" their wealth. They are, rather, expropriators of a surplus that humanity has created over time through hard work, ingenuity, and (too often) suffering.
The answer to the second question, what are the consequences, turns back upon the first question, but needs some elaboration. In liberal economic theory, the economic and political realms are defined as separate. This requirement, one will note, is in the nature of a thought experiment, and not a description of the real world, which – ipso facto – makes it a rather bad theory, but a politically useful obfuscation.
The point is, economic wealth is a fungible commodity; that is, it can be transformed easily and exchanged for other forms of capital, both political and social. Transformed into political capital, financial wealth takes the form of donations to parties and candidates that show their appreciation through such things as tax breaks, free trade agreements, and corporate subsidies. Transformed into social capital, financial wealth takes the form of philanthropic gifts to various causes and institutions, thereby enhancing their social status and blunting the possibility of popular unrest.
The result is a decidedly un-virtuous cycle of economic, social and political power. The same hand that appears to give generously to public causes is the one also purchasing the means by which unearned wealth continues to grow. It is a form of money laundering of which Big Al would be proud. [Emphasis added]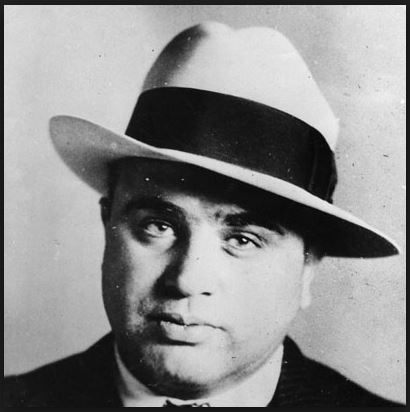 [Refer also to:
Donations of $ 25,000 or more to University of Lethbridge include from:
Alberta Natural Gas
AltaGas Ltd.
AMOCO Canada
Anderson Exploration
APEGA
ATCO Group
BP Canada Energy Company
Burlington Resources Canada
Canadian Association of Petroleum Producers
Cenovus Energy
ConocoPhillips Canada
Devon Canada
Encana Corporation
Home Oil
Imperial Oil Foundation
Nexen Inc.
Nova Gas
Penn West Exploration
Penn West Petroleum
Petro Canada
Shell Canada
Talisman Energy
CAPP-EPAC Scholarship Fund for Alberta Post- Secondary Students
In 1994 a court ordered settlement regarding pipeline tolls in the Province of Alberta between Nova Gas Trunk Lines Limited (NGTL) and Alberta oil and gas production companies created a $4.0 million endowment fund.  Alberta's oil and gas producers agreed this endowment should be used to fund scholarships for students enrolled in fields of study related to the oil and gas industry in Alberta post-secondary institutions. The endowment was entrusted to the Calgary Foundation in 1995 to administer the funds and distribute the annual income earned on the endowment as scholarship funding to eight post-secondary institutions in Alberta.
In 1999 a second sum of $1.25 million was paid to Alberta oil and gas producers as a result of a merger between NGTL and TransCanada Pipelines. This capital fund was invested and administered by CAPP on behalf of CAPP and The Explorers and Producers Association of Canada (at that time SEPAC) for the purpose of funding scholarships at three additional Alberta post-secondary institutions plus an annual donation to STARS (air ambulance service). Subsequently, STARS was removed from the annual funding and two more post-secondary institutions were added.
In 2011 the first NGTL endowment fund was transferred back from the Calgary Foundation and combined with the second endowment to create the CAPP-EPAC Scholarship Fund. The investments in the CAPP-EPAC Scholarship Fund are managed on behalf of the two Associations by a firm of investment professionals retained by CAPP.
Since 1995 almost 2,000 scholarships have been awarded to Alberta students totalling approximately $6.0 million. The endowments have been invested prudently and the Scholarship Fund capital has grown to approximately $ 6.8 million notwithstanding the $6.0 million scholarships awarded since inception.
Alberta oil and gas producers can be proud that this legacy has assisted so many young Albertans to secure a brighter future for themselves [Or buy their obedient silence for life?], the Province and our industry. 

In Canada, a Stern Critique of University-Industry Collaborations
University of Alberta looks for oil and gas expertise for board of governors
Hydraulic Fracturing and Water Resources A California Perspective
The most memorable moment was when Dr. John Cherry, the renowned hydrogeologist from the University of Guelph [Chair of the Council of Canadian Academies Panel reviewing frac impacts; report was to be released summer 2013, then Februray 2014, now reportedly to be released in early May, 2014], characterized the activities in the U.S. as a grand experiment with no proper scientific research on the effects of hydrofracturing on the environment. He challenged the funding mechanisms for such research in the U.S. because of the ties between universities and industry (or other parties), and indicated that the U.S. would be better off with a funding system similar to that in Canada, where the funding is not similarly tied and thus scientific research can proceed relatively unencumbered. [Emphasis added]
Encana frac's a community's drinking water supply, publicly promises $150,000 after water wells start to go bad, years later donates the money to Rosebud School of the Arts Theatre, successfully divides and silences the community:
March 2004: Encana fractured, in secret, directly into the Rosebud drinking water aquifers and refuses to disclose the drilling and frac chemicals injected above the Base of Groundwater Protection on nearly 200 shallow frac'd gas wells in the community.
October 2004: Encana promises $150,000 to the Rosebud School of the Arts shortly after the first drinking water wells in the community go bad.
January 2005: Encana's hydrogeological investigation report, admitting Encana frac'd Rosebud's drinking water aquifers, is sent to Alberta Environment and the EUB (then ERCB, now AER), but not to Wheatland County or any citizens relying on the aquifers that Encana frac'd.
January 2005: Rosebud water tower blows up in an explosion seriously injuring a worker, "an accumulation of gases" is blamed
August 2010: Six years later, Encana gives Rosebud School of the Arts the promised money
Cenovus, previously Encana, donates $250,000 to the Drumheller Library (near Rosebud) in exchange for naming rights on the Children's Corner, Youth Area and Community Programs Room
Encana gas well data around Rosebud show open-hole completions (no protective casing that is promised to protect groundwater!)
Gwyn Morgan, President and past CEO of Encana when the company fractured Rosebud's drinking water aquifers honoured by University of Alberta
EnCana donates $7 Million to the University of Wyoming
Former Wyoming regulator recants: Encana polluted the drinking water at Pavillion! Wyoming to spend another $400,000 for Pavillion to provide safe alternate water after refusing to for years, the money is from Encana's $1.5 Million donation
Pavillion driller EnCana blasts EPA findings of hydraulic fracturing contaminating ground water and well water
EnCana donates $5 Million to the University of Wyoming
Encana donates $1.19 M to Wyoming non-profits
Cenovus (previously Encana), Syncrude and Suncor and other oil and gas companies "helping draft" curriculum for students from kindergarten to Grade 12!
Cenovus (previously Encana) donates $1.5 million to Lakeland College
Talisman pledges $1.25 M to Mount Royal University, Alberta
EPA Fines Talisman For Fracking Violations
Burning Waters: UVic Partner's environmental record questioned
Encana donates $1.5 Million to Mount Royal University
EnCana donates $7.5 Million to the University of Alberta
Cenovus (previously Encana) donates $3 Million to the University of Alberta
University of Calgary Prostitutes Itself To Big Oil & Gas
EnCana to donate $1 Million to the University of Calgary
Encana donates $1 million to Red Deer College
EnCana $1 Million donation to University of Calgary questioned as company awaits energy decision
Million-dollar Nexen donation to Mount Royal University
Imperial Oil donates $1 Million to Mount Royal University
Cenovus (previously Encana) donates $3 Million to the Southern Alberta Institute of Technology
Is the Southern Alberta Institute of Technology overflowing with oil money?
ConocoPhillips Canada supports University of Lethbridge and places students
Trican Donates $5 million for cancer research at the University of Calgary
Trican donates $5 Million to Fight Chidhood Cancer and for research at the University of Calgary
Enbridge donates 1.2 million to the University of Calgary, research chair first of its kind dedicated to holistic cancer care
Enbridge Donates $500,000 to the Alberta School of Business
June 2013 Cenovus (previously Encana) 3 million endowment to University of Alberta to assess energy and environmental options for industry and government
Encana donates $62,000 to NEAT
EnCana donates 3 Million to Colorado Mtn College, creating an odd couple 
The deal between EnCana Oil & Gas and my alma mater Colorado Mountain College stinks worse than a frat house with a gas leak during pledge week. … In just a short period the Canadian supercorp has had numerous violations and racked up record fines with the Colorado Oil and Gas Conservation Commission. EnCana has polluted water supplies, caused evacuations of homes, talked of outsourcing Colorado jobs to Chinese workers and has been blamed by residents for tumors and other sudden ailments. Most recently, a gas leak in San Miguel County was so extensive it created a no-fly zone with a 10-mile radius. The problems of a Silt woman dealing with an EnCana gas leak were so severe that her story made it to the floor of the U.S. Senate. Along comes a $3 million donation to the beloved CMC. Boy, is EnCana slick. I don't know what's worse: EnCana's cheap attempt to buy public favor or CMC agreeing to it. [Emphasis added]