Battle against fracking never ends, SACPA told by Dave Mabell, September 18, 2015, Lethbridge Herald
Poll (as of September 20, 2015)
Do you think there's good reason to be concerned about the amount of fracking in Alberta?
Yes (64%, 250 Votes)
No (36%, 140 Votes)
Total Voters:
390
After years of fracking to produce more oil, Alberta's air and water is full of potentially toxic waste. But no health studies have been conducted to gauge affected Albertans' health, a Lethbridge audience learned Thursday.
The energy industry isn't required to tell Albertans what chemicals it's using in the process, Calgary author Andrew Nikiforuk pointed out. And at least until now, no government has dared to tell the companies to clean up their act.
Alberta has become the most-drilled part of North America, he told the Southern Alberta Council on Public Affairs. "And we have extraordinary levels of radon.
"We are all breathing hydrocarbons of one kind or another," especially people living downwind from wellsites or flares.
A nationally honoured author of books on the Alberta oilsands, on giant-fighter Wiebo Ludwig and on other energy industry issues, Nikiforuk spoke in Lethbridge in advance of this weekend's release of his latest book, "Slick Water."
The book outlines the story of Rosebud Valley resident Jessica Ernst, a former environmental scientist with Chevron, Murphy Oil and Great Canadian Oil Sands before she quit her job with Encana when the Calgary-based company began fracking in her valley northeast of the city – and apparently contaminating many water wells there.
As fracking came to more and more parts of the province, Nikiforuk said, a growing number of rural Albertans were facing the same issues. When they complained to the company responsible, he explained, the usual response is a visit from a lawyer bringing a sizeable cheque – and a confidentiality agreement promising they will tell no one else about their hush money.
That leaves Alberta's energy regulator out of the loop, and the company goes on with business as usual.
Ernst refused to make a deal, he said, and she called the province's energy conservation board – now rebranded after several non-related scandals including spies sent to town-hall meetings.
The board asked the Alberta Research Council to report on the issue, Nikiforuk said, and it received a "fraudulent" report which "covered up Encana." Meanwhile, he said, the board "banned" Ernst from contacting it again.
"They branded her a security threat," saying she had humiliated the board.
"That is fascism," he charged.
As for the credibility of today's energy regulator, Nikiforuk said, it's operated and funded by the energy industry, with a former energy executive as its chair. "It's like hiring the fox to guard the hen house," and he criticized the big-city news media for not pointing out the obvious conflict of interest.
Ernst, who joined the author during the session's question period, said no health studies on the effects of fracking have been reported in Alberta, although scores have been undertaken in the U.S. But she's not expecting a federal or provincial government will dare to launch one soon.
"This is a very powerful industry," she said, and it's ready to sue any government official if it feels threatened.
With a new NDP administration in place today, the speakers were asked, is the situation likely to change?
"It's still a government in learning," Nikiforuk said, with no lack of issues to address.
Stepping forward, Lethbridge East MLA Maria Fitzpatrick vowed to take their message to the new energy and environment ministers, and to the whole government caucus.
Bringing about change in the early days of a new administration can be slow, she cautioned. "And I think many people recognize that."
But "It's pretty clear where I stand," as one of the fracking opponents who staged demonstrations on Lethbridge streets after an offshore oil company announced plans to drill in west Lethbridge.
Suggested Nikiforuk, "I think Albertans are eager for different kinds of conversations, and new directions."
But it's still essential that communities like Lethbridge stand up against all plans for fracking near a populated area, Ernst said. The government and the industry must listen to Albertans today.
"They cannot frack in a united community like Lethbridge."
SACPA to discuss battle against fracking by Melissa Villeneuve, September 17, 2015, Lethbridge Herald
The fossil fuel industry touts hydraulic fracturing (fracking) as a win-win, with slick promises of energy independence, greenhouse gas reduction, and benefits to local communities. Yet the questionable technology, which blasts massive volumes of water, sand and chemicals into rock and coal formations, has sparked a huge public outcry.
At today's SACPA session, "Contaminated Water from Fracking: Who are Responsible When Things Go Wrong?" speaker Andrew Nikiforuk will describe why fracking is, at best, controversial and tell the inspiring story of one woman's stand to hold government and industry accountable for the damage fracking can leave in its wake.
After energy giant Encana fracked numerous gas wells around her home and her well water turned to a flammable broth, Jessica Ernst started asking questions.
When she put forward evidence that Encana had violated policies by fracturing her community's drinking water aquifer, Ernst was falsely tagged as a terrorist and visited by the government's anti-terrorism squad. Frightened but undaunted, she uncovered an apparent history of liability, fraud and intimidation, along with a wilful denial of widespread groundwater contamination.
Her remarkable story raises legitimate questions about big oil's influence on Alberta's energy regulator, AER.
Ernst will also be in attendance in support of Nikiforuk's new book, "Slick Water," which describes Jessica's water well contamination from fracking and her nine-year battle for justice.
Ernst's case is before the Supreme Court of Canada for a judgment in January 2016 on whether Alberta's regulator, AER, can be sued. If successful, then she can later resume her court case in Alberta against AER, Alberta Environment, and Encana for not following and enforcing regulations on drilling/fracking operations in the Rosebud area. [The lawsuit against Encana and the Alberta government proceed, and will continue to proceed if the Supreme court rules that provincial energy regulators trump Canada's supreme law of the county: the Charter]
Nikiforuk has been writing about the oil and gas industry for many years and cares deeply about accuracy, government accountability, and cumulative impacts. He has won seven National Magazine Awards for his journalism since 1989 and top honours for investigative writing from the Association of Canadian Journalists.
The SACPA session takes place at Country Kitchen Catering, in the lower level of The Keg.
The cost is $11 including lunch, with no registration necessary. There will be limited space available for people who only plan to stay for the 30-minute talk, at a cost of $2 including coffee, $11.00 (includes lunch) or $2.00 (includes coffee/tea at the presentation).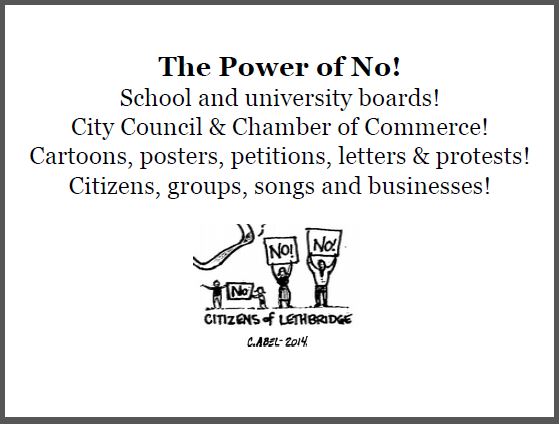 Slide from Ernst presentations