Province to complete review on urban oil drilling,  Planned well in Calgary suburb sparks controversy by Chris Varcoe, May 9, 2013, Calgary Herald
Ward Sutherland, president of the Rocky Ridge Royal Oak Community Association, stands in a field behind the Royal Oak shopping centre where an oil well has been proposed. Sutherland says it's time the government revise outdated energy policies and take into account concerns of residents. Nearly a year after controversy flared over plans to drill an oil well in a growing northwest Calgary suburb, Alberta's energy minister promises the province will complete a review of the rules surrounding energy development in urban areas by the end of 2013. Energy Minister Ken Hughes said he's asked his department's new policy management office to study the broader issues regarding drilling in developed areas across Alberta, such as cities or built-up rural regions. A motion was recently passed in the legislature to "establish a working group to review whether adequate policies are in place for urban communities with regard to oil and gas development." Hughes also promised to examine the issue last June following community protests for a proposed sweet oil well on a site off Country Hills Boulevard near a Walmart store, and his department is now moving ahead with the review. "We'll be turning this over to the policy management office to consult with people with respect to not just urban drilling, but drilling in more intensely developed areas," he said in an interview. "I still see this as an important point in the history of the province to take a look at this and develop a policy because increasingly, there will be the potential for conflict between development and residents," he continued.
The move comes as the province is creating a single energy regulator that will oversee regulations of oil, natural gas and coal developments. It also takes place against the backdrop of urban communities growing rapidly throughout the province and an energy sector that drills thousands of wells each year — potentially leading to more disputes between industry, landowners and municipalities. For example, Lethbridge city council adopted a resolution last November opposing energy drilling and production within the city's boundaries, saying it would effectively "sterilize" developable urban land.
In Calgary, Kaiser Exploration Ltd. holds a licence to drill an exploratory oil well on Crown land in northwest Calgary just behind a shopping centre. But the company has faced fierce community opposition. Ward Sutherland, president of the Rocky Ridge Royal Oak Community Association, said residents are concerned about the proximity of the well, its "setback" from the nearest buildings and other issues involving traffic, noise and safety impacts. The group has been talking with the area MLA, Progressive Conservative Sandra Jansen, and is waiting for negotiations between government departments to find a different drilling site that's more acceptable to all parties. Sutherland said he's hopeful a compromise can be found, but has little confidence the current energy regulator would rule against the well proceeding.

As for the province's new drilling strategy review, he said it's time the government revise outdated energy policies and take into account the concerns of residents who live near such developments. "I really feel like a pioneer. We're the new frontier to say, why are we taking 20-year-old rules and using them now?" Sutherland said. "Let's really take a look at what's right for everybody. That includes the energy industry. It's a vital part of our economy and we're aware of that. We're not against it, we just need to do it in a responsible way. "The only way that's going to happen is by having responsible regulations — and they didn't exist for urban areas," he added. Ned Beattie, Kaiser's general manager, said he thinks the company selected the most appropriate site, noting it's more than 100 metres away from any surface development and more than 400 metres from nearby homes. [article continues below]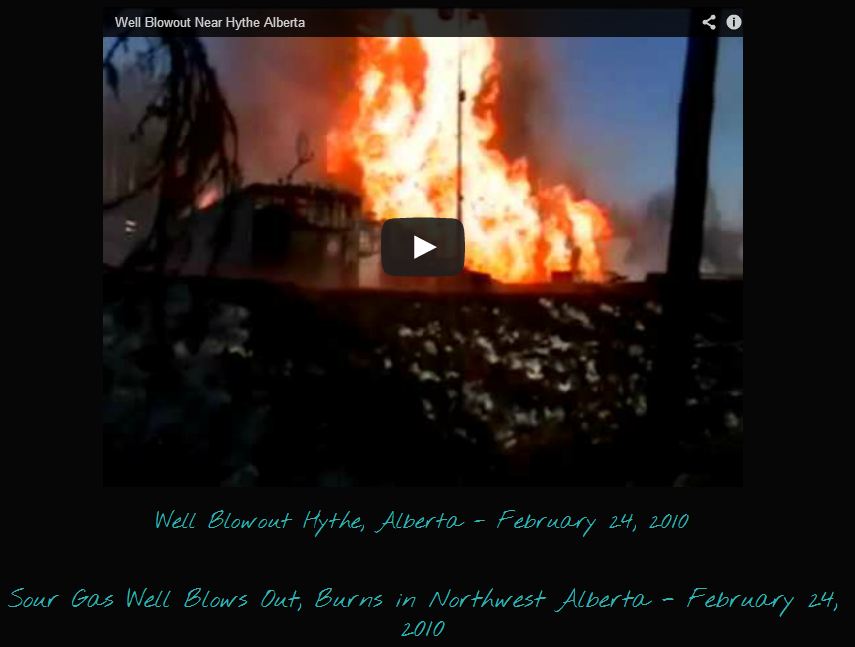 Source of Snap: FrackingCanada No Duty of Care
The company's well has a licence and meets current regulations, but the petroleum producer is willing to see if the various government departments involved can find a solution. However, the conflict with residents is a "sign of the time," he said. "There's a group of people who want to characterize this as being menacing to the public, which there's no technical evidence for that at all," Beattie said. [article continues below]
"There has definitely gotten to be well-organized opposition to all aspects of the oil and gas business … I could see this in Montreal. Whoever thought that in Calgary you'd have opposition to an oil well?" [article continues below]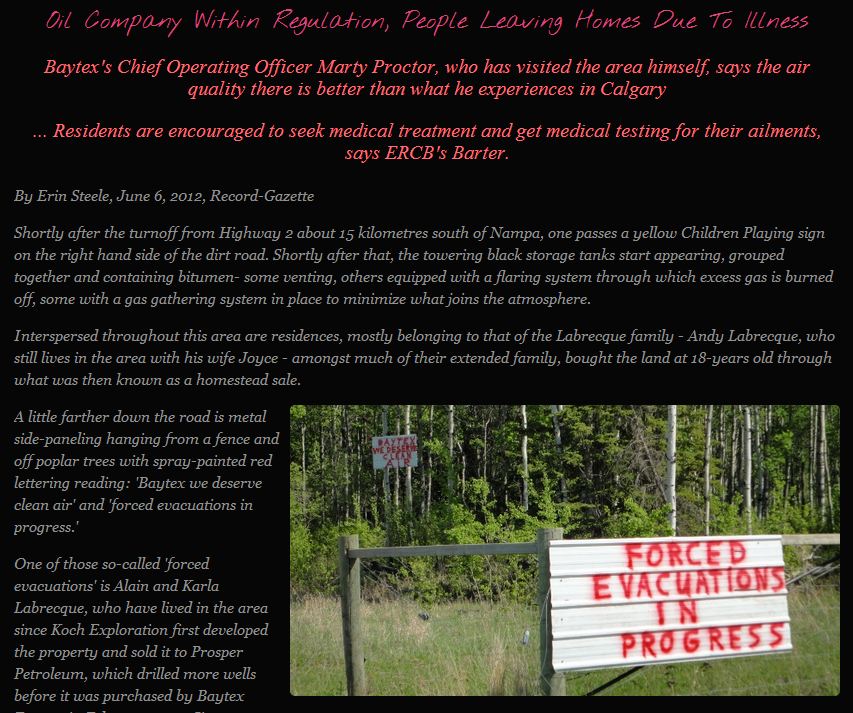 Oil company within regulation, but people leaving homes due to illness, Record-Gazette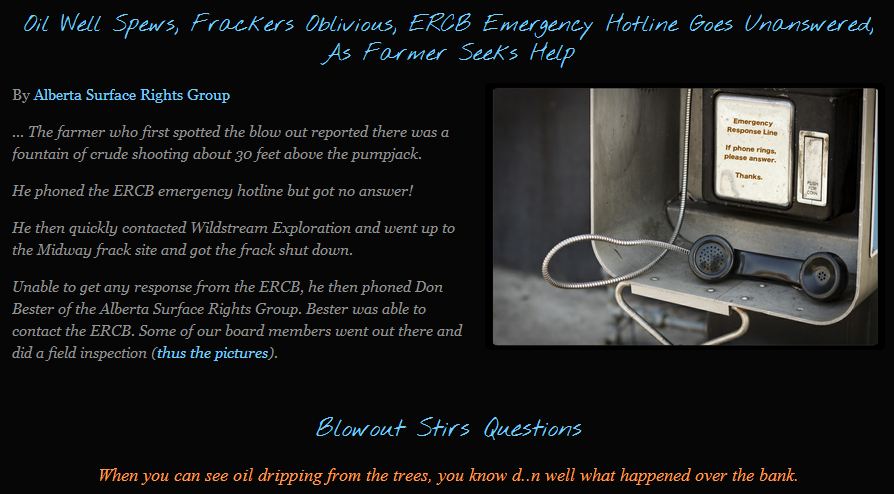 Source of Snap: FrackingCanada Fracking Calgary
Workers stand in secret frack fluids after a frack communication blowout, Innisfail, Alberta. Photo – Alberta Surface Rights Group
Jansen, who sponsored the urban drilling review motion that passed in the legislature in late April, said she thinks three possible alternative sites have been identified for the well. "Everyone has to be happy with it, and the community has to feel comfortable with it too," she said. "This is an issue in Lethbridge, this is an issue in Medicine Hat, there are resources underneath urban areas all over the province. And I think we really do have to get to a place where that discussion happens and everybody is comfortable with it." David Pryce, vice-president of operations at the Canadian Association of Petroleum Producers, said in a statement his group has not made any specific recommendations to the province about the broader review and is unclear about its scope, but will work with the province on it. Wildrose MLA Jason Hale, who supported Jansen's motion, said the new Alberta Energy Regulator, which starts up in June, should examine issues such as appropriate "setback" spaces between wells, homes or other buildings. But the Tory government must also address the lack of faith some landowners have in the impartiality of the province to ensure "those voices are heard," he said. "With the growth of our urban areas and rural areas, we need to ensure public safety is No. 1," he added. "People … have legitimate concerns, they're concerned for the safety of their families and their communities — and those concerns must be addressed." [Emphasis added]