When will the AER show diligence and respect to public health and safety, and release their unreleased urban industry gas migration problem (including under the new Calgary Airport Terminal!) report that Andrew Nikiforuk reported on that no other media did?
People living in homes and working in buildings/enclosed spaces in Alberta do not know if they are living in explosive risk from the oil and gas industry's leaking methane, ethane and other hydrocarbons.
First responders and investigators are at serious risk from AER's intentional gross negligence and bad faith not releasing their report, and not making all leaking wells and shallow frac data public.
Alberta's earliest shallow fracks occurred in the Medicine Hat area.
If industry's migrating methane is to blame in home explosions in Canada, will any authorities report the truth?
[Refer first to:
2017 06 28: Energy Industry Legacy: Hundreds of Abandoned Wells Leaking Methane in Alberta Communities [Including Medicine Hat], Tyee obtains unreleased [AER] report that shows leaks pose threats to health, explosion risk by Andrew Nikiforuk, The Tyee
2017 04 26: Is Anadarko leaking explosive methane into homes in Colorado? Company to shut down 3,000 oil wells after fatal home explosion April 17, 2017 in Firestone, Weld County that killed two, injured two
2017 04 12: After decades of lies to landowners and the public by CAPP, industry & energy regulators, University of Guelph Study Proves Potentially Explosive Methane Leaks from Energy Wells Affects Groundwater, Travels Great Distances, Poses Safety Risks. Will the lies stop now? Not Likely. Will groundwater monitoring begin now? Not Likely.
2017 04 05: New University of Guelph study on methane migration in sand aquifer in Ontario: "Potentially explosive methane gas leaking from energy wells may travel extensively through groundwater and pose a safety risk" ]
Human remains found in rubble after house explosion in Medicine Hat, Blast also damaged houses on either side of residence in southeastern Alberta city by CBC News, Jul 20, 2017
[Where is the AER?  Why aren't they assisting with their report and abandoned well data and locations?]
Human remains have been found in the debris after a home blew up Wednesday in Medicine Hat, Alta.
Fire crews were called to the scene just before 10 a.m. to a home in the city's northeast, police said.
The resulting fire destroyed the house and badly damaged two homes on either side of it.
The Medicine Hat Police Service's major crimes unit is investigating the explosion. [Emphasis added]
Body found in Crescent Heights home at centre of explosion, fire by Medicine Hat News, July 20, 2017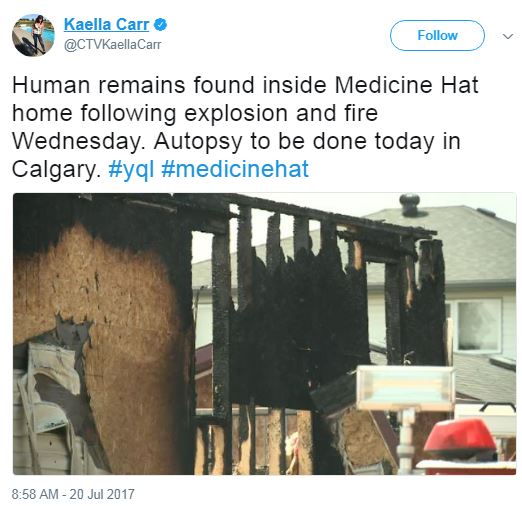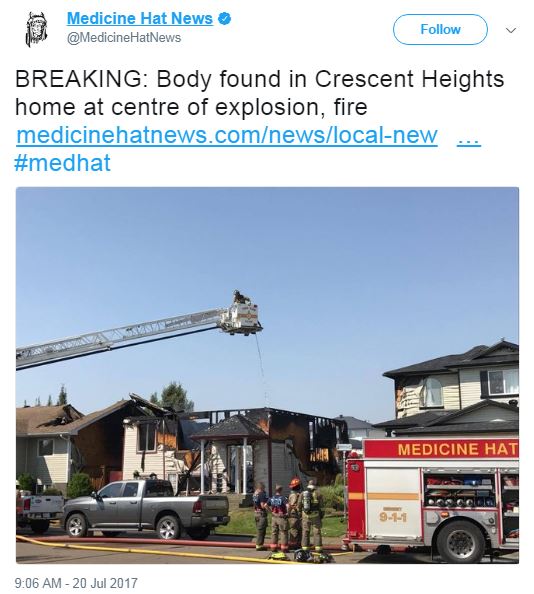 Emergency officials have discovered human remains in a house rocked by an explosion Wednesday morning in Crescent Heights.
Medicine Hat Fire Service, EMS and Medicine Hat Police Service responded to the area of Hudson Way N.E. following a report of an explosion and fire at a residence. The resulting fire destroyed one home and caused extensive damage to two neighboring properties.
Fire officials had cleared the two neighbouring houses earlier on Wednesday, but had to wait for a structural engineering assessment on the remaining home before conducting a search of the premises.
Once the home where the explosion originated was deemed safe for examination, members of the MHPS Major Crimes Section worked with investigators from the Fire Services in an attempt to determine the cause of the explosion. The subsequent search revealed human remains located within the residence.
An autopsy will be performed today by the medical examiner's office in Calgary to determine the identity of the victim and cause of death.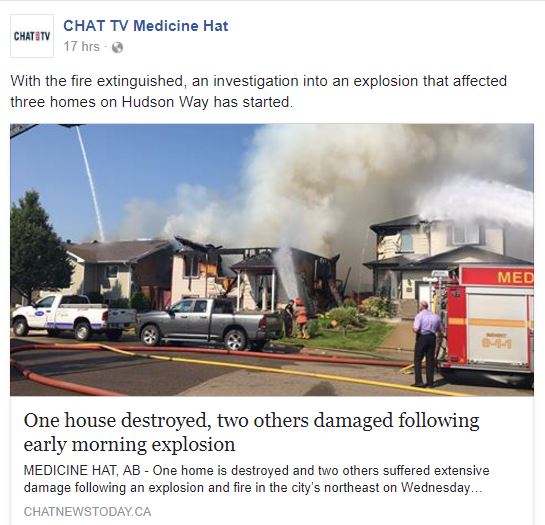 One house destroyed, two others damaged following early morning explosion by Scott Roblin, July 19, 2017, CHAT Newstoday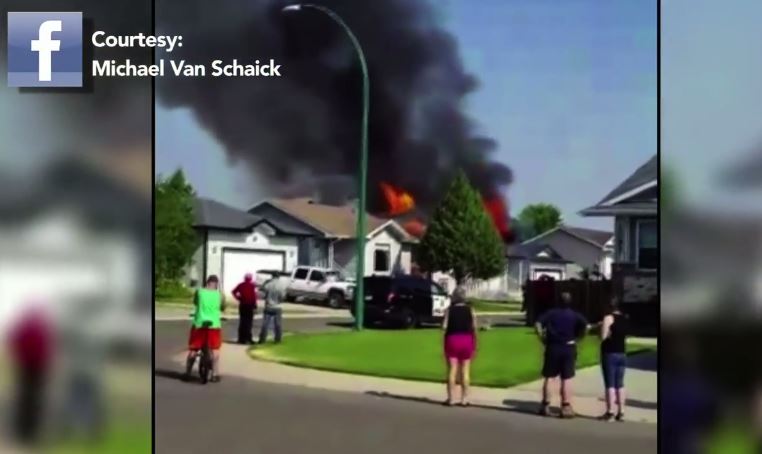 MEDICINE HAT, AB – One home is destroyed and two others suffered extensive damage following an explosion and fire in the city's northeast on Wednesday morning.
Calls of an explosion at 20 Hudson Way NE came in at around 9:40 am, with a fire following soon after.
Terry Fish was on the phone in his truck two houses down, when he felt the impact of the blast.
"I heard this huge explosion, my girlfriend came running out, and I jumped out of my truck," said Fish. "The windows were just hanging out of the house, the door, and also I noticed the gas fireplace was kind of hanging out the side too."
All active and off-duty members with the Medicine Hat Fire Department were called to Hudson Way and arrived shortly after, and immediately began dousing the building with water.
Medicine Hat Fire issued a 'full recall,' which is their most extreme command aside from asking for mutual aid from other departments.
Deputy Fire Chief Lance Purcell said with the unstable roofs, hot spots were difficult to access.
"Most of the issue was of course fires were in the attic in two of the buildings," said Purcell. "The main structure is a total loss, and the other ones have had significant roof damage."
It took crews around an hour to get the fire under control, and another hour to fully extinguish the blaze just before noon.
No one was injured in the two adjacent homes, while crews haven't been cleared to investigate the third building and won't have confirmation until at least Thursday.
The fire jumped quickly to the adjacent buildings due to their close proximity, though Purcell said they're lucky wind wasn't a factor.
"We were able to put a truck in between the fire buildings and the alleyway, to secure that there was no fire spread to the downwind side."
There is no word on estimated damage, as fire crews continue to sift through the rubble to find a cause.
Craig Carolan lives nearby and said it's shocking to have this type of incident happen just a few hundred feet away. 
"It's pretty crazy, you always hear about stories like this in bigger cities and it kind of hits close to home," said Carolan. "So, hoping everyone is okay, everyone was out of the houses, and we'll get through this alright."
Fire crews are expected to remain on scene for most of Wednesday afternoon and evening.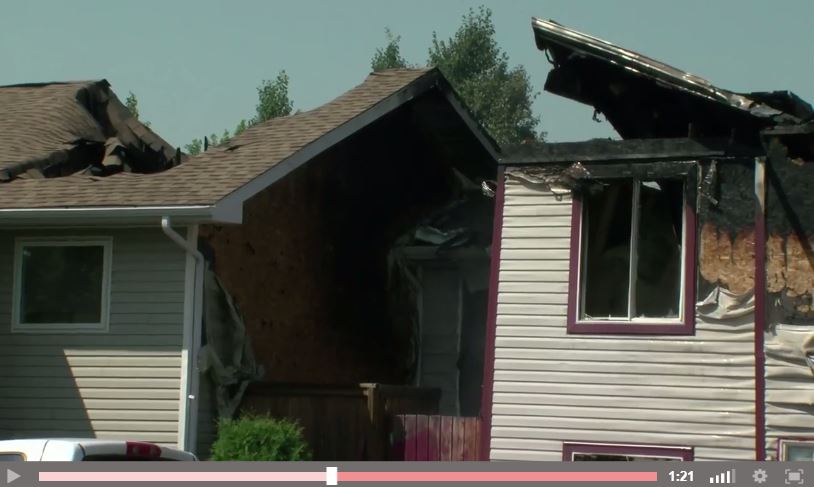 House-shaking explosion heard before three-house fire in Crescent Heights by Tim Kalinowski, July 19, 2017, Medicine Hat News
Medicine Hat firefighters responded to a three-house fire at about 9:40 a.m. Wednesday in Crescent Heights. When crews arrived at the location of the fire on Hudson Way N.E., one house was already fully engulfed and two others were on fire.
It took fire crews about two hours to bring the blaze under control. All three homes were seriously damaged in the blaze.
The cause of the fire is not yet known, but it started in the middle house and was preceded by a loud explosion, confirms fire chief Brian Stauth.
Neighbour Heather Tremblay, who lives about a half block away, said the explosion was powerful enough to rattle her house.
"I was just in my backyard and I just heard a huge explosion," she said. "It sounded like a bomb going off. It shook me. It shook the house. It shook the whole neighbourhood

… About five minutes later I heard sirens, so I came around the front and that's when I saw the whole house engulfed. I saw the flames coming out from the roof."

Stauth said it will likely take several days to determine the cause of the explosion which led to the blaze. The investigation is complicated by the fact the home where the explosion took place has lost some of its structural integrity due to the damage sustained in the fire.

"We definitely need to get in there to not only do our investigation, but we haven't been able to search that property for victims yet," Stauth said Wednesday afternoon. "It's going to be a little bit of time yet. We're having it assessed for structural integrity. Before we get in there and start moving and digging, we want to make sure we have made it safe for our people working there."

Stauth has no specific information on potential missing persons associated with any of the homes.

"I am not officially aware of anyone unaccounted for at this time," he confirmed. [Emphasis added]

Watch: Three Medicine Hat Homes Damaged by Fire by CTV News, July 19, 2017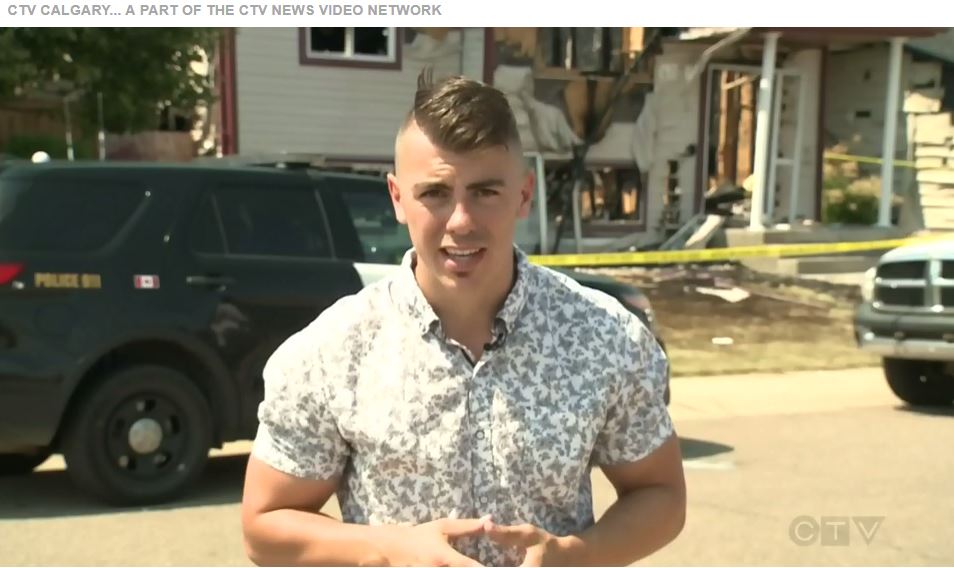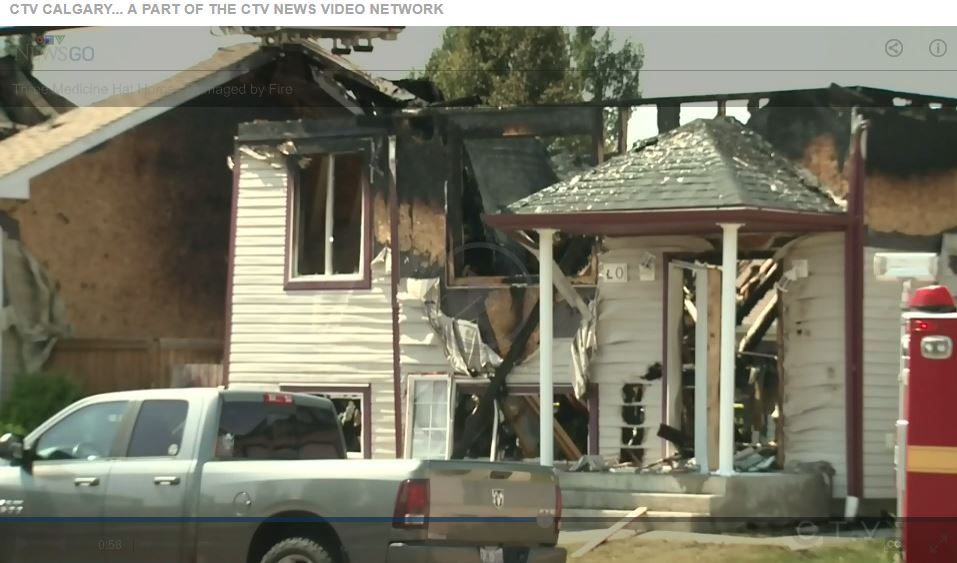 VIDEO: Witness speaks about seeing fire by CHAT News Today, July 19, 2017 – 4:12pm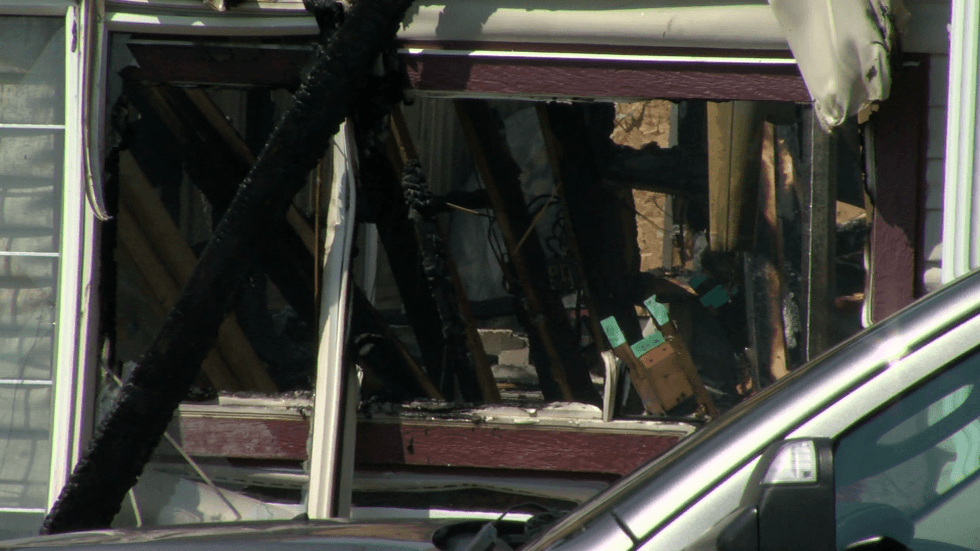 Photo by Scott Roblin
MEDICINE HAT, AB — The Medicine Hat Fire Service continues to investigate the house fire on Hudson Way Wednesday afternoon.
The fire started with an explosion in a home on Hudson Way, which damaged two neighbouring houses.
Fire crews say no occupants were inside the two neighbouring homes, but they have been unable to confirm if anybody was in the home where the explosion took place.
Investigators are waiting to ensure the home is safe to enter before the investigation begins.
CHAT News Today caught up with a witness to the fire, and spoke with Deputy Fire chief Lance Purcell for an update on fire fighting efforts. [Emphasis added]
Blast and fire destroy one home, damage two others in Medicine Hat The Canadian Press, July 20, 2017, National Post
Explosion and fire damages homes in Medicine Hat by Colleen Schmidt, July 19, 2017, CTV News
Three homes in Medicine Hat were damaged in a fire on Wednesday morning and investigators are working to determine a cause for the blaze.
Crews were called to a residence in the Crescent Heights area at about 10:00 a.m. for reports of a fire. "An investigator has been on scene since then, police are involved as well and so until we find out all the details it will be treated as a crime scene," said Deputy Fire Chief, Lance Purcell.
An explosion reportedly preceded the fire and it took crews about an hour to get the fire under control. One home was completely gutted by fire and a residence on either side of it was scorched. Officials say the structure has been compromised and crews have not yet been able to enter to search the building. "It took us about an hour to get control of everything. At present we don't have an all clear on all the buildings. The structural damage on the centre one is, significant structural damage in the centre unit so we haven't been able to search that to ensure everybody is out," said Purcell. Police and fire will remain at the scene to investigate and monitor for hot spots.
Blast and fire destroy one home, damage two others in Medicine Hat by The Canadian Press, July 20, 2017, Calgary Herald