SAFETY: Feds warn of danger from well-site chemicals by Mike Soraghan, December 4, 2014, E&E News
HOUSTON — Federal officials are trying to sound the alarm about the dangers of airborne petrochemicals that blow out of tank hatches at oil well sites.

They say they have found startlingly high levels of the chemicals, which can quickly disorient workers, causing them to pass out or even die.

"Everybody we talked to said they'd experienced lightheadedness or weakness in the knees, or it had happened to someone they knew," said Todd Jordan, director of the Occupational Safety and Health Administration's Health Response Team. "That's something that can't be dismissed."
Jordan's team has done two rounds of testing in the Bakken Shale region of North Dakota as part of safety sweeps in the area, which has had some of the highest worker fatality rates in the country.
One preliminary sample, taken over a tank hatch just after it was popped, registered 91,000 parts per million (ppm) of butane. That is 48 times the level considered to be an "immediate danger to life and health" (IDLH), and butane was only one of several compounds in the sample. The sample, taken in November, had propane at five times the IDLH level. [Is there complete and accurate testing of chemicals blowing out of tanks if companies do not disclose all chemicals used, and state/provincial regulators and lawmakers enable the toxic secrets?

"When we saw these numbers, I became alarmed, because these are really high numbers," Jordan said yesterday at the OSHA Oil & Gas Safety and Health Conference here.
The levels registered in the "breathing zones" of workers have been lower, though still higher than levels recommended by the National Institute of Occupational Safety and Health. And when added together, the total reading for "volatile hydrocarbons" or "volatile organic compounds" can reach more than 1,000 ppm.
"That cumulative exposure is something we're concerned about," said Jedd Hill, a member of the OSHA Health Response Team. The researchers also said that they believe that their figures are low because their instruments are not able to fully detect the compounds.
The hazard of the compounds have been a persistent theme at the two-day conference. Several breakout sessions were dedicated to the topic. NIOSH Director John Howard noted in his address to the conference that his agency considers there to be no safe level of exposure to another compound — benzene.
Eric Esswein, the NIOSH researcher who documented the risks of benzene exposures to workers engaged in "flowback testing" at tanks, noted during a session on his research that the compounds also present a high explosion risk.
But the threat has been poorly understood in the oil and gas industry. [Or efficiently covered-up and lied about] Most anyone associated with the industry knows that hydrogen sulfide, or "sour gas," can kill an oil worker in seconds. Very few know that the volatile hydrocarbons can have the same effect — a quick death.
Four men have died in the Bakken amid circumstances that suggest they could have been killed by the petroleum compounds. In each case, authorities at first believed the men had been killed by hydrogen sulfide. When it was determined the wells were not "sour," the officials largely dropped the idea that their deaths could be work related (EnergyWire, Oct. 27).
The boss of one of the men who died told state officials he didn't think vapors other than sour gas could kill "unless you literally stick you head in the tank for a long period of time" (EnergyWire, Nov. 25).
But OSHA in September levied a fine against a Bakken contractor whose employee was found dead at a well site south of Williston, N.D., in April with his head over an open tank hatch. [What of the cumulative poisoning effects to communities, families, livestock and wildlife living nearby?]

At the conference, several officials questioned why tanks still have to be measured by hand — risking exposure — in a digital age.

"Do we have to put people up there?" [DO WE HAVE TO PUT INDUSTRIAL SITES BESIDE HOMES, SCHOOLS, HOSPITALS, PLAY GROUNDS, SPORTS FIELDS, IN COMMUNITIES?] Jordan asked. "This sounds like something out of 100 years ago."
In many states, including North Dakota, state law requires some crude oil measurements to be done by hand.
Public health officials have said they'd like to know more about the effect of the volatile compounds on people who live and work near oil and gas wells. But worker safety researchers said they don't even have enough data for work sites, much less broader exposures.
[Then why do regulators and law makes deregulate on such a massive scale globally, and permit companies to put their toxic, industrial, dangerous sites adjacent to homes, schools, hospitals, play grounds, sports fields, communities?  And why do public health officials look the other way as more and more people are sickened, some forced to abandon their homes and businesses just to stay alive?]

NIOSH officials are seeking companies who will allow researchers on their sites to take more samples. And OSHA officials are refining their results from November and planning more research. Both worker safety and public health officials said scientific literature on the topic is scarce. [But companies, politicians, regulators insist fracing is perfectly safe? Where's their proof?]
"There's a lot more work that needs to be done here," Esswein said. He said he has secured commitments from two companies to help with research.
As they took readings in the field, the OSHA officials said they talked to workers who weren't aware of the hazards and weren't using safety equipment that could protect them. Respirators stayed on the front seats of trucks with their tags still on — kept there in case a supervisor showed up.
Some employees were careful to stay upwind and let tank hatches vent before measuring the contents, while others were in a hurry to get their work done and didn't take such precautions.
"These were some of the hardest-working people I ever met," Hill said. "But some of them just weren't well-informed." [All the better for industry to poison them?]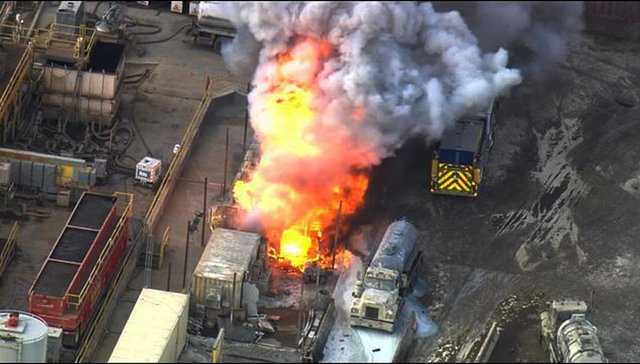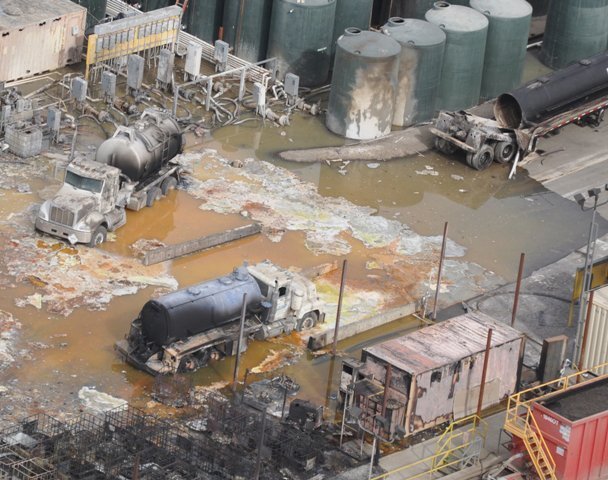 Photos: Scripps Media
Oxnard shuts out Santa Clara Waste Water from sewer system by Gretchen Wenner, November 26, 2014, Scripps Media
OXNARD, Calif. – Santa Clara Waste Water Co., the firm whose operations were the site of an explosion outside Santa Paula last week, has been locked out of Oxnard's sewer system for the time being. … Santa Clara Waste Water, which deals with oil field waste, sends its fluid through a pipeline to Oxnard. It is treated multiple times before being discharged into the ocean, a company official has said. That could change, according to the letter from Oxnard.
"Given the recent explosion and uncontrolled release of unknown hazardous materials … and the recurring permit violations," reads the letter from City Manager Greg Nyhoff, "the city must take this action … to protect the integrity" of the system and the community's welfare.
About 50 people were treated at local hospitals after a vacuum truck exploded about 3:45 a.m. Nov. 18 at Santa Clara Waste Water Co., leaking chemicals and starting fires at 815 Mission Rock Road west of Santa Paula.
Daniel Rydberg, Oxnard's interim utilities director, said Wednesday evening that new results from tests taken before the explosion showed levels for radioactive material had been exceeded on several occasions.
Previously, tests showed so-called "gross beta particles" were above allowable limits, Rydberg said. The city wrote a letter to Santa Clara Waste Water, which responded and said the issue had been taken care of, he said.
Letter to Santa Clara Waste Water
Subsequent tests were done in October and November. But turnaround time for results is not fast, Rydberg said, so the city learned Tuesday that limits had been exceeded on three more occasions.
Rydberg said it's possible the radioactive material comes from oil field brine. "It's something we're looking into," he said.
The city has suspended the company's permit and locked shut the valve on its discharge line. [Where then is the toxic radioactive waste being dumped?]
…
Representatives from Santa Clara Waste Water could not immediately be reached Wednesday evening. [Emphasis added]
[Refer also to:
2014 10 08: Baytex Finally Successful, Gags & Settles Poisoned Alberta Families: Does a lawyer-touted "positive outcome" of displacing and gagging poisoned families, stop the poisoning? "Our house is contaminated…there's a smell now…Part of the torture of all this is not only abandoning our farm, but the health experts…told us we shouldn't bring anything (with us)."
2014 10 01: Why was a 2012 Health Canada Report, admitting significant health hazards and risks to groundwater and air from hydraulic fracturing, kept from the public?
2014 08 24: U.S.Centers for Disease Control Preliminary Study: Finds dangerous levels of benzene in frac workers' urine; Imagine the urine of children living beside frac'ing
2014 07 29: AER, Alberta's new energy regulator seeks the world's trust, as Alberta's caprock is frac'd "to Hell"
2014 06 24: Diana Daunheimer: Alberta Energy Regulator should be ashamed, AER Directive 60 Deregulation as the frac poisons ramp up
2014 01 31: Karla Labrecque's doctor refused to do a blood test until he consults with a local politician; Mike Labrecque gets sick working for Baytex, Baytex lets him go: "You're done."