Province denying rancher's water rights by David Schneider, Little Bow MLA, February 25, 2018, Lethbridge Herald
In December 2017, Alberta Environment and Parks (AEP) sent out letters advising several Albertans that water licence applications submitted over 15 years ago were being closed and water access related to those applications revoked.
A southeast rancher who is a constituent of a UCP MLA was a recipient of one of these letters. The ranch that he owns has been operated by his family for generations. He was told that his application filed in 2001 by his father was being closed because the application was deemed incomplete, and his traditional access to this public asset was to be cancelled.
To claim that a form filed with the Government of Alberta over 15 years ago has only now been deemed incomplete, thereby causing his file to be closed, is outrageous. This rancher made several attempts to have the issue resolved with the AEP in good faith, but the office of Environment and Parks soundly refused the requests. He was then forced to proceed with a time consuming and costly appeal to the Environmental Appeals Board.
Despite the fact that this ranch has been operating in the area for generations, where traditional water usage was guaranteed, the Ministry of Environment is now attempting to usurp this traditional access through questionable means. It is disturbing to think that the government did not seek a mutually agreeable solution before taking such drastic action. This Albertan will be paying legal fees and taking time away from his business to challenge the decision with the Environmental Appeals Board.
Now, a local rancher is left without critical water access for his livestock and homestead. Albertans know that water is essential for our ranchers to be successful in their businesses, and their ability to support their families. [It's also essential for ordinary, non ranching, non farming families, but politicians of all stripes are silent about Ernst sacrificing everything in legal fees (and costs ordered against her by judges appearing to be punishing her for daring to try to access their petty legal system put in place to protect criminal and the rich boys' club) trying to seek justice for her community's drinking water, and to hold law violating regulators and aquifer frac'er Encana accountable] It would appear that with the stroke of a pen, a ranch that has been in continuous operation for over a century is now under threat. Additionally, his case file has been arbitrarily closed without any consultation or attempt to find an equitable solution.
Unfortunately, it looks as if this has become a common theme in the Milk River Basin. Several local ranchers in the area have also received similar letters. Their livelihoods are threatened by an unreasonable and incorrect interpretation of the Water Act.
United Conservative MLAs are urging anyone who may have received similar letters from the AEP to contact their local MLA offices. [Emphasis added]
A few responses to "Province denying rancher's water rights"
Jersey44 says: February 26, 2018 at 11:02 AM
This water issue started in December. It is my understanding that David Schneider was involved in getting it sorted out. The above letter was first published way before Shannon Phillips made her announcement on Friday. Credit for getting it hopefully sorted out goes to the Browers, their lawyer, other ranchers affected and their MLA.
The NDP got caught doing something really stupid and Shannon Phillips is only trying to save face.
Jersey44 says: February 26, 2018 at 6:34 PM
So, these departments were operating reasonably well under the Cons, and now since the NDP has taken over, things aren't operating very well, and somehow it's the employees fault? I kinda doubt it. FYI, I'm not defending the Cons, it was time for a change but I'm sure not loving how the NDP operate.
grinandbearit says: February 26, 2018 at 7:04 PM
I am not so sure this is cleared up. …
Exactly where has Schneider, the WSGA or the ranchers admitted that the water rights issue has been properly dealt with by the current government. I must have missed it.
This letter was published a day AFTER the published CBC account of the resolution of the problem. Are they just going to leave this out there as fake news to be read and believed by the credulous conservatives in our area?
When i make a mistake i quickly take action to minimise harm from it. Why would anyone do otherwise?
Traditional Agricultural User Water Rights Denied by Western Stock Growers Association
Ranchers in the Milk River watershed are receiving letters from Alberta Environment and Parks advising them that their historic water use applications are cancelled and further use of the water sources puts them in contravention of the Water Act. The reason for cancelling the applications are not clear. What the letters don't tell these ranchers, who have been using their water rights for generations, is that they only have 30 days to appeal to the Environmental Appeals Board. If they don't appeal in that time, their application is cancelled with no chance of opening it back up.
When the Water Act was enacted back in 1996, livestock groups fought to have provisions included to allow existing traditional water use by farmers and ranchers to continue. All they had to do was apply to bring their existing water use within the new regulatory framework of the Water Act. The Act required farmers and ranchers to apply to codify their traditional user water rights with the cutoff of December 31, 2001. Many ranchers remember all the reports and maps they had to submit for their applications back then. They were assured their traditional uses would be protected by the Act and this was just to make sure watersheds did not become over allocated.
Registrations under the Act were to be assigned a priority number based on the date of first water use by the traditional agricultural user. A registration under the Water Act does not expire. Applications for water licenses would be assigned a priority based on the date of the licence application.
Brower Ranching Company received a letter on December 27, 2017 advising of the cancellation of their water use application. In subsequent efforts to resolve this problem with the application, which includes the water source for the house, owner Aaron Brower learned that many other ranches in the Milk River basin received the same letter closing their traditional agricultural user right applications. When Aaron asked the department what information they needed to reinstate the application, the reply he received was that the file was closed and cannot be reopened. At this point, Aaron contacted his lawyer to file an official appeal. Below is a link to the appeal letter filed by Keith Wilson, legal representative for Aaron Brower and Brower Ranching Company.
There are a number of alarming and disturbing points to this action by the government:
The letter that Brower Ranching received, which is most likely the same as other ranchers received, did not include the information that they had 30 days to appeal after which there was no chance to revive the traditional agriculture water use. The 30 days appeal time is written in the legislation though. So how many ranchers are out there that didn't appeal in 30 days and are now stripped of their traditional agriculture water use rights that were supposed to be protected by the Water Act?
The government letter that Brower received claimed that efforts were made to contact Brower Ranching requesting additional information but no response was received. But Aaron and his family were never contacted and an official in the Department confirmed that they weren't contacted. Furthermore, the Department has failed to supply any records indicating they tried to contact the Browers before making the decision to take away their water rights.
The government says that ranchers have a chance to reapply for their water rights. But the right to apply to codify traditional agricultural user rights expired a very long time ago back on December 31, 2001. Therefore government's actions are effectively stripping these ranchers of the water rights they were supposed to get under the Water Act.
Aaron's lawyer says Alberta law requires traditional agricultural user rights to be recognized and the Department's claim that it is closing application files and cannot reopen them is not legal and is an unlawful attempt to defeat the protections afforded to farmers and ranchers under the Water Act. There is nothing in Alberta law that prevents the Director from completing the processing of these applications yet the Department still refuses to do so.
In discussions with government, Aaron was told the department would soon be closing the Milk River watershed to any new surface water allocations. That would mean many of these ranchers who have had their applications cancelled and files closed would be prevented from obtaining any legal right to use the water that exists on their ranch and is critical to the survival of their livestock and business. This could effectively depopulate the rural areas.
***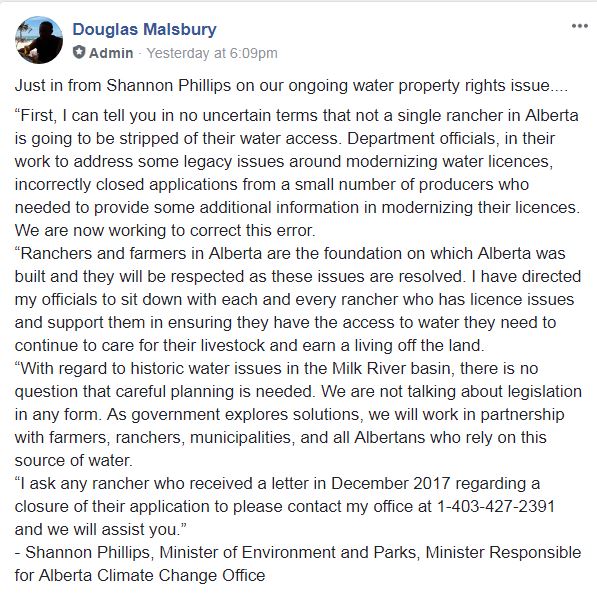 Above snap from Alberta Surface Rights Group FB Page
Just more lies from Rachel Notley's NDP?
***
Province says it erred in warning it was curtailing water access for Alberta ranchers, Warning triggered letter to Alberta Environmental Appeals Board
by Reid Southwick, CBC News, Feb 23, 2018
The provincial government says it made a mistake when it told several [several or 1,000?] ranchers in southern Alberta that it was curtailing their access to natural water that's critical for their operations.
Aaron Brower, who owns a ranch along the Milk River basin near the U.S. border, received a letter from the province in December warning him that his 2001 application for five wells and three dams for livestock watering and household use was considered incomplete.
As a result, the government said it was closing the file, which meant Brower would be violating provincial law if he continued to use the wells and dams without a licence.
Several ranchers affected
According to an appeal Brower's lawyer filed with the Alberta Environmental Appeals Board, several other ranchers received similar letters.
Brower's family runs a large, fourth-generation ranch that was originally a North West Mounted Police outpost.
"Mr. Brower asked for an explanation as to why it has taken the department over 16 years to work on his family's application," the appeal said.
A government official "offered no explanation," the document said.
Brower later "pleaded with several government officials to simply hold the existing application open, advise him of the additional information that the department seeks and that he would promptly provide it," according to his appeal, filed by Wilson Law Office on Jan. 26.
The province refused, the appeal document said.
Rancher warned he was using water without licence
"He was further warned that his case would be handed over to the compliance and enforcement officers of the department because he is now operating his ranch without proper water rights," said the appeal.
The appeal claimed the government's decision was "premature, unfair, improper and unlawful."
After CBC News asked the provincial government to comment, Environment Minister Shannon Phillips said in a statement Friday that her department had made a mistake.
Government says it made mistake
"First, I can tell you in no uncertain terms that not a single rancher in Alberta is going to be stripped of their water access," Phillips said.
"Department officials, in their work to address some legacy issues around modernizing water licences, incorrectly closed applications from a small number of producers who needed to provide some additional information in modernizing their licendes. We are now working to correct this error. [Did Phillips get Encana to write her quotes for her?]
"Ranchers and farmers in Alberta are the foundation on which Alberta was built and they will be respected as these issues are resolved. I have directed my officials to sit down with each and every rancher who has licence issues and support them in ensuring they have the access to water they need to continue to care for their livestock and earn a living off the land."
Phillips said any rancher who received a letter in December about their water access licences should contact her office.
Brower declined to comment on the government's error. [Emphasis added]
[Refer also to:
2018 02 22: Frac Water Orgy Announced by AER's Mark Taylor (ex-manager Encana who lied to Rosebud, said Encana would never frac their drinking water). No Wonder AEP is Taking Water Licences Away from Farmers/Ranchers: AER grants 10 year blanket approval water licences; Companies need not know where they will frac, or how much they will frac or where they'll get their water from. Companies "expected" to look at sources other than fresh drinking water, eg hydrocarbon contaminated groundwater, but not if contaminated with methane!
2018 02 17: Frack Patch Porn: The ultimate sexual assault by men in positions of power? Ensign drills Canada's longest lateral, 7,770 metres (4.828 miles), at global frac-quake capital, Fox Creek, Alberta. Is it the world's longest lateral onshore? ]