Your Lawn Need Fracking? by Zoë Schlanger, June 12, 2014, Newsweek
MUST WATCH: Newsweek Feature Stories: Forced Fracking 2:33 Min. by 92nd Street Y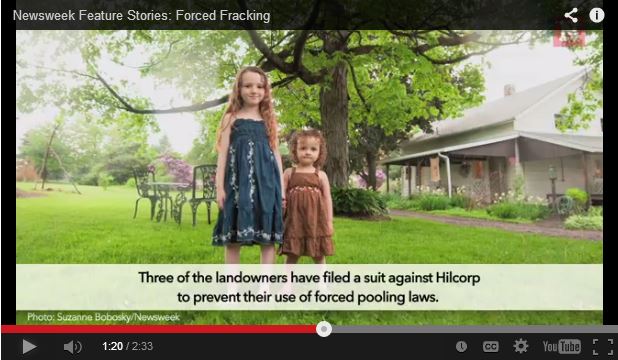 "To me, it didn't sound right," [ Suzanne] Matteo says. "But everybody we knew, they flocked there. At this time, nobody had heard of hydraulic fracturing. Everybody thought these were the conventional wells you see everywhere in western Pennsylvania. And $3,000? A lot of people have never had that amount in their bank account at one time. And if you had 10 acres, you've hit the lottery."
…
A few years passed. Then, late last August, the company filed an application with the state to drill on a large swath of land that includes property owned by Bob Svetlak, 73, also of Pulaski Township. He, like Matteo, had refused to sign a drilling lease with Hilcorp, and now the company was trying to use a 1961 "forced pooling" law to access the natural gas beneath his 14.6 acres without his consent.
…
In short, the letter implied to the leaseholders, unless their holdout neighbors were forcibly pooled, their own future royalties would be in jeopardy.
…
After seeing the letter sent to her neighbors, Matteo and two other holdout property owners filed a lawsuit against Hilcorp, the Pennsylvania Department of Environmental Protection and the state attorney general, alleging that the forced pooling law is a violation of their constitutional right to private property, as well as a violation of state eminent domain law, which stipulates that any taking of private land must be for a public, not private, purpose.
…
Now, the nearly nationwide shale boom has prompted drillers to try to apply forced pooling laws to hydraulic fracturing.
The issue of forced pooling is popping up in statehouses and courthouses across the country. In West Virginia, a bill to expand the state's 1931 forced pooling code to include fracking recently died in the Legislature for the third time in three years. In North Carolina, a study group charged with crafting the state's fracking laws recommended that landowners be forcibly pooled if at least 90 percent of their neighbors have already signed fracking leases.  Ohio's 1965 law has already been quietly used for fracking since 2011, and applications to forcibly pool ("unitization" in Ohio code parlance) areincreasing along with shale drilling.
…
In Pennsylvania, where the massive Utica and Marcellus shale formations underlie much of the western and central parts of the state, the forced pooling fight is getting grisly.
…
For Matteo, who moved with her family to Pulaski Township seven years ago, the "pristine" quality of the area was its original appeal. Now, she says, she can hear construction noise from a fracking well that sits a little over a mile away from her house, and the flames from the well flare light up the sky at night "like fireworks." If Hilcorp wins the lawsuit, a new well will be drilled three-quarters of a mile down her road. But the health issues are the most frightening.
"My biggest fear was that my kids will get sick," Matteo says. "What, for a short spike in the economy? And then what?"
Documents obtained by Newsweek show that instances of water contamination have already occurred in the area, near Hilcorp wells. One letter sent by the Pennsylvania Department of Environmental Protection to a Pulaski homeowner in 2013 stated that natural gas from nearby drilling had migrated to the "shallow subsurface" of the land in the homeowner's area. The letter said that the threat had been mitigated and that the water was again safe to drink, but it also advised that it was "wise to keep in mind the hazards of methane" and recommended that the homeowner vent the drinking-water well to avoid gas buildup.
…
Another document, from 2012, prepared by Moody, Hilcorp's environmental consulting group, shows that three days after Hilcorp began to drill for a well in Pulaski Township, a nearby resident "observed his water to be normal prior to going to bed about 1:00 a.m." When his wife woke the following morning, "she observed the water to be very dark in color…the water was allowed to run for over an hour and it did not clear up." A few days later, Moody found that methane was entering the couple's basement by way of equipment that supplied power to their water well pump.
Methane contamination of drinking water near shale fracking sites is common. A 2011 study conducted in Pennsylvania and New York found that the concentration of methane in drinking water was higher the closer the water well was to an active shale gas well. The methane concentrations observed by the study were high enough to pose a "potential explosion hazard." Another study, from 2012, found people who live within a half-mile of a fracking well were at greater risk for health effects associated with air pollution. One study found an association in rural Colorado between birth defects and mothers who lived within 10 miles of heavily fracked areas while pregnant.
…
"I know I'm screwed, no matter what," she says. "There's going to be wells near me no matter what. There's a large landowner behind me and across the street that would probably love the money for a well pad. But I know we're getting used as a precedent. If they get away with this with us, it's going to happen everywhere." [Emphasis added]