Opposition to Fracking is Groundless by Marco Navarro-Genie, President of the Atlantic Institute for Market Studies, his comment provided by Troy Media, January 7, 2014, in Whitehorse Star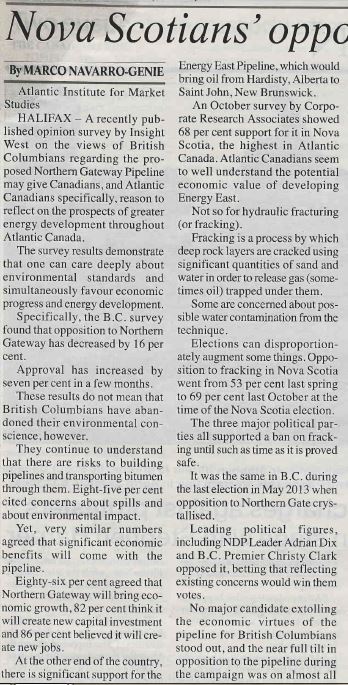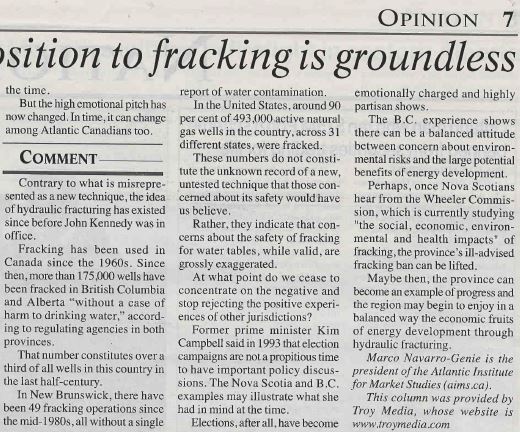 Since then, more than 175,000 wells have been fracked in British Columbia and Alberta "without a case of harm to drinking water," according to regulating agencies in both provinces. That number constitutes over a third of all wells in this country in the last half-century. [Emphasis added]
[British Columbia frac pollution reality check:
Talisman frackwater pit in NE BC leaked for months, kept from public; Are Talisman, the energy regulator and BC government lying when they claim groundwater never contaminated by fracking in BC?
BC OGC orders closure, drainage and remediation of Talisman's leaking toxic frac waste water pit, Company says risks low but tests show soil and groundwater contaminated with chemicals
Water-quality study underway in Hudson's Hope, BC, to provide data on effects of fracking; numerous water wells have gone bad after frac'ing in the community ]
[Alberta frac pollution reality check:
Hydraulic fracturing with gelled propane by Gasfrac/Crew Energy Inc./Caltex Energy Inc. contaminated groundwater near Grande Prairie: ERCB Investigative Report and groundwater monitoring by Alberta Environment
Alberta family, the Daunheimers near Didsbury, suing Angle Energy for $13 million for causing harm to health, property, financial status, personal safety and water
Alberta Landowners the Campbells Dispute Energy Regulator over Polluted Well, Couple says 'glaring' data on industry-caused water contamination is ignored ]
In New Brunswick, there have been 49 fracking operations since the mid-1980s, all without a single report of water contamination.
[New Brunswick frac pollution reality check:
Lab tests of drinking water in the Stoney Creek community find it unsafe: "This report contradicts the claims made by the government of New Brunswick that there have been no incidents connected to the oil and gas industry in recent decades…" "Senior laboratory technicians reported that they, quote, 'lit the water on fire', and found the water sample, provided to them by Mr. Charles Doucet, found it to be super saturated with methane." … "Water contaminated with thermogenic natural gas, with diesel oil, and with barium — substances that are not normally found in this area." Hundreds of homes are thought to be affected. "This is a well-known problem in the area. [W]hy the government has never bother[ed] to investigate is something that eludes me, I really don't understand."227
Above New Brunswick frac pollution case in Brief review of threats to Canada's groundwater from the oil and gas industry's methane migration and hydraulic fracturing by Ernst Environmental Services (EES), June 16, 2013 ]
In the United States, around 90% of 390,000 active natural gas wells…were fracked.
[US frac pollution reality check:
Four states, Pennsylvania, Ohio, West Virgina and Texas, confirm multiple cases of water pollution from fracking
US EPA unlikely to step up fracking enforcement efforts because of lack of staff, lack of funding for expensive testing and investigating, lack of political will
More than 50 Woodland families with toxic water after nearby frac'ing, Headleys, McIntyres and other families file nuisance lawsuits after suffering health harm, toxic fumes, visual, noise and other impacts from drilling, frac'ing and facilities
Where are the regulators in America? Inspector general's report says EPA justified investigating drinking water contaminated with dangerous levels of methane and benzene near fracking
Garfield County commissioners, public hear results of 9 year study after regulator determined Encana contaminated West Divide Creek with methane and benzene
Cabot buys second methane polluted residential property in Dimock 12-acre parcel on Carter Road flanked by faulty gas wells
This once was HOME: Fracking Bombs in Parker County, TX and Battleground Dimock property sold, deed bars owners from building home there "forever" ]
These numbers so not constitute the unknown record of a new untested technique that those concerned about its safety would have us believe. Rather, they indicate the concerns about the safety of fracking for water tables, while valid, are grossly exaggerated. … Perhaps once Nova Scotians hear from the Wheeler Commission, which is currently studying "the social, economic, environmental and health impacts" of fracking, the province's ill-advised fracking ban can be lifted.
[Refer also to:
Fracking water issues keep bubbling to surface 
Fracking moratorium urged by California lawmakers
Kaiser kills Calgary Royal Oak drill and frac for oil 400 metres from homes, Residents in Calgary community celebrate after Kaiser Energy scrapped urban frac plans but worry 2,300 metres is not far enough
USGS to make separate risk map for man-made quakes; National Research Council excludes 272 frac-caused quakes in BC's Horn River Basin off global map
As 'frack hits' grew in Alberta, regulator (AER) takes action, but years too late; high pressure frac hits have been damaging hydrocarbon wells for at least a decade!
BC OGC Safety Advisory 2010-03 Communication during fracture stimulation
Alberta Shallow Fracturing Operations, frac hits had harmed hydrocarbon wells: New Requirements, Restricted Operations, and Technical Review Committee
Drillers Silence Fracking Claims With Sealed Settlements
Public forum planned by city council on Lethbridge oil drilling; council worries about health impacts and drilling sterilizing land designated for home developments
Proposed drilling in Lethbridge carries too many risks: Letter by Dr. Tyson B. Brust
Is Saskatchewan and North Dakota Bakken Oil safe enough? Cenovus Bakken "oil's flammability classification is the highest there is, level 4 — the same as methane gas and propane"
Yukon Frac Committee accused of bias, poor community engagement, Originally planned to meet with CAPP, Pembina Institute, Alberta Innovates (used to be Alberta Research Council), AER, NEB and no harmed Albertans!
Oil and Gas Industry Synergy Group "SPOG" says fracking protests not expected to hit Mountain View County, but in reality, many have protested and suffered serious frac impacts
Cape Breton University president Dr Wheeler defends his approach to frac review; claims first part is already underway, to define fracking even though industry & regulators defined it decades ago
Nova Scotia NOFRAC coalition worried about fracking review by Dr. David Wheeler, Too much secrecy, not enough consultation, and scope too narrow
Has the frac industry lost Texas? At earthquake town hall meeting of more than 800, Texans call for fracking to stop
Hydraulic fracturing letter by Robert Griebel, Alberta MD: Reckless pollution of our environment
Judge stops US-record frack wells in Michigan
'Naturally Occurring' Pollutants From Fracking Called 'Serious Concern', could be very harmful to environment and human health
BP, Chevron Accused Of Illegally Dumping Toxic Radioactive Drilling Waste Into Louisiana Water
First criminal case against a Shale firm opens for toxic frac waste spill/leak/dumping; XTO Energy Inc., subsidiary of Exxon Mobil Corp. hires three law firms to defend itself
Hormone-disrupting chemicals found in ground and surface water at fracking sites, Peer reviewed study of fracking sites in Garfield County Colorado finds chemicals linked to infertility, birth defects and cancer
B.C. school kids in danger, can suffer DNA damage illness from leaking sour gas several km away, yet B.C. allows wells within 100 m (~330 feet) of schools while Dallas City Council votes in 1,500 foot setback from homes and wells!
Dallas, Texas hoping to ban natural gas drilling
Fracking up the cement industry, Nova Scotia government wants to ban dumping of fracking waste in province, Lafarge applied for pilot project to use frack waste water to make cement!
Another methane contaminated water well case from hydraulic fracturing, Chesapeake cannot yet arbitrate claims that fracking made groundwater flammable in Pennsylvania
Big oil, big fracing, big problems? The Hawkwoods frac'd in the Lochend: health problems, dead cattle and earthquakes causing property damage
High US methane emissions blamed on leaks; Harvard fracking study show industry methane leaks far higher than official estimates, rings methane alarm bells in Australia
Dixie family finds their Louisiana tap water is flammable with methane
ConocoPhillips chemical data falls short, releases same report as previously, keeps some frac chemicals secret and does not list drilling, servicing, perforating chemicals which can be more harmful
Bill Would Ban Fracking In Massachusetts For 10 Years
Alberta Energy Regulator (AER, previously ERCB) officials ensured 'independent' pipeline safety review wouldn't look at enforcement
Radon — #9 In "Top 10 Toxic Ingredients Used By The Fossil Fuel Industries"; Cochrane Alberta home tests high for radon
Fracking moratorium recommendation by Prince Edward Island legislative committee applauded
Buyout packages allegedly silence Albertans struck with oil and gas industry-related cancer
BAKKEN SHALE: As oil production sets in, pollution starts to migrate — scientists
Contrary to promises of massive jobs and prosperity for all from hydraulic fracturing, Layoffs begin at Encana
Investment fraud is booming along with oil and gas drilling, Securities and Exchange Commission (SEC) says
New Study Shows Fracking Is Bad for Babies, Research builds on and affirms research in Pennsylvania by Elaine L. Hill
Elaine Hill: The Impact of Oil and Gas Extraction on Infant Health in Colorado
Unifor, Canada's largest energy union, calls for Canada-wide moratorium on all new oil and gas fracking; the ignorant keep blindly pushing forward, harming families, communities, environment, infrastructure and existing businesses
Fracking the Hawkwoods near Calgary, dead cows and…RADIATION?
Banks refusing mortgages on land where oil or gas rights have been sold to energy company; insurance companies cancel renewals if they find gas or oil lease on insured properties
New Zealand milk dumped as toxic oil and gas drilling mud taints 14 Fonterra tankers
Strictly Business: Schuyler County Farm Bureau in New York State rejects fracking by 10 to 6 vote; More than 150 municipalities passed ban or moratorium
Drilling mud entering creek through cracks in creekbed is a common occurrence, kills fish; 6,000 gallons drilling mud and water enters home, destroys it
Encana's fracking fluid blows out nearby Parko Oil well in New Mexico, Encana promises to but does not pay the cleanup costs
Alberta Environment: Cold Lake bitumen leak has likely contaminated groundwater; Nikiforuk: Caprock Integrity, Risks of steam-assisted bitumen recovery too little discussed
Synergy Strikes Again: Pa landowners harmed by fracking get synergized, change tone, get bought, and work towards indoctrinating others into thinking being poisoned by fracking is good
West side landowner Jenny Skinner and Sheila Rogers, Chair Lethbridge branch Council Canadians protests oil drilling by Goldenkey Oil in Lethbridge
What Lies Beneath: CCTV America Investigation into Hydraulic Fracturing Interviews Alberta landowners, including former oil engineer, fracing fumes damaging health
Frackez-vous: French court passes ultimate fracking ban; France's Fracking Ban 'Absolute' After Court Upholds Law, Frac ban in France is constitutional, Judgement: Schuepbach Energy LLC
24 Salem Residents File Lawsuit Against Antero Resources and Hall Drilling LLC ]