Environmental Hearing Board dismisses Kiskadden appeal of Range suit by Francesca Sacco, June 12, 2015, Observer Reporter
The Pennsylvania Environmental Hearing Board dismissed an appeal filed by an Amwell Township man who claims Range Resources contaminated his drinking water, according to an adjudication filed by EHB Chief and Chairman Thomas W. Renwand.
Renwand determined Loren Kiskadden "failed to meet his burden of proving by a preponderance of the evidence that his water well was impacted by gas drilling operations conducted by Range Resources," according to court documents filed Friday evening. "Although (he) presented extensive evidence of leaks and spills that occurred at Range's site, some of which were not reported to the Department of Environmental Protection in a timely manner, he did not demonstrate by a preponderance of the evidence that a hydrogeological connection exists between his water well and the Range site."
Kiskadden, along with his wife Grace, live along Banetown Road, having moved there in 2008. In June 2011, while filling a child-sized pool, Kiskadden claims his water began foaming, contained gray sludge and had a rotten-egg odor. Their well sits a half mile away from the Yeager impoundment. They filed a lawsuit in 2012 and have since been embattled with Range. In September, the board held a 20-day trial on the issue, which included a tour of the property.
While Renwand agrees a "number of problems existed at the Yeager site," he said Kiskadden did not prove the various leaks and spills that occurred at the Yeager site lead to the contamination of his water. The DEP included those problems when it issued Range a record-setting $4.15 million fine for various leaks and other problems at six of the company's water impoundments in Washington County.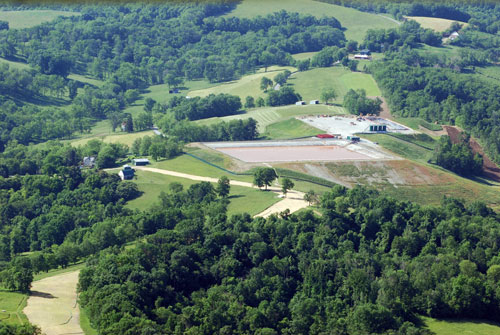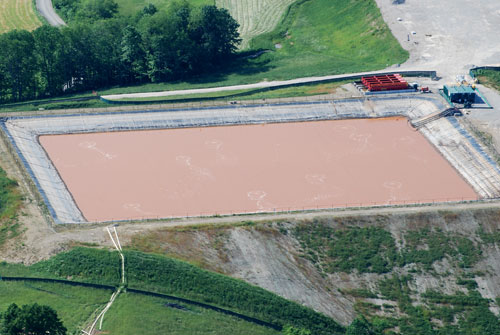 Yeager Impoundment – June 3, 2011
"We appreciate the thorough analysis by the Environmental Hearing Board, which upheld the Department of Environmental Protection's determination that Range's activities did not cause, contribute or impact Mr. Kiskadden's water supply. This ruling is the latest in a long series of events including the EPA's recent report of a multiyear study that we believe should provide the public with confidence drilling can and is being done safely and that regulatory agencies are diligently overseeing the process," Range Resource spokesman Matt Pitzarella said.
Range is still embattled in another lawsuit with the Kiskaddens and neighbors Stacey, Harley and Paige Haney and Beth, John and Ashley Voyles, charging Range with negligence, partly over allegations it allowed a hole to develop in the liner of the impoundment, contaminating the soil and groundwater.
The Haney case was also mentioned in Friday's filings, noting their and the Voyles' water supplies were not affected and were found in better shape than Kiskaddens' water.
Attorney John Smith, who represents the Kiskaddens, Haneys and Voyles, said Friday's findings will "have no bearing on the Haney case as we go to trial." Smith said he was disappointed in the EHB determination.
"While we are more than pleased with the time commitment provided by the EHB, we are disappointed with the outcome," Smith said. "We recognized that as a case of first impression with the court, this was an uphill battle. But it was worth fighting in light of our client's need for clean water. The decision is unfortunate, and we are evaluating our options in light of the court's failure to address in its opinion various arguments presented." [Emphasis added]
[Refer also to:
Frac'ing and house prices, Buyer beware; Home prices drop when they rely on groundwater in frac fields, go up when they rely on piped water
Pennsylvania Regulator: Range Resources Inc.'s fracking waste pits contaminated groundwater and soil at three Washington County sites
Judge denies Range Resources' testing request because company still hasn't complied with court order to disclose frac chemicals, including those proprietary
Pennsylvania: Cecil Township warns about 50 residents of potential water contamination near Range Resources Frac Pit after regulator refuses to
Pennsylvania regulator: Range Resources' John Day impoundment leak bigger than first thought; Range contaminated groundwater like Talisman did in BC
Duke University tests of drinking water in Weatherford show significantly higher levels of methane than testing by Range Resources Ltd., EPA and the state relied on testing by Range
The Colbert Report on Fracking Flaming tap water and the Hallowich children Gag Gift by Range Resources; Fracking Gag Orders For Kids Go Too Far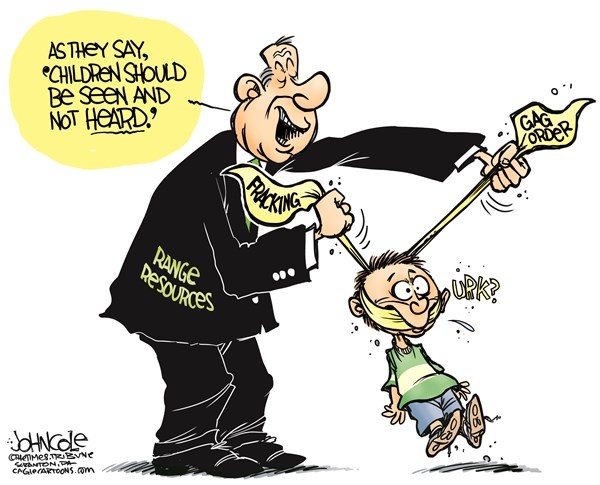 Range Resources sets aside $35 million for Oklahoma royalty lawsuit
Range Resources, Texas Fracker, Accused of Bully Tactics
Ed Rendell Intervened For Oil Company to Stop EPA Contamination Case Against Range Resources
Range denies intentionally providing inaccurate water testing results
The Pennsylvania DEP, another Red Herring?
August 15, 2011 – Range hired Multi-Chem to take care of the sulfur smell, and 819 lbs. of Acrolein, an EPA listed Extremely Hazardous Substance, was dumped into the impoundment. Of course, the DEP never informed Voyles "that in fact the Yeager Impoundment was causing the odor, that the DEP had asked Range to take action, that Multi Chem treated the Yeager Impoundment with a chemical highly dangerous to humans, or that Petitioner [Beth Voyles] had been exposed to Hydrogen Sulfide."
Ethylene Glycol, "a component of numerous compounds that Range uses in Washington County," was also found in the springs. No problem though, because Microbac set the Reporting Limit to 20.0 mg/L, twice the reporting limit consistent with the national laboratory standard of 10 mg/L, and twice the Reporting Limit that Microbac itself uses in all other testing it has done prior to and at the same time of the analysis. Of course, if it's below this limit, one doesn't have to report it. In addition arsenic at fifteen times the level suggested by the EPA as well as glycol was found in independent testing of Voyle's water well. Again, the DEP "issued no citation, levied no civil fines, took no further action and did not inform the Petitioner that a dangerous chemical was present in her water table." 
Shale drilling contaminated water, families say in lawsuit
May 25, 2012 – Three Washington County families claim in a lawsuit that they face serious health problems, including a heightened risk of cancer, because Range Resources Inc. and two water testing laboratories conspired to alter test results and exposed them to hazardous chemicals. 
Lawmaker challenges Pennsylvania DEP's reporting of gas well water safety
November 2, 2012 – The Pennsylvania Department of Environmental Protection produces incomplete lab reports and uses them to dismiss complaints that Marcellus Shale gas development operations have contaminated residential water supplies and made people sick, according to court documents. In response, state Rep. Jesse White, D-Cecil, Thursday called on state and federal agencies to investigate the DEP for "alleged misconduct and fraud" revealed by sworn depositions in a civil case currently in Washington County Common Pleas Court."This is beyond outrageous," Mr. White said. "Anyone who relied on the DEP for the truth about whether their water has been impacted by drilling activities has apparently been intentionally deprived of critical health and safety information by their own government." [Emphasis added]