And after Alberta frac'd communities are hit by non-stop burglaries with police saying they can't help because Ralph Klein decimated their funding (to give to oil and gas companies), and families install security systems and alarms, are they smeared by NGOs and the press and called a "movement" of "activists" that copy Americans?
What Does the Anti-fracking Movement Mean for Canada? The anti-fracking movement continues to pile up victories, even scoring one in the heart of Texas. Is Alberta next? by Markham Hislop, July 14, 2015, Alberta Oil Magazine
…
Ironically, the fiercest battle against fracking may be fought in the energy sector's own backyard. Jessica Ernst, an oil patch consultant with a master of science degree, is the reluctant rock star of the Canadian anti-fracking movement because of her battle with Calgary-based Encana over her allegations the company contaminated the water well on her property near the village of Rosebud, 125 kilometers east of Calgary. Ernst has spent the last seven years pursuing Encana and the Energy Resources and Conservation Board (now the Alberta Energy Regulator) in court. And while she's willing to fight, she bristles at the idea of being seen as an antagonist to industry. "I'm not an activist. I'm not part of a movement," she says. "I'm an ordinary Canadian citizen and an oil patch consultant and it is my responsibility to let the public know when there is serious harm happening."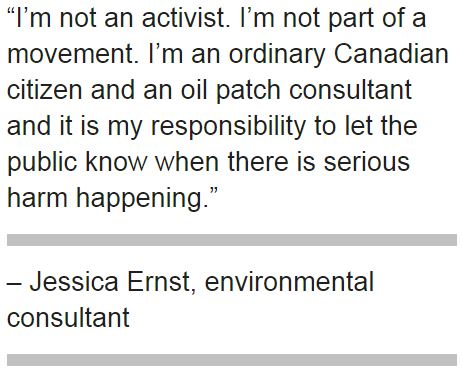 In late April she scored a major victory when the Supreme Court of Canada agreed to hear her appeal of an Alberta court's decision to exempt the regulator from her suit.
Encana denies it fracked the shallow coalbed methane seams near Rosebud, saying it stimulated them with high-pressure nitrogen [See Reality Check #1]. The company's statement of defense claims it tried several times to test Ernst's well water but was denied access. [See Reality Check #2]
[Reality check #1:
Why is Encana lying in their Statement of Defence and on their website about their own data? Wouldn't a billion dollar profit-taking company want to lie a bit smarter than this? Or does Encana know the courts will never allow the Ernst case to get to trial?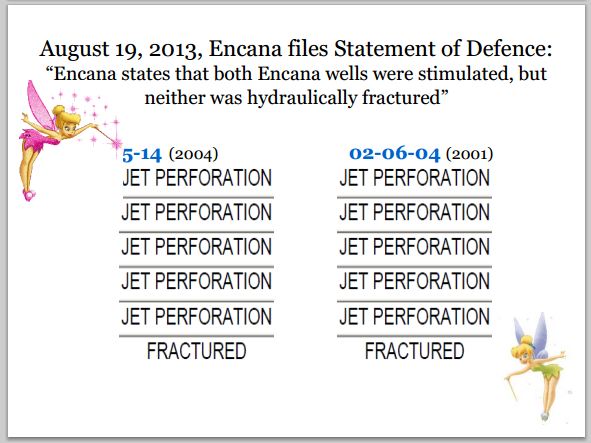 Below Encana's perfs and frac's on the 5-14-27-22 W4M (upper 6 zones directly into Rosebud's drinking water aquifers). From Encana data on file with the regulator.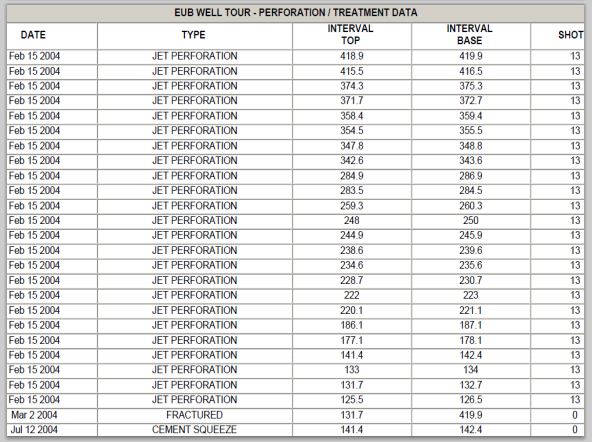 Encana's gas well data at Rosebud, Alberta, filed by Ernst in document exchange for the legal case.
2004 Raymond James, Equity Research Canada Report on companies fracing Alberta Horseshoe Canyon CBM:
"Several producers, like Encana and MGV Energy are investing significant capital to develop CBM as a meaningful source of natural gas in Canada. Coalbed methane wells require fracture treatments for each producing zone – the average well has between 15 and 20 such zones. [Refer to the data above: Encana frac'd 24 zones in the 5-14 at Rosebud]
… Hydraulic fracturing is a technique used to increase the flow of hydrocarbons into a producing wellbore. A conventional fracturing job involves pumping various combinations of fluids and proppants into a well at high pressure, causing the rock in the desired formation to fracture. The proppant (or frac sand) will keep the fracture propped open, allowing hydrocarbons to flow more freely toward the wellbore. While there have been technological advancements in the chemistry and execution of fracturing, the basic concept of fracturing wells has existed since the 1940s.
Dry coalbed methane wells are fractured by pumping nitrogen at high flow rates and under high pressure, usually through coiled tubing. In fact, dry coalbed methane wells are often fractured with conventional nitrogen pumping equipment (conventional nitrogen pumpers are used in a variety of everyday well services including clean-outs and work-overs). The shortcoming of using conventional nitrogen units is that they are not designed to provide the high flow rates required for fracturing. To compensate for this, the fracturing company must commit several conventional nitrogen units to each CBM wellsite (often upward of eight units), or it will need to provide purpose-built high flow rate equipment, as Calfrac and at least two other companies have done.
Whatever equipment the company uses, the end result is the same: the high pressure from the nitrogen opens the cleats in the coals and enables gas to migrate freely toward the wellbore. Coal formations such as the Horseshoe Canyon in southeast Alberta (the most intensely developed coal bed methane play in Alberta) contain an average of 18 coal lenses (seams), each requiring an independent fracturing treatment.
… Today, producers are committing considerable expenditure to drill and complete gas plays that would have been completely uneconomical by historical standards. Shallow gas, tight gas, and CBM wells are all examples of this trend, and are all fracturing intensive.
… Every CBM well receives one fracture treatment for each of its methane producing seams – averaging 18 seams per well. Nevertheless, each well is recorded as a single 'job'.
… As indicated by the analysis above, the development of dry CBM wells in Alberta will have an important impact on the provision of well fracturing services. Calfrac recognized the potential of CBM production and has positioned itself to benefit from increased CBM activity by developing specialized fracturing spreads. CBM wells are particularly strategic from a fracturing point of view for the following reasons:
There is a very high propensity to fracture CBM wells due to the low permeability of coal formations. For all practical purposes, 100% of CBM wells are fractured.
There are often upward of 20 or more seams in a single CBM well, and revenue per well increases with the number of seams. To illustrate this point, we use a sample of the 206 CBM wells drilled in the Horseshoe Canyon formation in 2003 and charted the distribution of the number of zones in each well (see Exhibit 11). On average, there were approximately 18 zones per completed well.
We expect that the average fracturing revenue is well above $50,000 per CBM well, making CBM well fracturing at least a $165 million business in aggregate in 2005 (assuming 3,000 well completions).
… We expect that the number of wells fractured will continue to grow as natural gas drilling remains strong and alternative natural gas sources, like CBM become more conventional.
2006 Encana Torrington Hearing: EnCana Corporation Applications for Licences for 15 Wells, a Pipeline, and a Compressor Addition Wimborne and Twining Fields by EUB (now AER), October 31, 2006
EnCana explained that the stimulation process would perform two functions: first, it would create hydraulic fractures within the coals and provide pathways for the gas to flow from the seam to the wellbore. EnCana explained that using water to fracture coals inhibited gas production. Second, the nitrogen injection would act to flush the drilling water from the coal seams, allowing the gas to flow.
2013: Encana changes their own 2006 testimony at the Torrington Hearing (above) when filing their Statement of Defence in the Ernst lawsuit:
This stimulation performs two functions: it provides a near-wellbore access to the natural cleats in the coal seam allowing the CBM to flow from the coal seam to the well bore and aids in the flushing of drilling water from the coal seams, allowing gas to flow more effectively. Neither of the two wells at issue were hydraulically fractured.
[End Reality Check #1]
[Reality Check #2:
2003 Encana test results on Ernst water well, testing done at her request: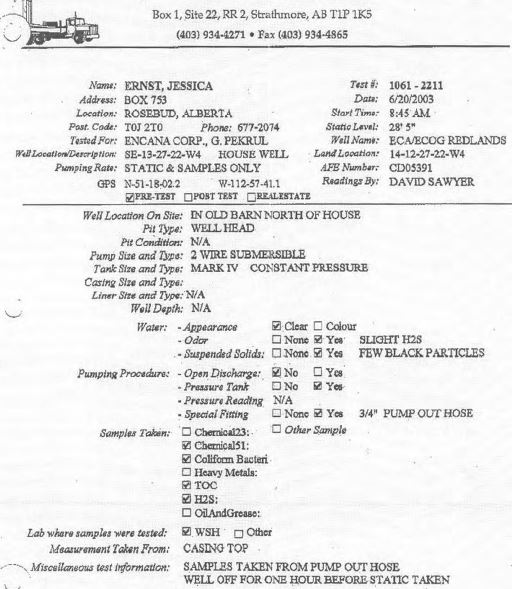 October 30, 2006: Encana sends registered mail an offer to test Ernst's water well, dated September 22, 2006 containing an implied refusal condition of 14 days.
2007 Bill Barnett letter on Encana refusing appropriate testing on his water well, not even after offering to pay for it himself.
September 17, 2010: Ernst letter to the AER when it was the ERCB, asking questions about the regulator approving more Encana wells to be frac'd in the fresh water zones near her already dangerously contaminated water well, including under her privately owned land:
EnCana wrote me that the company repaired their extremely shallow perforations of the 5-14 gas well by cementing them. This would not repair our fractured aquifers. I am concerned about cumulative gas migration impacts in an area with industrially fractured aquifers, and unresolved community wide water contamination, and the Alberta Government breaking its Legislature made promise (February 28 2006) to provide safe alternate water to adversely affected families 'now and into the future' …
Numerous ERCB staff have told Albertans, myself included, in public meetings that it is our responsibility to ask questions, get educated, and persist in getting our questions answered and information that we need to protect ourselves, our families and community, businesses and property.
Congress investigating EnCana's hydraulic fracturing, and allegations of water contamination and harm to health and environment is very serious and relates directly to many of my outstanding concerns and questions. In my view, this request needs to be appropriately, honestly, completely and respectfully addressed. It is vitally and directly in the public interest of Albertans.
The ERCB publicly disclosed that deviated wells result in major factor of gas well leakage impact. EnCana intends to deviate the 02-13 gas well under my property that already has very dangerous levels of methane contamination in the groundwater. EnCana already has three deviated wells originating in Section 13 near my property, meaning a three fold major factor of gas well leakage impact near and in groundwater flow to my water well. I am very concerned about EnCana cumulatively increasing more stray gas into my already contaminated water well and the wells of my neighbours, and potentially killing surface vegetation on my property from gas migrating to surface via soils.
There have been home explosions and deaths, and many cases of methane migrating into water and soils in the US that the energy regulator investigated and concluded were caused by gas drilling and or fracturing.
They summarized the dangers:
Over the last decade these stray gas migrations have caused or contributed to at least 6 explosions that have killed 4 people and injured 3 others. In addition the threat of explosions has forced 20 Pennsylvania families from their homes, sometimes for months. At least 25 other families have had to deal with the shut-off of utility service or the installation of venting systems in their homes and at least 60 water wells (including 3 municipal supplies) have been contaminated.
I accept EnCana's Sept 2, 2010 written offer to test my well, but require that EnCana's breaches to Directives 035 and 056 and my outstanding concerns and unaddressed questions are dealt with first.
My well was disconnected from my home years ago because living with it is life threatening, as evidenced by the deaths and explosions caused by industry's stray gas migration. Because I am not using the well, and it is disconnected, how will I be able to observe for changes to my water quantity or quality after EnCana drills and fractures around and under my property?
I am concerned with the limited amount of time EnCana gives Alberta landowners to respond to an offer to test, especially when the company is in breach of regulatory requirements and there are so many water contamination cases in EnCana's gas fields.
… Complete and honest disclosure is required because:
* of the danger and liability that is our water (tainted with who knows what brew of toxic chemicals because EnCana has still not disclosed the chemicals the company injected here):
* the investigation here remains incomplete, with the most important data still missing; and
* of the phenomenal amount of drilling, perforating and hydraulic fracturing that EnCana has already done above the base of groundwater protection, deviated and otherwise.
I remain waiting for the ERCB to answer my most important question:
Why was EnCana's application for the 2-13-27-22-W4M approved in the first place?"
The Alberta Regulator responds:
"The Board decides whether the test under subsection 26(2) is met on a case-by-case basis, taking into account the specific facts and circumstances of each application and any objections received.
In deciding whether you meet the test under subsection 26(2) of the ERCA, the Board considered the fact that the right or interest you assert is as a landowner of a portion of the lands in SE-13-27-22W4M. The Board finds that the proposed wells and pipelines that form the subject of the Applications will not be located on your property and would be located approximately 500 metres from your residence and approximately 175 metres from your property boundary …
The Board also finds that distance from your property and residence to the proposed wells and pipelines is significant.
Because of the distance, EnCana was not subject to the Directive 056 requirements for consultation and confirmation of non-objection in these circumstances.
The Board notes that your water well is located approximately 455 metres from the nearest proposed well.
As such, EnCana is required to offer to test your water well prior to filing the Applications in accordance with Directive 035. We note that EnCana has made that offer to you and, assuming you accept EnCana's offer to test your water well, you will be provided with base line water well information that can be used to monitor any potential impacts of the wells and pipelines on the quality and quantity of water from your water well.
…therefore, based on all the information before the Board, it does not appear that you have rights or interests that may be directly and adversely affected by approval of the Applications. Accordingly, the Board has concluded that you have not met the test to trigger and participate in a hearing of the Applications under section 26 of the ERCA hereby dismisses your objections.
Please note that the Board will continue to process the Applications and may approve same without further notice to you. … [End Reality Check #2]
Back to the Oil Magazine Article:
….Gallagher says that if Ernst does score a win in the highest court in the land, it would give the anti-fracking movement a huge boost in credibility and public visibility.
… [Emphasis added]