Trudeau facing choice of new chief justice from Quebec or dark-horse candidate, sources say by Sean Fine, November 21, 2017, The Globe and Mail
Prime Minister Justin Trudeau is facing a choice between the first francophone chief justice of the Supreme Court in 17 years, or a dark-horse candidate from Ontario who came to Canada as a refugee, but has just three years before retirement, legal observers say.
Justice Richard Wagner, 60, is widely believed in the country's legal community to be the front-runner to succeed Chief Justice Beverley McLachlin when she retires next month, but Justice Rosalie Abella's name has also been raised, during informal discussions involving advisers in the judicial-appointments process, according to two sources with knowledge of the discussions.
Trudeau's Supreme Court pick tangled in race, gender politics
Justice Abella, appointed in 2004, is the senior judge on the court after Chief Justice McLachlin, and is the daughter of Holocaust survivors who came to Canada from Germany in 1950. Justice Wagner, who joined the court in 2012, is the senior judge from Quebec. Canada has a tradition of alternating between anglophone and francophone chief justices.
Justice Abella, who is 71, would have just 3.5 years to serve as chief justice before reaching the mandatory retirement age of 75. Her appointment would give the Liberals more room to manoeuvre – for instance, to observe Justice Wagner closely over that period. If appointed now, he could serve 15 years in the role.
Or, in a scenario outlined by a Liberal insider who is not one of the two sources on the discussions involving the judicial-appointments advisers, Justice Abella's appointment as chief justice would buy time for an Indigenous judge to succeed her. There is currently no Indigenous judge on the court, and this scenario assumes that the Prime Minister appoints such a judge to fill the vacancy left by the retirement. It also assumes the Liberals are confident that they will still form the government in 3.5 years.
To appoint Justice Abella, Mr. Trudeau would need to risk snubbing Quebec. The tradition of alternating between francophone and anglophone chief justices reflects Canada's bijural nature – a blend of common law (a body of case law and precedent that started in England) and Quebec's civil code. It also reflects the importance of Quebec in Confederation. Quebec is the only province that, by law, has three positions reserved for it on the Supreme Court.
Jean Leclair, a law professor at the Université de Montreal, says the Liberals would be courting danger to the Canadian federation if they do not appoint a Quebecker to succeed Chief Justice McLachlin.
"In these very politically explosive and symbolic issues, not respecting tradition would send an awkward message," he said in an interview.
Quebec Justice Minister Stéphanie Vallée also supports the appointment of a francophone chief justice. "Historically, a Quebec judge has held this position almost once in three, and this historical proportion must be respected," she said in an e-mail to The Globe.
The tradition is far from set in stone. In the Supreme Court's first 69 years, it had one francophone chief justice and seven anglophones. But from 1944-84, the position alternated between anglophone and francophone six times, with three of each. In the first five of those six choices of chief justices, however, the senior judge on the court was appointed, in keeping with another tradition of judicial appointments.
Only in the sixth appointment, when Pierre Trudeau chose Bora Laskin of Ontario, the court's first Jewish chief justice, did a prime minister name someone who was not the senior judge. (In fact, Mr. Laskin was the second most junior, with just three years on the top court.)
When Mr. Laskin retired after 11 years, Mr. Trudeau appointed his second anglophone Chief Justice in a row, Brian Dickson. Between the two men, they held the leadership spot 17 years in a row – the same number of years Chief Justice McLachlin has held the job. And they were followed by a francophone from Quebec, Antonio Lamer, who preceded the current chief justice.
Justice Wagner, 60, was appointed to the court by Stephen Harper, and some see him as a small-c conservative (he dissented when a majority struck down a mandatory minimum sentence created by a Conservative government for illegal gun possession), though he tends to fit into the court's broad centre. His late father, Claude, was a leadership candidate for the Progressive Conservative Party in 1976. But it was a Liberal government that first appointed Justice Wagner to the Quebec Superior Court in 2004, and his father, too, has a bi-partisan past, having been part of the Quebec Liberal cabinet.
The three Quebec judges are relative newcomers to the court. Justice Clément Gascon joined in mid-2014 and Justice Suzanne Côté at the end of 2014. Justice Gascon is highly regarded for his intellect, but he has told friends he is not interested – one friend describes him as monk-like, preferring to research and write than to be out giving speeches. Justice Côté is a former litigator with no judicial experience before her appointment and is a frequent dissenter.
Justice Wagner is seen as a capable leader and consensus builder.
"A very decisive person, well-organized, clear thinking," Pierre Michaud, a former chief justice of the Quebec Court of Appeal, told The Globe. "Richard would be the type who would fit that bill as a leader."
The bilingual Justice Wagner gives talks around the country and says meeting people from a wide variety of groups makes him a better judge. "Gone are the days where the judiciary can hide behind its self-constructed image of moral superiority and unrelenting stoicism," he told the Jewish Federation of Winnipeg last year.
Justice Abella, who is bilingual, is a strong liberal voice on the court who has helped fashion court majorities around such issues as labour rights and refugee rights. She would be the first Jewish female chief justice in Canada. Her appointment would make waves internationally, a jurist with knowledge of the appointment discussions said, and Mr. Trudeau could argue that Canada's traditions as a multiethnic society are now much broader and more inclusive than they used to be.
In the comments: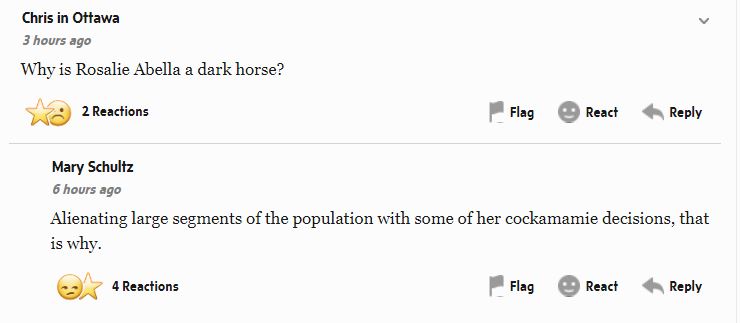 [Refer also to:
2017 01 25: Jessica Ernst Open Letter to Chief Justice Beverley McLachlin Regarding False and Seriously Damaging Statements in Justice Rosalie Abella's Supreme Court of Canada Ruling, Ernst v AER ]