2015 12 27:
The Ultimate Frac Fraud? In US EPA Draft Frac Report: "700 pages (24,000 lines) presenting the potential impacts of hydraulic fracturing on water resources and human health but only 2 lines concluding that it is not a universal problem"
2015 10 15:
"A terrible terrible day." George Bender, CSG (CBM) impacted farmer, Darling Downs, Queensland, killed himself. "Not only does this community have to live with this scourge of CSG coal seam gas mining on a daily and nightly basis, now they have to deal with one of their most-respected and most-loved community members taking his life."
2015 08 25:
Tara Australia Residents Want Out: Brutal betrayals, Greed & Gag Orders, Losing Health & Home. Synergy Strikes, Again
2015 08 10:
Linc Energy's Massive Frac'd Land Time Bomb (like Encana's at Rosebud?), "Executives could face the prospect of jail. Damage has been going on for years." Secret report reveals more than 300 sq km of severe contamination to groundwater, prime agricultural land and air near Chinchilla, SE Queensland
2013 06 18:
US EPA announces 2 year delay of comprehensive frac study
2013 06 13:
EES Gas Migration paper submitted to UK Department of Enterprise, Trade & Investment, Oil and Gas Licensing
2011 08 03:
Australian Petroleum Association Confession: Coal seam damage to water inevitable
2004 06:
US EPA Evaluation of Impacts to Underground Sources of Drinking Water by Hydraulic Fracturing of Coalbed Methane Reservoirs Chapter 3
CBM requires five to ten times more fracturing than conventional natural gas wells.
CSG assessment is a total farce, says advisor by Daniel Burdon, January 27, 2016, Sunshine Coast Daily
A FORMER long-term advisor to the nation's industrial chemicals regulator has labelled the government's assessment of coal seam gas fluids a "total farce".
Dr Mariann Lloyd-Smith, a senior advisor with the environmental group National Toxics Network, made the comment on Sunday.
Dr Lloyd-Smith was the author of the 2012 report that prompted the assessment and spent nearly a decade on committees advising the National Industrial Chemicals Notification and Assessment Scheme.
She said the CSG chemicals project was supposed to inform the community, decision-makers and regulators dealing with the CSG industry.
"(But) with all the limitations in information, the lack of transparency in the process and close involvement of industry in the project, we have no faith it will help decision makers or the community," she said.
Dr Lloyd-Smith said the toxics network was first told the report would be released by the end of 2013, but "after two and a half years, the situation is a total farce and it has no credibility as it has no transparency".
"That was the original date we were told but two years later, nothing, except that the industry has drilled many more wells, people are getting sicker and air pollution increases – it's a disgrace and waste of money."
NICNAS director Dr Brian Richards had said the delays were partly due to recalculations of the "predicted environmental concentrations" of the chemicals used in CSG.
But Dr Lloyd-Smith said that was a "lame excuse and quite worrying".
"The calculations of PECs are part of the risk assessment game and while they depend on basic physico-chemical data they also need information on the distribution of the chemical; how much is used, how much is lost, how much volatilises or degrades, how much remains in the ground," she said.
"That is all information that is usually provided by the manufacturer, the industry associations and the chemical users who all have significant commercial interests in the outcome."
"One wonders whether the pro-industry interests are holding up the release in the hope that reworking the risk assessment, things will look better."
She said such risk assessments could be "as much the result of a political, industry or personal viewpoint as it is of the science". [Emphasis added]
Public still in the dark on CSG chemicals by Daniel Burdon, January 27, 2016, Sunshine Coast Daily
THE release of a major national assessment of the chemicals used in coal seam gas drilling has been delayed for more than two years despite a key independent scientific committee twice urging the government to make it public.
The Federal Government's independent expert scientific committee on coal seam gas and large coal mines (IESC) ordered the $4.2 million project in 2012 in the wake of an environmental controversy.
A report by environment group the National Toxics Network had revealed the nation's industrial chemicals regulator (NICNAS) had not assessed at least 23 chemicals used in CSG drilling operations in Australia.
Critics say the still unreleased chemical assessment ignores crucial issues, including the effects on groundwater, fugitive emissions and the use of similar chemical mixtures in the wider shale oil and gas industry.
Regulators have told Senate Estimates the assessment aimed to assess the risk, but not actual effects of, the potentially toxic chemical cocktails used in CSG drilling and hydraulic fracturing on surface water, public and worker health.
… But a study of the chemicals used in drilling in North Dakota in the United States published last year shows some of the most common ingredients included crystalline silica which has been linked to lung cancer, as well as methanol and naphthalene.
The study was relevant to Australia because much of the fluids used here were manufactured overseas and imported by the same suppliers of the US industry – although exact fluid mixtures vary from well to well.
Documents about the assessment say it was designed to "develop an understanding" of the risks the chemicals posed – to help manage the industry, as well as "improve public access to information" about the risks.
But four years after it was commissioned for release in December 2013, and extended twice to December 2015, it has not been completed and no draft or final reports have been released.
IESC minutes show it has twice expressed its "concern" about the delays, in April and October 2014.
Those documents also show the research was internationally peer-reviewed by the United States Environmental Protection Agency and by Health Canada and draft reports were completed by as early as March last year.
Those reports, as well as a series of draft detailed technical papers and risk assessments are understood to have been completed, but none has been publicly released.
The National Industrial Chemicals Notification and Assessment Scheme first led the project, but it has since been taken over by the Environment Department – questions about the transfer of responsibility were not answered.
NICNAS director Dr Brian Richards told a Senate estimates hearing in October 2015 the report was still undergoing further reviews, particularly on the "predicted environmental concentrations" of the chemicals used – examining how much may end up in the environment and the risks that poses. 
The IESC reviewed two reports on those technical issues as early as June 2014.
The Environment Department has since been consulting with the coal seam gas industry and an "independent environmental contractor".
Dr Richards and the IESC referred all questions to the Environment Department, which provided a statement. The CSIRO did not respond to questions.
Despite the international peer reviews and contributions from at least three government agencies over more than three years, the department still needed "additional expert review and copy-editing" of the documents, including consulting the gas industry on crucial aspects of the technical assessment. [Trying to figure out how to blame nature for the man-made chemicals and industry's "brute force and ignorance" frac'ing skills without sounding too obvious?]
A department spokeswoman said the Australian Petroleum Production and Exploration Association's involvement was "in the context of provision of data to inform the assessment".
APPEA chief executive officer Dr Malcolm Roberts said the lobby group had helped by 'facilitating the exchange of information' between the gas companies and the department. [Censoring? Controlling? Editing? Withholding?]
He said APPEA helped to ensure the department had the most comprehensive information available, but did not detail what specific information that was.
CSG chemicals assessment
Aims to identify the chemicals used in CSG drilling and hydraulic fracturing (fracking).
Examines risks of the effects of fracking fluids on surface water, shallow groundwater and public and worker health.
Aims to create new methods to predict the effects of CSG chemicals on soil, surface water and shallow groundwater.
Does not examine chemical mixtures or effects on deep groundwater and aquifers.
Study 'is just a Clayton's look' at CSG chemicals by Daniel Burdon,
January 27, 2016, Sunshine Coast Daily
DELAYS in releasing the national assessment of chemicals used in coal seam gas will likely be a key issue in the sights of a Senate inquiry this year.
Independent Senator Glenn Lazarus set up an inquiry late last year into unconventional gas and the industry's effects on the economy, society, environment and public and worker health.
Sen Lazarus has called for public submissions to the inquiry that he has dedicated to the memory of Chinchilla farmer and anti-CSG campaigner George Bender, who took his own life last year.
He said governments of all levels needed to start listening to "the people" and recognise "the damage unconventional gas mining is doing to people's lives".
Sen Lazarus said he hoped to hold the committee's first public hearing in Chinchilla or Dalby in February.
Greens member of the inquiry, Senator Larissa Waters last year asked in Senate Estimates questions about the delays in the release of the CSG chemical assessment.
She was told it would be released by December 2015.
Given the delays, her "only conclusion … based on all of this is that they are sitting on the results".
They have not looked at the most risky areas of CSG, especially the effects on deep groundwater because they don't want to know," she said.
"This is a Clayton's study; it's the study they don't want to be doing, so they'll find any excuse to delay it and deliberately not look at the key risk areas."
Sen Waters said she would be pushing for the inquiry to further examine the delayed release of the assessment and its findings. [Emphasis added]
IS INDUSTRY AND OR FRAC-PATENT HOLDER/NEWFOUNDLAND FRAC REVIEW PANEL MEMBER DR. MAURICE DUSSEAULT DELAYING NEWFOUNDLAND'S FRAC ASSESSMENT FOR SIMILAR REASONS?
N.L. fracking report coming in 'the spring': minister by Ashley Fitzpatrick, January 26, 2016. The Telegram
Report on independent review originally expected in October
When the province's fracking review panel was named in October 2014, then-minister of Natural Resources Derrick Dalley said a final report from the panel was due within one year.
But as of October 2015, the work of the expert panel — Ray Gosine, Graham Gagnon, Maurice Dusseault, Wade Locke, and Kevin Keough — continued.
The provincial department still does not have a final report, but is expecting one at some point next season, with no specific deadline set.
"The final report from the hydraulic fracturing review panel will be released to the provincial government and to the public in the spring," reads a statement supplied on behalf of current Natural Resources minister Siobhan Coady.
While on the campaign trail, the Liberals promised consideration of the review panel's work, but also a look at whether or not a company proposing an onshore or nearshore oil project involving use of hydraulic fracturing actually held the social licence to move forward.
"Any future decisions regarding the hydraulic fracturing industry will be based on scientific evidence, and most importantly, on a social licence from the Newfoundlanders and Labradorians who may be affected," Coady reiterated in the statement this week. [Emphasis added]
[Refer also to:
2013: FrackingCanada The Science is Deafening Industry's Gas Migration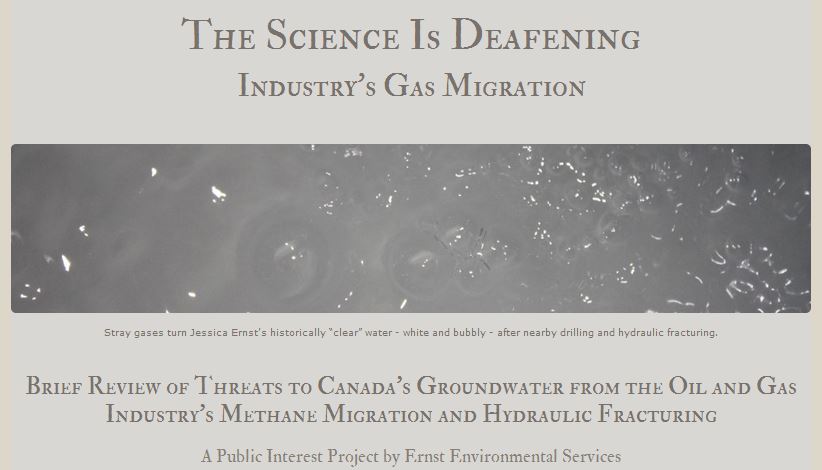 2011 08 03: Australian Petroleum Association Confession: Coal seam damage to water inevitable
The coal seam gas industry has conceded that extraction will inevitably contaminate aquifers. "Drilling will, to varying degrees, impact on adjoining aquifers," said the spokesman, Ross Dunn. "The intent of saying that is to make it clear that we have never shied away from the fact that there will be impacts on aquifers," Mr Dunn said.
2014 08 28: Canadian Association of Petroleum Producers Confession: Coal bed methane operations contaminate water resources by The Calgary Herald, August 28, 2014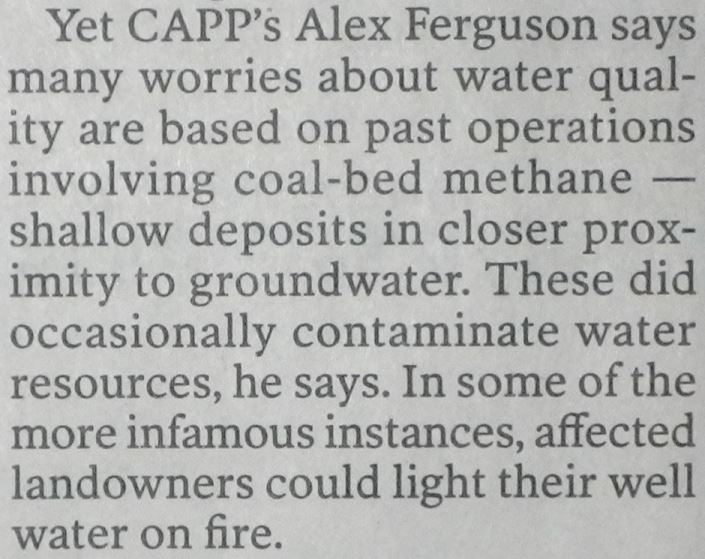 Yet CAPP's Alex Ferguson says many worries about water quality are based on past operations involving coal-bed methane — shallow deposits in closer proximity to groundwater. These did occasionally contaminate water resources, he says. In some of the more infamous instances, affected landowners could light their well water on fire.
Alex Ferguson was appointed Commissioner and CEO of the BC Oil and Gas Commission from 2007-2011
2014 08 28: Environment Canada Keeping Nearly a Thousand Frac Chemicals Secret: Memo released through Access to Information Legislation
2014 10 01: Why was a 2012 Health Canada Report, admitting significant health hazards and risks to groundwater and air from hydraulic fracturing, kept from the public? ]