Excellent letter! Fracking is toxic by Jennifer Ehrenfried, Fort Lauderdale, June 23, 2015, Miami Herald
The June 17 article Hunt for oil in Big Cypress back in play says that fracking is "a process deployed out west on tough shale to flush oil using high-powered water guns." But it omits that fracking involves injecting millions of gallons of toxic mixtures of water, sand and harsh chemicals deep underground at pressure high enough to fracture or dissolve the rock and release oil or gas. Fracking isn't limited to "out west," or to shale oil extraction, or hydraulic fracturing.
Additionally, the statement that fracking has never been tried in South Florida is false. A company was caught fracking outside Naples without a permit in 2013. The wastewater, disposed in Opa-locka, only came to light through investigative reporting. The oil and gas industries have worked to pass legislation to protect them from being forced to reveal the chemicals used and prohibit governments from banning or regulating fracking. It is unreasonable to assume future drilling in this area wouldn't involve fracking. especially in Big Cypress, which would be detrimental to the delicate ecosystem. [Emphasis added]
Hunt for oil in Big Cypress back in play by Jenny Staletovich, June 17, 2015, Miami Herald
An aerial shot in 1999 shows one of the concrete pads that holds a drill and tanks at Raccoon Point in the Big Cypress National Preserve. A Texas oil company now wants to survey for oil on 110-square miles in the wilderness refuge. A Texas oil company hoping to hunt for crude in the Big Cypress National Preserve has applied for a permit for a seismic survey of 110 square miles of wilderness.
…
Outcry over fracking, a process deployed out west on tough shale to flush oil using high-powered water guns, has also intensified. But fracking has never been tried in South Florida's brittle limestone. …
[Refer also to:
Guide to International Human Rights Law and Fracking
In a submission to the Parliament of South Australia, Natural Resources Committee Inquiry into Unconventional Gas (i.e., fracking) in February 2015,  Anne Daw summarized the impact on the community:
"Valid community concerns exist in regard to environmental, economic, water security, sustainable food bowl, local, national and international export markets, and tourism. People are concerned with demographic changes, associated strain on community services, loss of lifestyle as they now know it, and insecurity regarding their futures. Impacts on landscape, triggering of earthquakes, seawater intrusion and the fact that the South East is built on limestone with a number of caves, fault lines, sinkholes and subsidence … Limestone subsidence and sinkhole formation are hastened by unconventional gas activities."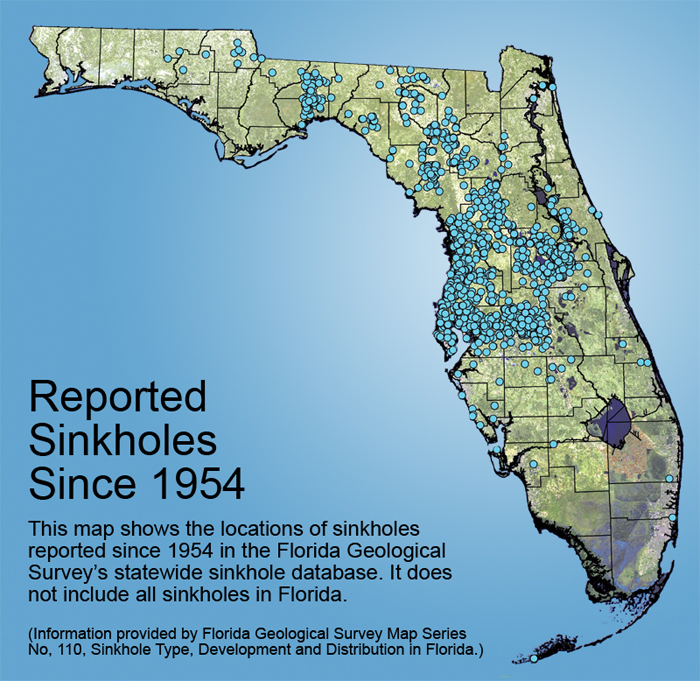 Map from Save our Suwannee ]
Public comment on the proposal will close in 30 days if no extensions are granted. If the park service's environmental study finds no significant damage to wildlife and the surveys are approved, the surveys would commence. For this survey, no explosives will be used. Instead, vibrations created by plates attached to the bottom of thumper trucks will move along a grid, sending seismic acoustical signals. The vibrations, DeGross said, will not cause ground disturbances. [Emphasis added]
Refer also to: