Urban drilling for oil and gas raises new questions in Alberta by Kelly Cryderman, May 4, 2014, The Globe and Mail
Goldenkey Oil Inc.'s plan was to drill three exploratory oil wells in a farmer's field in Southern Alberta – something that used to be a straightforward undertaking in a province that relies on underground resources for its economic well-being. But in this case, the field sits within the city limits of fast-growing Lethbridge, home to 90,000 people. The land is destined to become a new subdivision and is less than a kilometre from existing houses. And the downwind homeowners were furious about the planned wells, given the possibility for more drilling, noise, traffic and pollution, not to mention a drop in property values. Last week, after two years of sustained opposition from city council, local businesses and residents – along with the likelihood of a protracted public hearing and the possibility of new provincial rules governing such projects – Goldenkey dropped its plan to drill the wells.
Opponents are hailing Goldenkey's decision as a victory of the common will, especially since the Alberta Energy Regulator has the final say on where and when oil and gas wells can be drilled, even in places where the municipal council and community oppose the plans. "The community of Lethbridge is very relieved," said Dave McCaffrey, a spokesman for the community group No Drilling Lethbridge. "Public sentiment won out."
Calgary-based Goldenkey, a small private company, will likely have to forfeit the $500,000 paid for the mineral rights, and hundreds of thousands of dollars spent on public consultations and planning are a sunk cost. David Hill, a company spokesman, said Goldenkey is not interested in pursuing any urban drilling project again. "It's a risky business," he said.
…
Many existing urban wells were drilled before cities grew around them, and some are strategically placed in industrial parks. The Alberta Energy Regulator dictates setbacks for wells from houses, with distances ranging from a minimum of 100 metres for a well with sweet natural gas, to 1.5 km for a sour-gas well, from which a leak could be lethal. But current drilling rules are weak, warns Calgary Councillor Ward Sutherland. "They're designed for the middle of a wheat field," said Mr. Sutherland, who made his mark as a community association president who led a successful campaign to stop a proposed oil well near a Wal-Mart and houses in his suburban pocket. "At some point, [oil and gas producers] are going to turn around – maybe 10 years from now – and see there's lots [of oil] underneath the city of Calgary and they're going to want to come in," he said.
The issue is becoming a bigger bone of contention between the provincial government and municipalities. The provincial Liberal and New Democrat parties are calling for a ban on all drilling in urban areas. The Progressive Conservative government began work on a cohesive policy specifically for drilling in urban areas two years ago but has nothing to report so far. Alberta Energy Minister Diana McQueen, appointed last December, has promised an urban drilling policy by the end of this year. But the PC party's current state of upheaval in the wake of Alison Redford's resignation as premier – and focus on a September leadership vote – means another potential cabinet shuffle.
…
"It's not just about urban drilling but it's about making sure we have regulatory process in place … for all Albertans, whether you're drilling in urban or rural Alberta," Ms. McQueen said. "I do believe that we have a very strong regulatory process in Alberta, but this is a time to review policies."
…
"The Alberta Energy Regulator and resource industry's plans can trump municipal plans, and we'd like that to change," Mr. Spearman said. "I don't think Lethbridge is alone. And I think the provincial government has to recognize that this issue is not going to go away." [Emphasis added]
'Activism over apathy' by Nik Kuhl, Lethbridge Herald, May 1, 2014
Reaction from local officials and activists was overwhelmingly positive Thursday to news of Goldenkey cancelling its Penny Project — which had proposed the drilling of three exploratory wells at two sites in West Lethbridge. Mayor Chris Spearman, Lethbridge West MLA Greg Weadick and Sheila Rogers, with the group No Drilling Lethbridge, all praised the decision but also warned Goldenkey was just one company and that the urban drilling issue will continue to be debated until a provincial policy is released. "I'm delighted that Goldenkey has decided to abandon its plans to drill oil wells in West Lethbridge," Spearman said during a press conference at city hall Thursday morning. "This was a huge victory of activism over apathy. Working together as a community, we can get things done and we can be progressive. At the same time, we're not naive. Goldenkey's plans have been abandoned, but the issue of urban drilling has not gone away," he continued. "We're still hopeful that a provincial urban drilling policy is forthcoming that will provide clarity and certainty for municipalities and for the resource industry which is so critical to our province's economy."
"The work will continue because this issue will come up again," Weadick said. "We need to ensure we have a good, solid policy. As we're doing the MGA (Municipal Government Act) review, which now falls under my ministry, we'll be looking at the role of the municipality in these issues as well. At this point, we have no idea what could come up, so I think we need to keep moving as quickly as we can to ensure we have solid rules in place."
Goldenkey Oil issued a press release late Wednesday stating the company has decided to withdraw from its proposed Penny Project and that the company will not apply to the Alberta Energy Regulator. The company's mineral lease for Lethbridge included 23 square kilometres within city limits, under 10 sections of land including RiverStone, Paradise Canyon and the river valley, part of Varsity Village, Mountain Heights, SunRidge, part of Copperwood and farmland south and west of those subdivisions.
Goldenkey cited the cost and risk benefit of the geological success compared to the cost of the application process; the anticipated protracted processes in obtaining licensing; the resources required in providing accurate risk information on balance with existing predictable and manageable risks; and the stakeholder engagement process, as its reasoning. "Goldenkey has decided on a project basis that the barriers here did not justify the costs," said Goldenkey Project representative David Hill. "This has become a case of counting the increased cost for being successful in the application process against the prospect of technical success for an exploratory well scenario."
Rogers called the decision "a great demonstration of what the power of the people really is."
"No Drilling Lethbridge is thrilled with the announcement from Goldenkey Oil that they will cancel their plans to drill for oil and gas on the westside of Lethbridge," she told reporters near one of the now former proposed Goldenkey sites Thursday morning. "The problem is that the petition that we sent to the legislature, with 13,000 signatures, asks for the provincial government to introduce legislation that would ban oil and gas drilling within Lethbridge city limits. To date, the government hasn't done anything about that. They've been promising us an urban drilling policy for two years, but we still know nothing about that. This is indeed a victory to celebrate, but we're asking citizens of Lethbridge residents to remain vigilant."
"I believe that every citizen that emailed our offices, or the regulator, or signed the petitions, all had a role to play in getting this project stopped," Weadick said. "Bridget (Pastoor) and I have probably never worked any harder on an issue than this one." [Emphasis added]
Mayor calls Goldenkey decision a "major victory" for Lethbridge by Lethbridge Herald, May 1, 2014.
The decision by Goldenkey Oil Inc. to withdrawn its plans to drill in west Lethbridge has been called a "huge victory" for Lethbridge. "I am delighted Goldenkey has decided to abandon its plans to drill oil wells in west Lethbridge," said Mayor Chris Spearman in a statement this morning, as he pointed to the people who helped make it happen. "I give a ton of credit to the citizens and organizations throughout Lethbridge who have mobilized in great numbers over the past 18 months to send the message to Goldenkey and the province that this urban drilling project was not acceptable in our city."
He added he was pleased for residents on the westside, as he also congratulated his colleagues on city council and Lethbridge's two MLAs. However, Spearman also mentioned the issue of urban drilling has not gone away, and added he's hopeful a provincial urban drilling policy is forthcoming. For more on this story, please see tomorrow's print edition of The Herald.
One Response to "Mayor calls Goldenkey decision a "major victory" for Lethbridge"
Kal Itea says: May 1, 2014 at 11:43 AM
The people who put their hearts into stopping Goldenkey, must remain vigilant.
We must stay tuned. Goldenkey may be history, but who is to say that some other oil company will buy the rights and drill?
Oil company withdraws plans to drill inside Lethbridge city limits by Michael Wright, May 1, 2014, Calgary Herald
A controversial Lethbridge drilling project will not go ahead after the company behind the plan withdrew its application to look for oil on land inside city limits. Goldenkey Oil Inc. said it would not pursue its attempt to renew a mineral rights lease on land in the southwest of the city, citing the likelihood of a "fairly robust stakeholder engagement process."
"It came to our attention that we wouldn't be able to avoid a public hearing," Goldenkey spokesman David Hill said.

"We decided for a small company we couldn't necessarily afford all the capital that would have to go in to the process."
The company had had feedback from provincial regulators and landowners who would be directly affected by the project which pointed to a likely lengthy procedural battle, Hill said.

"It could take years."
…
Goldenkey's plans, known as the Penny Project, had generated considerable opposition in the community. The "No Drilling Lethbridge" group gathered more than 13,000 signatures in a petition opposing it and lobbied local and provincial politicians.

Hill said the community opposition was a factor in Goldenkey's withdrawal. "Every time we would go through something, like closing a road for a short period, there would be a new wave of resistance. I think that was a factor, but certainly not the only factor."
No Drilling Lethbridge spokesman Dave McCaffrey said the group was "tremendously proud" of the community in fighting the drilling project. "(A) public hearing wouldn't have been likely without the level of public opposition that we've seen. I do think we influenced the outcome of the situation."

McCaffrey acknowledged Goldenkey had made a "pretty substantial" effort to consult with the community as it pursued the project. "They were working within the guidelines at the time. The problem is those guidelines did not sufficiently acknowledge the will of the community."

Expected provincial rules on urban drilling were badly needed to prevent a similar situation elsewhere, McCaffrey said.

"Until municipalities are empowered to say no to oil and gas projects within their urban boundaries, this could still present itself as a problem."
Lethbridge mayor Chris Spearman said Goldenkey's decision was "a huge victory for the community."
"I give a ton of credit to the citizens and organizations throughout Lethbridge who have mobilized in great numbers over the past 18 months to send the message to Goldenkey and the province that this urban drilling project was not acceptable in our city." [Emphasis added]
Goldenkey withdraws from Penny Project by Lethbridge Herald, May 1, 2014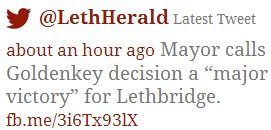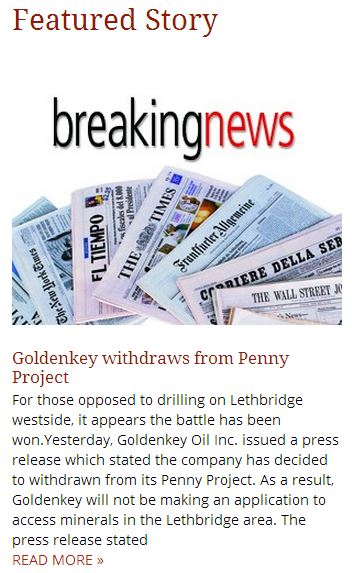 Goldenkey's Penny Project will not be going ahead.Goldenkey's Penny Project will not be going ahead. For those opposed to drilling on Lethbridge westside, it appears the battle has been won.
Yesterday, Goldenkey Oil Inc. issued a press release which stated the company has decided to withdrawn from its Penny Project. As a result, Goldenkey will not be making an application to access minerals in the Lethbridge area.
The press release stated Goldenkey considered a number of elements in its decision as a result of the Project Participant Involvement Program, which included several public consultation events, a dedicated project website, many inquiry responses, meetings with various stakeholders and widely-disseminated project description materials.
Factors which went into the decision, according to the company, included the cost and risk benefit of the geological success compared to the cost of the application process, the anticipated protracted processes in obtaining licensing and other approvals in each step of subsequent project development and the resources required in providing accurate risk information on balance with existing predictable and manageable risks, including proper information dissemination.
Goldenkey added the stakeholder-engagement process and tools such as the criteria gathering and input forms, community consultation event intake sheets and evaluations provided valuable input from the public and other stakeholder groups.
"While Goldenkey has the utmost confidence in the Alberta Energy Regulator and the governing regulations to direct resource development in a safe, efficient, orderly and environmentally responsible manner, this has become a case of counting the increased cost for being successful in the application process against the prospect of technical success for an exploratory well scenario," said David Hill, Goldenkey project representative. "Goldenkey has decided on a project basis that the barriers here did not justify the costs."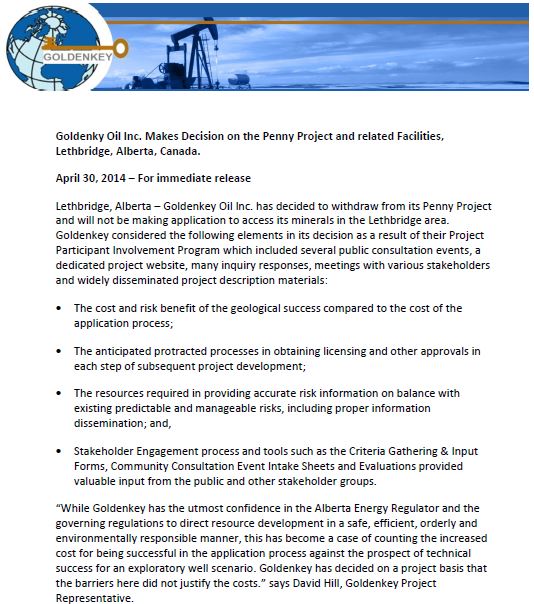 [Refer also to: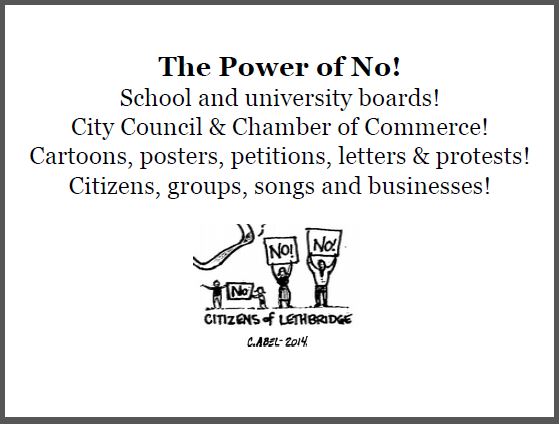 Slide from Ernst presentations with portion of cartoon by C Abel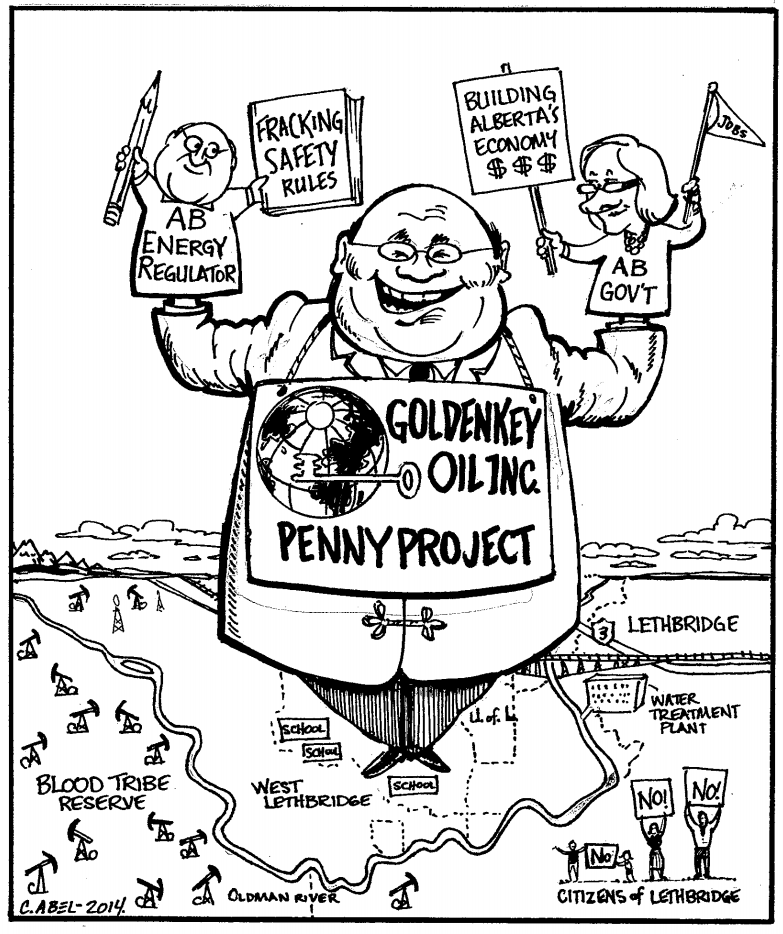 Fracking Growth Outpacing Scientific Knowledge in Canada: Report, Environment Canada-commissioned study urges a 'go slow' approach ]