"The EPA can't assess fracking in Leitrim" – Jessica Ernst by Leitrim Observer, March 6, 2012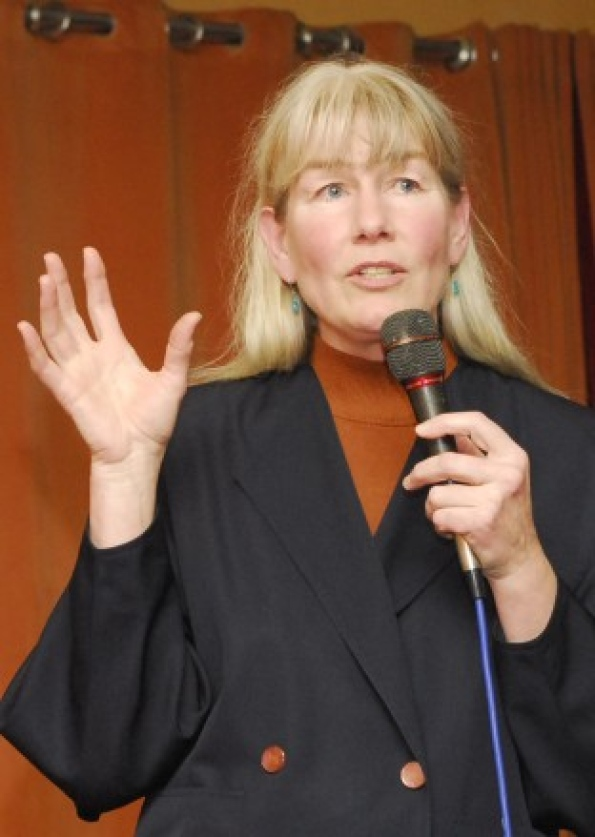 Jessica Ernst addressing the meeting in the Bush Hotel where she gave a talk on Life inside a Frac Experiment.
"Can the EPA assess the effects of fracking in Co Leitrim? Not according to scientist Jessica Ernst who visited the area targeted by Tamboran Resources last week and held presentations locally.
If you had not heard of Jessica Ernst before last week, you most certainly know who she is this week!
Ms Ernst travelled from Alberta, Canada to Ireland last week to attend a number of meetings around the country, partake in interviews and press conferences and in simple terms to tell her personal account of "Life inside a Frac experiment."
Despite her scientific background, her experience within the industry and her current multi million dollar lawsuit against gas company Encana Corp and Alberta Government, Ms Ernst pointed out that this is "my personal story."
She took time out of her busy schedule to speak to this paper on an issue that has recently taken over life, turned her against her neighbours, marked her as an "enemy of the state" "a security risk" and she has even been publicly called "insane," but despite the local media ban on her in Canada and the personal agony she has endured, she continues her fight against fracking – and more and more international campaigns want to hear her story
Jessica told the paper the area she speaks of is a rural one, with "beautiful high plains" and crop fields, an area once known for it's agriculture output and tourism, before fracking commenced.
Canada is not new in the oil and gas game, they have over 100 years experience with it but it was 2001 when the extraction came to her home area of Alberta. She said, "We were promised what happened in North America would not happen here – we have the best – world class regulators."
So what happened? According to Jessica the water got contaminated. But the Government says "It was just natural."
"It is not what you know you should be concerned about, it is what you don't know" she warned.
This is coming from a woman who worked for Encanna Corporation. "I worked in the industry, worked for them and they were nasty to me, didn't care about my community."
She said aside from the water, the noise of the fracking kept her awake for nights, and the lorries destroyed the roads.
"I saw your roads – they will destroy them," she warned. Jessica was brought on a tour of the Glenfarne/ Kiltyclogher area where Tamboran Resources are seeking to frack.
She said the company will "divide and conquer the community" by giving money to one half but not the other.
"The EPA can't assess fracking in Leitrim." Jessica visited the land, she walked it. She has never felt wetter land. She said "the land here is different to anything in Canada, Australia or South Africa." She said the amount of water present here has never been fracked before. "How can the EPA assess something that we are being told is brand new?"
More importantly Ms Ernst said we need to look at the importance of our national water supply. She said clean water is becoming an expensive resource. "What is it worth to you?" she asked. She suggested that in a few years a small bottle of clean water could be worth more than a small bottle of gas. "What is more valuable?"