Regulator Report: Methane in Parker County water can't be tied to drilling by Jim Fuquay, May. 29, 2014, Star Telegram
The amount of methane in several Parker County water wells is increasing, but the Texas Railroad Commission says it still can't link the contamination to nearby gas drilling activity. In a report released Wednesday, the commission said levels of methane, the principal component in natural gas, found in water wells in the Silverado subdivision were higher in September 2013 than in 2010 and 2011. The commission took new samples and reopened the investigation last year after receiving complaints from several more homeowners about contaminated water.
However, Peter Pope, the agency geologist who signed off on the report, wrote that the staff "has determined that the evidence is insufficient to conclude that Barnett Shale production activities have caused or contributed to methane contamination beneath the neighborhood."
The agency will not investigate further, Pope said in the report, dated Friday. He suggested that residents "properly ventilate and aerate their water systems." [Refer below to see how risky professional ventilating of methane and ethane contaminated well water is] The Railroad Commission regulates the oil and gas industry in Texas.
Steve Lipsky, whose methane-contaminated water wells sparked an emergency order by the U.S. Environmental Protection Agency in late 2010, dismissed the commission's findings, saying "they are not going to allow anything" that makes the industry look bad.
"Everything I try to give them, they bury," [Just like Alberta Environment and the ERCB (previously EUB, now AER) do!] said Lipsky, who has demonstrated the danger of the contamination by lighting well water on fire. He said tests by both Duke University and the University of Texas at Arlington have found much higher methane levels in his water than what was found by the Railroad Commission, which he maintains botched the testing.
The commission's latest report also contradicts findings by independent scientists who have done fingerprintlike analysis of the methane and compared it with gas being produced from nearby wells. They have said the methane likely originates from a well once operated by Fort Worth-based Range Resources.
Rob Jackson, a Duke University professor who specializes in isotopic analysis and has conducted this fingerprint testing on the water in the neighborhood, said he is surprised that the commission decided against further testing. "Based on their own data, five of eight water wells show increasing methane concentrations through time," Jackson said in an email to The Associated Press.

Range Resources has repeatedly denied the allegation and said its testing does not link the methane in the water to the gases the company produced. "It's not at all surprising that yet another round of regulatory investigations have determined that gas is naturally present in the Trinity aquifer and is in no way associated with Range's operations," company spokesman Matt Pitzarella said in an email Wednesday.
The new report is the latest development in a dispute over methane contamination associated with natural gas production. The case dates to the middle of 2010, when Lipsky said he started having problems with his water wells in southern Parker County. He has become an outspoken critic of drilling and appeared in the documentary Gasland 2.
The Railroad Commission investigated and conducted tests. But the EPA, after its own testing, concluded that the state agency was not acting fast enough and issued its emergency order against Range. It required Range to provide water to two affected households and to take other corrective measures. A 2011 Railroad Commission hearing cleared Range. And in March 2012, the EPA suddenly withdrew its emergency order, although the company agreed to test 20 nearby water wells every three months for a year. That action by the EPA prompted Republican members of Congress from Texas to accuse the agency and its Region 6 head, Al Armendariz, of going after Range Resources for no good reason. They demanded an investigation.
Armendariz came under fire and was forced to resign after a video surfaced showing him likening his approach at the EPA to Roman conquerors who used crucifixion to deter dissent.
Late last year, the EPA's Office of the Inspector General concluded that the agency had cause to act and should continue to assess the risks of contamination.
In its latest report, the Railroad Commission said it compared its 2013 tests of the Parker County water wells to those done in 2010 and later by Range Resources. That's how it determined that the methane levels had increased. But as it concluded in 2011, it found no link to the gases in the well that had been operated and previously owned by Range Resources. The agency said its most recent evaluation showed that the Range well and another well in the vicinity were built in an effective manner that should not lead to water contamination. [Why not investigate reality?]
"Contribution of natural gas to the aquifer by nearby Barnett Shale gas production wells is not indicated by the physical evidence," the report says. Referring to the Duke study and other studies, Pope said the agency "welcomes the opportunity to review additional information that may become available in the future." [Emphasis added]
A review of disclosure records by Greenwire revealed officials at the U.S. Environmental Protection Agency (EPA) accepted more than $4.5 million over the past four years from businesses and other entities to cover travel, hotels, meals and other benefits. The 3,369 trips since 2010 involved attending conferences and meetings, training sessions and other matters.
Chesapeake Energy Corp., the second largest natural gas producer in the United States, helped cover some of the expenses for more than a dozen EPA officials to tour its hydraulic fracturing operations in Pennsylvania two years ago. … Mark Seltzer with the EPA's Office of Pollution Prevention and Toxics, the agency's lead for getting companies to publicly disclose their fracking chemicals, was one of those who participated in the trip. When asked about the trip, an unidentified EPA spokesperson told Greenwire that "none of the travelers would have had an issue pending before them that involved Chesapeake Energy. These are more the rulemaking folks, and they need to see what fracking is other than watching it on TV."
The agency said the trips were all approved by ethics officials because federal rules allow employees to accept certain things from outside sources.
Another 2012 trip was made by Blaine Collison, then EPA's director of Green Power Partnership, to a Midland, Michigan, meeting of large corporate energy users. Altenex, a Boston-based energy management network, paid $800 for meals and transportation for Collison. Some of Collison's expenses were also paid by Dow Chemical. Two years later, Collison left the agency and went to work for Altenex to serve as its managing director of network services.
Some government watchdog groups expressed concern that companies are paying for EPA travel. "My concern is the conflict of interest at stake," Craig Holman, government affairs lobbyist at the watchdog group Public Citizen, told Greenwire. "Gifts of travel are usually provided by entities that want to lobby someone, lobby a government official and get some official favors in turn." [Emphasis added]
The Chesapeake excursion is among thousands of trips that EPA officials — including top brass — have taken on someone else's dime since 2010, according to trip reports obtained by Greenwire. Overall, EPA has accepted more than $4.5 million to pay for hotels, meals, travel and other benefits from outside groups over the past four years.Corporations, industry associations, nonprofits, foreign governments and others with a stake in EPA's rules — including groups with registered lobbyists — regularly pay for EPA official travel, according to reports the agency has filed with the Office of Government Ethics. EPA has reported accepting 3,369 trips that have had some if not all private funding for employees to take tours, attend conferences and meetings, conduct training sessions, and update outsiders on the agency's research and policies since 2010.In the Chesapeake case, about 13 EPA officials went on the tour of fracking sites to learn more about the process, according to an agency official. The company provided transportation from a central office in Sayre out to nearby well sites. That was noted as "local transportation" on the trip reports with Chesapeake spending $1,250 overall to ferry the officials to the sites. … A Chesapeake spokesman declined to comment for this article.

But the energy company is not alone in funding EPA travel. Dozens of other interests with business before EPA are financing officials' trips. … Dow was lobbying EPA that year on a host of issues, including the agency's regulation of dioxin and the pesticide methyl bromide. It was also lobbying Congress on legislation that would have affected EPA's regulation of chemicals. A Dow spokeswoman declined to comment for this story. …

EPA and other proponents of the trips say they're a useful — and legal — way to get agency workers outside their cubicles to learn about the issues they work on and educate the public. … An EPA official said the outside funding helps an agency that's seen its travel budget pinched in recent years. "We're careful to make sure that we're not doing it for visiting a site to do an investigation or an inspection, but where we have an opportunity to learn something, and a regulated entity or the university or the trade association or government says, 'Yeah, we have something that we want you to see because we don't think that you can understand our perspective unless you see our stuff,'" the official said. … Collison did not respond to requests for comment.
Some of EPA's top officials have also had trips, meals and other travel expenses funded by outsiders. …
Companies would often pay for EPA officials' travel as part of photo opportunities and celebrations of their own environmental bona fides.
Click here to see EPA's trip reports shared with the Office of Government Ethics. [Emphasis added]
[Refer also to: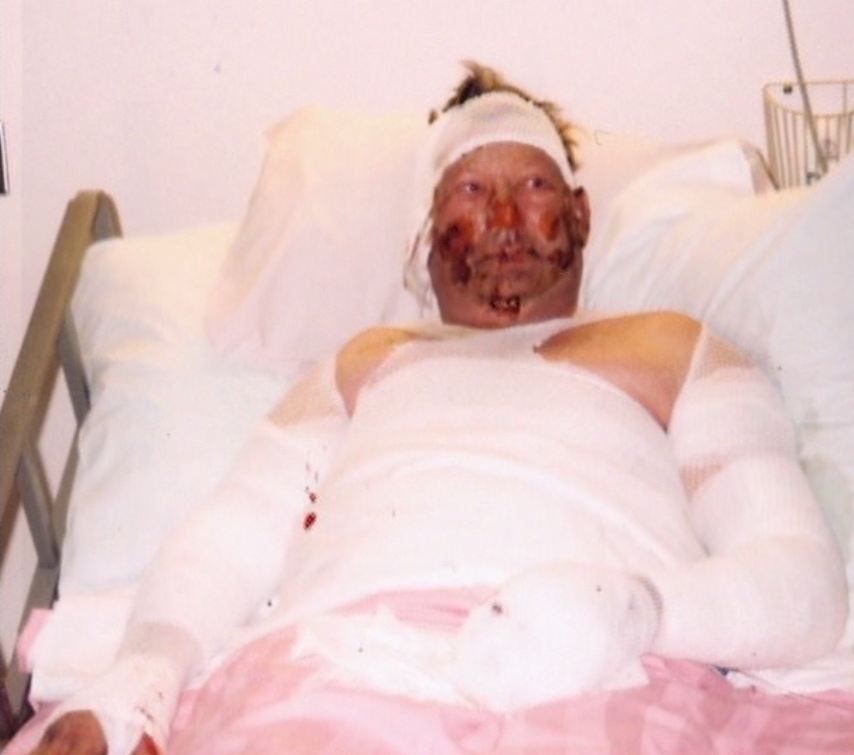 Bruce Jack in hospital, May 2006, after his professionally ventilated methane and ethane contaminated water ignited during testing by industry.