Province promises law with 'teeth' after taxpayers stuck with $4.3-million cleanup by Matt McClure, September 10, 2015, Calgary Herald
The province says it will review its rules on remediation of contaminated sites in light of a massive spill at a Calgary gas station that threatens to leave taxpayers with a $4.3 million cleanup bill.
Environment Minister Shannon Phillips said she's upset the Gas Plus outlet in Bowness remains a potential hazard five years after authorities learned that 7,000 litres of gasoline had leaked into the soil beneath the city neighbourhood.
"The Gas Plus issue has gone on far too long and I certainly feel for the families that have been forced to live with this mess for years," Phillips said.
"We are going to develop some legislation with teeth, and some legislation and regulations that protect the environment and health."
While Gas Plus built a wall 10 metres into the ground to contain the spilled fuel, a new report for Alberta Environment and Parks says the barrier may have "limited efficacy" in keeping contamination from moving through porous bedrock toward adjacent homes and the Bow River.
Frustrated at what it called the company's "continued unwillingness" to undertake appropriate remedial activities to lower the groundwater contamination and ensure toxic fumes don't impact the health of nearby homeowners, the department took over responsibility for the cleanup in mid-2014.
While the province says they will pursue Gas Plus for the additional cost of completing the remediation, government financial statements say there is a "low" probability it will recover even some of the expense.
Paige MacPherson, Alberta director with the Canadian Taxpayers Federation, said the government needs to better enforce its environmental regulations and look at mandatory insurance for station owners to cover cleanup costs from future spills.
When complaints of fumes from a neighbouring property first surfaced in April 2010, the department closed its investigation without finding the source of the problem. [Sounds like how the regulator investigates the many rural water well contamination cases caused by the oil and gas industry]
After the company finally alerted the department to the leak three months later, it took a provincial inspector another month to reply because he was on an extended vacation.
"The government needs to be more diligent in enforcing the rules it has on the books," Macpherson said.
"A month is too long to respond to an e-mail about a leak that has filled people's homes with fumes." [What about years to respond to water too dangerously contaminated with methane and ethane to flush toilets with?]
Phillips did not directly answer question about whether department staff acted quickly enough when concerns about the Gas Plus leak first surfaced.
"I can't speak for previous governments, I can only speak for this one," she said.
"This one takes the environment seriously."
Faced with mounting cleanup costs at abandoned or orphan stations three decades ago, the U.S government passed a law that required operators to show they had $1 million in liability coverage in case of a spill.
That legislation spawned the creation of state-level schemes like Montana's Petroleum Tank Release Compensation Board that covers cleanup costs at stations through a levy of approximately 15 cents on every fill-up.
"It's not a licence for operators to pollute because they're only eligible to have a claim paid in full if they were in compliance with environmental laws at the time of the leak," board executive director Terry Wadsworth said.
"It's a carrot and stick approach to encourage operators to keep close track of their inventories, ensure their inspection is up to date and report any suspected spill promptly."
The $7 million a year that the fund collects each year on fuel sales is also used to remediate orphan contaminated sites that were abandoned by station operators decades ago.
Officials with Alberta Environment and Parks were unable to provide numbers on how many former or current gas stations and bulk in the province are contaminated, but an online repository of environmental site assessments lists approximately 800 sites where there are or were petroleum storage tanks that may have leaked into surrounding soils.
McPherson said polluters should be paying directly for the cleanup of former spills and any new ones that may occur.
"Insurance for stations should be mandatory so that taxpayers aren't stuck with the cleanup bill, but I don't think making consumers pay at the pump is the right way of covering that cost," she said.
While no Canadian jurisdictions require station owners to have liability coverage against spills, Ontario has taken steps to lessen the risk by requiring that all single-wall tanks be replaced with double-walled reservoirs that are less likely to leak.
Don Edgecombe, operations manager with the Petroleum Tank Management Association of Alberta, said there are still approximately 390 tanks at 175 operating stations around the province where a single layer of metal separates toxic fuel from the surrounding soil.
"They're mostly in smaller towns and most of them have been there for decades," Edgecombe said.
"Even if they have corrosion protection, they're all going to leak eventually." [Emphasis added]
Taxpayers face $4.3-million bill after gas station owner fails to clean up by Matt McClure, September 8, 2014, Calgary Herald
Taxpayers face a $4.3-million bill to remediate environmental damage from a massive leak at a Calgary gas station five years ago because provincial regulators say the operator has failed to properly clean up or even contain the toxic mess.
The cost to public coffers could grow even larger as homeowners near the former Gas Plus outlet in Bowness are suing the province and the city for millions for failing to act quickly and effectively to prevent the spread of benzene and naphthalene beneath the neighbourhood.
Area resident Terry Floate — who sounded the alarm about the leak when he returned from a long weekend vacation in 2010 to find his home full of fumes — is worried about the long-term health effects to himself and his wife from the noxious vapours. He's also worried about their home's loss in value due to the tainted soil. The property was supposed to be their retirement nest egg.
"We had noticed different smells in the house for six to eight months before that, but when I walked in the door that day it was like sticking your head in a can of gasoline," Floate said.
"We've been in limbo ever since wondering how our health will be in 15 or 20 years and whether anyone will ever clean up this mess."
While Gas Plus built a wall 10 metres into the ground to try to contain an estimated 7,000 litres of spilled fuel on the site, a new report for Alberta Environment and Parks says the barrier may have "limited efficacy" in keeping contamination from moving through porous bedrock toward adjacent houses and the Bow River.
Maps based on monitoring well data collected this year show there is still an area about half the size of a city block around the shuttered station that remains polluted.
Engineers with CH2M Hill hope to eliminate the risk that carcinogenic fumes could enter nearby basements through a complex remediation process they will undertake over the next two years.
By injecting the soil with hydrogen peroxide to neutralize the compounds or by installing vacuums on wells to extract the vapours, they think they can manage any threat to human and aquatic health.
"The department's primary focus at this point is on remediating the off-site gasoline plume," spokeswoman Carolyn Stuparyk said in a prepared statement.
"It is our absolute intent to seek cost recovery from the polluter." [And from Encana for violating the law and frac'ing Rosebud's aquifers?]
But the department's own annual report that was released in June suggests it will be Alberta taxpayers who will likely foot the bill.
The 2014-15 financial statements for Alberta Environment and Parks says there's a "low" probability the department will recover even some of the $373,000 spent so far on the site or the estimated $4 million more it will take to complete the job.
Collecting from the company has been made more difficult because in 2011, shortly after it was ordered to clean up, the other station owned by Gas Plus Inc. was "sold."
Corporate and land titles records show that in March of that year company owners Sal and Shirley Handel divested the property to a new firm they had just incorporated. Assessed for tax purposes last year as being worth $892,500, the station at 5216 6th St. N.E. was reportedly sold for $750,000 in cash.
Neither Handel nor the company responded to questions about the reason for the transfer, but in a recent interview he complained about the overzealousness of department officials.
"They have no regard for the cost they are imposing on our company to find this eyedropper of gasoline in an Olympic-sized swimming pool," he said.
"I call them God and what they say goes no matter what." [What does Handel call the harmed neighbours and Bow River and its inhabitants?]
While Alberta Environment and Parks may be diligently attempting a cleanup now at taxpayer expense, an agreed statement of facts filed in a prosecution of Gas Plus (on charges of not notifying authorities promptly of a potential leak) shows city and provincial officials were also slow to react. [As slow as officials at Alberta Environment and the AER reacting to what Encana did at Rosebud? Eleven years later, the now Ex-Encana VP Protti-led regulator remains dutifully protecting the polluter and defaming Ernst in official legal filings, calling her a terrorist without any evidence, thus justifying violating her Charter rights. But, Harper's anti-terrorist squad harassed Ernst without delay.]
The company was fined $250,000 for not sounding the alarm as early as January 2010 after electronic inventories for that month showed nearly one per cent of the station's gasoline had mysteriously started disappearing.
By April, the inventory records showed that nearly two per cent of the station's fuel was now missing, and staff at the business next door were being sent home because they were suffering headaches from the fumes.
When the building owner asked the Calgary fire department to investigate, their sensors found gasoline in the basement air.
But the statement says the department accepted Gas Plus's word that its leak detection system did not show any problems and did not ask to check the station's inventory records that would have shown mounting discrepancies between the volumes delivered and sold. 
Richard Secord, a lawyer who represents seven of the eight adjacent landowners who are suing for over $11 million in damages, believes the fire department's response was inadequate, and that is why it is named in the suit along with Gas Plus, the Handels and numerous other companies controlled by the gas chain owners.
"Gas Plus said it can't be us, but pretty clearly it was them," Secord said.
"The (fire department) just took at face value what the guy from the service station said."
In its statement of defence, the city says it was Gas Plus's duty to maintain adequate leak detection systems and report any losses of product.
Officials with the provincial environment department also closed their investigation that month without ever discovering the source of the gas odour. [A bit better than blaming bacteria and the harmed homeowners they way they did harmed Rosebud residents] 
It wasn't until four months later in August when Floate returned from vacation to find his basement full of fumes and called the fire department that the scale of the spill and its potential impact became clear.
Ed Kujat, the city's fire marshal, says the incident could have had a terrible ending.
"The levels build up, build up," said Kujat, "and then it finds an ignition source and boom."
Although inventory records were arriving electronically at Gas Plus headquarters that showed large amounts of fuel were going missing, Handel says a leak was not suspected because previous discrepancies had always turned out to be nothing but measurement errors.
"It's like the old you holler wolf too many times and all of a sudden no one believes there's a wolf and there's actually one there," he said.
"That's kind of what happened here."
But by August of that year, Gas Plus was admitting it had a leak and had been bailing up to seven litres of raw gasoline per day from monitoring wells around the station site for several weeks.
A company consultant wrote to a provincial environment department investigator to explain what had happened.
"Source of leak traced to bad connection in pump … unsure of amount of spill, some records indicate 7,000-9,000 litres and over the last few months," Ken Hugo said in an Aug. 5, 2010 letter.
"Just back from an extended vacation," investigator Peter Schonekess wrote back nearly a month later.
"I think Sal (Handel) and Gas Plus need to get on this ASAP as we have vapours in a residence adjacent to the property … Time is of the essence." [Meanwhile, in Rosebud and elsewhere in Alberta, citizens live daily with extremely dangerous levels of hydrocarbons in their drinking water and venting from their household taps, with officials lying about the risks and covering-up the source.]
But another three months would pass before the department ordered Gas Plus in December to get started with the cleanup. And when the company finally negotiated a deal with the province a year later, the remediation plan called only for construction of a containment wall, not the removal of tainted soil around the site.
Secord said the adjacent homeowners are suing the department and its regional director of enforcement because it approved the wall even though evidence shows its own technical team believed the measure would be ineffective in preventing the spread of the underground plume.
"Because Gas Plus wasn't doing anything, I think the director thought at least it would look like something was happening so he said 'OK you can do it,' " Secord said.
In its statement of defence, the province says it believed at the time the wall would solve the problem, but its director subsequently changed his opinion when data became available showing the gasoline was also travelling down through bedrock and migrating off-site. [Meanwhile, when data became available proving the gases in Campbell's drinking water was thermogenic, industry source, and gases contaminating Zimmerman's, Jacks, community-wide Rosebud water wells and the Hamlet municipal wells, showed isotopic fingerprints indicating oil companies the guilty parties, the AER and Alberta Environment blamed, bullied and shamed the citizens, lied, defamed and rejected the damning data, with Alberta Environment going so far as to alter the conclusions by "independent" Dr. Alexander Blyth with the Alberta Research Council]
In addition to removing and containing the poisoned soil at the station, Gas Plus says it has injected chemical oxidizer in the off-site area and installed vapour extraction units to prevent fumes from entering three of the worst-affected homes.
But frustrated at what it called the company's "continued unwillingness" to undertake appropriate remedial activities to lower the groundwater contamination to safe levels, the province took over responsibility for the cleanup in mid-2014.
"The department's primary focus at this point is on remediating the off-site gasoline plume," Stuparyk said.  "The anticipated expenditure is $4.3 million over three years."
Handel said he has already spent close to $10 million on the cleanup and on battling the province in court over what is necessary to make the site and the surrounding neighbourhood safe.
He said there needs to be an insurance fund to cover cleanup costs for gas station owners when their tanks leak.
"If you have a spill, you are a leper, you're condemned, you will lose your last (dollar)," Handel said.
"I don't understand how (it) can be that there isn't some kind of net if you fall."
At his home across the alley from the abandoned station, Floate is angry the area remains contaminated five years after he alerted authorities to the leak.
"The company responsible for this and the bureaucrats who are supposed to get them to clean it push paper around on desks every day and then they get to go home to some place that is safe," he said.
"Our lives are on hold and it seems that if this ever is cleaned up it will be taxpayers who foot the bill." [Emphasis added]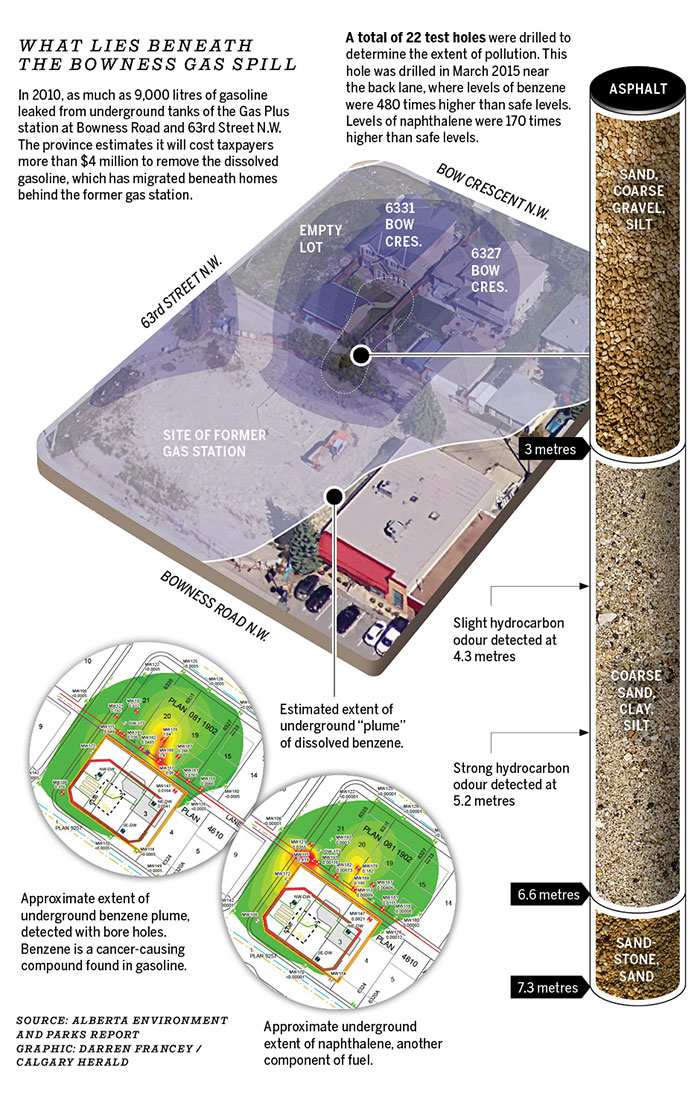 What lies beneath the Bowness gas spill.