Sunrise Propane found guilty in massive 2008 Toronto explosion, The company breached nine environmental and worker safety regulations in the fatal 2008 explosion in Downsview by Marco Chown, The Canadian Press, June 27, 2013, Toronto Star
Almost five years after a series of fireballs erupted into the early morning sky above Downsview, Sunrise Propane has been found guilty of breaching nine environmental and worker safety regulations. The explosions killed a worker, led to the evacuation of an entire neighbourhood and caused millions of dollars in damage. Two company managers, Shay Ben-Moshe and Valery Belshov, were also found guilty of failing to take proper safety measures before the explosion, which occurred during an illegal truck-to-truck propane transfer. Sunrise Propane Energy Group Inc. faces a maximum penalty of $18 million, while Ben-Moshe and Belshov each face penalties of up to $550,000, not including a 25 per cent victim surcharge. Sunrise was found not guilty of one additional count of breaching the Environmental Protection Act. No criminal charges were laid in relation to the disaster.
On Murray Rd., where many of the affected houses have been completely rebuilt, the explosion is seared into neighbourhood memories. Janna Zonta tells of how she was awakened when her house started shaking. "Fire was everywhere," she said. "It looked like an atomic bomb." Her daughter, Laurie Laurella, explains how her parents fled the house barefoot and were picked up near Yorkdale Mall by a TTC worker, who took them to the hospital in their underwear and pyjamas. "My mother still is not the same person," she said. On adjacent Spalding Rd., Tony Sorella celebrated the judge's decision. "It's the right verdict and a long time coming," said Sorella, who was visiting Disneyland with his son when he got the call about the blast. It took him several stressful hours to reach his wife, Maria, and their daughter Natasha, who escaped before the second blast destroyed their house. "My bedroom collapsed," Sorella said. "If the first blast would have been like the second blast, my wife wouldn't be here today."
Several massive explosions rocked a Sunrise Propane property just after 3 a.m. Aug. 10, 2008, killing employee Parminder Saini, 25, and raining poisonous asbestos and debris on neighbourhoods in the Keele St. and Wilson Ave. area. The explosions also shut down Highway 401 between Highways 400 and 404 and caused an estimated $25 million in damage. Michael Viani was reading in bed when the first explosion caused his roof to collapse on him. "Everything landed on my bed," he said, including giant pieces of wood. "I squeezed through the door and ran … I was wearing my slippers." The second blast knocked him to the pavement. It wasn't until his friends told him his feet were red that he even realized he was bleeding. He had to undergo three operations to remove the glass from his feet. It's a miracle that's all that had to be done, he said.
Environment Minister Jim Bradley said he was pleased the decision held the company and their directors accountable for their actions. "The province is always prepared to go to court to defend the environment from those who would treat it irresponsibly and cause harm," Bradley said. "Today's ruling demonstrates this." Former Sunrise truck driver Felipe De Leon survived the blast and testified that he saw strange smoke or fog — later identified as propane vapour — during a truck-to-truck transfer just before the explosion. An Ontario Fire Marshal's report, completed two years later, said this kind of transfer was illegal. "We were told to do truck-to-truck transfers. I had no idea it was illegal to do that," De Leon said during the trial.
A class-action lawsuit on behalf of those living in the surrounding neighbourhoods claims the industry's self-regulating body, the Technical Standards and Safety Authority (TSSA), was aware that truck-to-truck transfers of propane were occurring and failed to take action. In Thursday's decision, Justice Leslie Chapin agreed, writing that TSSA inspector Don Heyworth did not enforce an order instructing Sunrise to stop the truck-to-truck transfers after he learned they were still going on. "We're pleased with the verdict against Sunrise," said lawyer Harven Pitch, who represents more than 2,000 people who have signed on to the class-action suit, which seeks $90 million in damages. "We're also pleased with the judge's comments against TSSA," he said, adding they'll be "very helpful" in his case. City Councillor Maria Augimeri said the decision proves that industry should not be allowed to regulate itself. "People pay the cost when industry cuts corners," she said in a statement. "The province privatized community safety by allowing the TSSA to regulate this dangerous industry, and this is the result — a completely negligent act that was directly responsible for lives lost." [Emphasis added]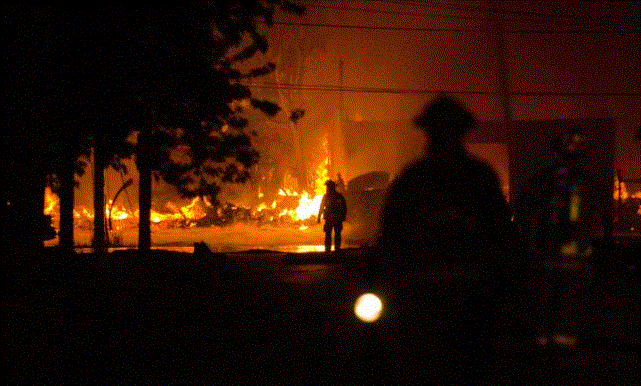 Firefighters work at the scene of a propane explosion at Sunrise Propane in Toronto early Sunday Aug. 10, 2008. Angela Deluce, The Canadian Press in The Toronto Star
One year later, Vicki Arciero is still haunted by the sound of the Sunrise Propane explosion that blew in doors and windows of her home by Kenyon Wallace, August 8, 2009, The Toronto Star
Just before sunrise on Aug. 10, 2008, Arciero and her family were violently awakened when the Sunrise Propane facility not 150 metres from their Downsview home exploded into the night sky. A series of deafening blasts blew in the doors and windows of their quaint two-storey house on Plewes Rd., splitting ceilings and sending light fixtures smashing to the floor. "Every time you hear a loud noise like fireworks or a car backfiring, it just brings you right back," says Arciero, standing in front of her now-renovated home. "When you talk about it, it brings back all that horrible emotion that was there that morning. I don't want to live here any more." It was a year ago Monday that towering mushroom clouds rained chunks of burning metal and asbestos over the Keele St. and Wilson Ave. neighbourhood, killing two people, forcing 12,000 residents from their homes and leaving dozens of homes uninhabitable. … Some residents continue to fight with their insurance companies, which refuse to cover the full costs of repairing the damage. And the glacial pace of investigations into the cause of the blast has deprived residents of a desperately needed resolution. Most unsettling, however, is the lingering emotional trauma inflicted by the nightmarish events of that morning.
…
Vikramjit Saini says he is still waiting to learn what caused the death of his brother Parminder, a 25-year-old Indian immigrant who was studying at Sheridan College. Parminder was killed in the explosion while working the night shift at the propane depot. Saini vows to stay in Canada until he gets some answers. He is hoping for an extension of his one-year temporary resident permit that expires in November. "Every minute is very painful," he says. Veteran firefighter, District Chief Bob Leek, 55, who rushed to the scene on his day off, also died shortly after battling the flames. … John Santoro, the representative plaintiff for a $300 million class-action lawsuit against Sunrise, says his insurance company has covered only half the $180,000 repair bill for a rental property he owns near the blast site. "Insurance companies are supposed to be there for when you need them," he says angrily. … While many residents are just happy to be alive, they say moving on with their lives is difficult without knowing who is ultimately accountable. Last month, the Ontario Ministry of Labour laid charges against Sunrise Propane under the Occupational Health and Safety Act, alleging the company failed to protect the health and safety of a worker and failed to ensure the facility was operating in accordance with industry regulations. If convicted, Sunrise faces fines of up to $1 million. But other issues are unresolved:
…
• The Technical Standards and Safety Authority is awaiting results from the Fire Marshal's investigation before deciding whether to lay charges under the Technical Standards and Safety Act. Shortly after the explosion, the TSSA reported that the transfer of fuel from truck to truck – a practice banned in Ontario since 2006 – was a "frequent and routine operating practice" at Sunrise's Murray Rd. facility. It is unclear if this practice caused the explosion.
• The TSSA has permanently revoked Sunrise's licences to operate its three Toronto storage and dispensing facilities, but the company continues to broker propane.
• The Ministry of the Environment continues to investigate whether the blast caused any environmental harm. Under the Environmental Protection Act, the company could face` fines of between $5,000 and $4 million per offence if convicted of causing such harm. In the aftermath of the explosion, the City of Toronto proposed a new harmonized zoning bylaw that would establish minimum setbacks between propane stations and residential areas. The proposal has yet to be approved by council.
• The city is also contemplating legal action against Sunrise to recover more than $1 million in cleanup costs after the company failed to comply with a Ministry of Environment order to clean up asbestos debris.
…
"It changed our lives. Now everybody wants the same thing. We want justice." [Emphasis added]