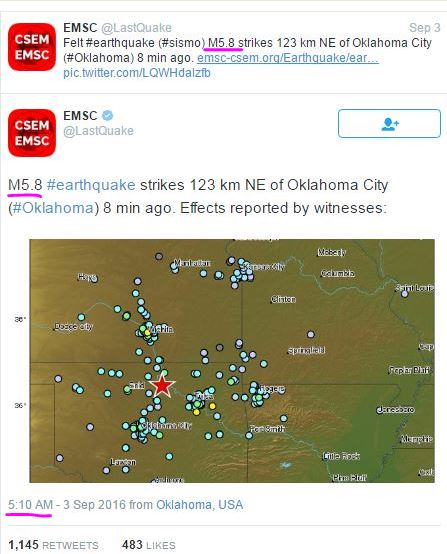 Snap of tweets before the 5.8M Pawnee earth quake was downgraded to 5.6M
MORE DOWNGRADING. IS INDUSTRY PUTTING THE PRESSURE ON IN MORE WAYS THAN DOWN HOLE? Three Earthquakes Rumble In Grant County by Matthew Nuttle, Sept 06, 2016, NEWS9.
GRANT COUNTY, Oklahoma – Three earthquakes were recorded in Grant County, Oklahoma, Tuesday afternoon.
A 3.9 magnitude was recorded at 12:48 p.m, 11 miles northwest of the town of Medford, Okla. at a depth of approximately 3.3 miles. The USGS originally rated this earthquake 4.1 in magnitude. It was later downgraded to a 3.9.
A minute later, at 12:49 p.m., a 3.7 magnitude earthquake struck 12 miles northwest of Medford at a depth of about 7.5 miles.
At 1:33 p.m. another 3.5 magnitude earthquake was recorded 12 miles northwest of Medford. It was about two and a half miles deep.
These quakes come just days after the state's largest earthquake ever was recorded in Pawnee County.
So far no damage or injuries have been reported.
According to the USGS, earthquakes with magnitudes ranging from 2.5 to 3.0 are generally the smallest ones felt by humans. Damage is more likely with quakes at magnitudes of 4.0 and greater. [Emphasis added]
Trying to prevent another big quake like Dallas felt Saturday, Oklahoma runs into regulatory roadblock by Ziva Branstetter, September 6, 2016, The Frontier
After the Saturday morning earthquake that rocked communities from South Dallas to North Dakota, Oklahoma officials moved quickly to shut down some oil and gas activity that scientists have linked to the state's soaring number of quakes.
But a 200-square-mile swath of Oklahoma close to the epicenter of Saturday's 5.6 magnitude earthquake is off-limits to state regulators. They say they have no idea how many of these energy-related operations are there and no authority to close them. The rules in this area are less strict than in the rest of the state.
That land is Osage County, controlled by the Osage Nation. Under a 1906 law, only the federal Bureau of Indian Affairs has limited jurisdiction over the tribe's energy production.
The Environmental Protection Agency has even more limited jurisdiction over the quake-linked operations, which are known as injection or disposal wells.
… On Tuesday, three days after the quake that woke many Dallas residents around 7 a.m., the EPA told Oklahoma state officials that it plans to stop injections at some wells under its jurisdiction but offered no details. It remains unclear whether Osage County wells will start undergoing the kind of monitoring the state believes is necessary to reduce the risk of major quakes.
The agency did not immediately respond to a request for comment Tuesday. A spokesman for the EPA's Region 6 office in Dallas said in an email Monday: "We are working closely with the state of Oklahoma, BIA and Osage Nation to evaluate available information and take appropriate next steps to protect public health and the environment."
The tribe and BIA could not be reached for comment; neither has announced plans to rein in the wastewater wells.
Experts say the lack of state authority in the area near the earthquake's epicenter and the paucity of data about the Osage injection wells complicate efforts to head off future problems.
"To confuse the citizens in Oklahoma, we have this mess in Osage County clouding up the real problems that caused" the earthquake Saturday, said Bob Jackman, a petroleum geologist who has advocated for a tougher stance.
Scientists say they will need to study whether the Osage County wastewater injection wells are triggering or contributing to induced earthquakes.
Matt Skinner, a spokesman for the state agency that regulates wastewater disposal wells, the Oklahoma Corporation Commission, said the agency's seismicity team is studying data on the quake and aftershocks.
But the agency has no information when it comes to disposal wells in Oklahoma's largest county, 2,300 square miles of windswept prairie dotted with farms and oil rigs on the state's northern border.
"On our maps, Osage County is a blank spot — we don't know anything about it," said Matt Skinner, a spokesman for the Oklahoma Corporation Commission.
The president of an association for energy companies operating in Osage County said there are 20 to 40 injection wells near the epicenter. Shutting them all down would effectively halt about 30 percent of the oil and gas production in the county, said Shane Matson, president of the Osage Producers Association and a geologist with BlueJacket Energy LLC, which is based in Tulsa.
"I suspect that some companies will push back

, but this is a serious situation and I would say that everybody appreciates the gravity," he said.
The number of earthquakes registering 3.5 magnitude and higher in Oklahoma has increased from just four in 2009 to more than 200 last year. Wastewater injection more than doubled in the state during that time.
Earlier this year, the USGS issued a revised earthquake forecast that accounts for induced and naturally occurring earthquakes. "Some places in Oklahoma, Kansas, Colorado, New Mexico, Texas, and Arkansas may experience damage if the induced seismicity continues unabated," the USGS study warns.
Though Oklahoma officials were slow to accept the link between injection wells and quakes, most now do. Texas regulators, however, continue to question whether there is a cause-and-effect relationship even after North Texas experienced a spate of quakes last year.
The earthquake that shook residents across Oklahoma at 7:02 a.m. Saturday tied the state record. Its epicenter was 8.6 miles northwest of Pawnee, a small town in north central Oklahoma about two miles from the Osage County border.
In response, Oklahoma regulators ordered the closure of the deepest injection wells within a 725-square-mile area of the epicenter. The order covers 37 of the state's 3,200 active wells, which must close within 10 days.
The EPA's moves are likely to mirror those of the state. Though the EPA issues permits for disposal wells, applications are submitted to the Osage Nation. Neither the tribe nor the EPA has publicly available data on Osage County injection wells on its website, including names of operators, disposal volumes or regulatory actions.
The BIA, along with the EPA, regulates the injection wells and answers to an eight-member tribal body called the Osage Minerals Council. The council represents the tribe's interests in mineral rights it owns, covering the entire 1.5 million-acre county.
Saturday's earthquake panicked even seasoned residents in Oklahoma's earthquake zone.
Mark Crismon's home is about eight miles from the quake's epicenter. For the past two years, he has monitored a seismic station on his property as part of a research project by Oklahoma State University geology students.
After jumping off his porch, Crismon said he watched his house as he lay on the shaking ground, adding: "I didn't think there was any way it was going to stand up."
In his garage, jars of peaches, green beans and other fruits and vegetables crashed to the floor, shattering, he said. "The garage was full of pickle juice."
[Emphasis added]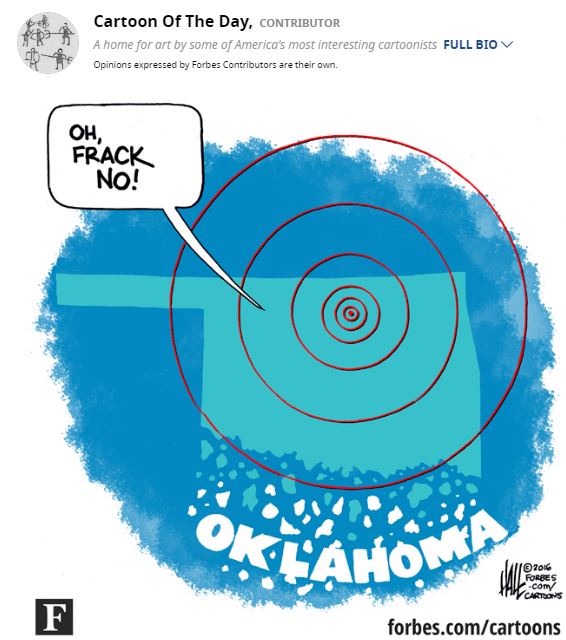 Shut Down Of Injection Wells To Impact OK Economy by Tiffany Liou, September 6, 2016, NEWS9
In a few days, 37 injection wells near Pawnee will be shut down indefinitely. This was ordered by the Oklahoma Corporation Commission after the 5.6 magnitude earthquake on Saturday.
Chad Warmington, President of Oklahoma Oil & Gas Association, said this will impact the economy. Some of them are multi-million dollar wastewater injection wells. For those companies, it will be a big loss over time.
Like most people across the state, Warmington felt the big shake up. "My reaction is disappointment that we had it because we are really making good progress overall in the state. Seismicity is down significantly," he said. [Disappointment, but no care for the significant damages that will be expensive to repair, with many insurers refusing to cover frac quakes?]
The injection wells in the impacted area were already on a 40 percent reduction off their 2014 volumes, directed by the OCC. After Saturday's quake, instead of reducing wastewater injection more, the volume will go down to nothing. And the shutdown is indefinite.
Warmington believes the OCC is trying to find a balance. "I think their response was they didn't get the response that we wanted in that area, so they want to go to a shutdown to see if that helps quiet it down."
By Saturday, those within five miles of the epicenter will need to have the wells shut down. Then by the 13th, those within 10 miles will need to be shut down.
Warmington said it's a tough situation, but he understands why the OCC is calling for this. "These directives are going to minimize the amount of production which obviously minimizes the amount of tax revenue that is paid, the jobs that are created by these companies. But the balance is public safety," he said.
Some companies, in the meantime, may move wastewater to other wells outside of the shutdown area, but Warmington said there is a cap to that.
In addition, the EPA is ordering 17 more injection wells under federal control to be shut down in the 200 square mile of Osage County. [Emphasis added]
Legislator Weighs Injection Wells And Public Safety After Earthquake by Jessi Mitchell, September 5, 2016, NEWS9
OKLAHOMA CITY – The Oklahoma Corporation Commission is in the process of indefinitely shutting down 37 Arbuckle injection wells surrounding the epicenter of Saturday's earthquake to prevent structural damage.
One state lawmaker said more action may be needed moving forward.
There are still plenty of active injection wells throughout the state, but legislators are being put in an increasingly difficult position between economic interests and public safety.
For Sen. Ron Sharp (R-District 17), the earthquakes are getting personal. His own chimney started crumbling after the Prague quake in 2011, and he walked outside to find more bricks on the ground after this weekend's events.
"Earthquake insurance is going to be a necessity here in Oklahoma, so
you can see that your costs of living are going to be increased as a result of this,"

Sharp said.

He said there will also be further impacts to pensions and education funding, his own area of expertise.
Masons said the damage is already done in many homes, and encourage you to check for any cracks that could indicate more serious problems.
Scientists said earthquakes could be like that small crack, hinting at the damage injection wells are causing across the state, but they still need tens of millions of dollars to complete their research to find a concrete link. [Still pimping political fairy tales for the oil and gas industry?]
"For us to have money, we have to have the oil and gas business fully operational, and without the oil and gas business fully operational we have no money to fund any kind of research, so this is going to be a problem for us in years to come," Sharp said.
Sharp said lawmakers may need to consider legislation requiring oil producers to inject water back into the earth as they pump. He also believes banning out-of-state companies that dispose here might help, but they make up less than 1 percent of the total wastewater injection.
He and his colleagues are looking out-of-state for other industries, though, hoping to balance job losses by bringing in companies like Boeing and GE. The catch there is that they are having to provide serious tax incentives to beat out other states, leaving them with less revenue.
Sharp said with the current state of the budget, he hopes researchers at OU and OSU can step up to the plate with grant funding and complete their research before another larger earthquake strikes in a more populated area. [Emphasis added]
A few of the comments:
Christopher Fairchild · Warr Acres, Oklahoma
Sharp is just a puppet on a string.. Being controlled by Mr. Hamm and Mr. Nichols…

The USG and OGS have both concluded last year that injections wells were contributing to the rise in earthquakes… Sharp's been bought and paid for, he is a literal 'dummy'…


Sep 5, 2016 2:52pm
Keith Powell


Science has already spoken … injection wells are causing earthquakes. At some point the only economy Sharp will need to be concerned about is the home building industry. How does he sleep at night knowing we are going to lose our homes due to the lack of care from politicians. Get the recall petitions out.


Sep 5, 2016 1:44pm
Stephen Chu · Univeristy of California, Santa Barbara
they are buying time in a clock where
time will eventually run out, thousands could die in a major quake – will you wait for that to happen first or stop it now in its tracks – lives or dollars

– seeem clear to me – stop fracking 100% , close ALL the injection wells
Sep 5, 2016 1:08pm
Stephen Chu · Univeristy of California, Santa Barbara
band all fracking immediately and close every injection well in every state now. EPA needs to act quick
cheap nat gas at price of what ,

when are we going to stop the special interest groups from destroying everything


Sep 5, 2016 1:04pm

Oklahoma Fracking Faces Potential Backlash After Record Quake by Adam Williams, September 5, 2016, Bloomberg

A backlash against fracking in Oklahoma may be about to get worse following a record-tying earthquake over the weekend, potentially slowing the development of some of the U.S.'s most coveted shale plays.

Oklahoma regulators had already been limiting the disposal of oilfield wastewater, which scientists have linked to seismic activity, before a 5.6-magnitude tremor in the state was felt from Texas to Illinois on Saturday, matching a 2011 record. The number of earthquakes measuring 3.0 or higher reached at least 890 last year, followed by about 375 this year through June 22. The numbers are a far cry from only two in 2008, before the state's fracking boom.

As oil production surged in Oklahoma, with the Scoop and Stack areas among the most sought new plays in the country, so did the disposal of wastewater from fracked fields. Several producers, and now the U.S. Environmental Protection Agency, are facing lawsuits because of seismic activity allegedly linked to disposal wells in Oklahoma and other states.
"They are going to push the industry to come up with some permanent solutions," said Michael Lynch, president of Strategic Energy & Economic Research Inc. in Winchester, Massachusetts. "It's hard to believe Oklahoma would move to ban fracking, but I can see where they would say to people that they have to do something else with the wastewater, which is believed to be the source of the increase in earthquakes."

Disposal Wells
Oklahoma, a region previously not known for intense seismic activity, began having a significant number of earthquakes in 2009, the same year local oil companies began using fracking to shatter deep rock layers to extract oil and gas. Fracked wells produce large quantities of wastewater, which drilling companies inject into ultra-deep disposal wells.
The Oklahoma Corporation Commission, which regulates oil and gas activity in the state, has been issuing restrictions for more than a year aimed at cutting down on the amount of wastewater injected into disposal wells. There are about 35,000 active such wells, though only a few dozen have been linked to quakes, according to a Bloomberg Intelligence report in May, citing the U.S. Geological Survey.

"Without studying the specifics of the wastewater injection and oil and gas production in this area, the USGS cannot currently conclude whether or not this particular earthquake was caused by industrial-related, human activities," the agency said Saturday in a statement. "However, we do know that many earthquakes in Oklahoma have been triggered by wastewater fluid injection."

Suspended Wells
Saturday's earthquake, near a complex of oil-storage facilities, led the regulator to order the suspension of about 37 wastewater disposal wells. This was the first time the state regulator has issued the mandatory measure, commission spokesman Matt Skinner said by telephone. Governor Mary Fallin signed a bill into law that provided such powers last April.

PetroQuest Energy Inc. was ordered to shut four of its disposal wells in Oklahoma, just days after the oil and gas producer skipped an interest payment and said it may face bankruptcy. PetroQuest was the only publicly traded U.S. company among the operators affected by the commission's measure. The Lafayette, Louisiana-based producer has until Sept. 10 shut in its wells, according to the commission's mandate.

Oil storage and pipeline facilities at the Cushing hub, 25 miles (40 kilometers) south of Pawnee, were undamaged, according to the commission and four of the companies that operate there. The quake was followed by at least eight others measuring as much as 3.6, according to the USGS.

"You might see a little bit of a pause" in fracking activity "as people try to adjust and come up with different ways to cope," Lynch said. "The first step will be restricting the wastewater wells, particularly the ones that seem to be causing the most harm." [Emphasis added]

Oklahoma Officials Order Fracking Disposal Wells Closed After Earthquake by Democracy Now, Sept 6, 2016

Earthquake
In Oklahoma, state regulators have ordered oil and gas companies to shut down nearly 40 toxic wastewater disposal wells, after a massive 5.6-magnitude earthquake Saturday rocked Oklahoma and sent tremors through six neighboring states. Scientists have warned that the wastewater disposal wells, which inject toxic water used in the fracking process deep into the earth for storage, may be linked to the dramatic rise in earthquakes in Oklahoma in recent years. The earthquake destroyed at least a half-dozen buildings on the Pawnee Nation and another half dozen in the city of Pawnee. This is Pawnee Mayor Brad Sewell.

Mayor Brad Sewell: "Well, we had an earthquake that was just unprecedented in this area. I mean, this was—we've had a lot of earthquakes over the last couple of years, and they have been just single tremors, and, you know, boom and it's gone. And right away, you could tell this was something different. I mean, this was a long, sustained, strong earthquake. Things toppled off of shelves. And, you know, it rattled windows and did all kinds of things."

Pawnee Earthquake Officially The Largest In State History by Tiffany Liou, September 5, 2016, News9

PAWNEE, Oklahoma – The USGS is studying the data and looking at earthquakes that have happened in Oklahoma. While researchers can't pinpoint a cause at this time, the Saturday 5.6 Earthquake near Pawnee has some similarities to the 2011 quake that shook up Prague.

Daniel McNamara, a Research Geophysicist with USGS, says the recent earthquake was not on a fault known by the USGS. Instead, it happened on a fault perpendicular which intersected the fault. Based on aftershock patterns, this one is an unknown fault that has now been activated.

"At this point, we don't know if it is related to waste water injection, but it's very similar to other sequences that have been, so it's highly likely," said McNamara.

McNamara said, however, this earthquake also looked natural in some ways based on the before-shock behavior. There were only a few two to three magnitude earthquakes leading up to the big shake. This is compared to 2011 in Prague when there were three and four magnitude earthquakes before the major one.

A Big Aftershock Could Be Looming

There have already been dozens of aftershocks near Pawnee since the Saturday quake. Most of them are magnitude three or less; some that people can't even feel.

[Reality AfterShock Check:

Recent Earthquakes

2.5 magnitude
32km WNW of Fairview, Oklahoma
5 people reported this quake
Mon Sep 5, at 7:57am

2.6 magnitude
13km NW of Pawnee, Oklahoma
23 people reported this quake
Mon Sep 5, at 5:00am

2.5 magnitude
17km NW of Pawnee, Oklahoma
1 person reported this quake
Sun Sep 4, at 7:13pm

3.2 magnitude
7km NNW of Cushing, Oklahoma
19 people reported this quake
Sun Sep 4, at 2:03pm

2.6 magnitude
19km N of Perry, Oklahoma
3 people reported this quake
Sun Sep 4, at 12

2.5 magnitude
10km NW of Pawnee, Oklahoma
2 people reported this quake
Sun Sep 4, at 12:08am

2.8 magnitude
12km NW of Pawnee, Oklahoma
9 people reported this quake
Sun Sep 4, at 10:37am

2.6 magnitude
15km NW of Pawnee, Oklahoma
9 people reported this quake
Sun Sep 4, at 8:29am

2.7 magnitude
12km NW of Pawnee, Oklahoma
25 people reported this quake
Sun Sep 4, at 6:56am

2.5 magnitude
13km NW of Pawnee, Oklahoma
9 people reported this quake
Sun Sep 4, at 6:16am

3.5 magnitude
15km W of Pawnee, Oklahoma
61 people reported this quake
Sat Sep 3, at 10:20pm

3.2 magnitude
6km NNW of Cushing, Oklahoma
33 people reported this quake
Sat Sep 3, at 9:55pm

3.1 magnitude
13km NW of Pawnee, Oklahoma
32 people reported this quake
Sat Sep 3, at 9:15pm

2.8 magnitude
16km W of Pawnee, Oklahoma
27 people reported this quake
Sat Sep 3, at 8:43pm

2.7 magnitude
10km NW of Pawnee, Oklahoma
69 people reported this quake
Sat Sep 3, at 5:56pm

2.7 magnitude
27km WSW of Perry, Oklahoma
79 people reported this quake
Sat Sep 3, at 12:38am

3.2 magnitude
12km NW of Pawnee, Oklahoma
108 people reported this quake
Sat Sep 3, at 9:31am

3.1 magnitude
11km NW of Pawnee, Oklahoma
1 person reported this quake
Sat Sep 3, at 9:25am

2.6 magnitude
10km NNW of Pawnee, Oklahoma
null people reported this quake
Sat Sep 3, at 8:56am

3.2 magnitude
11km NW of Pawnee, Oklahoma
12 people reported this quake
Sat Sep 3, at 8:47am

2.6 magnitude
11km NW of Pawnee, Oklahoma
null people reported this quake
Sat Sep 3, at 8:05am

2.9 magnitude
10km E of Medford, Oklahoma
1 person reported this quake
Sat Sep 3, at 8:02am

3.6 magnitude
15km WNW of Pawnee, Oklahoma
24 people reported this quake
Sat Sep 3, at 6:58am

2.9 magnitude
12km NW of Pawnee, Oklahoma
1 person reported this quake
Sat Sep 3, at 6:57am

2.7 magnitude
10km NW of Pawnee, Oklahoma
24 people reported this quake
Sat Sep 3, at 6:32am

3.4 magnitude
9km NW of Pawnee, Oklahoma
16 people reported this quake
Sat Sep 3, at 6:16am

5.6 magnitude
15km NW of Pawnee, Oklahoma
59636 people reported this quake
Sat Sep 3, at 6:02am

3.1 magnitude
4km E of Luther, Oklahoma
16 people reported this quake
Fri Sep 2, at 8:39pm

End AfterShock Reality Check]
McNamara is warning Oklahomans that something bigger may be on the way.
"There could be a high-magnitude four aftershock, so people should be prepared," McNamara said.
McNamara said the number of damaging earthquakes in Oklahoma since 2011 is unusual.
"Magnitude fives occurred in Oklahoma maybe once every 50 to 100 years, naturally occurring earthquakes," said McNamara. "But in the last five years, you've had three earthquakes over magnitude 5."
In 2011, a 4.8 magnitude aftershock happened two days after the Prague quake. He said something similar may happen in Pawnee.
"Look at the FEMA webpage and learn what to do in case of an earthquake," said McNamara.
FEMA outlines the drill to drop, cover, and hold on until the shaking stops.
The Largest Earthquake In Oklahoma History
McNamara confirms Saturday's earthquake is the largest earthquake in Oklahoma history, even though the magnitude was initially rated the same as the 2011 earthquake in Prague. [Or, down rated from the original reporting of 5.8M? Did industry/politicians order the down rating?]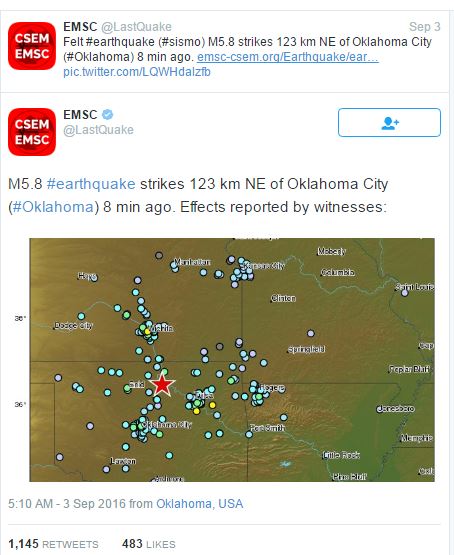 He said magnitudes are rounded numbers. The Pawnee temblor was larger because the energy level of the earthquake was higher.
"It's 10 percent more than the Prague 5.6

, so that was the largest earthquake you've had so far. This one is slightly larger," said McNamara.
McNamara said they may boost the magnitude of Saturday's earthquake up to 5.7. [Emphasis added]
[Refer also to:
Another 5.6M Earthquake Hits Frac Ravaged Oklahoma: Mitigation Obviously Not Working! Quakes Increasing, No Matter How Many Injection Wells Shut Down or Injection Volumes Reduced. State Of Emergency Declared for Pawnee County. 58,628 people felt the quake, as far as 2,323 km away in Boston, MA ]